Dieser Beitrag ist auch verfügbar auf:

Deutsch (German)
Here's a collection of the 20 best German Christmas Cookies. Old fashioned authentic German holiday cookie recipes that are tried and tested and work every time!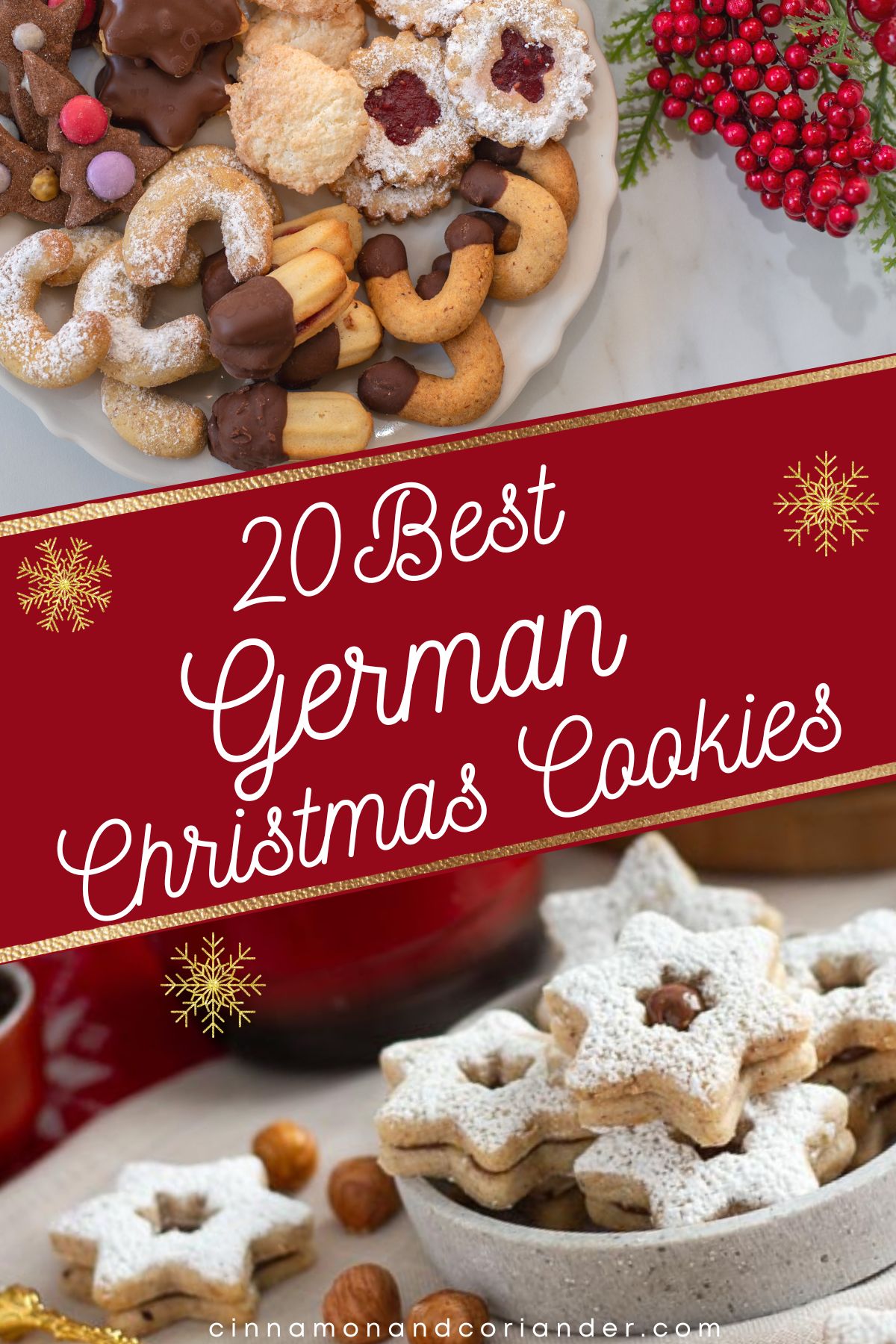 Christmas without Linzer cookies, vanillekipferl and German hazelnut cookies? Impossible! I've put together my family recipes for the best German Christmas Cookie recipes. Classic German holiday cookies that are easy to make and that the whole family will love.
Here you find simple, old-fashioned German cookie recipes that come together with little effort and most of them, like German Coconut Macaroons are staples I make every year.
However, I also added a few new recipes that I requested from friends and family after having tried them on their cookie platters and that I am baking for the first time this year. I have already put them on the list for next year because they are just so delicious.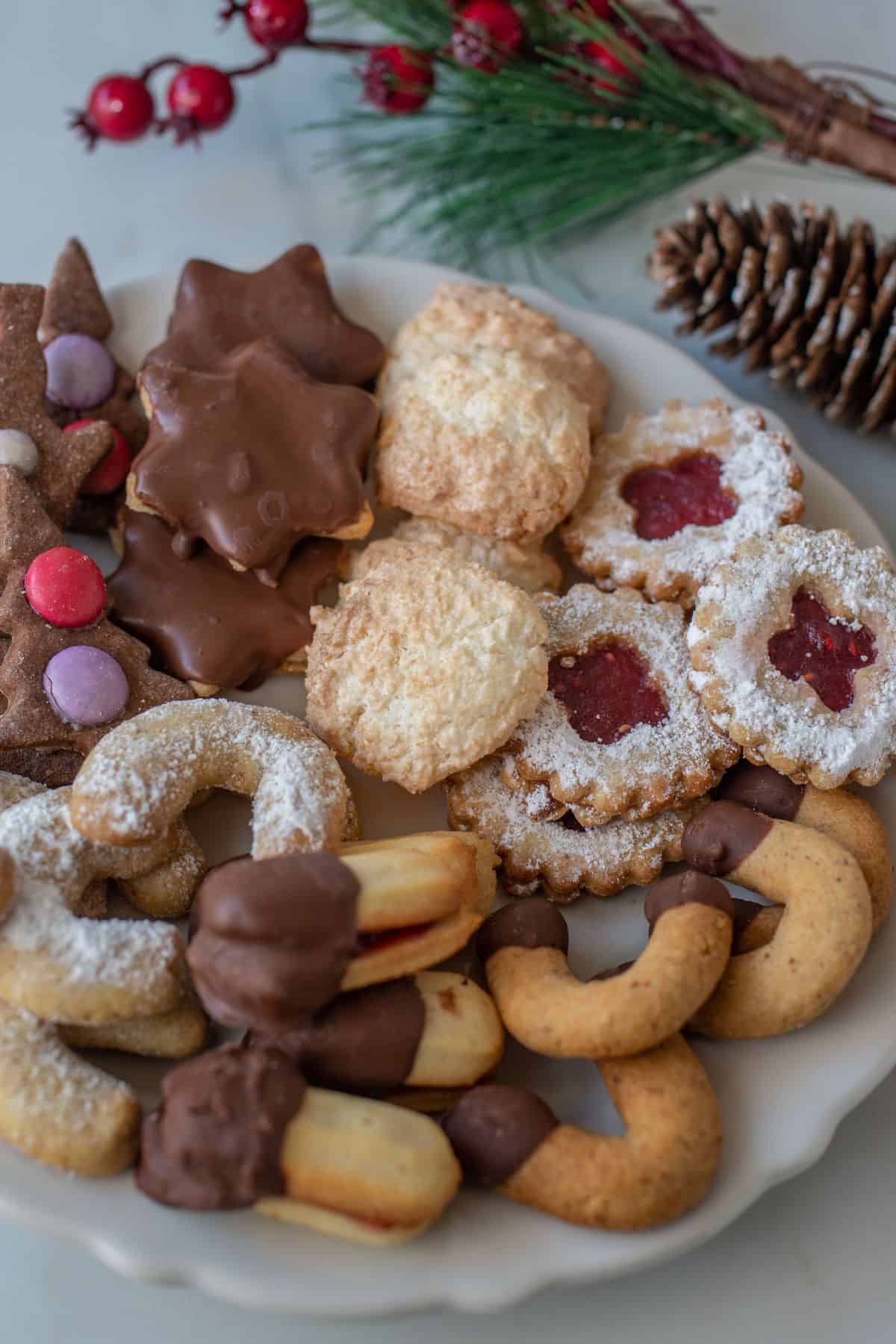 The 20 Best Traditional German Christmas Cookies – Authentic & Old Fashioned
German Christmas is all about sharing your cookie platters ( bunte teller) with friends, neighbors and family. Trying, testing, sharing and bonding over Christmas recipes is a quintessential part of the German holiday season.
It's no secret that Germans love Christmas and especially their holiday cookies!
There are so many different types of German Christmas cookies that you can make in the weeks leading up to Christmas and German holiday cookies differ by region or tradition.
Some cookie recipes, like Lebkuchen, go back hundreds of years and every family has secret tricks and hacks to make them truly "their" recipe.
Most German cookies obviously include traditional Christmas spices like cinnamon, nutmeg, and ground star anise, but not all of them. In this collection you can even find gluten-free and vegan German Christmas cookies if you need to create some!
A colorfully filled cookie plate (Bunter Teller) is a quintessential part of the Christmas season.
At home, the cookie jar was always well hidden before the first Advent – so that there would still be something left on Christmas. In my house, half of the cookies were usually already gone before Christmas. Obviously.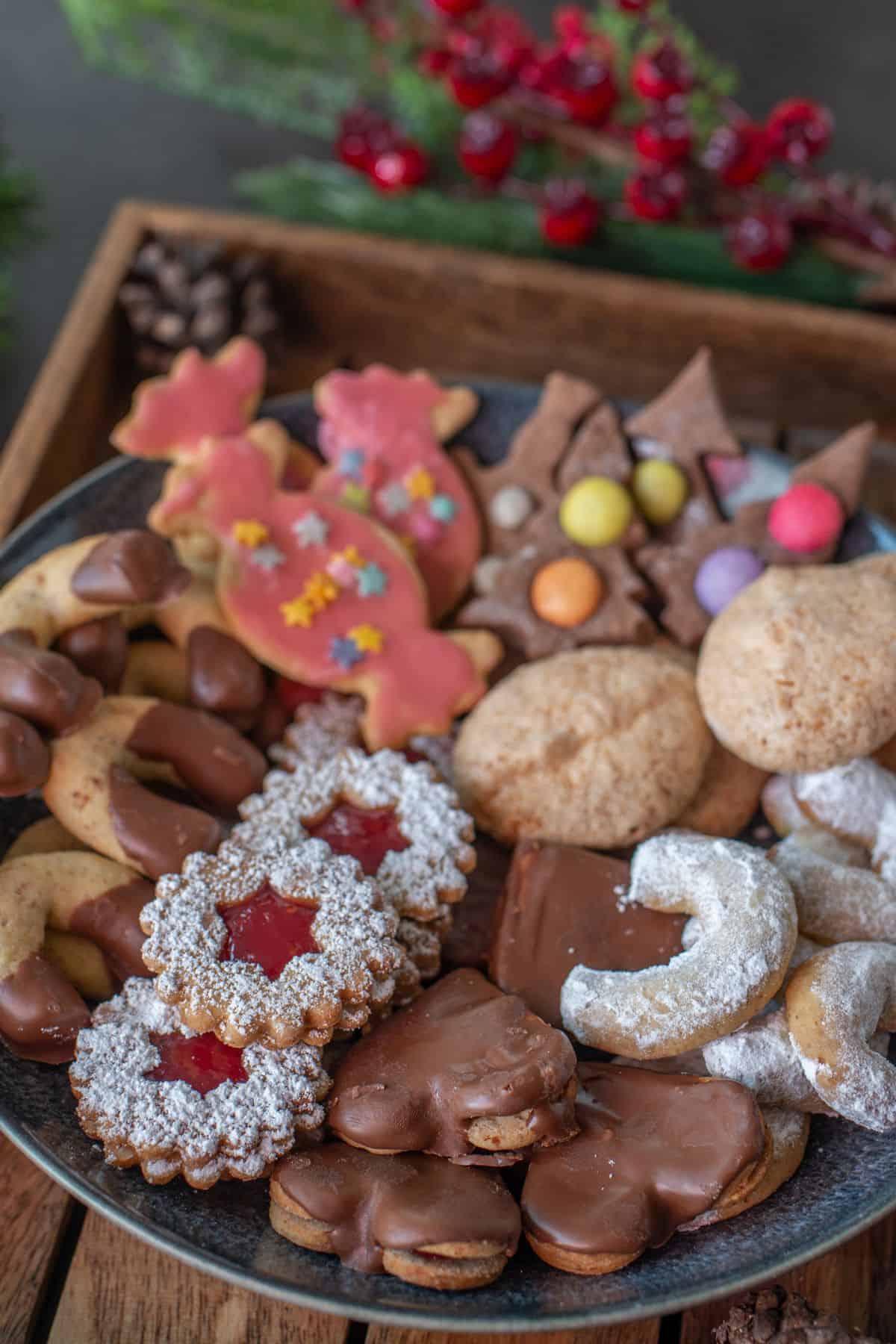 Tips for German Christmas Baking
The selection of the ingredients is very, very important, since the cookies are kept longer than other cookies and pastries. And after a few weeks they should still taste good.
Good butter is very important for taste. Invest in the best butter, and do not take margarine unless you bake vegan.
When to start making German Christmas cookies
If you want a colorful bunte teller with at least 10 kinds, it is generally advisable to start baking just before the first of Advent.
Unless I make gingerbread. The end of November is already too late for a few types of baked goods such as German gingerbread. These cookies need to be stored for a while so that they can develop their full aroma.
Lebkuchen, Printen and Springerle cookies take weeks to develop flavor. Gingerbread in particular not only keeps much longer than many other Christmas cookies, it also tastes better the more time it has to rest.
The perfect baking temperature
Preheat the oven to 175 °C – 375F top and bottom heat – that's the classic recommendation. You should definitely make sure that the oven is preheated. In general, but especially when baking cookies, it is super important that the cookies brown evenly.
So preheat the oven in good time and pay attention to whether the temperature specifications are for top and bottom heat or for convection. Convection warms the dough faster, the temperatures are always a little lower.
Also, check on which position the baking sheet is to be placed. The middle rack is usually recommended. You can also bake a maximum of two trays at the same time.
But then you have to keep an eye on the top baking tray, which usually cooks faster.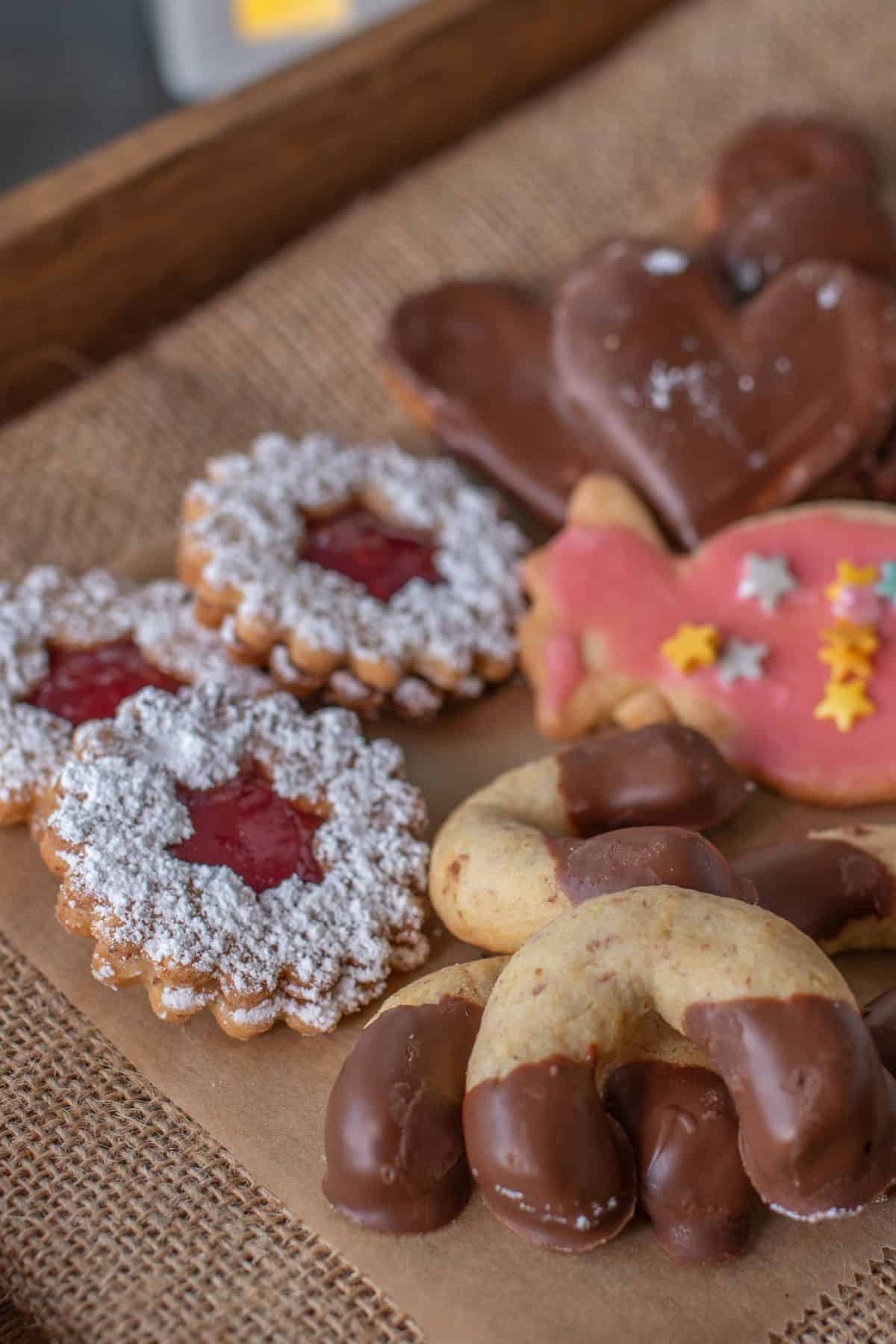 Correct baking time
If you bake several trays of cookies one after the other, then expect that the first batch will take the longest and the second batch will be ready a little faster. The oven is warmer at the end.
Good to know: every oven is different. Since the baking time for cookies is very short, it is best to stay in the kitchen with an eye on the oven and check the cookies more often than you normally would.
To prevent cookies from burning, you should remove the cookies from the baking tray immediately after baking and let them cool on a cake rack.
This is particularly easy if you bake the cookies on parchment paper or a silicone mat. You can just slide them off the sheet metal.
20 Best Traditional German Christmas Cookies
Tips for storing German Christmas cookies
How do German cookies stay crispy?
If you want to store your cookies properly, always make sure that they are completely cool before you put them in the cookie jars.
Store the cooled cookies in the tin, dry and cool. Do not store classic German shortcrust cookies in plastic containers, as they will quickly turn soft.
When storing cookies, I recommend storing each type of cookie in separate jars. If you only have a large tin on hand, separate the cookies with layers of parchment paper.
Jars with a tight lid are also suitable. Just like tin cookie jars, airtight jars keep your cookies crisp, fresh, and delicious.
Storing soft cookies
Soft cookies such as coconut macaroons, honey gingerbread or sandwich cookies filled with jam, on the other hand, can be stored in plastic containers without any problems.
Which Christmas cookies keep the longest?
How long Christmas cookies keep depends on the variety. Dry biscuits made from shortcrust pastry, such as butter cookies, black and white biscuits, or vanilla crescent cookies, stay crisp and fresh for up to four weeks.
Gingerbread cookies, which are the best to start with, keep even longer! If stored properly, they can be stored for up to three months.