Dieser Beitrag ist auch verfügbar auf:

Deutsch (German)
I make these Cranberry Gingerbread Hearts every year! Here´s why!
First, they have few ingredients and I bet you have all of them kicking around anyways!
Second, I finally get to use some of my leftover honey. Really, how come you always end up with 3 squeezie bottles of honey, all just 1/4 full?  My mother in law is worse than me so I baked them in her kitchen. This is how you earn brownie points, ladies!
Third, they are delicious. You´ve got your gingerbread spices, your chocolate glaze plus this slight tang you get by adding the cranberries! Incredible!
And lastly, I am German and there´s no Christmas in Germany without homemade Gingerbread, or Lebkuchen as we bark it.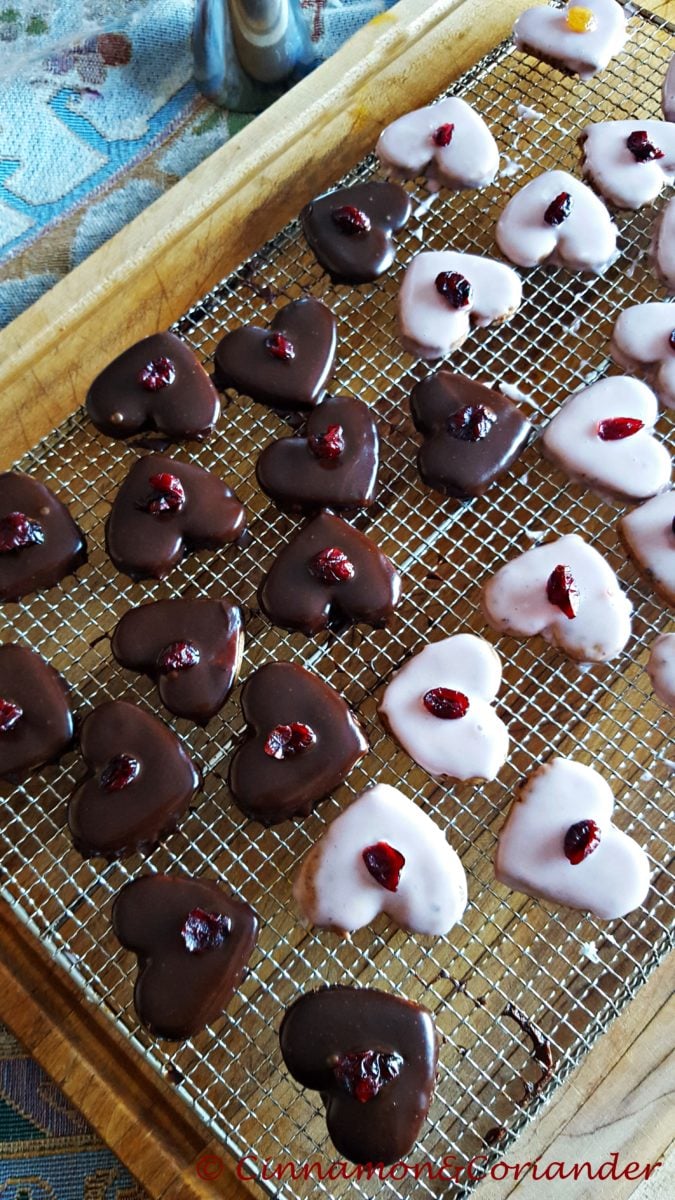 I could come up with a lot more reasons. Anyways, with only 4 weeks to go until Christmas this is the recipe you might want to start with. The honey in the dough makes your cranberry gingerbread pretty crispy at first. Watch those teeth when you first try them! What you want to do is to put them in a cookie tin with an apple or a brown sugar coin! Let them sit for about a week and THEN you try them again! They´ll be soft and fruity and awesome!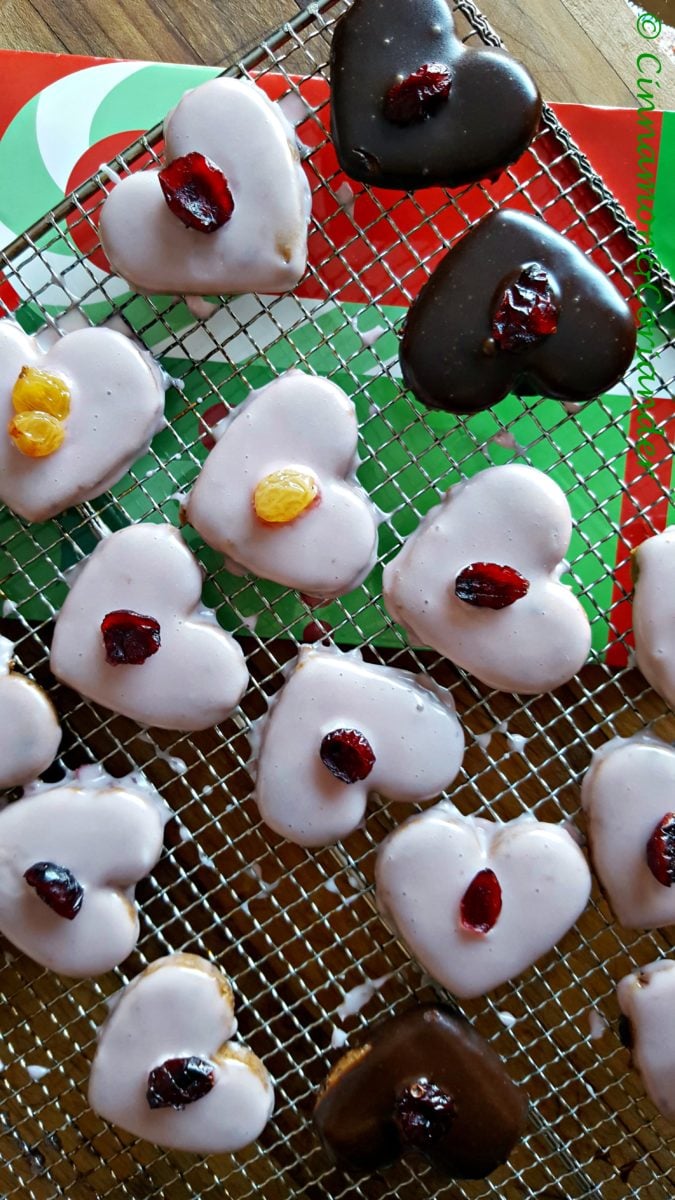 My product recommendations:
Disclaimer: I am a participant in the Amazon Services LLC Associates Program, an affiliate advertising program designed to provide a means for us to earn fees by linking to amazon.com and affiliated sites
Cranberry Gingerbread
A fruity twist on the traditional gingerbread cookie with tart cranberries! A lovely sweet treat for Christmas.
Ingredients
125

g

honey

50

g

sugar

50

g

brown sugar

50

g

butter

2

Tbsp cream

2

tsp gingerbread spice

0,5

tsp cardamom

100

g

dried cranberries

250

g

flour

2

tsp baking powder

200

g

dark chocolate + cranberries for decoration
Instructions
Heat up the honey, butter and cream in a pot until melted, add the cranberries and let simmer for 2 minutes. Blend this mixture in your processor until smooth. Small junks of cranberries are no biggie.

Whisk your flour with the baking powder, brown sugar and spices and add the cranberry-honey dough. Mix on low speed until it comes together, then knead with your hands until smooth.

Let the dough chill for about an hour.

Preheat your oven to 180, roll out the dough to about 4 mm and cut out little hearts with a heart -shaped cookie cutter.

Bake them for about 12 minutes, let them cool completely and cover them with chocolate or sugar glaze!