Dieser Beitrag ist auch verfügbar auf:

Deutsch (German)
These German Almond Cookies are perfect for Christmas! Tender shortcrust pastry meets marzipan and meringue. No cookie cutters needed for making this traditional German Christmas Cookie recipe!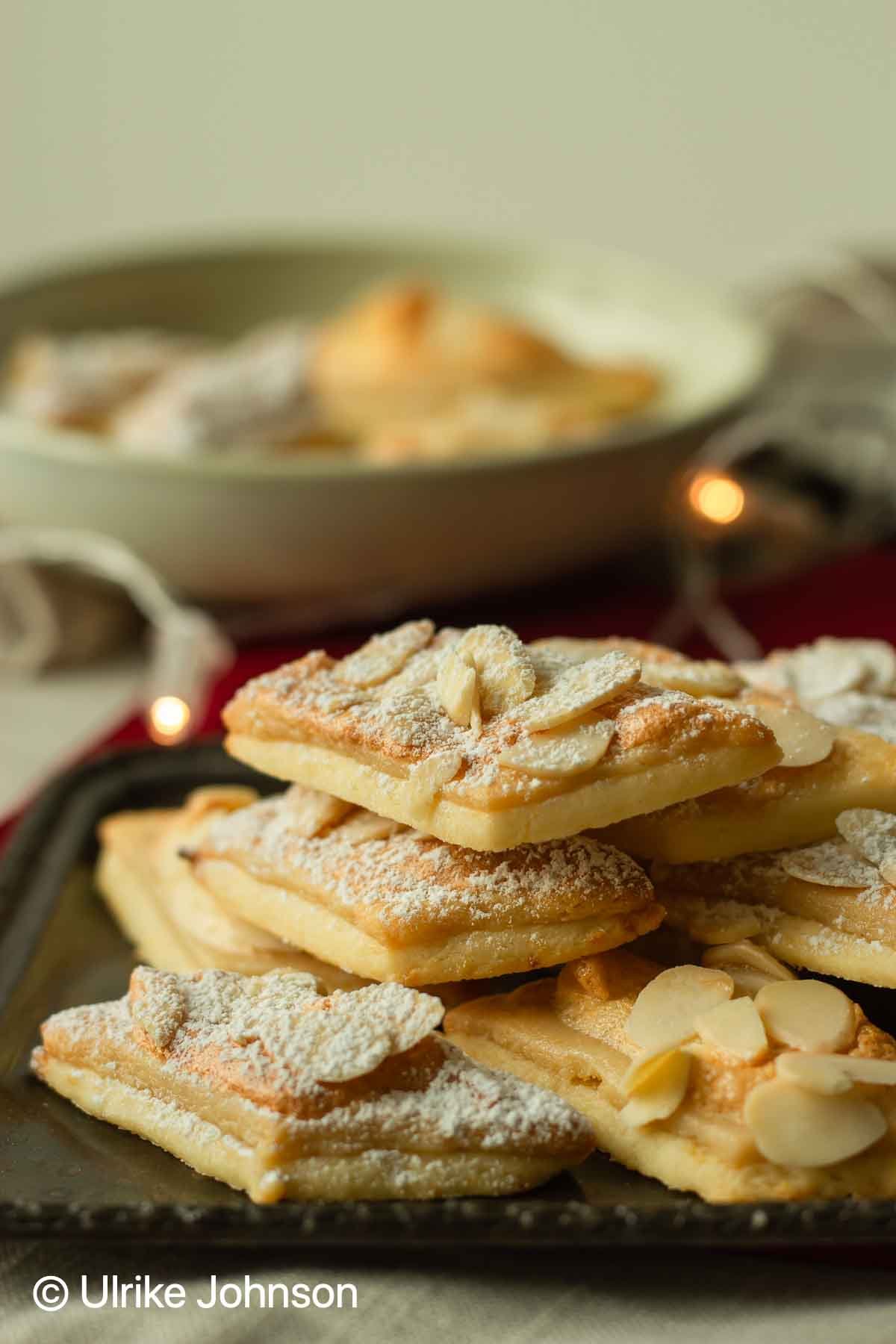 Marzipan cookies are a must during the Christmas season in my household and these almond cookies are for marzipan lovers. This year I will be baking all my favorite traditional Christmas cookies again. These pretty almond sprinkle cookies are a cherished family recipe that I LOVE making. A simple recipe for melt-in-your-mouth almond marzipan cookies made from delicate yet buttery shortcrust pastry topped with a layer of marzipan, sliced ​​almonds, and meringue.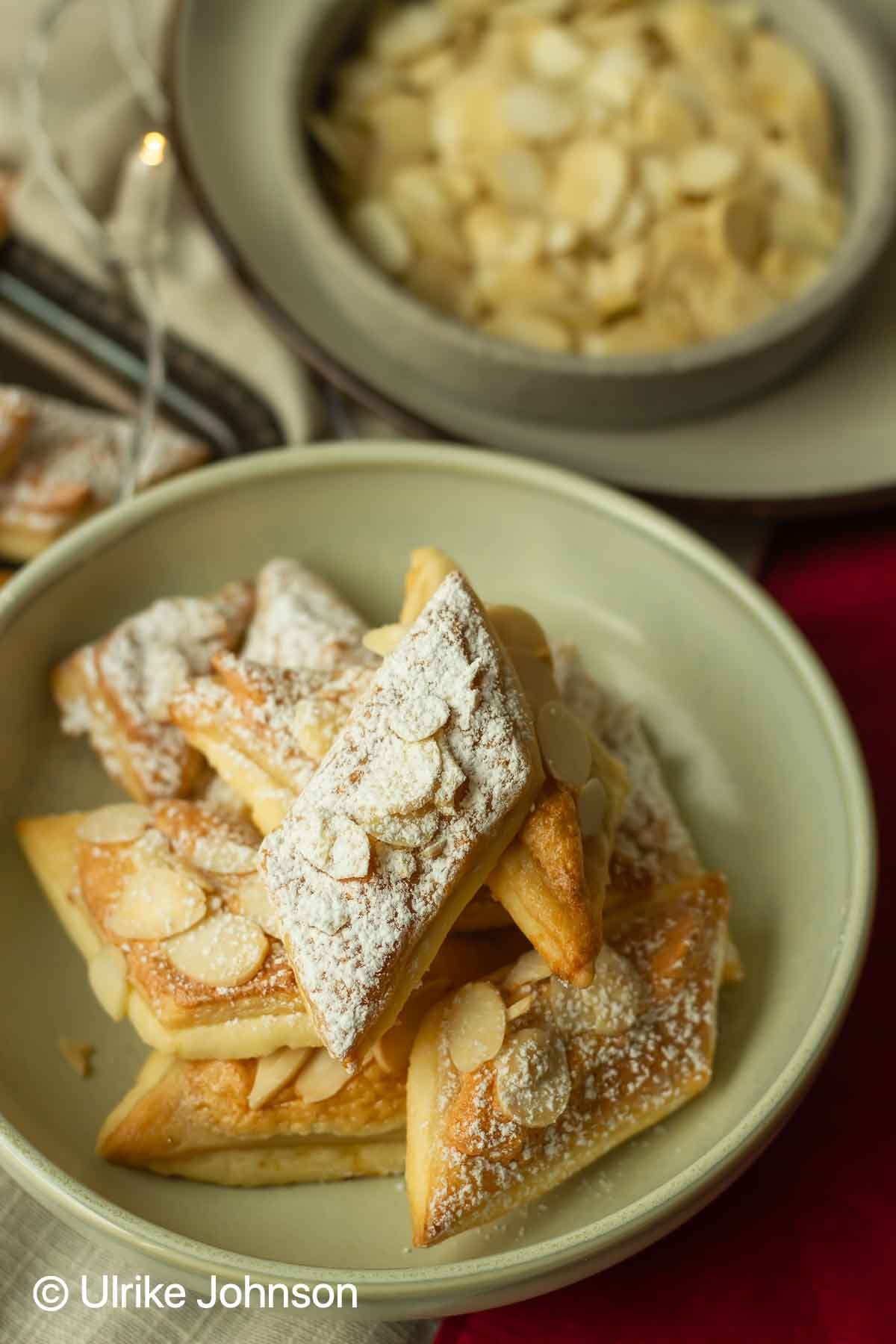 These German almond cookies look seriously impressive but are not difficult to make. You can prepare the shortcrust pastry the day before and since you can simply cut these biscuits out with a pizza cutter or pastry wheel, you don't have to get out those cookie cutters and cut out and roll out the leftover dough.
On the blog, you will already find many delicious German Christmas cookie recipes with marzipan such as my German coconut macaroons with marzipan, these German marzipan cookies, or my German Marzipan plum jam cookies. Now, with these marzipan cookies with almonds, we add another traditional German Christmas Cookie to the collection. One that tastes really delicious and is not difficult at all if you pay attention to a few things.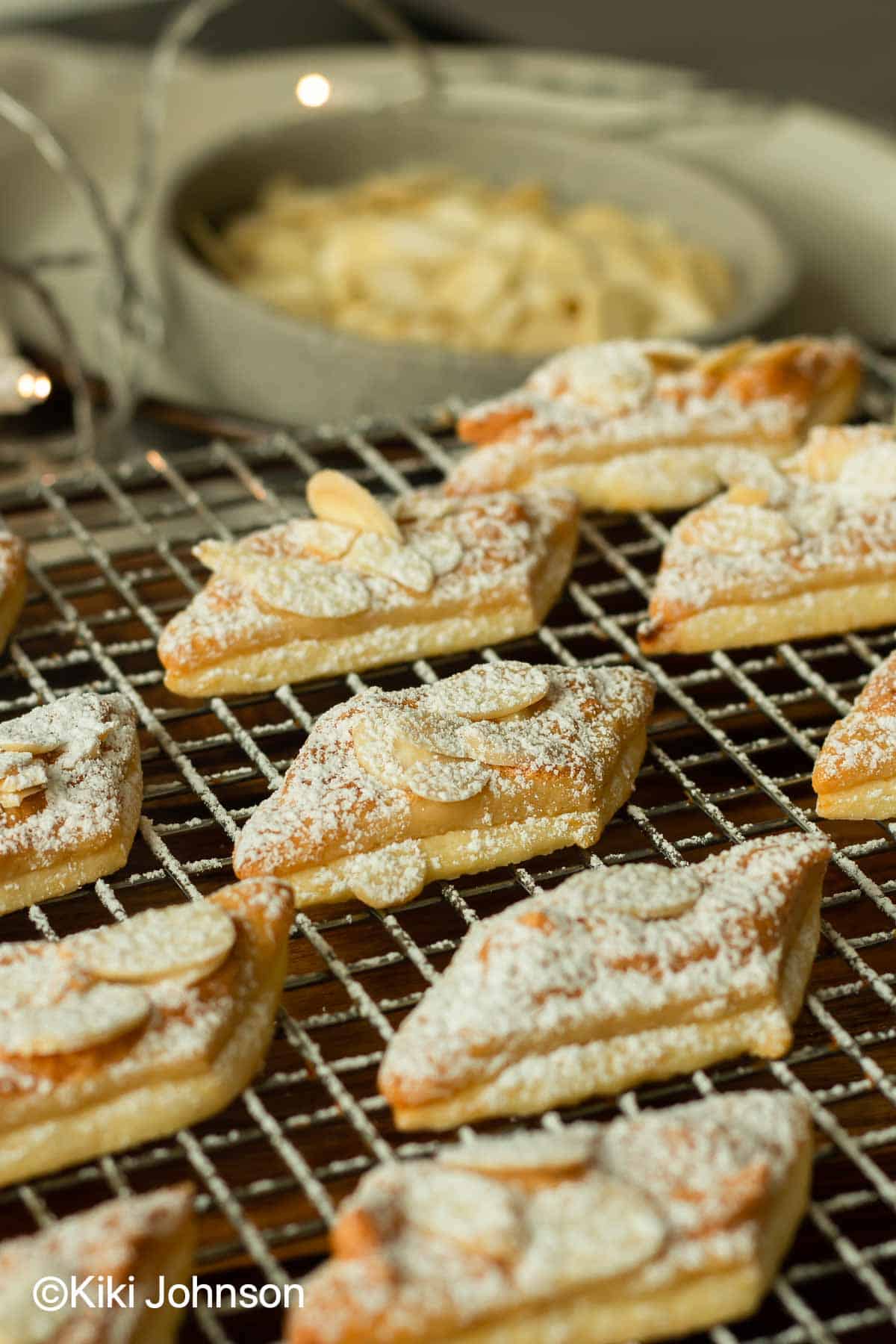 These German Almond Cookies look super pretty on a cookie plate, dusted with powdered sugar! Put on the Christmas playlist and let's bake some German Christmas Cookies!
How to make German marzipan cookies with almonds:
Ingredients:
flour and cornstarch
softened butter – European Butter, if it's possible
powdered sugar
Bourbon vanilla extract or vanilla bean paste
eggs (1 whole egg + 2 egg whites)
marzipan – here's how to make your own marzipan
slivered almonds
optional: rose water or amaretto liqueur
Make shortcrust pastry:
Knead all of the cookie dough ingredients into a smooth dough. Shape the dough into a ball and leave it to rest wrapped in foil in the refrigerator for 1 hour. Roll out the marzipan
Knead the marzipan together with the powdered sugar and roll it out. Adding powdered sugar is necessary because the raw cookie dough mixture will be difficult to work without it. I, therefore, recommend incorporating the icing sugar so that you can roll out a thin layer of marzipan. If your marzipan is a bit old, you can add a bit of amaretto. I rolled out the marzipan between 2 pieces of cling film.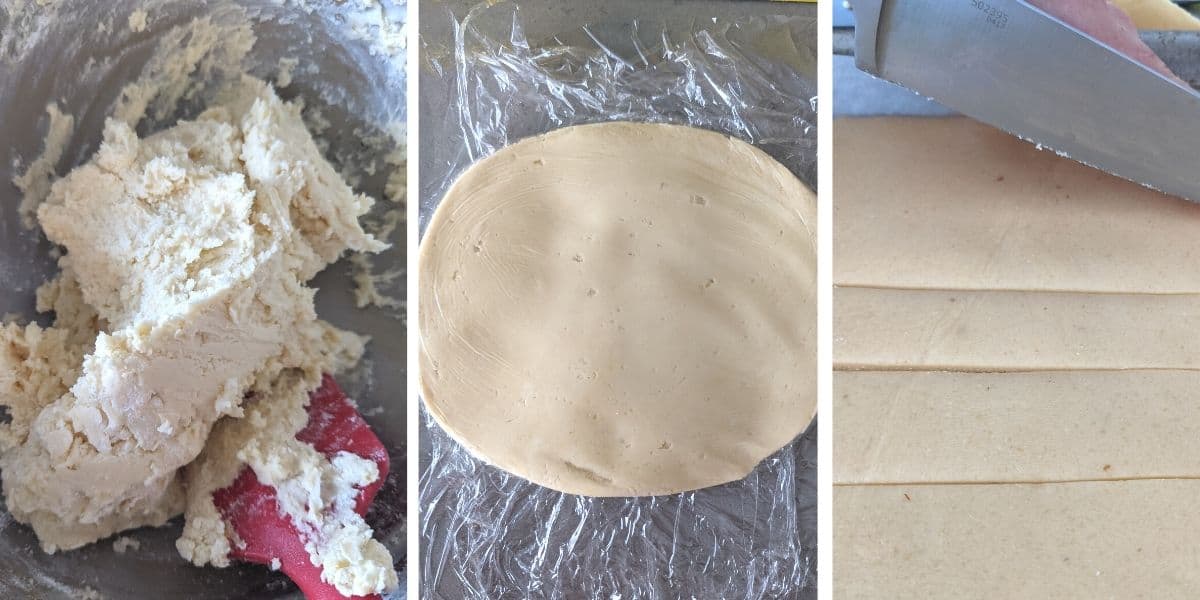 Cut out the cookies with a pizza cutter – no cookie-cutter needed
I rolled out both doughs – the shortcrust pastry and the marzipan blanket – and then simply placed the marzipan on top of the shortcrust pastry. While I roll out the marzipan, I chilled the shortcrust pastry! Then, once placed on top of each other, I cut the cookies into diamonds. This is faster than cutting out shapes using a cookie cutter and there are not so many pastry leftovers left. This works with a sharp knife or a pastry wheel or a pizza cutter.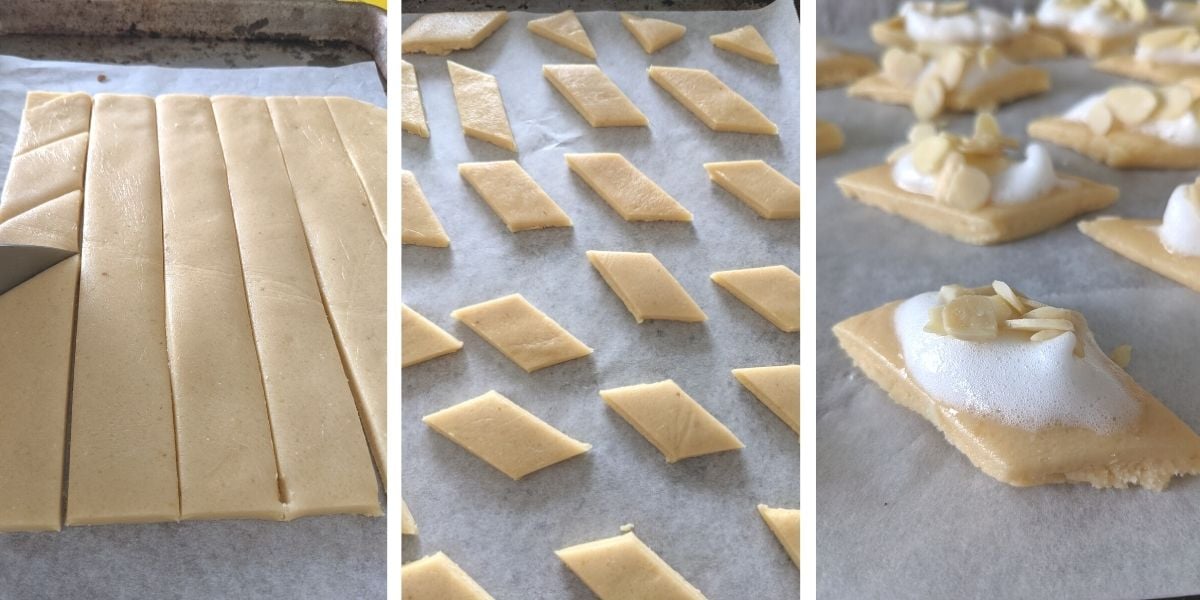 Top with egg whites and almonds
Now we whisk some egg whites. You don't even have to beat the egg whites for too long, we actually do not want them to become too firm and difficult to spread on top of the biscuits. Now you can sprinkle the marzipan biscuits with sliced ​​almonds and put them in the oven at 180 degrees C or 355 F for about 12-15 minutes. After baking, let the almond cookies cool completely and then sprinkle them with powdered sugar.
Cut out the marzipan cookies or cut them into diamonds
If you don't want diamond-shaped Christmas cookies, you can also cut out the marzipan cookies using a round cookie cutter. Simply separate both doughs from each other to roll out the leftovers over and over again. It's a bit of a hassle and you loose that pretty layered look so I opted for the diamonds.

How can you roll out marzipan thinly?
Before you roll out the marzipan, you should prepare the marzipan well. Here are a few useful tips for rolling out the marzipan without any issues.
Knead the marzipan mixture very thoroughly before rolling it out.
Icing sugar and possibly a few drops of rose water help so that the marzipan can be rolled out better and it also tastes amazing. A little amaretto or a sip of brandy, orange liqueur, or rum are also great choices here.
If you want, you can use homemade marzipan

. Freshly made, it's super easy to work with.

To roll out the marzipan you need a smooth surface, two layers of cling film, and a rolling pin. If you don't have cling film, dust the surface and the rolling pin with powdered sugar and then roll out the marzipan evenly. However, it is easier if you use cling film.

Place a piece of cling film that is at least twice the size of the finished marzipan blanket on the countertop. The marzipan mass is placed on the lower half. Wrap the top half of the cling film over it. Now roll out the marzipan. Remove the top sheet and carefully lift up the with the rest of the sheet.

You can use rolled-out marzipan to cover cakes like my German Marzipan Cake with Hazelnut Buttercream.

For this recipe: Place the marzipan blanket on the rolled-up cookie dough.
More German Christmas Cookie recipes:
Marzipan Fans will also love my poached pear cake with marzipan
★ Did you make and love this German Almond Cookies recipe? Give it your review below! And make sure to share your creations by tagging me on Instagram!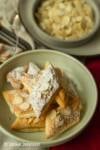 German Almond Cookies with Marzipan
These German Almond Cookies are perfect for Christmas! Tender shortcrust pastry meets marzipan and meringue. No cookie cutters needed for making this traditional German Christmas Cookie recipe!
Total Time
1
hour
37
minutes
Ingredients
Shortcrust Pastry
240

g

flour

1 3/4 cups

60

g

cornstarch

1/2 cup

200

g

butter

3/4 cup + 2 tbsp

75

g

powdered sugar

3/4 cup

1

tsp

vanilla bean paste

1

egg
for the marzipan
200

g

marzipan

about 1 cup

80

g

powdered sugar

3/4 cup + 1tbsp
Crispy topping
2

egg whites

1

+ 2 tbsp powdered sugar

100

g

slivered ​​almonds

100 g
Instructions
Knead all of the dough ingredients/ pastry ingredients together into a smooth dough. You can do this by hand or using a kitchen aid with paddle attachment. Shape the pastry into a ball and leave it to rest wrapped in cling film in the fridge for 1 hour.

Meanwhile, make the marzipan. To do this, combine the marzipan mixture with the powdered sugar (just knead it together) and roll out. I rolled out the marzipan between 2 pieces of cling film.

Now roll out the chilled dough on a floured work surface 3 mm thick and place the piece of marzipan on the dough.

You can now cut any shape you like with a pastry wheel. I chose the diamond shape. A cookie cutter would work too but then you have leftover dough.

Place the cookies on a parchment-lined baking sheet and chill while you proceed with the recipe.

Separate the eggs and whip the egg whites until frothy - soft peaks are fine, we don't want it too be stiff, as this will make it harder to distribute the whites on the dough. Sprinkle 1 tablespoon of powdered sugar into the whites while mixing. Use a teaspoon to spread the a layer of egg foam over the cookies.

Now you can sprinkle the almond flakes on top and bake the marzipan cookies in a preheated oven at about 180 C / 356 F top / bottom heat for about 12 - 15 minutes until light golden brown.
Recipe Notes
Marzipan biscuits made from shortcrust pastry soften quickly in plastic containers as they contain moisture. For storing, I prefer metal cookie tins, where they stay crispy when stored at a cool place.