Dieser Beitrag ist auch verfügbar auf:

Deutsch (German)
Two creative variations of my tried and tested recipe for Spitzbuben Cookies – traditional German Christmas Cookies. Tender and buttery Macadamia Cherry Spitzbuben and Boozy Black Forest Spitzbuben. The best sandwich cookie you'll ever have!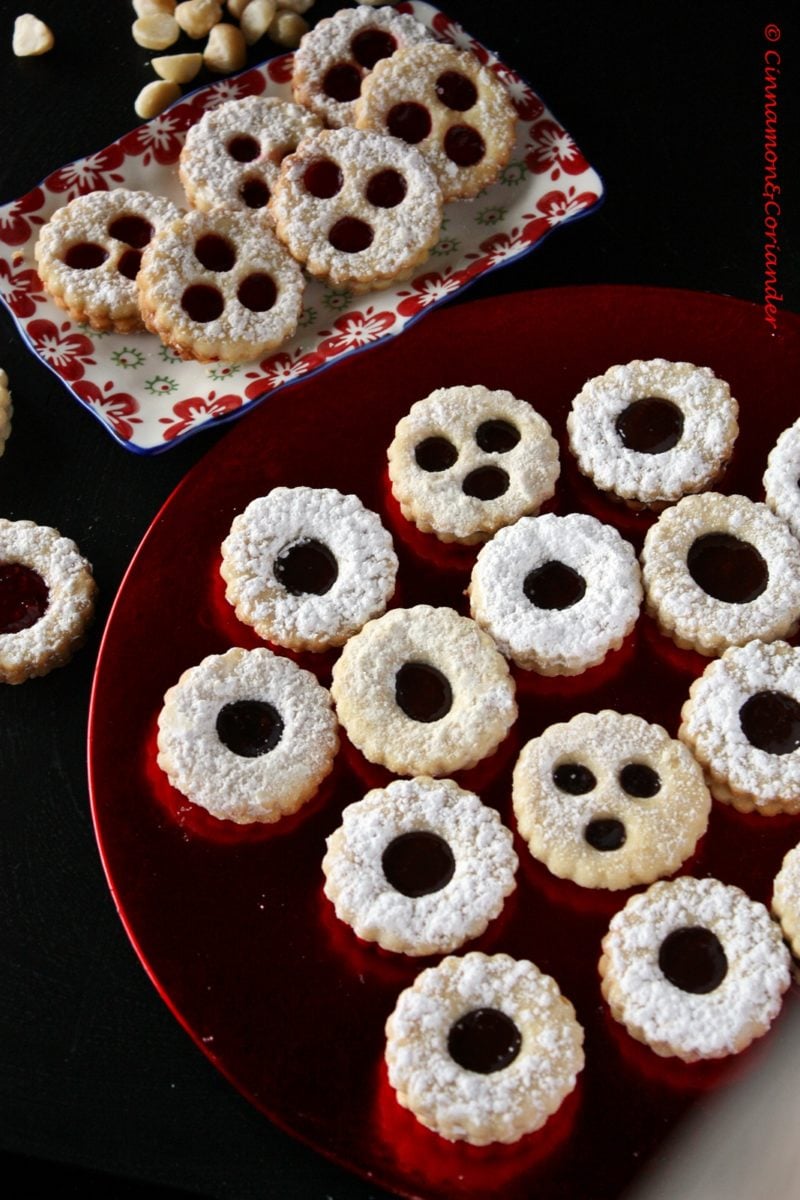 German Christmas Cookies are easy to make in advance and super impressive on any cookie plate!
This year I am starting my Christmas baking extra early as I am taking off to Mexico next week. We are gonna take some of the cookies with us and the rest goes to family and friends, who are staying in Calgary for the festivities.
Now, there is still a whole month left before Christmas and I limit myself to baking the kind of Christmas cookies that can be made far in advance. These dainty little German Christmas cookies called Spitzbuben Cookies are one of those. They keep forever and even get better as they sit.
Why you need to try these traditional German Christmas Cookies:
The popular German Christmas Cookies "Spitzbuben" are a melt in your mouth butter cookie with a tart jam in the middle. Though the Spitzbuben cookie dough does not strictly require nuts (like, say, a Linzer Cookie) I like to add some ground nuts anyways as it makes for a better, more flavorful and tender cookie.
One cookie dough, two German Christmas Cookie Variations:
This year I created two different varieties of German Spitzbuben Cookies. As I am short of time and wanted to keep it sweet and simple I'm gonna show you a way to get two completely different tasting cookies with minimal extra effort! In fact, I used exactly the same dough for both kinds of Spitzbuben cookies.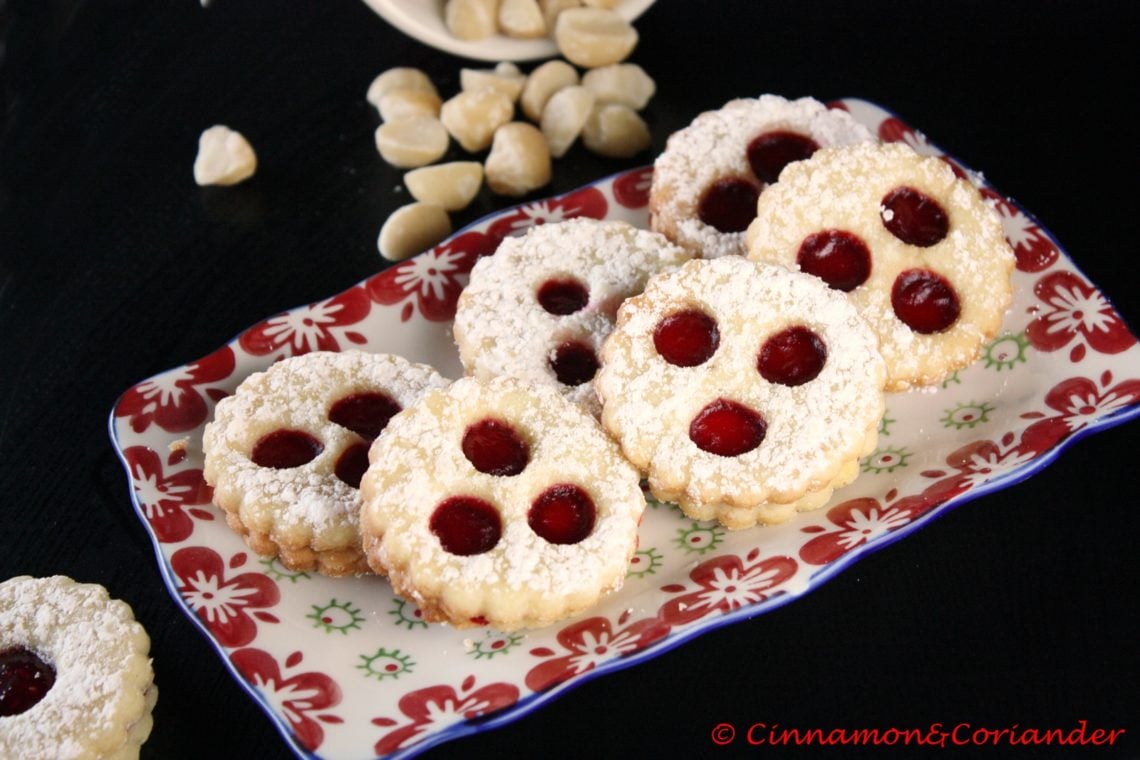 German Christmas Cookie Variation Nr 1: Macadamia Cherry Spitzbuben
The first variety is a Macadamia Cherry Spitzbuben Cookie: A buttery melt-in-your-mouth Macadamia Cookie with Sour Cherry Jam in the middle. I love the contrast between the pale, tender cookie and the bright red sour cherry jam!
For the Macadamia Spitzbuben Cookie dough it is important to roast the macadamias first, then let them cool down completely before you grind them in your food processor. I like to add a bit of the weighed out flour mixture to the nuts when I grind them as it prevents the fatty macadamia nuts to turn into a paste when chopping.
Make sure that you use a good sour cherry jam for your filling. It should be tart, not overly sweet! I like to stir a bit of rum, schnapps or vodka into the jam before I spread it onto my cookies. It helps to keep the cookies moist from the inside.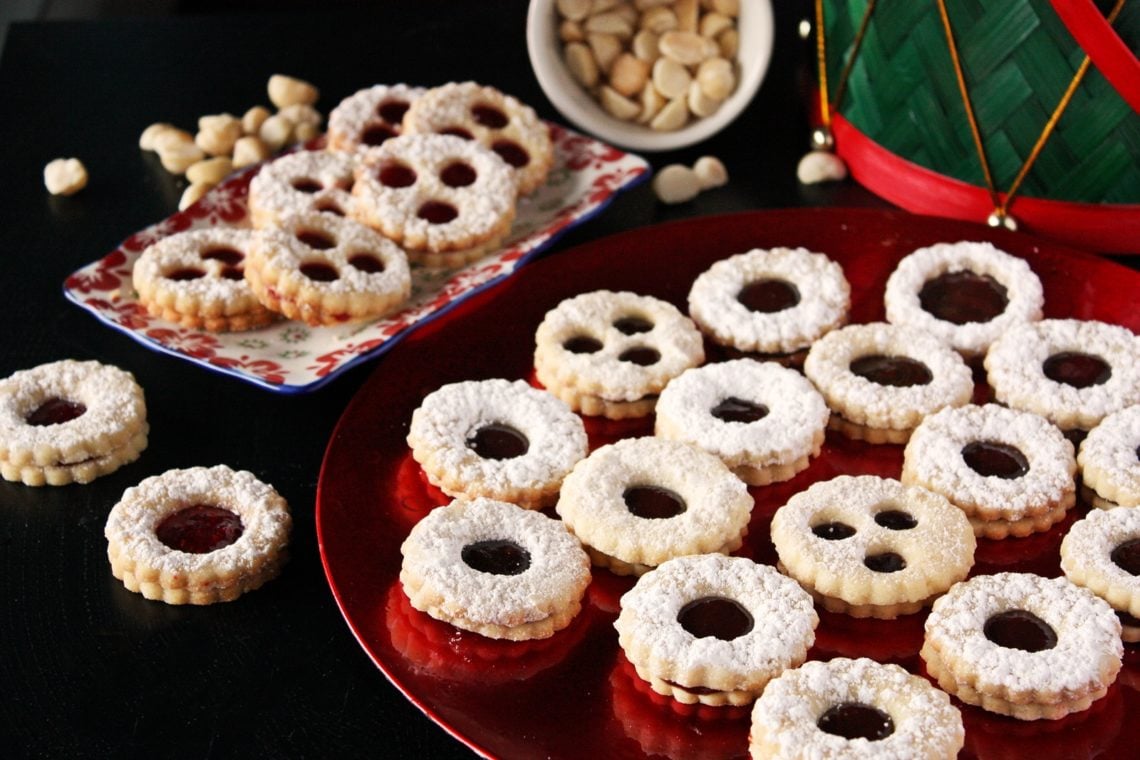 German Christmas Cookie Variation Nr 2: Black Forest Spitzbuben Cookies
As a second flavour, I opted for a Black Forest Spitzbuben Cookie. If you want to make both kinds, like me you can use the same dough as for the Macadamia Spitzbuben.
If you decide to only make the Black Forest Sandwich Cookies, you can substitute almond flour for ground macadamias. Either way, the important part is the Black Forest Jam! Cherry meets chocolate meets Kirsch-Schnaps. These Black Forest Sandwich cookies are out of this world!!!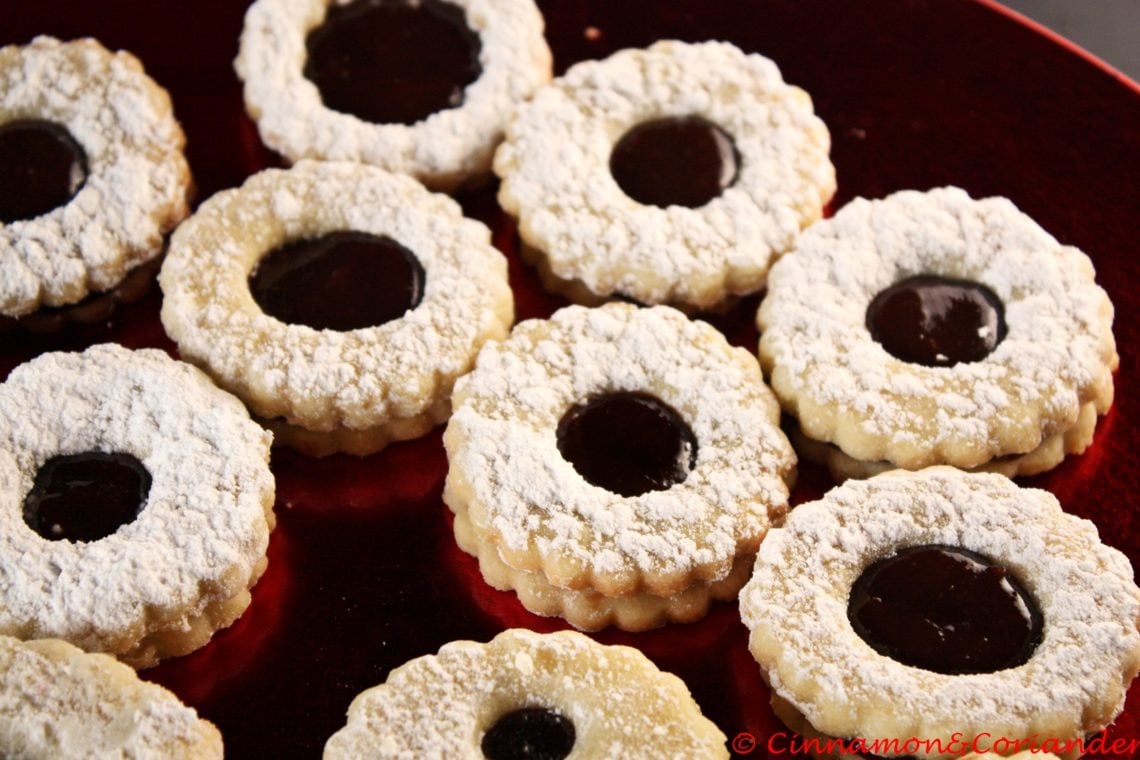 There are two options to make the filling for our Black Forest Spitzbuben Cookies. The more sophisticated version is to cook a Black Forest Jam from scratch using frozen cherries, cocoa powder and kirsch.
I did this back in summer with sour cherries from the garden. With it being mid-November I offer you a shortcut! Simply buy a jar of sour cherry jam, bring it to a full boil, add 2 tbsp of cocoa powder along with 2 tbsp of sugar to balance out the bitterness of the cocoa. Let it boil until clear, puree a bit if chunky, and mix in the kirsch right in the end.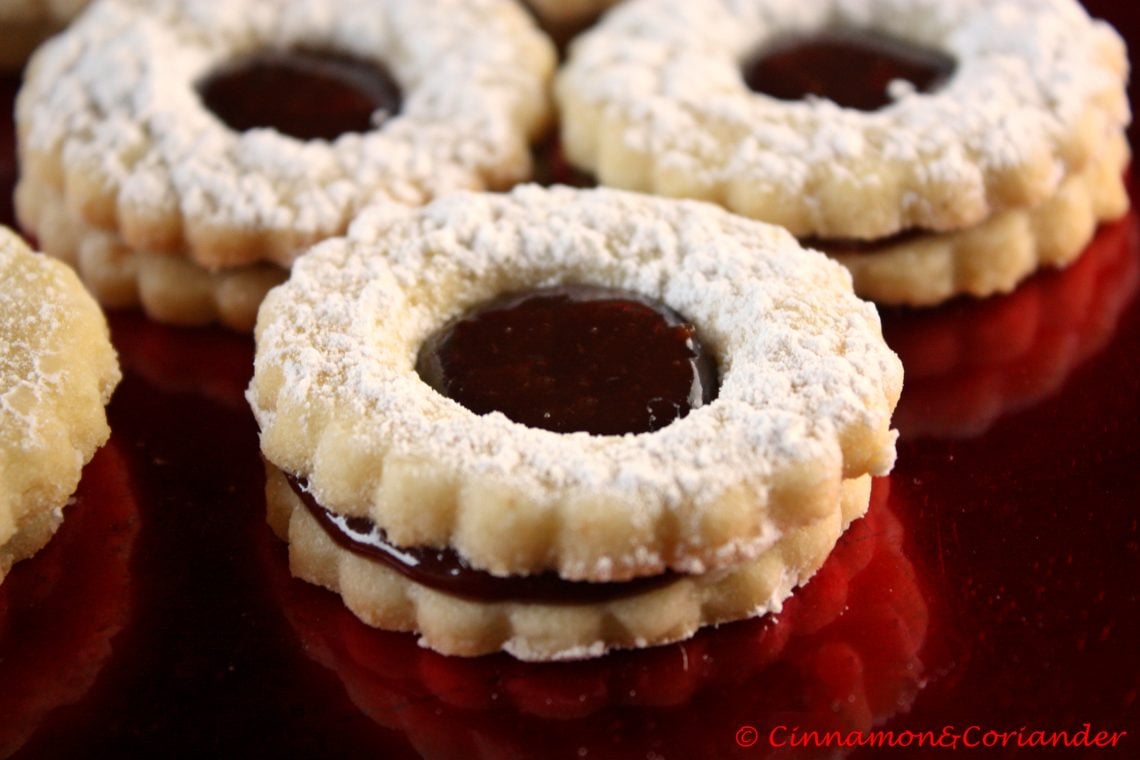 What you need when baking these German Spitzbuben or any kind of Christmas Sandwich Cookie like Linzer Cookies is a good Linzer Cookie Cutter Set
. I use this set for almost all of my Christmas baking. It comes in different shapes and is really pretty much all you need.
I am a participant in the Amazon Services LLC Associates Program, an affiliate advertising program designed to provide a means for us to earn fees by linking to amazon.com and affiliated sites
★ Did you make and love these German Christmas Cookies? Give the recipe your review below! ? And make sure to share your creations by tagging me on Instagram!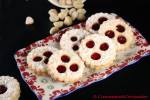 German Spitzbuben Christmas Cookies
Two creative variations of my tried and tested recipe for Spitzbuben Cookies - traditional German Christmas Cookies. Tender and buttery Macadamia Cherry Spitzbuben and Boozy Black Forest Spitzbuben. The best sandwich cookie you'll ever have!
Servings
20
sandwich cookies
Ingredients
For the cookie dough
100

g 

macadamia nuts

or almonds or hazelnuts

300

g 

sifted flour

150

g 

powdered sugar

1 

pinch

salt

200

g 

butter

cooled

1

egg

1 

tsp

vanilla extract
For the sour cherry filling
200

g 

sour cherry jam

1

tbsp

rum

wodka or schnaps
For the Black Forest Jam filling
200

g

Sour Cherry Jam

2

tbsp

sugar

2

tbsp

cocoa powder

1 -2

tbsp

kirsch
Instructions
Toast the macadamia nuts in a pan without oil and set aside to cool completely.

Mix flour and powdered sugar in a bowl. Grind the cooled nuts in a food processor adding a bit of the flour to prevent the nuts from turning into a paste. Mix nuts with the other dry ingredients.

Grate the cooled butter over the dry mixture and add the egg and vanilla. With you hands or with the paddle attachment of your standmixer, mix the ingredients until clumps start to form.

Quickly knead he dough into a ball, divide the ball in to and shape each portion into a flat disc. Wrap dough in cling film and let cool in the fridge for 2 hours.

Preheat the oven to 180 C / 375 F. Line two cookie sheets with parchment paper. Roll out the dough to about 4 mm and cut out your Spitzbuben Cookies using a Linzer Cookie Cutter Set. Place the cookies on the baking sheet and put in the freezer for a couple of minutes before baking them for 8 to 9 minutes.

When slightly golden, take them out of the oven and let them cool completely. In a little bowl, mix the jam with a tbsp of liqueur of your choice and spread about 1/2 tsp of filling on each cookie bottom, leaving a small border around each cookie.

Dust the top half of the cookies with powdered sugar and gently press them on top of the bottom. Use a spoon or piping bag to fill the open centers of the Spitzbuben Cookies with some more of the jam. Keep the Macadamia Cherry Spitzbuben Cookies stored in an airtight container for up to several days
For the Black Forest Spitzbuben Cookies
For the dough, use the same ingredients and method as described above, substituting almonds or hazelnuts for macadamias. Use Black Forest Jam filling instead of Sour Cherry Jam.
For the Black Forest Jam filling
Place jam in a little pot. Mix cocoa powder and sugar and add to the jam. well to combine and let come to a rolling boil. Take off the heat and stir in the kirsch. Let come to room temperature and refrigerate until firm.
Recipe Notes
Keep the German Spitzbuben Christmas Cookies stored in an airtight container for up to several days