Dieser Beitrag ist auch verfügbar auf:

Deutsch (German)
Around Christmas Germans go nuts in the kitchen. Literally!
Be it Linzer or Cinnamon Stars – there´s almost no Christmas Cookie recipe in our traditional repertoire that doesn´t contain at least 100g of nuts.
Roasted and freshly ground of course 🙂
Given that nuts are a bit more expensive on this side of the ocean than back home my Christmas Baking is challenging our budget for this year but there´s just no way I can have Christmas without some of the real classics! These Walnut Marzipan Sandwich Cookies are a staple on every German Christmas Plate and we literally fight over them as soon as they are released from their 1 week long beauty sleep in the cookie tin!
Imagine sweet, nutty marzipan, and boozified apricot jam sandwiched between two buttery walnut cookies…..
We literally look forward to these Walnut Marzipan Sandwich Cookies all year long!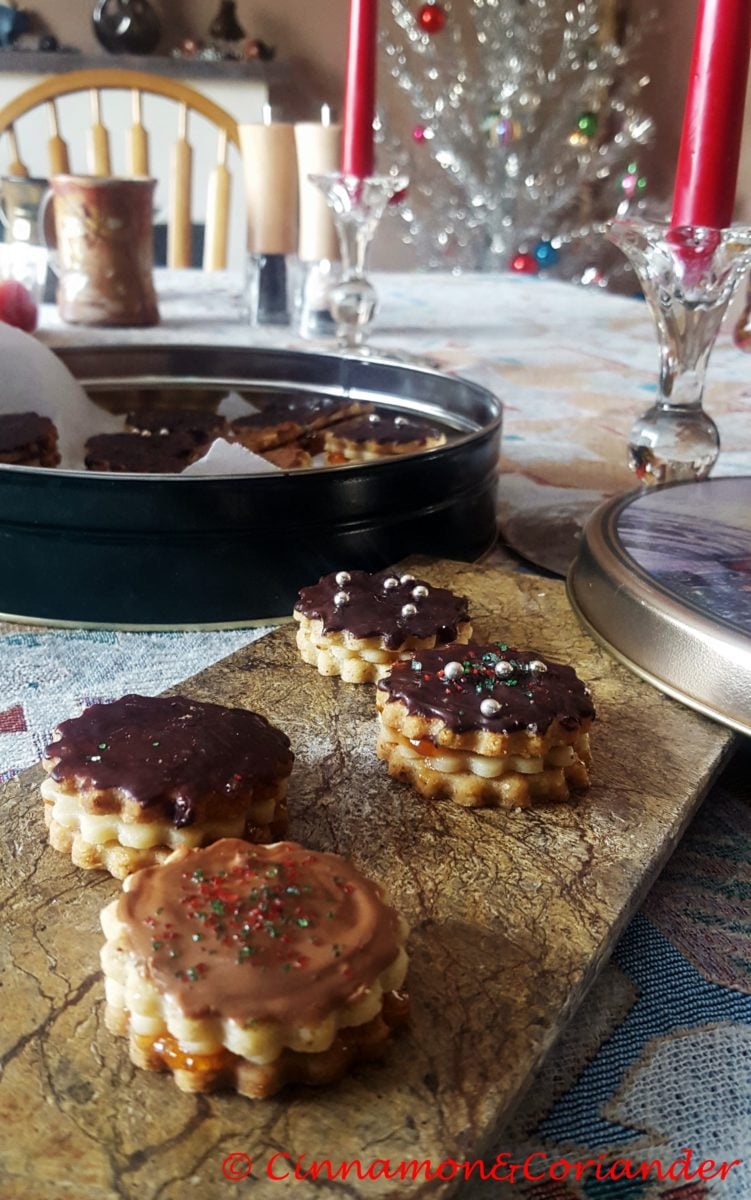 We usually make these Walnut Marzipan Sandwich Cookies about 2 weeks before Christmas and store them in tins in a cool room. This resting time allows for the aroma to fully develop and for the walnut cookies to soften up a bit and get all tender and melt-in-your-mouth.
This year, I had a very late start and didn´t bake them until the very last minute…which is today 🙂 They are still gonna be delicious! Nevertheless, I`m gonna store them in a container for the remaining 3 days – also to make sure that there are still some left for Christmas Eve.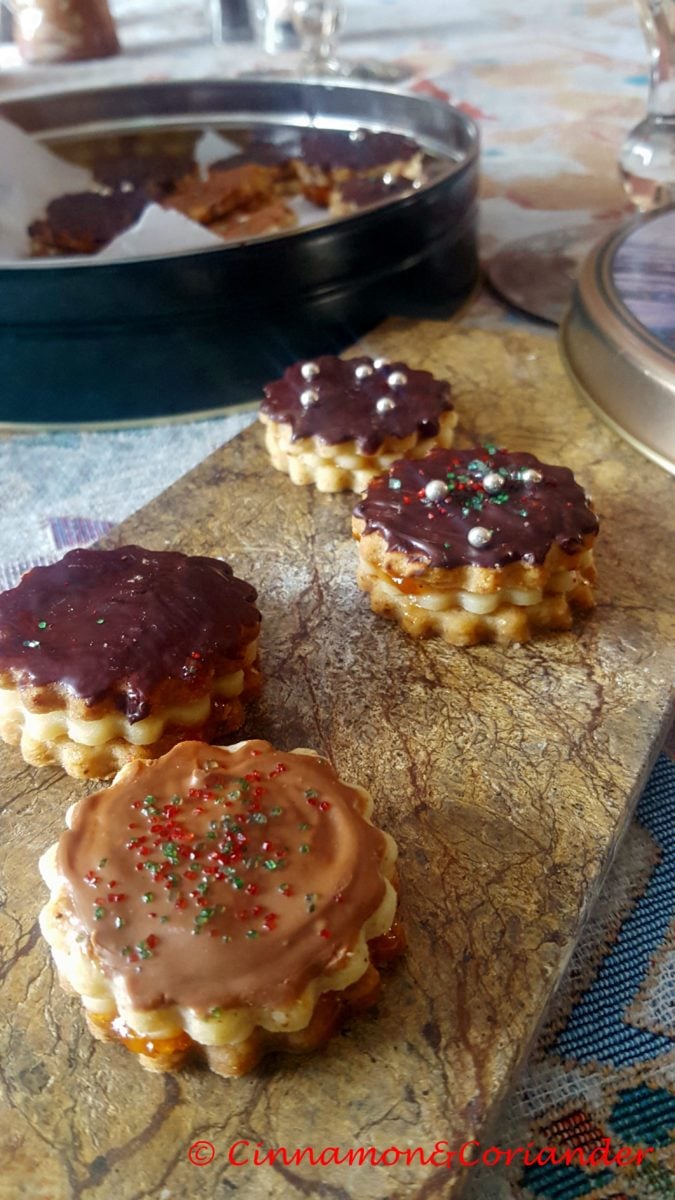 Also, if your Christmas baking is over already I still really want to encourage you to try them out for any other occasion! They are way to good to only be eaten once a year anyways ! They also store really well and stay good for ages, so just bake a batch, store them in a cold room and take some out for whenever you feel like having a little special treat with your cup of coffee.
Walnut Marzipan Sandwich Cookies | German Christmas Cookies
This traditional German cookie is a family favourite! Marzipan lovers got to try this for Christmas or any other occasion!
Total Time
1
hour
10
minutes
Ingredients
300

g

flour

200

g

sugar

1

tsp

vanilla extract

1

tsp

rum extract

3

drops

almond extract

1

tbsp

sour cream

200

g

Butter

1

pinch of salt

150

g

ground roasted walnuts

For the filling

400

g

marzipan

200

g

dark chocolate

2

tbsp

rum or cointreaux

200

g

aricot jam
Instructions
Put the butter in a bowl and mix in all the other dough ingredients. Mix just until a dough forms, wrap in cling film and chill for at least an hour. Roll out the dough thinly to a few mm and cut out the cookies using a shape of your choice. Bake the cookies for about 10 minutes in an 385 F - or 180 to 190 C oven and let cool completely.

Melt the chocolate and glaze half of your cooled cookies with it.

Knead the marzipan and the tbsp of rum and roll out thinly. Mix the jam with another tbsp of rum or cointreaux and spread thinly on the bottom part of the sandwich cookie. Cut out little marzipan cookies using the same cutter as before and place on the apricot side of the cookie bottom. spread more jam on the top layer of the cookie and press the top of the sandwich cookie on the marzipan.

Let them dry a bit then place them in a cookie tin and store them in a cool room. They tend to get better with the time so make them at least a week before Christmas! They will stay well for at least 2-3 weeks but probably won´t last that long anyways.