Dieser Beitrag ist auch verfügbar auf:

Deutsch (German)
Try my authentic recipe for the famous Austrian Christmas cookies! In my easy Linzer Cookies recipe, the cookie dough is enriched with ground hazelnuts and almonds and flavored with a mix of Christmas spices.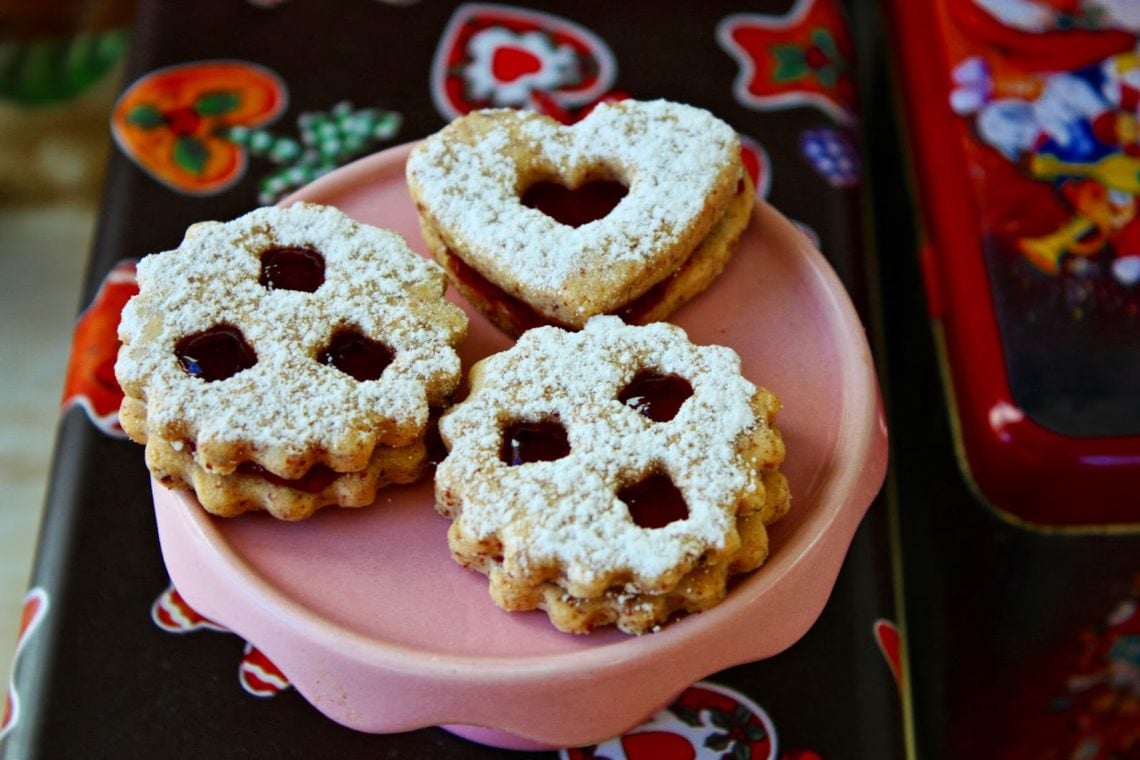 These authentic Austrian Linzer Cookies will be your favorite Christmas Cookies EVER!
With all that jam peaking out of the little holes and the generous dusting of icing sugar on top, these adorable Linzer Cookies just scream HOLIDAY! But they are not just nice to look at,  they are also incredibly delicious!
This Linzer Cookies recipe is a mini-version of the Austrian Linzertorte, one of the most famous confections in Austria.
Now, I am not Austrian but Linzer Cookies have also become a Christmas baking staple in Germany. They have been part of my Granny's Christmas Cookie Repertoire ever since I remember.
Christmas without Linzer Cookies? NEIN, that is not possible! Now, I make them for my Canadian family each year and always disappear within days!
What are the ingredients for authentic Linzer Cookies?
Authentic Austrian Linzer Cookies are made from a buttery dough, rich with ground almonds or hazelnuts – or a mix of both – and spread with jam.
The filling should be tart and we would usually go for a tart raspberry or red currant jam or jelly.
As a last step Linzer Cookies are topped with a sugar-dusted lattice of more dough before baking, which gives them their typical Linzer-Look.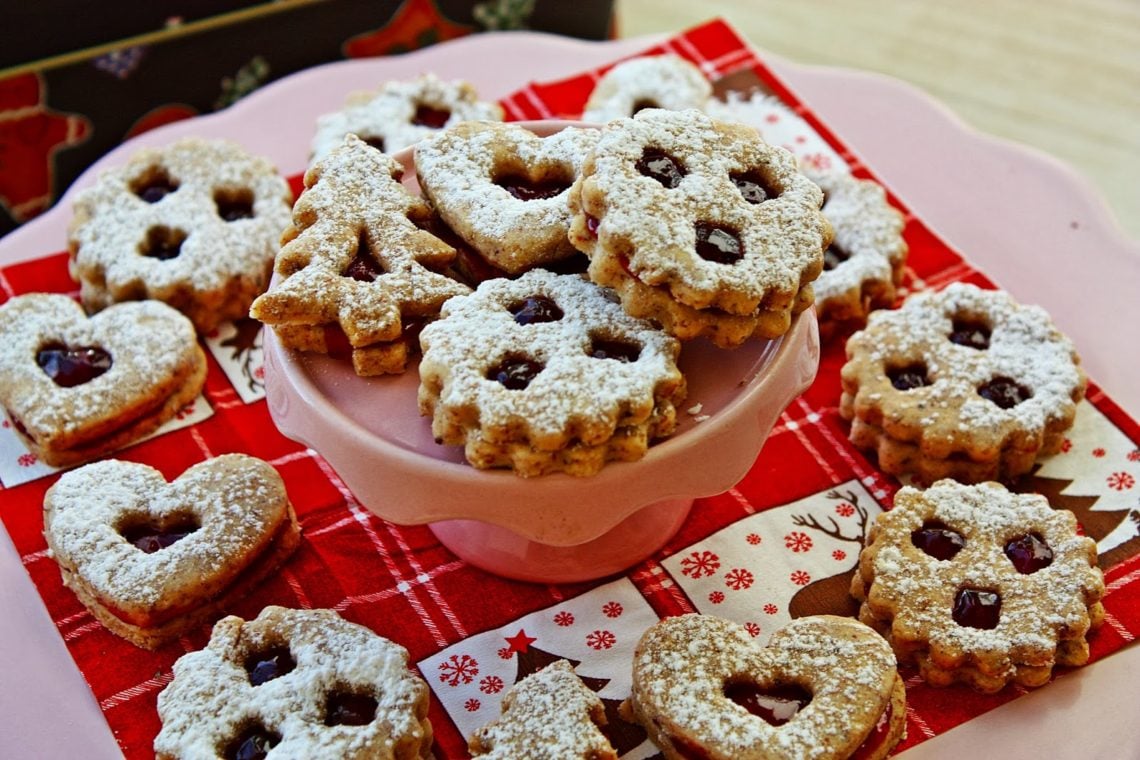 Tips for making this Linzer Cookies recipe:
 Assembling these pretty jam-packed Linzer Cookies takes a little more work than a standard sandwich cookie, but it's really worth the effort. It's also easy enough as long as you have the proper Linzer Cookie Cutter Set.
Having the right cookie cutter will help you cut out the correct shapes.
To make this Linzer Cookie recipe, you'll need equal parts of almond and hazelnut flour. If you have trouble finding it, it's easy to make your own from whole nuts!
Remember to roast your nuts before you grind them!
A tablespoon of rum added to the cookie dough makes for easier rolling!
Linzer Cookies need some time to rest, make them at least a week before Christmas!
Each year I would start my Christmas Baking with the famous Austrian Linzer Cookies. One reason is that they are rather fiddly and require patience and a steady hand. Nothing you want to do once the holiday stress has started to kick in!
But there's another reason to start with these early! They need a certain time to rest and I REALLY recommend you let the Linzer Cookies sit in cookie tins for at least a week before you enjoy them.
They will become softer, more melt-in-your-mouth and develop their wonderful flavor after some time.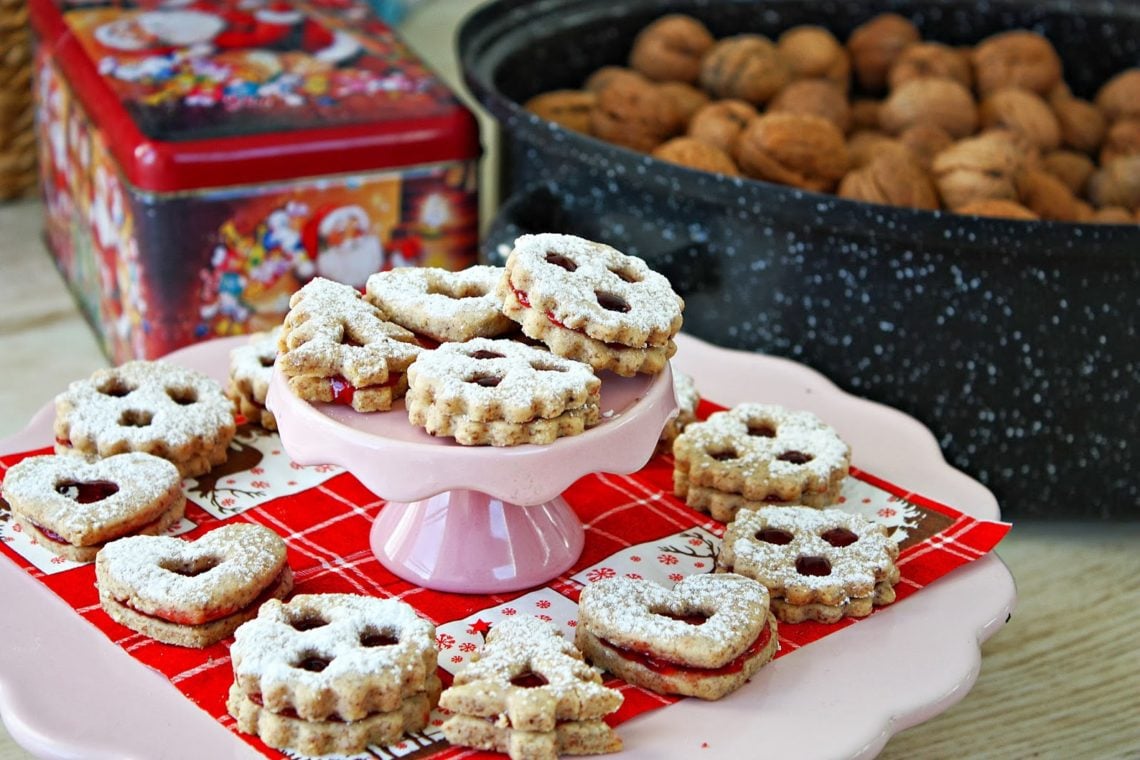 Want to know my secret ingredient for the perfect Linzer Cookies?
Another trick that I've learned over the years is to mix the jam with some booze! I like to use pear or plum schnapps, rum or raspberry liqueur.
It makes the jam filling more spreadable and helps to keep the cookies moist from the inside!

My product recommendations:

A note about affiliate links in this post: some of these links will take you to Amazon where I may receive a small percentage of sales, at no extra cost to you.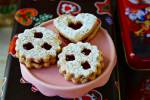 Authentic Austrian Linzer Cookies
Try my authentic recipe for the famous Austrian Christmas cookies! In my easy Linzer Cookies recipe, the cookie dough is enriched with ground hazelnuts and almonds and flavored with a mix of Christmas spices.
Ingredients
150

g

softened butter

50

g 

powdered sugar

1/4 

tsp

nutmeg

1/2 

tsp

ground cloves

1 

tsp

cinnamon

1/4 

tsp

cardamom

not part of the authentic recipe, it's just something I like to add

1/2

tsp

vanilla extract

2 

egg yolks

1-2 

tbsp

rum

75

g

 finely ground almonds

75

g

finely ground hazelnuts

pinch

salt

150

g 

sifted flour

150

g 

red currant or raspberry jam

1 

tbsp

rum or raspberry liqueur
Instructions
Beat the butter and powdered sugar until fluffy and add the spices, vanilla, egg yolks, and rum. Mix nuts, salt, and flour in a little bowl and add to the butter mix. Combine everything and quickly shape the dough into a disc. Cool the dough in the fridge for several hours or overnight.

Preheat the oven to 175 Degrees Celsius and roll out the dough to about 3-4 mm. Cut out shapes using the Linzer Cookie Cutters.

Bake the cookies for about 8 Minutes, take them out and let them cool.

In a little bowl, mix the jam with the rum and spread this boozy jam on the bottom half of your cookies. Dust the lattice-part of the cookie with icing sugar. Top the jam-half with the upper half and store the cookies in metal tins.
Recipe Notes
Linzer Cookies get better with time and should rest at least a week. The can be stored in cookie tins at room temperature, or slightly cooler for over a month.