Dieser Beitrag ist auch verfügbar auf:

Deutsch (German)
These Soft and Chewy Almond Paste Cookies ( Marzipan Cookies) are a traditional German Christmas Cookie recipe you will love. Quick and easy to make!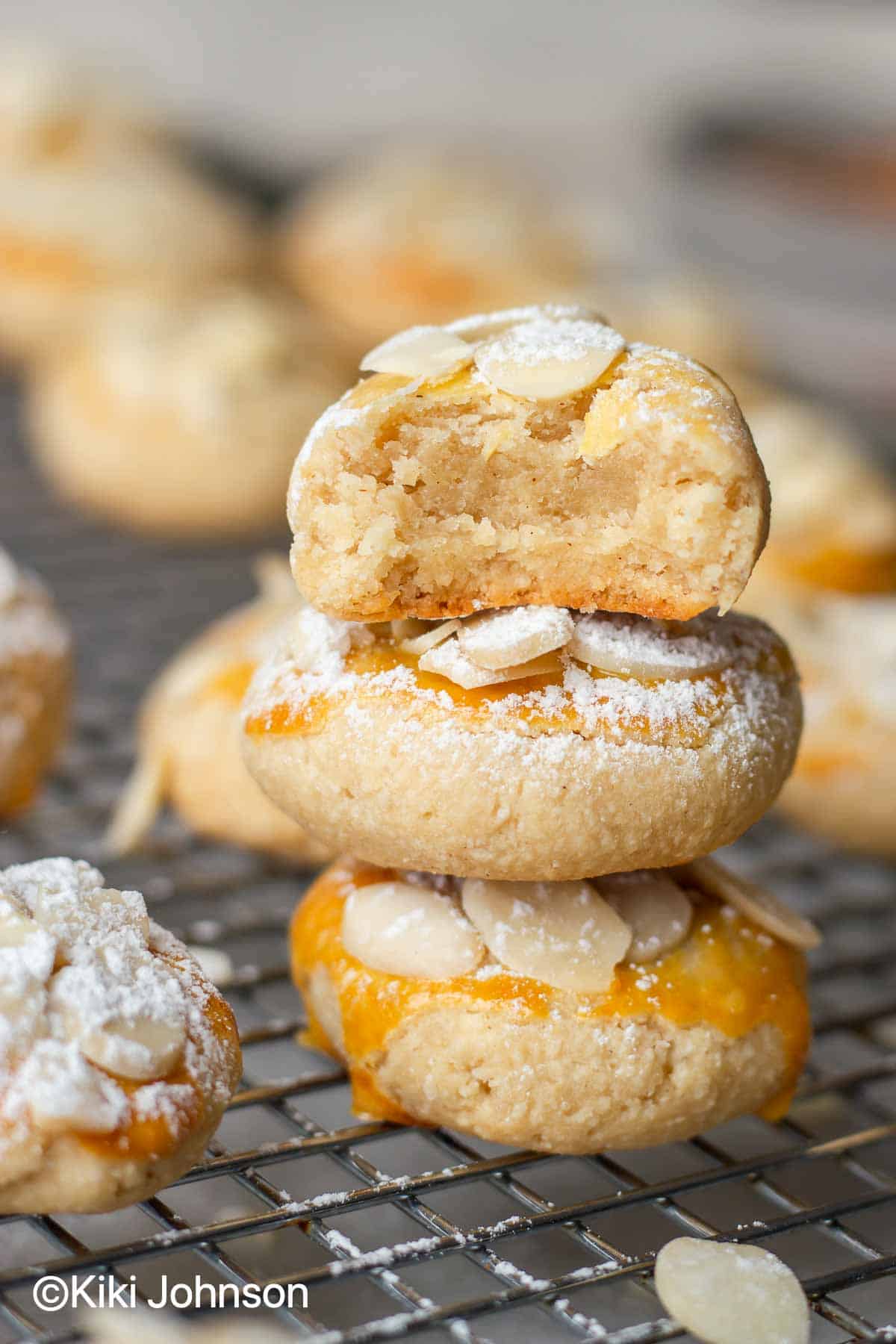 The soft and chewy marzipan cookies melt in your mouth! They look like little almond clouds but have a rich texture thanks to almond paste and are bursting with flavor. They are topped with slivered almonds are absolutely delicious fresh from the oven but they stay nice and soft for days. The perfect cookie for everyone who wants to try a traditional German Christmas Cookie recipe but does not want to spend hours in the kitchen!
Soft & Chewy German Almond Paste Christmas Cookies
In Germany, baking at least one kind of Marzipan cookie using store-bought or homemade almond paste is a non-negotiable during the Christmas season and I look forward to making my favorite recipes all year round. I just cannot get enough of marzipan treats during the Christmas season. My German Almond Cookies are already all gone so here's another German Christmas Cookie recipe that is super popular all over the country. Soft Chewy Marzipan Cookies using homemade almond paste. What I love about this cookie recipe is that you only need a few basic ingredients for baking. It's quick and easy.
But hey, German marzipan cookies are a great addition to your cup of cappuccino all year round! They are soft and juicy, and with that dash of amaretto they taste like soft amaretti from the Italian deli. Just lovely.
Why German marzipan cookies have to featured on your holiday cookie platter:
they are chewy and soft – made for marzipan lovers
quick & easy: only need 15 minutes to prepare
no cooling time / waiting time is provided
few ingredients (amaretto can be omitted)
I love the contrast of crunchy roasted slivered almond surrounding the soft, chewy almond paste center – it not only looks great, it tastes great too!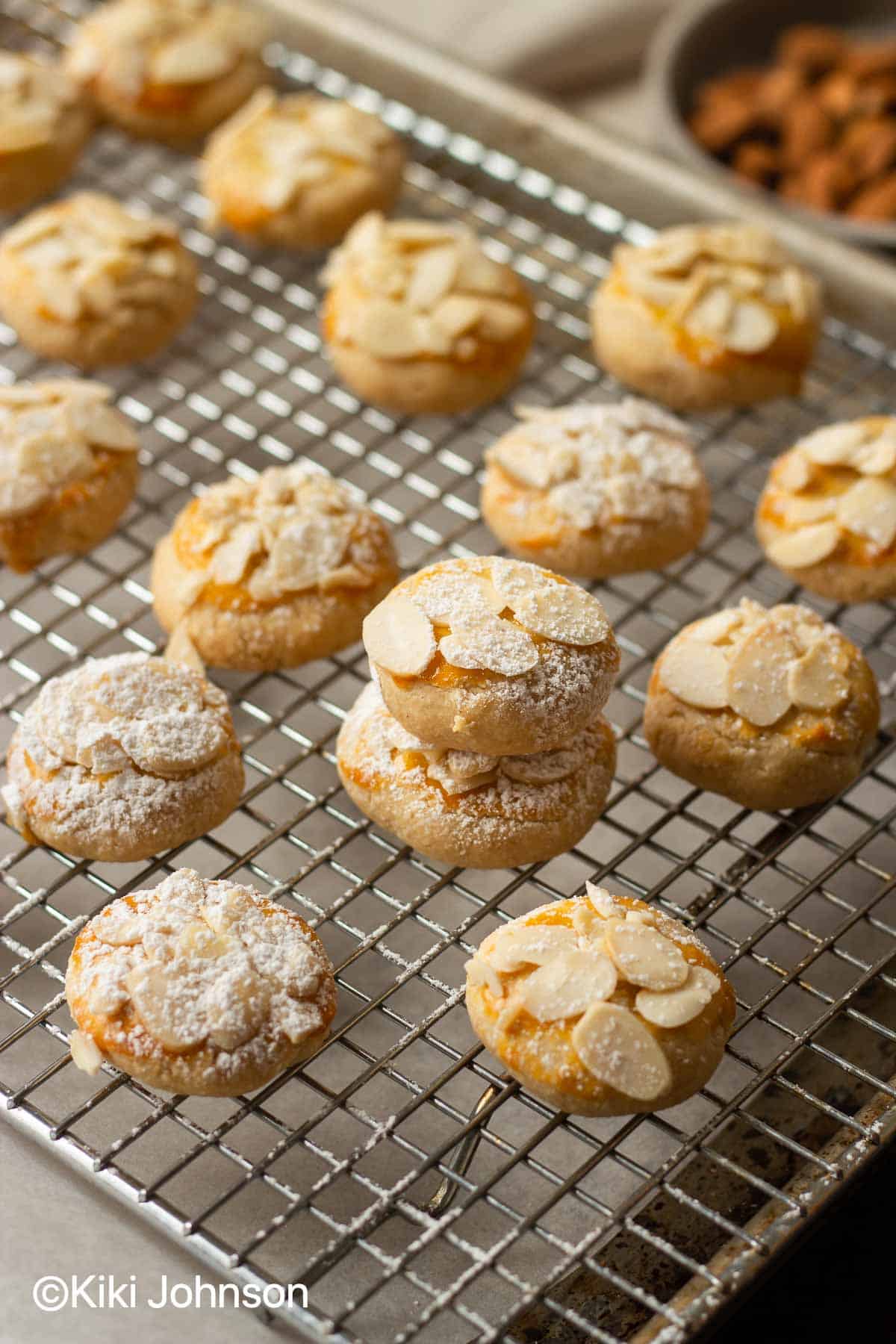 Ingredients for making German marzipan cookies
soft Marzipan or almond paste – here's how to make your own almond paste
flour
Egg – only the egg white goes into the dough, we need the egg yolk for brushing
powdered sugar
slivered ​​and ground almonds
Amaretto (optional)
Save the egg yolk for brushing! If you double or triple the recipe don't know exactly what to do with the leftover egg yolk, I can recommend my lemon curd recipe or my Christmas cranberry curd.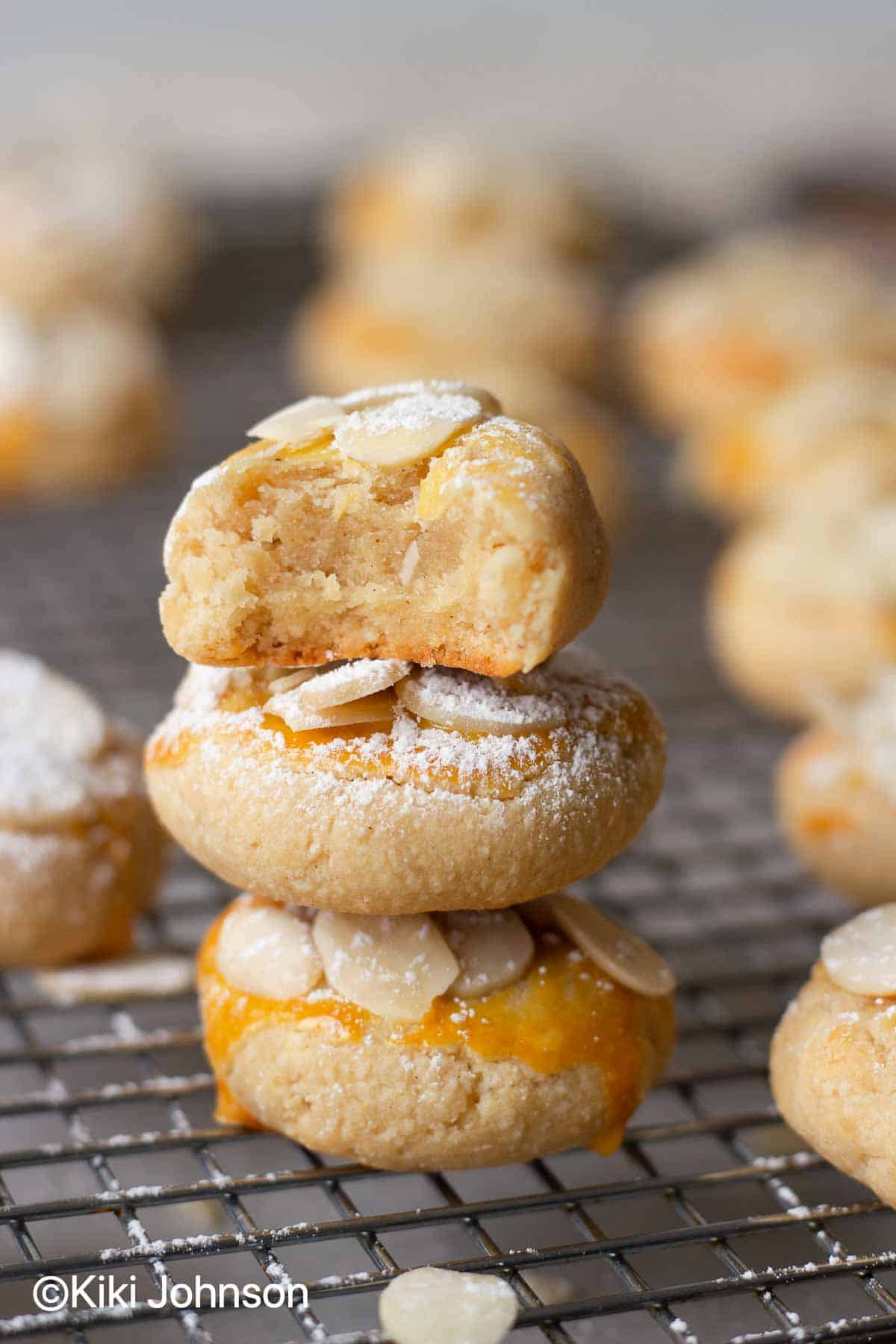 Step by step instructions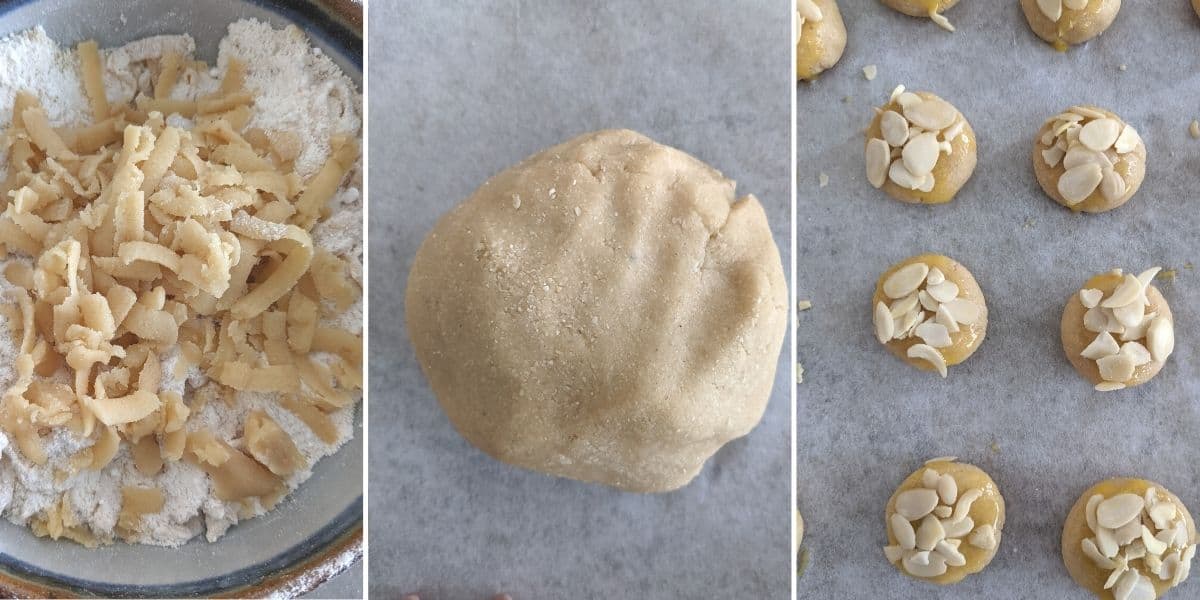 Grate almond paste (see tips).
Mix the flour, almond flour or ground almonds and salt together.
Separate the egg and separate the yolks.
Combine the egg white with the marzipan and the remaining ingredients except for the sliced ​​almonds and egg yolks in a mixing bowl. Mix until you have a dough.
With damp hands you can now shape walnut-sized almond balls. Place them on a lined baking sheet and brush them with egg yolk and cover with the slivered almonds. Bake in the oven at 175 C / 155 C convection air for 12 minutes.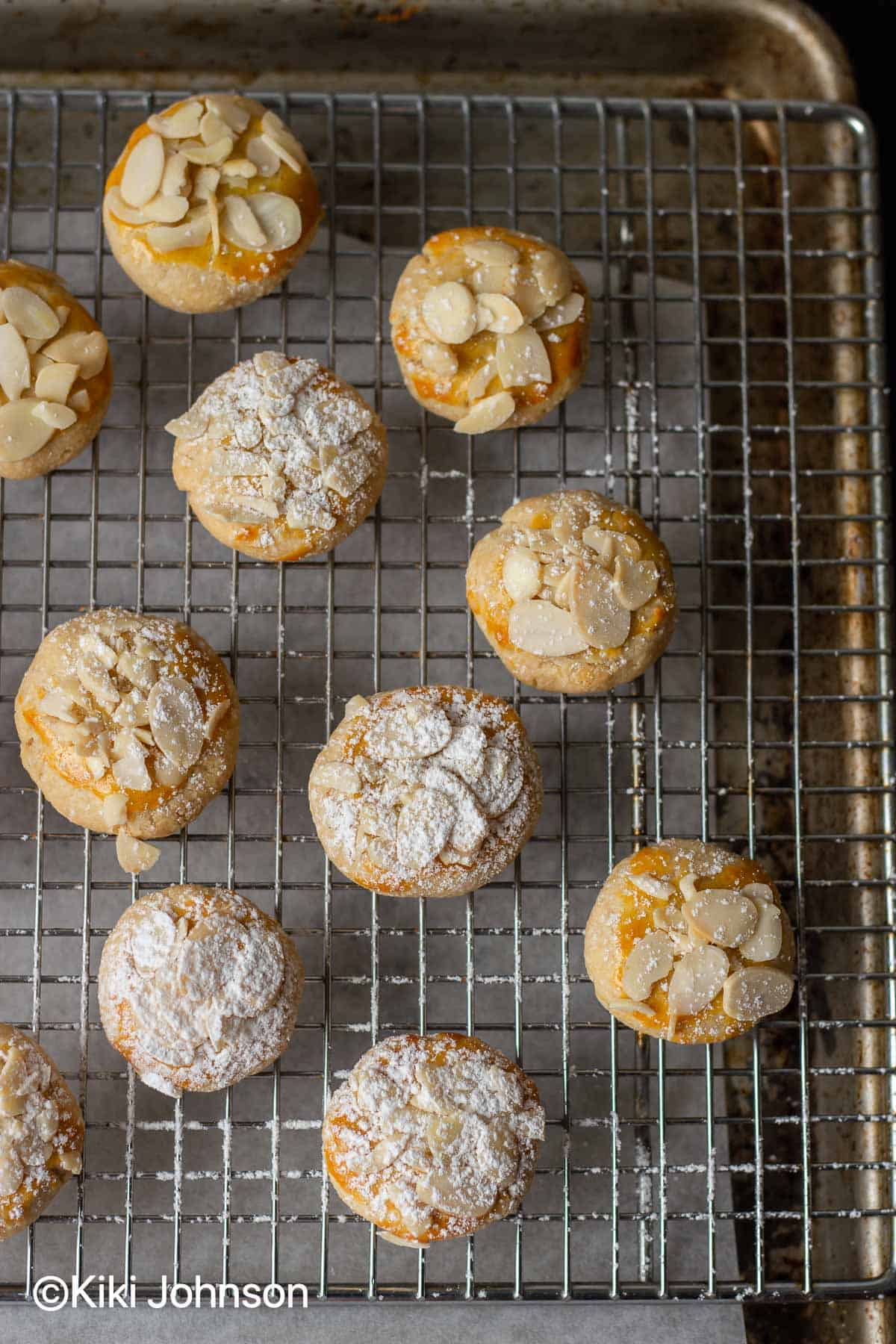 How do you grate marzipan or almond paste?
Place wrapped marzipan or almond paste into the freezer for half-an-hour. If it is not solid after 30 minutes, leave the marzipan in the freezer and continue checking it every 10 minutes until it is solid. Remove the solid almond paste from the freezer and unwrap. Place hand grater over small bowl, and grate almond paste into the bowl.
Almond Paste vs Marzipan
Marzipan and almond paste are not staples in most North American kitchens or recipes so let's quickly talk about our options here. In Germany, marzipan is sold in moist bars wrapped in plastic which are easy to shape.
So in Gemany / Europe, I would get marzipan and refer to these as marzipan cookies. However, in North America, the term almond paste is more common. There is actually a difference in the ratio of almonds to sugar as well as consistency. North American marzipan tends to be a bit tougher than the kind sold in Germany while North American Almond paste is softer and better for making baked goods. Marzipan is firmer and is used in making candies/chocolates or as decoration for cakes.
If you want these to be truly authentic, I recommend you make your own German marzipan and save yourself from the dilemma at the grocery store. However, if you have to pick, I would go for almond paste.
Tips:
Shape the marzipan cookies with wet fingers as the marzipan mixture is very sticky
After baking, store the almond paste cookies in a cool place in a tin can.
Dusted with powdered sugar, they look even more beautiful. But be sure to let the cookies cool down before decorating them
a touch of finely grated orange zest would also work really well
Instead of amaretto, you can also add brandy, orange liqueur or rum.
For alcohol-free, simply omit amaretto and, if necessary, knead some rose water or bitter almond flavor into the dough. YUMMY!
Store-bought marzipan might be a bit tough which is why I recommend you make marzipan at home. Freshly made, it's super easy to work with and more flavorful.
The slivered ​​almonds turn wonderfully toasty and crisp when baked and offer a great contrast to the soft, chewy marzipan center. However, you can use chopped almonds too.
More German Christmas Cookie recipes:
Marzipan Fans will also love my German Coconut Macaroons and my poached pear cake with marzipan
★ Did you make and love this traditional German Marzipan Cookie recipe? Give it your review below! And make sure to share your creations by tagging me on Instagram!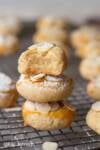 Soft Chewy Almond Paste Cookies - Traditional German Christmas Cookie Recipe
These Soft and Chewy Almond Paste Cookies ( Marzipan Cookies)  are a traditional German Christmas Cookie recipe you will love. Quick and easy to make! 
Ingredients
200

g

marzipan

- 1 cup

1

egg white

80

g

powdered sugar

- 3/4 cups

110

g

flour

- 1/2 cup + 3 tbsp

100

g

ground almonds

- 1 cup

1

teaspoon

cinnamon

2

tbsp

amaretto

1

pinch

salt
Decoration:
egg yolk

3

tbsp

slivered almonds
Instructions
Grate the marzipan. Separate egg. Knead marzipan together with powdered sugar, flour, almonds, egg white, cinnamon, amaretto and salt. Preheat the oven to 175 C / 347 F (convection 155 C / 311 F).

Shape the dough into small walnut-sized balls with your hands and place them on a baking tray lined with baking paper. Press each ball of dough a little flat with a fork.

Whisk the egg yolk and brush the cookies with it. Now sprinkle with slivered almonds. Bake in the preheated oven for about 12-15 minutes. Let cool down then dust with icing sugar.