Dieser Beitrag ist auch verfügbar auf:

Deutsch (German)
These Eggless Dark Chocolate Coconut Macaroons with chocolate drizzle are soft and chewy and so easy to make with few ingredients. No eggs, no refined sugar and gluten-free. Jump to Recipe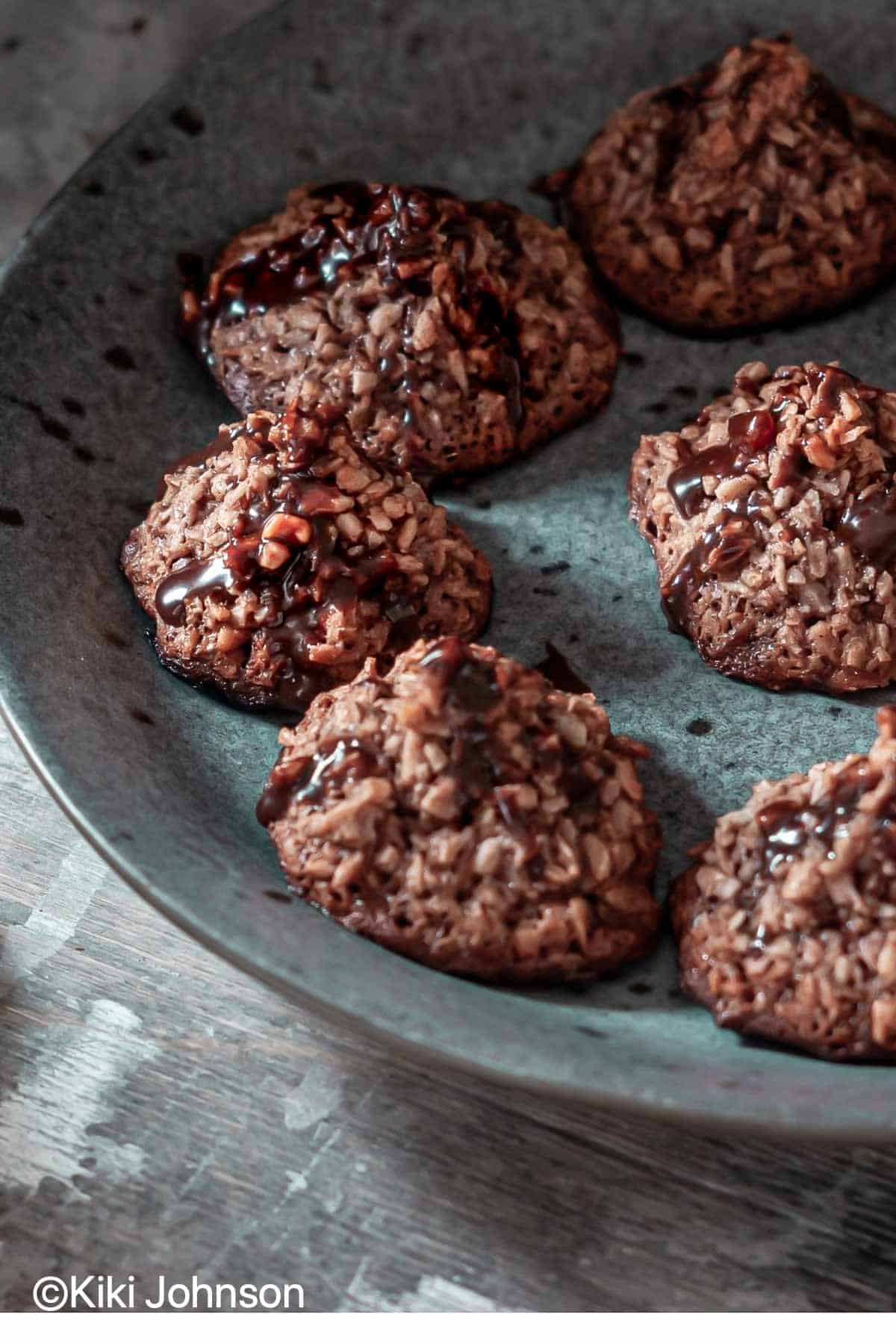 Eggless Dark Chocolate Coconut Macaroons are vegan, gluten-free & refined sugar-free
Coming at you with a plate of dark chocolate coconut macaroons with chocolate drizzle. These are chewy, soft and super chocolatey thanks to added cocoa powder and a delish chocolate drizzle.
What's not to love about vegan and gluten-free treats that are packed to the brim with both chocolate and coconut? Fudgy, soft, and moist tender on the inside, with a coconut chocolate drizzle on top.
You can whip these eggless coconut macaroons up in under 30 minutes. The perfect homemade gluten-free, eggless, vegan and healthy coconut treat for Christmas that is also great for Passover or Easter.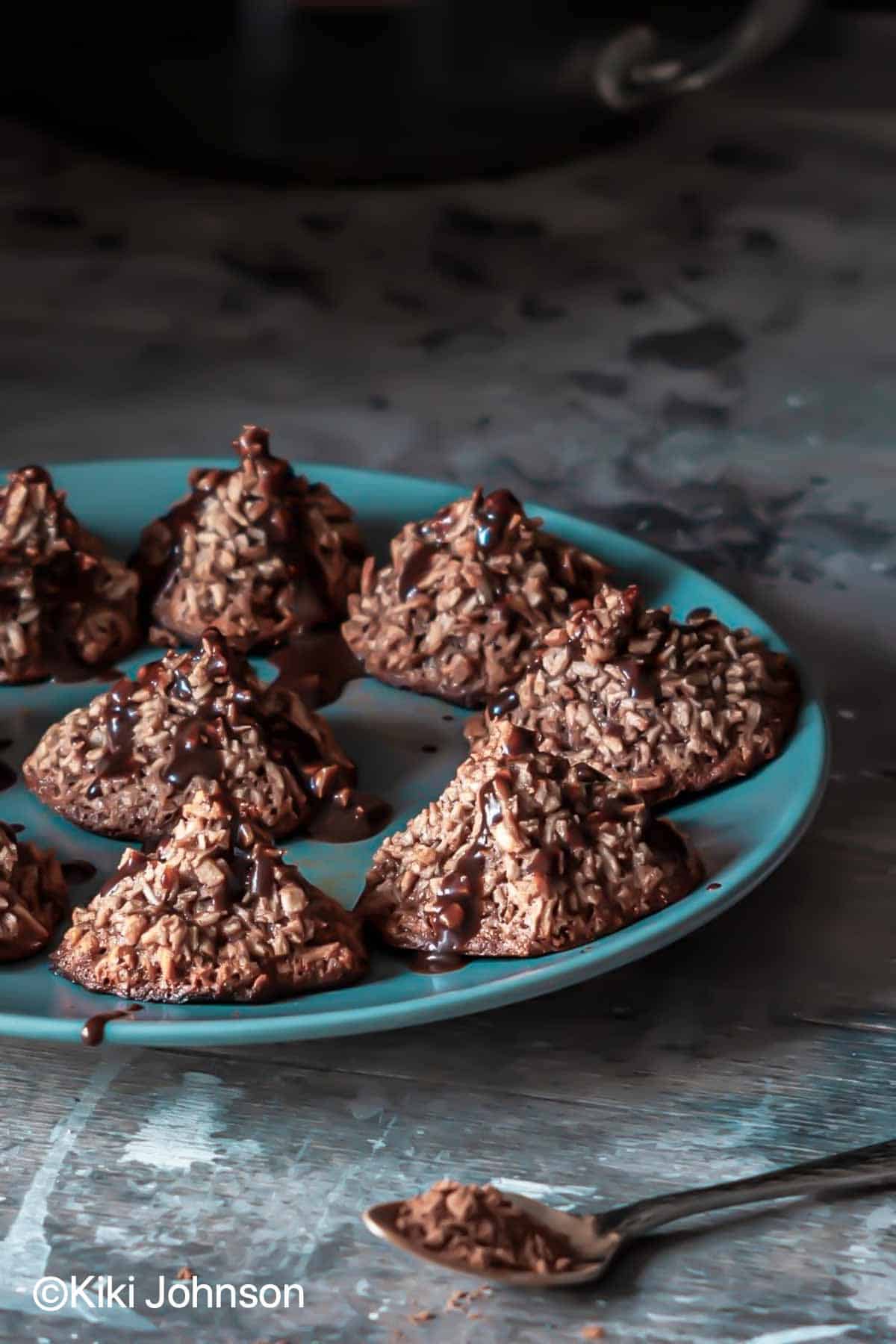 You may or may not have already tried my recipe for German Coconut Macaroons, my Lemon Coconut Macaroons with Sweetened Condensed Milk, or my Pistachio Macaroons. So now I've got a chocolate version for all of you chocolate lovers! The secret ingredient here is cocoa powder so if you are not a huge fan of cocoa or chocolate you could easily make half regular coconut and half chocolate.
Just for the record, making macaroons is not time-consuming at all – these are actually quite simple! All you need to do is stir together some healthy ingredients and then use a small ice cream scoop or cookie scoop to form the perfect balls onto a lined cookie sheet. Bake the cookies, then let them cool until you drizzle or dip in chocolate. That's it!
Ingredients
These eggless dark chocolate coconut macaroons are made with a few simple and healthy ingredients that you probably already have
unsweetened fine shredded/desiccated coconut ( see paragraph below)
blanched almond flour – not almond meal
maple syrup as a natural sweetener
coconut oil for extra moisture
cocoa powder – would not be chocolate macaroons otherwise
vanilla – always
sea salt intensifies the chocolate flavor
chocolate chips or chopped chocolate for the drizzle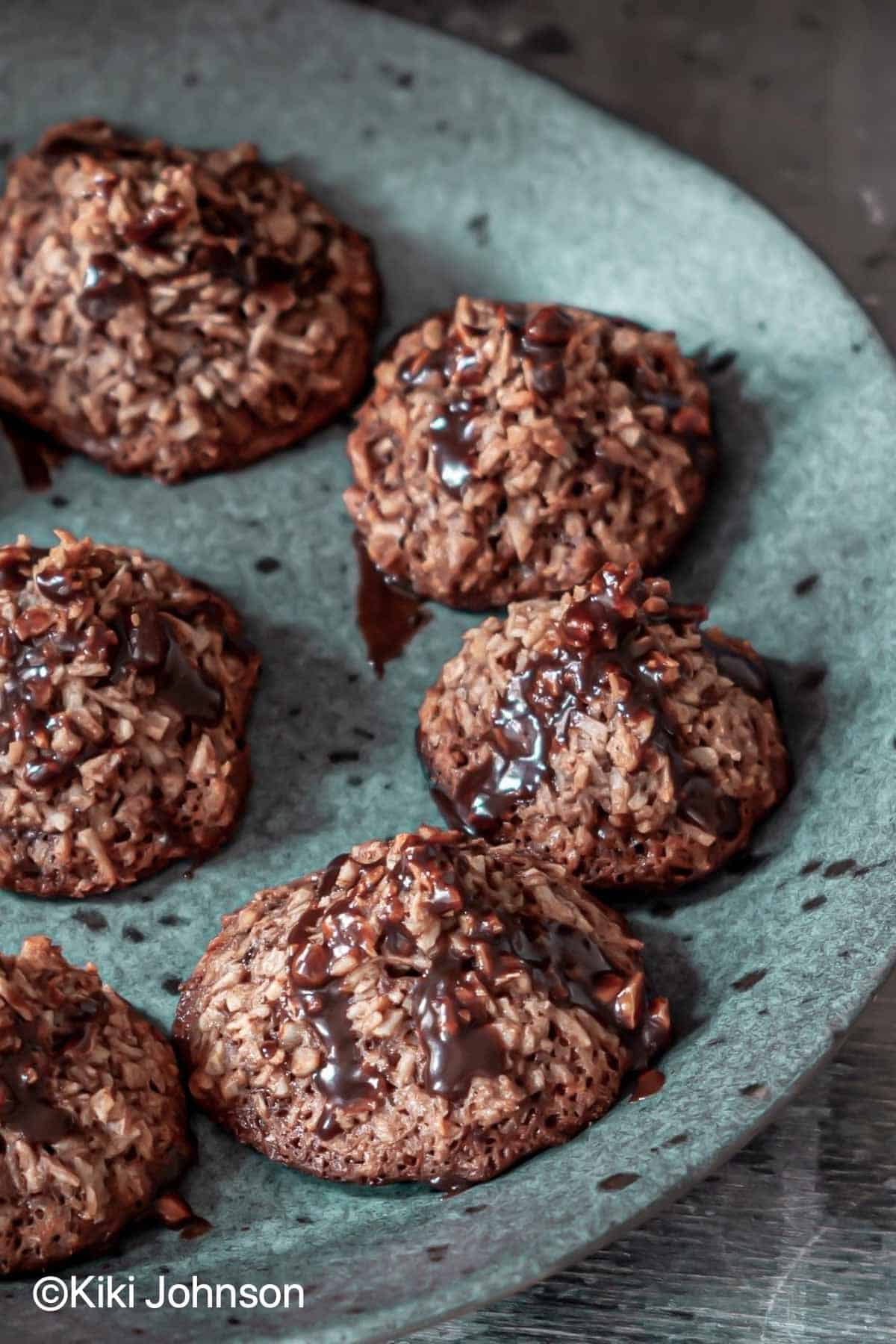 What Type of Coconut to Use
For this dark chocolate coconut macaroons recipe, we use unsweetened fine or desiccated shredded coconut. This is important. If you use the longer sweetened shreds, the macaroons won't hold together and they'll spread across the cookie sheet pan. You can use Bob's Red Mill fine shredded coconut or very quickly grind large flake unsweetened coconut.
Storage: Do macaroons need to be refrigerated?
Store any leftover coconut chocolate macaroons at room temperature, in the fridge or freezer in an airtight container.
If you're planning on eating your coconut macaroons within a couple of days, then no, they don't need to be kept cold. They should be just fine if you leave them out on the counter in an airtight container.
They might soften up a little bit, but they'll be perfectly delicious and I actually prefer them that way.
If you're planning on eating your macaroons within 2 weeks, go ahead and keep your coconut macaroons in the refrigerator. That will help them stay fresh.
Can you freeze coconut macaroons?
If you're planning on rationing your macaroons so that you always have a vegan and gluten-free coconut treat on hand, go ahead and freeze your coconut macaroons!
Macaroons freeze really well, so you don't have to worry about anything happening to them while they're in the freezer. If you store them in the freezer, let them sit out at least 10 minutes before eating. But hey if you're into the frozen candy bar type of treat, try them frozen!
More easy cookie recipes:
★ Did you make and love this Eggless Coconut Macaroons recipe? Give it your review below! And make sure to share your creations by tagging me on Instagram!
Eggless Dark Chocolate Coconut Macaroons
These Eggless Dark Chocolate Coconut Macaroons with chocolate drizzle are soft and chewy and so easy to make with few ingredients. No eggs, no refined sugar and gluten-free. 
Ingredients
1

cup

unsweetened fine shredded coconut

- /desiccated coconut

1/2

cup

blanched almond flour

1/4

cup

maple syrup

- 60 ml

3

Tablespoons

melted coconut oil

3

Tablespoons

cocoa powder

1/2

teaspoon

vanilla

1/4

tsp

chili powder

optional

1/8

teaspoon

sea salt

1/4

cup

dairy-free chocolate chips + some coconut oil

if needed
Instructions
Preheat oven: Preheat oven to 300°F / 150 C.

Stir together the shredded coconut, almond flour, maple syrup, coconut oil, cocoa powder, vanilla, chili, and sea salt in a medium-sized bowl.

Use a small ice cream scoop or cookie scoop to scoop batter onto a  lined cookie sheet.

Bake for 20 minutes. Remove from oven and let cool — they will firm up as they cool. Should you see any imperfections, you can bring them into the perfect shape while still hot.  Once baked wait about 15 minutes or so before serving or dipping in chocolate.

If adding the chocolate drizzle, add chips to a microwave safe bowl and heat for about 30 seconds and stir. If your chips aren't melted yet, heat for another 10 seconds or so. If the chocolate seems too thick after melting them, add a teaspoon of melted coconut oil to thin it out.

Drizzle chocolate: Drizzle chocolate glaze over each macaroon.

Place macaroons in the fridge/freezer for 5-10 minutes to allow the chocolate drizzle to harden. Store  leftover macaroons at room temperature or in the fridge for later.