Dieser Beitrag ist auch verfügbar auf:

Deutsch (German)
I call this layered dessert " spring in a cup " as it combines everything I love about this season. Top of the list: Rhubarb! My favorite spring and early summer vegetable. I love to buy it in bulk and cook a big pot of rhubarb compote. It might sound boring but I find I've learned to appreciate rhubarb the most in its simplest form. Especially when paired with creamy creme fraiche and bright yellow lemon curd.
The tangy pink rhubarb compote is a great match for the creamy creme fraiche and the sweet and zesty lemon curd. Fresh, light, bright and fruity – that's what we're all craving after the long season of hot chocolate and hearty stews.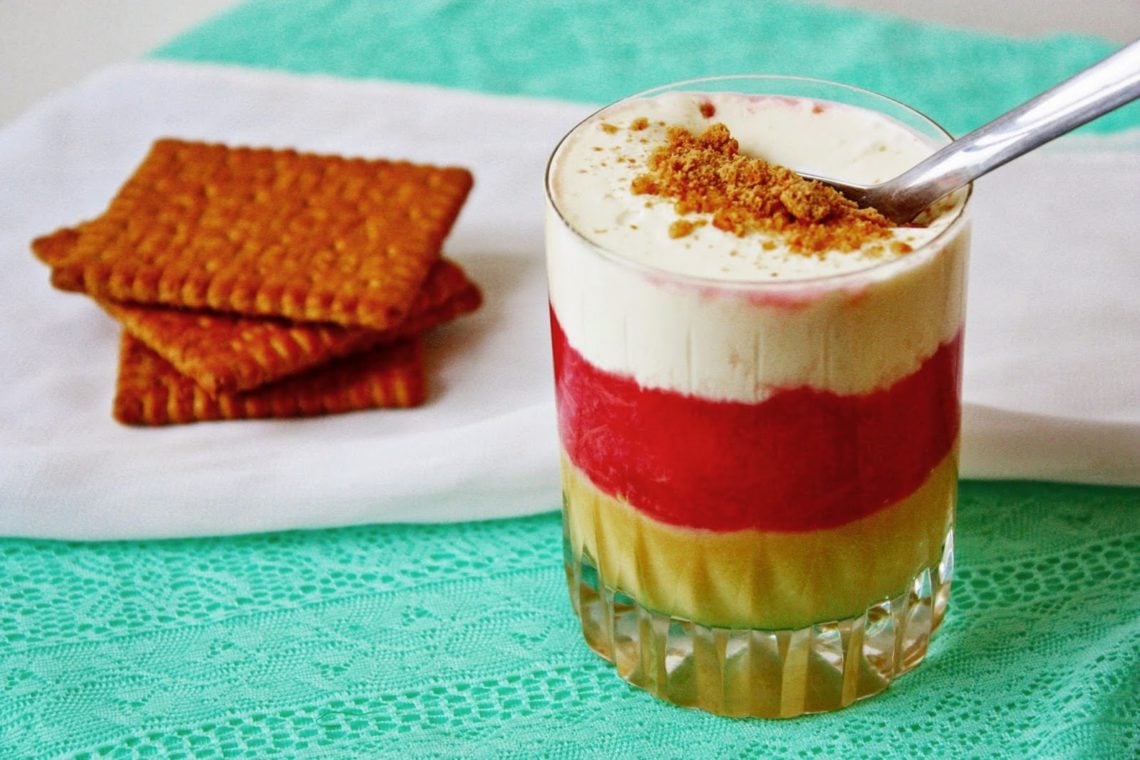 When buying your rhubarb make sure to look for thin reddish pink stalks as they'll give the most colorful and also flavorful rhubarb compote.
Recipe for 4 small cups or glasses
Rhubarb Compote
500g rhubarb
4 tbsp sugar
1 Tbsp lemon juice
3-4 tbsp water
Combine all ingredients in heavy large saucepan. Stir over medium heat until sugar dissolves. Reduce heat to medium-low, cover, and simmer until rhubarb is tender, stirring occasionally, about 7 minutes. Transfer rhubarb mixture to bowl. Cover and chill until cold, about 2 hours. Can be made 1 day ahead. Keep rhubarb compote refrigerated.
For the Lemon Curd (250 ml)
4 egg yolks
225 g sugar
125 ml lemon juice
120 g Butter
1 Pinch of salt
2 Tbsp lemon zest
Mix egg yolks with sugar and lemon juice in a pot and put in on medium heat. Stir until it thickens and mix in the butter. Stir in salt and lemon zest and keep on stirring until the texture resembles a pudding. Take off heat and pour into a bowl. Cover the surface with cling film to prevent a skin from forming. Refrigerate until using.
Vanilla Creme Fraiche
350 g Creme Fraiche (substitute : greek yoghurt)
1 tsp vanilla extract
1 Tbsp Maple Sirup
ca 8 ginger nuts
Mix creme fraiche with vanilla and sweeten with maple syrup to taste.
Fill your glasses with each a layer of compote, curd and creme and top with crumbled ginger nuts.