Dieser Beitrag ist auch verfügbar auf:

Deutsch (German)
These German Coconut Cookies with Jam are a traditional German holiday cookie recipe that is like a Coconut Macaroon and a Jam Filled Cookie in one. Jump to Recipe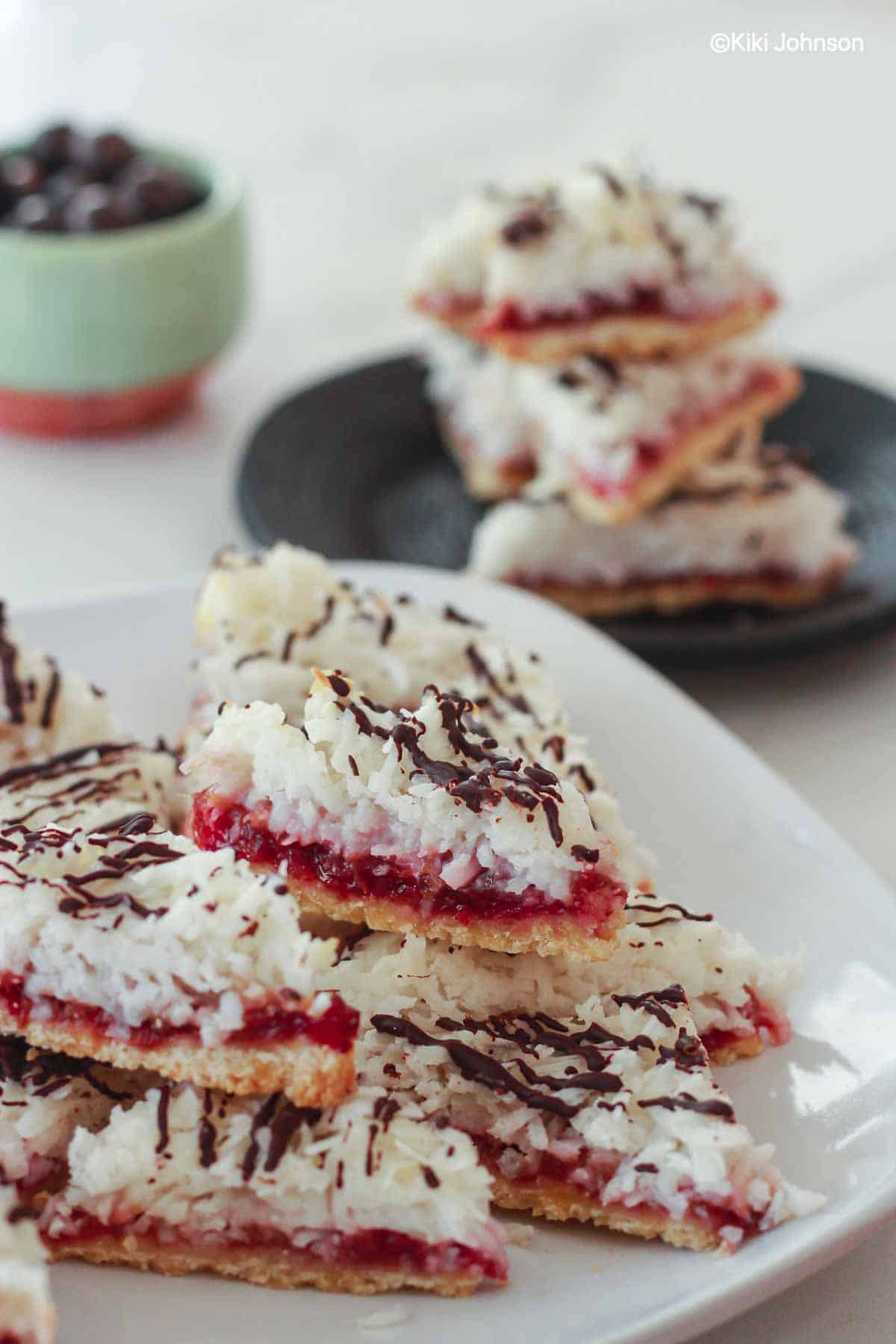 German Coconut Cookies with Jam – a German Christmas Cookie Recipe
These cute and dainty German Coconut Cookies With Jam are like having a coconut macaroon and a shortbread cookie in one. They consist of a buttery German shortbread (called mürbeteig) topped with a layer of jam, then a moist coconut macaroon layer.
The coconut layer is super moist even though it is made without sweetened condensed milk. Just like for my German Coconut Macaroons, the secret ingredient here is adding a small amount of grated marzipan.
I know marzipan / almond paste can be quite expensive in the US. So I make it myself using this easy recipe for homemade marzipan. If you want to take a shortcut, you could skip it and the coconut cookies will still be delicious.
Which jam to use for these German Cookies?
As for the jam layer, red currant jam would be the most authentic way of making these but raspberry jam works just as well. Last year, I used my homemade German Mulled Wine Jam and it was oh-so delicious. There is room for experimenting here so don't worry.
The holiday baking season has begun and I am gonna make a different German Christmas Cookie recipe every week until Christmas so have a whole variety.
I like gifting big cookie platters (bunte teller) for the holidays and I fill them with all my favorite traditional German Christmas Cookies like my German Almond Horn Cookies or my German Hazelnut Cookies
Just like most jam-filled cookies, these can be made a couple of weeks before the holidays and stored in an airtight container.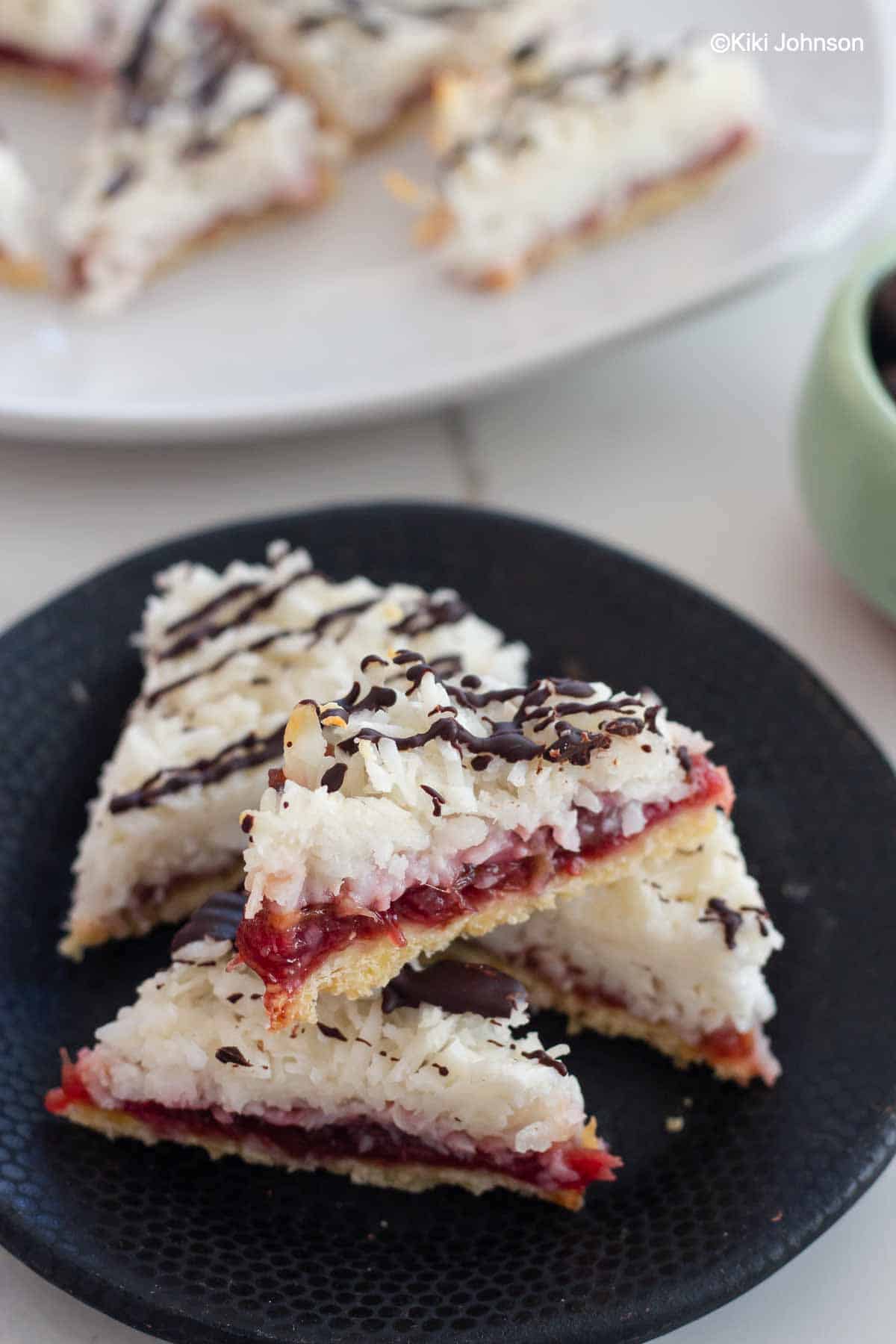 These are actually delicious all year round. In Germany, these would sometimes be sold next to Nussecken in the bakery and I sometimes make them for afternoon coffee.
When I serve these German coconut cookies as a pastry with a cup of coffee or tea, I cut them into larger triangles. As Christmas cookies for the cookie platter, I cut them into small, bite-sized pieces.
These German coconut cookies with jam can either be drizzled with melted chocolate or dipped into chocolate. You can also use white chocolate if you don't like dark chocolate.
Storage:
When baking the coconut wedges, it is important that you finish them completely within one day and then immediately put them in an airtight container or cookie jar. If you leave it open for too long it may dry out. So put it in the cookie jar so that it stays nice and juicy.
Tips:
For Christmas Baking, I like to make these German coconut cookies on the same day as my Linzer cookies, because then I can buy a large jar of red currant jam and use it up. With the dough for the Linzer, I have exactly four egg whites left! One is left over from the shortcrust pastry of the coconut wedges, and four of the Linzer makes exactly five egg whites
Cut the coconut cookies with a sharp knife.
The coconut macaroon cookies stay juiciest in tightly sealed plastic jars.
If you want, you can add some chopped candied ginger to the coconut macaroon mixture. Some rum aroma or rum flavoring also tastes great!
You are welcome to use white or whole milk chocolate instead of dark chocolate. But then only use half a teaspoon of coconut oil.
More German Christmas Cookie recipes:
Stuffed German Chocolate Hazelnut Christmas Cookies
Hazelnut Sandwich Cookies with Nutella Filling
German Almond Cookies with Marzipan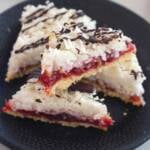 German Coconut Christmas Cookies with Jam
These German Coconut Cookies with Jam are a traditional German holiday cookie recipe that is like a Coconut Macaroon and a Jam Filled Cookie in one.
Ingredients
shortcrust
140

grams

of butter - 10 tbsps or 2/3 cups - 1 tbsp

200

grams

of flour - 1 1/2 cups

70

g

powdered sugar - 3/4 cups

1

egg yolk
filling
1

jar raspberry or red currant jam - about 6 tbsps

coconut macaroon layer

200

grams

of sugar - 1 cup

1/2

tsp

rum flavor or some bitter almond flavor

½

tsp

lemon juice

5

egg whites

200

g

grated coconut - 2 3/4 cups

optional: 100 g grated marzipan optional 1/2 cup
chocolate drizzle
about 200 g dark chocolate chopped - 1 1/4 cup dark chocolate chips or chunks

1-2

tbsp

coconut oil
Instructions
Prepare the shortcrust pastry.

Place the dry ingredients in a large mixing bowl. Add the yolks and butter in small pieces. Knead with the dough hook until you get a smooth dough. Knead everything thoroughly by hand and chill the dough for about 1 hour.

This can also be done by hand. Place the dry ingredients on the worktop. Place the butter in small pieces over the flour mix and break the yolk on top and quickly knead everhting together with your hands to form a smooth dough. Chill the dough for about 1 hour.

Preheat the oven to 375 F / 180°C top/bottom heat.

Roll out the dough directly on a piece of baking paper into a rectangle of approx. 25 x 30 cm. Now place a rectangular baking frame around the dough. Cut off the pieces outside of the baking frame and use them to "mend" spots in the corners of the baking frame. If necessary, mend and touch up a bit until you have a sheet of dough.

Prick the shortcrust pastry several times with a fork and pre-bake for about 5-6 minutes. Remove from the oven and let cool.

For the coconut macaroon layer, place the grated coconut, grated marzipan, sugar, rum flavoring, lemon juice and egg whites in a bowl. Mix well with a wooden spoon. Heat over a water bath and stir for three to five minutes until the mass is thick and binds well. The coconut mass should not be warmer than 122 / 50 C, because then the protein coagulates too much. Remove from the water bath and let it cool down.

Spread the jam evenly over the pre-baked shortcrust pastry

Pour the slightly cooled coconut mixture onto the jam layer and smooth it all out. Bake in the oven for 15-20 minutes; the coconut mass should remain light. Let cool down.

After about an hour, cut into small triangles with a sharp knife. Melt the chocolate and the coconut oil over a hot water bath.

Now you can either drip both ends of the triangles into the melted chocolate or drizzle everything with chocolate.