Dieser Beitrag ist auch verfügbar auf:

Deutsch (German)
This Cinnabon cinnamon swirl cheesecake is super creamy – baked without a waterbath and has the perfect smooth top (no cracks!). Buttery graham cracker base, Greek Yogurt cream cheese filling, and a cinnamon swirl in the middle that you don't want to skip. Give it a try!Jump to Recipe

Cinnabon Cinnamon Swirl Cheesecake with a cookie crust for all cinnamon bun fans.
Cheesecake. I love making them. While I usually go for European-style baked cheesecakes like my German Cheesecake, I also enjoy rich and creamy American cheesecakes, like this cinnamon roll cheesecake.
How do you get the taste of cinnamon rolls in the cheesecake ?! Very easily.
The cinnabon cinnamon swirl cheesecake consists of 3 layers: biscuit base, cream cheese filling with cinnamon roll swirl and a cream cheese topping. But don't worry, the recipe is very straightforward and super quick.
The bottom consists of digestive biscuits that are ground and mixed with cinnamon and melted butter. Use graham crackers or cinnamon-scented biscuits or, if you love them as much as me, lotus biscuits.
Do you still have a few speculoos cookies left from Christmas? Great – throw them in! Very important, the pinch of salt, because it emphasizes the sweetness even more.
The filling – soft, delicious and rich cream cheese filling, which is lightened up with a little yogurt and is packed with the flavor of cinnamon, butter and vanilla. Now for the filling in the filling.
The cinnamon roll swirl, which peeks out so seductively from the center of the cheesecake. It's what turns the cheesecake into a cinnabon cheesecake. Here, we find the same flavors as in a cinnamon roll. Brown sugar, vanilla, and cinnamon. Pure awesomeness.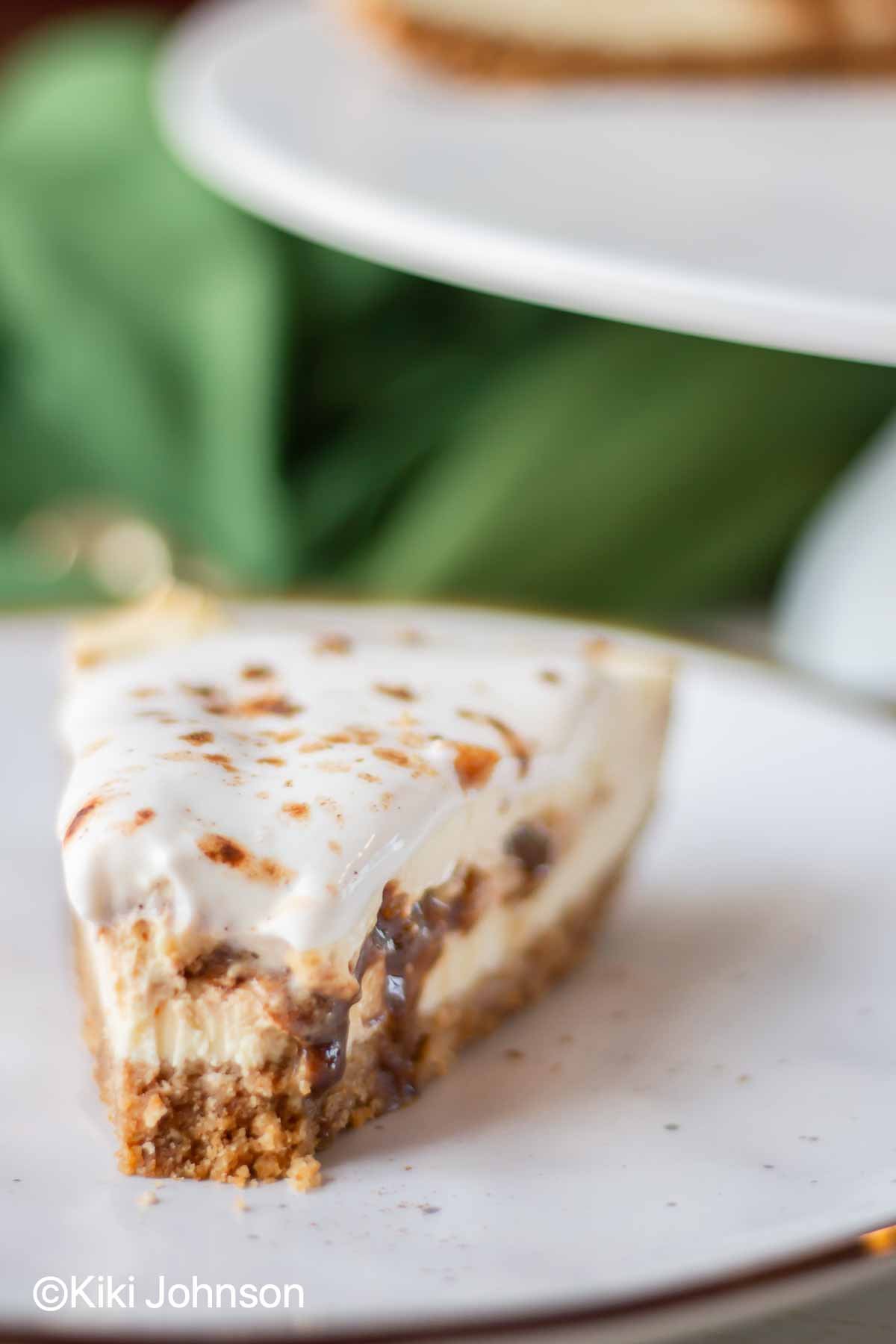 Cheesecake without cracks
That moment of happiness when you take a homemade baked cheesecake out of the oven and it is wonderfully smooth and does not have any cracks – even after it has cooled down. Hard to beat. So what can you do to prevent the cheesecake from cracking?
I don't like baking in a water bath because it's too cumbersome for me. But hey, I have several simple tricks up my sleeve
Bake the cheesecake at the right temperature
Cheesecake doesn't like high heat. It is best to bake your cake at low heat. If the oven is too hot, the surface will quickly turn too brown while the inside of the cheesecake is not yet fully baked. The result: cracks.
Those who bake often should get an oven thermometer to get an accurate temperature reading of your oven. All ovens are different and have their quirks. Low and slow is the way to go when baking a cheesecake.
For best results, an oven heated to 170°C / 150°C fan-forced is ideal.
Ingredients at room temperature
The ingredients should be at room temperature, so please follow the temperature specified for the ingredients. Believe it or not, it's really very important.
Don't overmix
Less is more – stir the cheesecake filling as little as possible. If you whip the cream cheese filling too hard, too much air will be added to the mixture and the cheesecake will crack in the oven.
Let cool down
If you shock the cake with a rapid and excessive temperature difference, cracks will appear in the cheesecake.
Therefore, don't take your cheesecake straight out of the oven after the baking time is up, but let it slowly cool down in the oven for about 15 minutes with the door slightly open. I just stick a wooden spoon in the door.
Don't open the door
Avoid opening the oven door while the cake is baking. Once it's baked and the center is almost set, turn the oven off and leave the cake inside with the oven door held slightly ajar with a wooden spoon until it has cooled.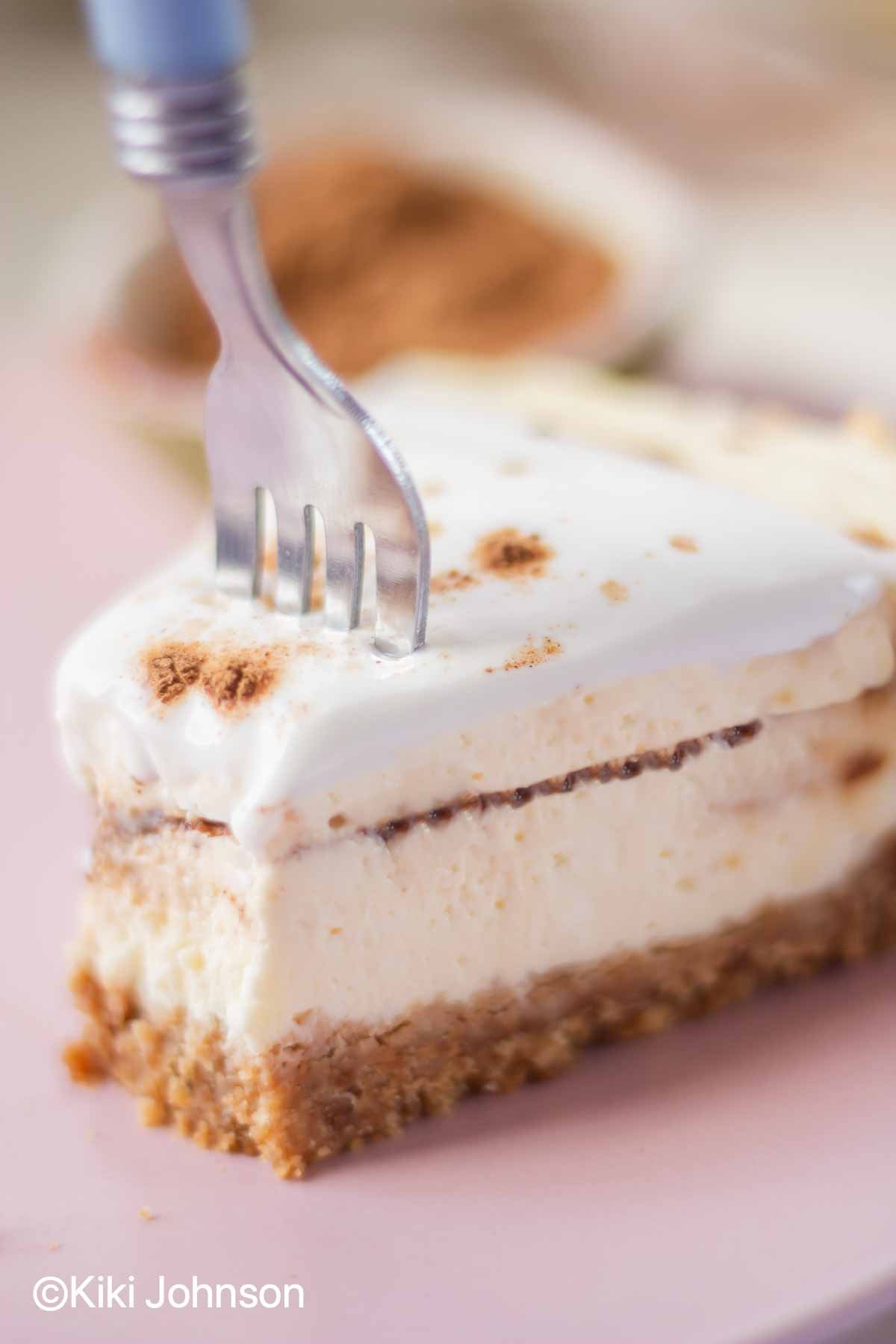 When is the cheesecake done?
The cheesecake is done when the center is almost set, but jiggles slightly when gently shaken. If the cheesecake looks nearly set and only a small circle in the center jiggles slightly, it's done
For a perfect cheesecake, use a cooking thermometer and take it out of the oven when the cheesecake reaches 150 degrees F. at the center to avoid over baking.
How to Freeze Cheesecake
Cut the cheesecake into portions, if you like, or leave it whole. Place the cheesecake on a cardboard round. Wrap it well in plastic wrap, then foil. Freeze for up to 1 month. After one month, it will lose flavor.
Tips:
To avoid lumps, ensure your cream cheese is room temperature and it is beaten until completely smooth before adding any other ingredients.
If you do end up with lumps in your cheesecake batter, press it through a strainer to smooth it out.
Only add eggs one at a time, beating between each addition to avoid curdling.
This would be crazy good served with my Cinnamon Swirl Ice Cream

.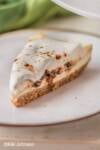 Cinnabon Cinnamon Swirl Cheesecake
This Cinnabon Cinnamon Swirl Cheesecake is super creamy - baked without waterbath and has the perfect smooth top (no cracks!). Buttery graham cracker base, Greek Yogurt cream cheese filling and a cinnamon swirl in the middle that you don't want to skip. Give it a try!
Total Time
1
hour
20
minutes
Ingredients
300

g

graham cracker shortbread biscuits or lotus biscuits

3 cups

120

g

melted butter

1/2 cup

1/2

teaspoon

salt

1/2

teaspoon

cinnamon
The filling
700

g

double cream cheese at room temperature

24 oz

400

g

Greek yogurt at room temperature

1 1/2 cup

175

grams

sugar

4

tbsp

vanilla custard powder

or cornstarch

1

tablespoon

vanilla extract or butter vanilla flavo

2

teaspoons

ground cinnamon

4

large eggs at room temperature
The cinnamon roll layer
80

g

brown sugar

1/2 cup

4

tbsp

flour

4

teaspoons

of cinnamon

1/4

teaspoon

salt

2

tbsp

butter

30 g melted

a few drops of butter vanilla flavor

flavor drops - or just skip
The glaze
250

g

cream cheese at room temperature

8 oz

120

g

powdered sugar

1 cup

2

teaspoons

cream or milk
Instructions
Place digestive biscuits in a ziploc bag and bash into a fine mixture using a rolling pin. Pour into a bowl together with butter. Mix well.Pour into a 26 cm / 9 inch springform pan. Press evenly using the back of a spoon. Place in the freezer for 30 minutes.
The filling
Put the cream cheese in a bowl and whisk briefly on a low heat. Add the rest of the ingredients except for the eggs. Just stir until the ingredients are mixed.

In another bowl, lightly crack the eggs and add them to the cream cheese mixture slowly.

Make the cinnamon roll layer

In a bowl, add brown sugar, cinnamon, and flour. Mix well with a spoon. Then add the butter and stir until it turns into a paste like wet sand.
Bake
Pour half of the cream cheese mixture into the mold on top of the cookie crust. Spread evenly with the back of a spoon. Then sprinkle with the cinnamon rol mixl. Finally, pour in the rest of the cream cheese mixture and smoothen out the surface.

Bake in a preheated oven at 130 ° C with top and bottom heat, without convection, on the lower rack for 1 hour and 10 minutes or until the center is still moving if you shake the tin gently.

Take the cake out of the oven and let it cool completely, then put it in the fridge for 8 hours.

Mix together all ingredients for the topping and spread over the cooled or chilled cake. Chill again. Slice and serve.
More cheesecake recipes: