Dieser Beitrag ist auch verfügbar auf:

Deutsch (German)
Easy Soft German Hazelnut Cookies made from toasted, ground hazelnuts! An easy traditional German cookie recipe with hazelnut flour that is perfect for the fall holidays and Christmas Jump to Recipe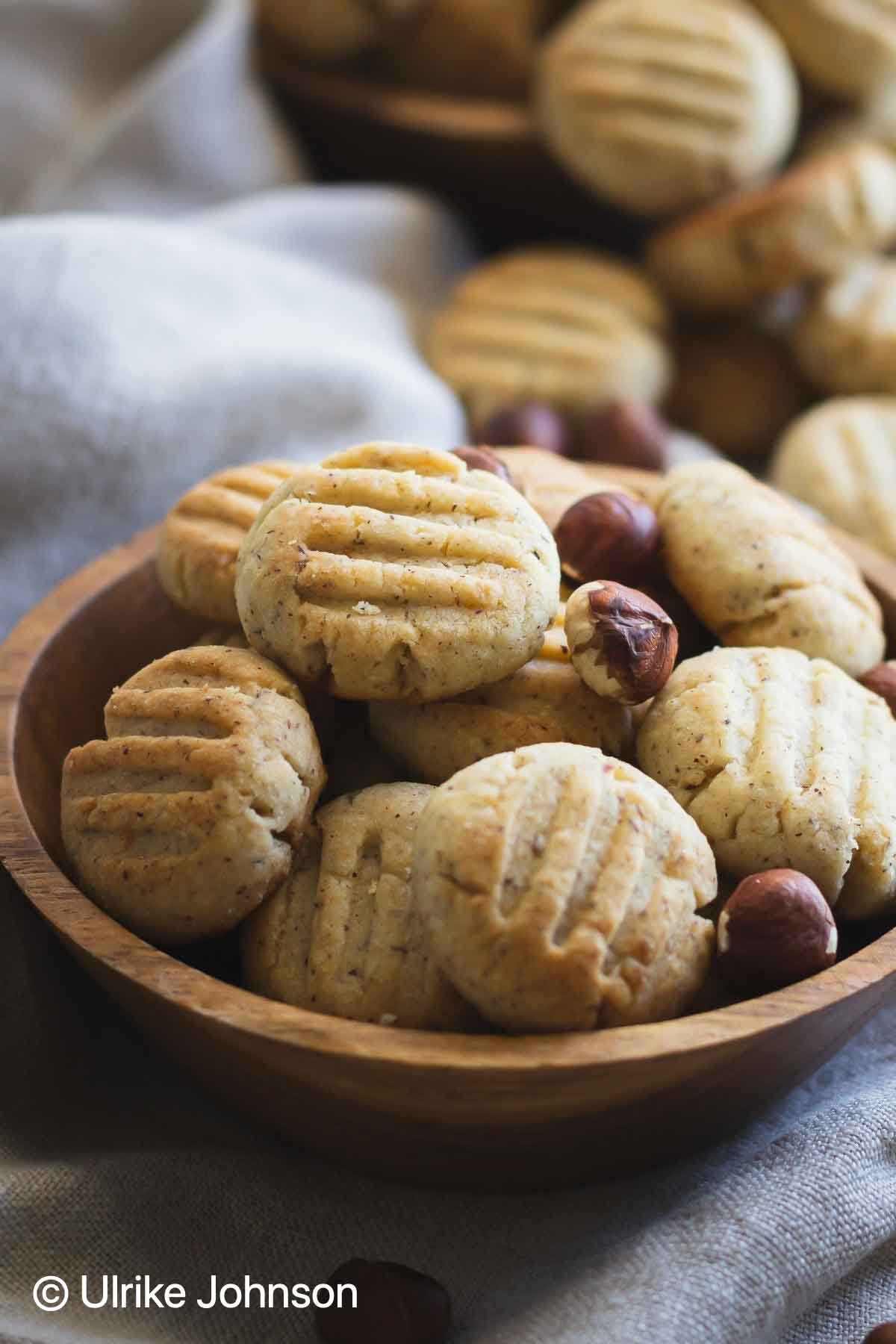 Let's Make Traditional German Hazelnut Cookies with homemade Hazelnut Flour
Who wants to bake German hazelnut cookies with me? Please say yes, because you'll love these easy German cookies! There are many types of traditional German cookies and while I make more elaborate ones around Christmas, I like to keep things simple for the rest of the year. These cookies are simple, quick soft hazelnut cookies made from whole hazelnuts, which are first toasted in the oven and then ground into hazelnut flour. Does the recipe also work with ground hazelnuts? Sure, but using freshly ground hazelnut flour, the cookies are much more flavorful.
Tips for baking with hazelnuts
September to December is peak hazelnut season and simple nut biscuits like these hazelnut cookies are simply part of the cozy season for me. Packed with unsaturated fats, hazelnuts they are a healthy source of energy, that is rich in vitamins as well.
This also applies to roasted hazelnuts: when you heat them up, the healthy components are only slightly damaged and not completely lost. Roasting the nuts sounds like an extra effort, but for all nut cookies, hazelnut cakes, and hazelnut tortes it is really worth it. You can buy them ready-roasted in the supermarket. However, I recommend that you roast the nuts yourself, as the ones you buy are often a bit older and can taste slightly rancid.
Roasted hazelnuts can be found in many German autumn and Christmas recipes, so it's best to roast as many as possible if you like to bake traditional German Christmas cookies and nut biscuits like my soft nougat chocolate cookies or these German Nutella Sandwich Cookies. Or make my vegan hazelnut cake!
These soft nut cookies are just perfect for the fall and winter holidays and my husband even called them "the best cookies ever" in front of witnesses. Once again proof that you don't have to slave away in the kitchen to bake delicious German Christmas cookies at home!
How to roast Hazelnuts:
Preheat oven to 375F/ 180°C. Spread the whole hazelnuts, in a single layer, evenly over a baking tray. Roast them in the oven for 10 minutes or until the hazelnuts are aromatic and lightly toasted and the skins have started to crack.
Let them cool completely on the baking sheet. To remove the outer skin, rub with a clean kitchen towel once cool (We don't mind the skins in this cookie recipe though!)
Store leftover nuts in a medium-sized jar with a tight lid in the freezer.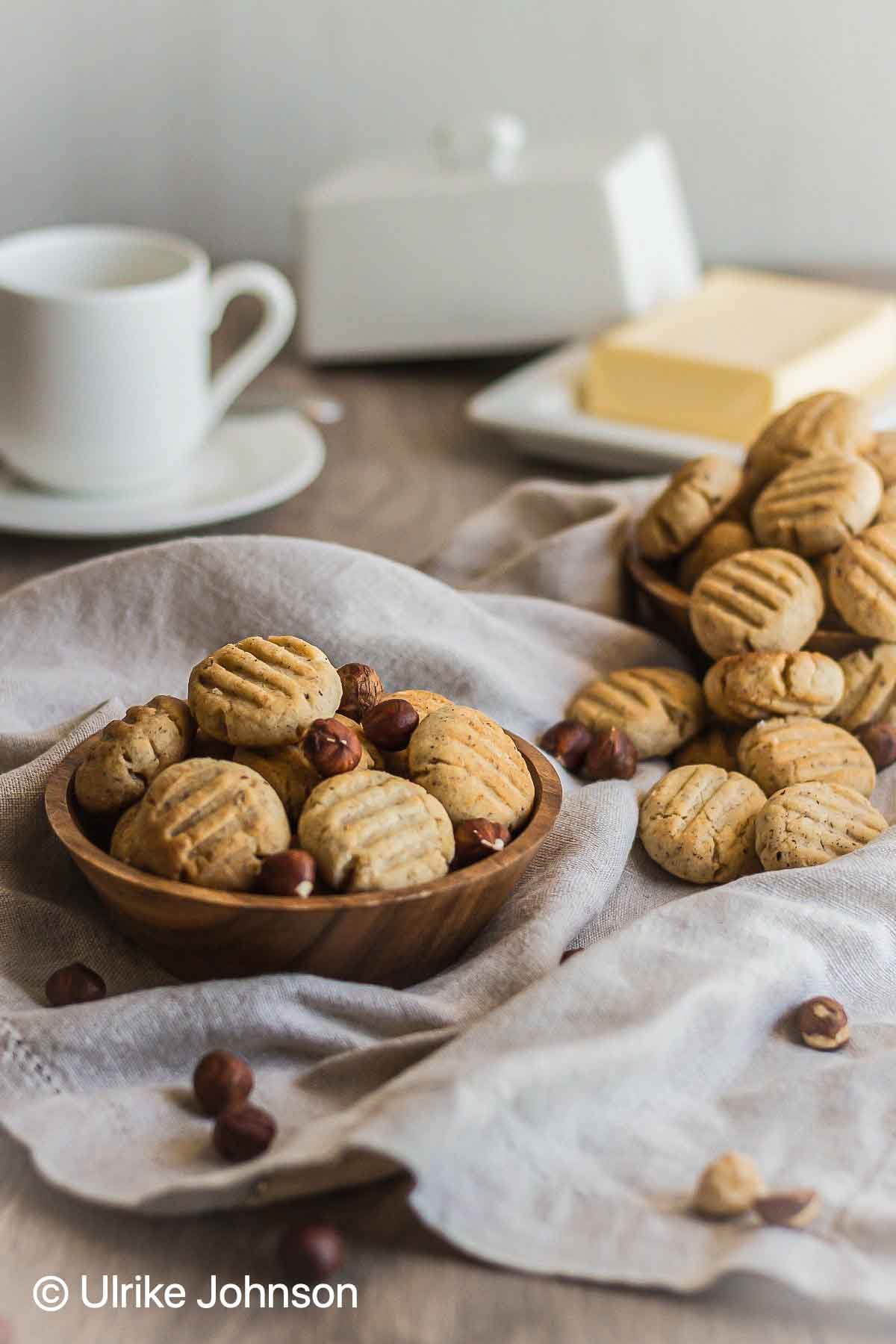 How to make German Hazelnut Cookies:
Prep: Grind the nuts on a baking sheet for 8-10 minutes. Grind them but don't pulse for too long or they will turn into nut butter. Add the rest of the dry ingredients and grind until fine.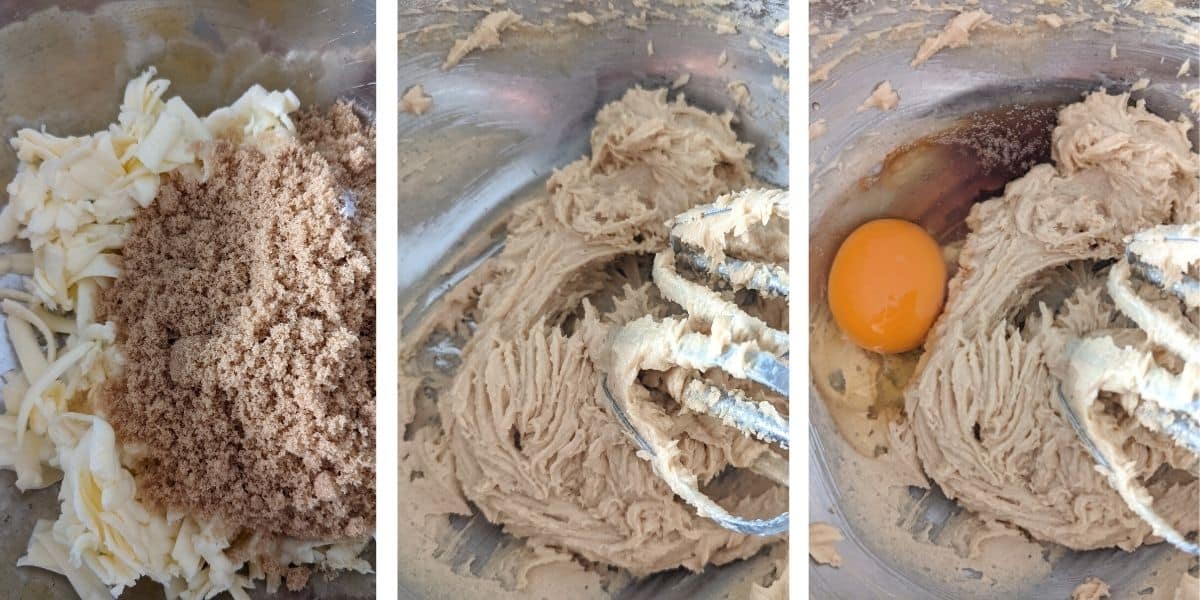 In a bowl, cream together butter and sugar for 2-3 minutes until light and fluffy
Add the egg and the amaretto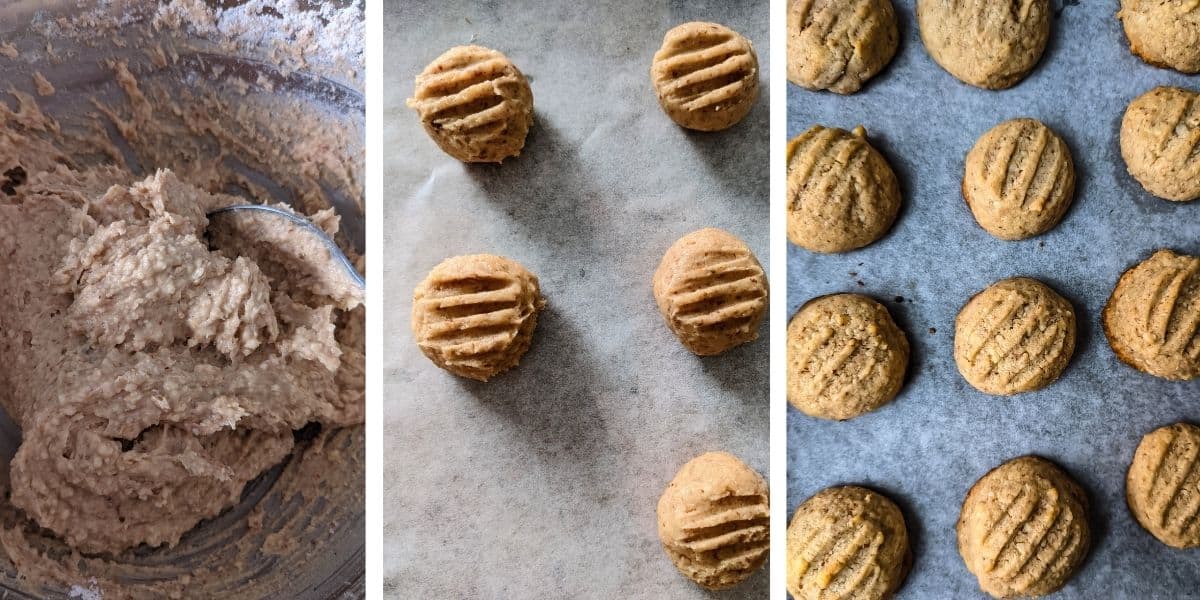 Add dry ingredients and mix until a dough forms. Add 2-3 tbsp more nuts. The dough needs to chill for 1-2 minutes.
Form the batter into dough balls and put the cookies onto a baking sheet lined with parchment paper. Keep a bit of distance because they will spread a bit. Pop the cookie sheet into the freezer for 10 minutes or into the fridge for 20 minutes. Then mark with the tines of a fork like you would with peanut butter cookies.
Bake the cookies at 375 F/ 180 C, for 13 – 15 minutes. After half of the baking time, you could turn around the cookie sheet to allow for even browning. Let cool entirely.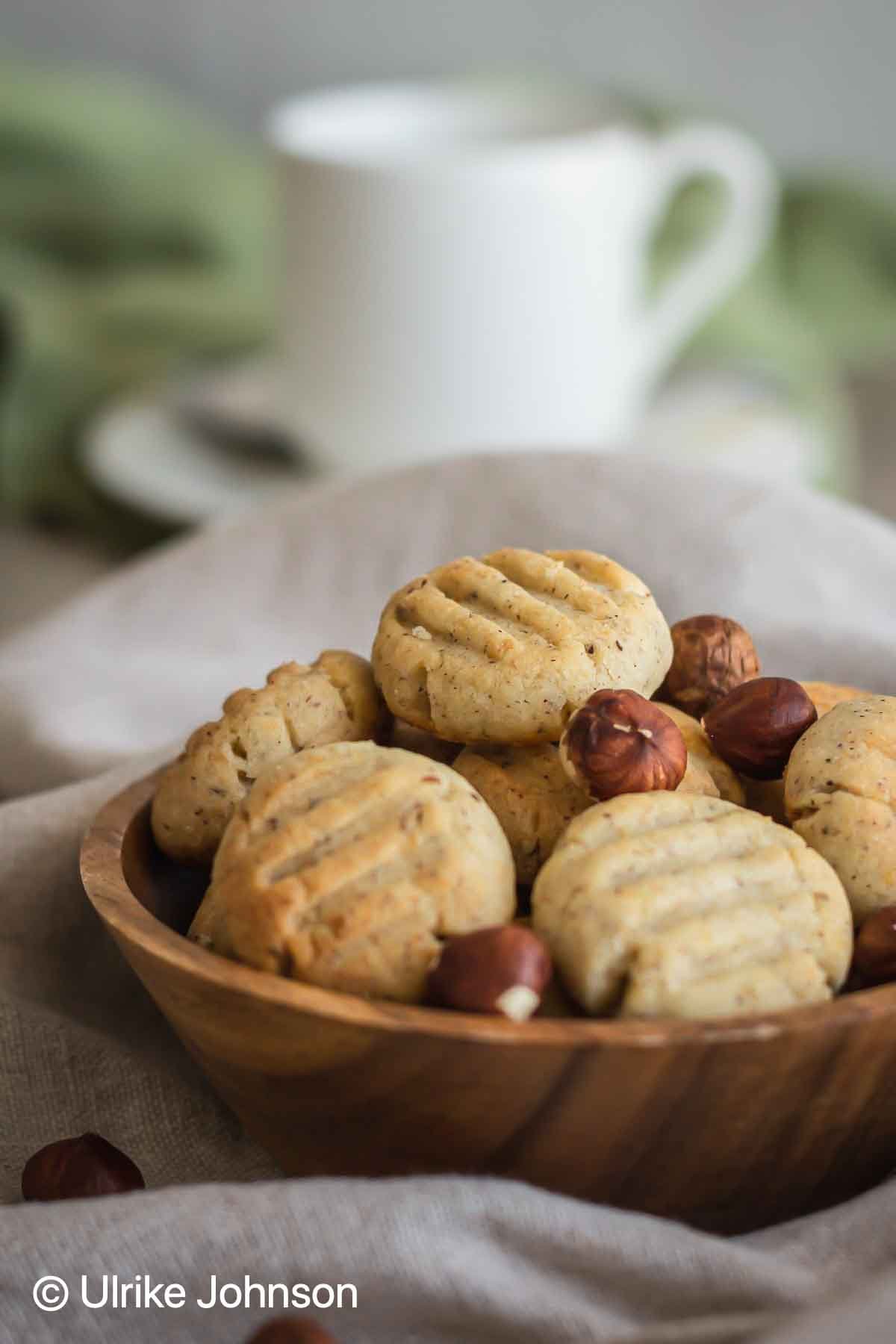 How to store cookies:
Make sure your hazelnut flour cookies cool completely before storing them. Store them at room temperature in an air-tight container, such as Tupperware along with similar tasting kinds like my German Hazelnut Macaroons. Homemade cookies can be stored at room temperature for two to three weeks or two months in the refrigerator. Cookies retain their quality when stored in the freezer for eight to 12 months.
Tips:
For chocolate hazelnut cookies, stir 3 tbsp cocoa powder into the cookie dough
If you don't have amaretto, add some honey or maple syrup instead
If you want, press one whole hazelnut into the batter instead of marking the cookies with the tine of a fork
To make these cookies refined sugar-free, add coconut sugar
More cookie recipes:
★ Did you make and love this German Hazelnut Cookies recipe? Give it your review below! And make sure to share your creations by tagging me on Instagram!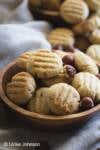 German Hazelnut Cookies
Easy Soft German Hazelnut Cookies made from toasted, ground hazelnuts! An easy traditional German cookie recipe with hazelnut flour.
Ingredients
180

g

roasted hazelnuts

- 1 cup +10 nuts

100

g

flour

- 1/2 cup + 2 tbsp

20

g

cornstarch

- 2 tbsp

1

teaspoon

cinnamon

1/4

teaspoon

salt

1/8

teaspoon

baking powder

150

g

soft butter

- 2/3 cups

80

g

sugar

- 1/3 cups

1

egg

1

tablespoon

amaretto
Instructions
Prep: Toast the nuts on a baking sheet for 8-10 minutes. Grind them but don't pulse for too long or they will turn into nut butter. Add the rest of the dry ingredients and grind until fine.

In a bowl, cream together butter and sugar for 2-3 minutes until light and fluffy

Add the egg and the amaretto

Add dry ingredients and mix until a dough forms. Add 2-3 tbsp more nuts. The dough needs to chill for 1-2 minutes.

Form the batter into dough balls and put onto a baking sheet lined with parchment paper. Keep a bit of distance because they will spread a bit. Pop the cookie sheet into the freezer for 10 minutes or into the fridge for 20 minutes. Then mark with the tines of a fork like you would with peanut butter cookies.

Bake the cookies at 180 C, for 13 – 15 minutes. After half of the baking time, you could turn around the cookie sheet to allow for even browning. Let cool entirely. (Bild 6)