Dieser Beitrag ist auch verfügbar auf:

Deutsch (German)
German Cinnamon Streusel Plum Jam Cookies – festive holiday cookies that are easy to make with simple ingredients. A delicious Christmas cookie recipe from Germany.Jump to Recipe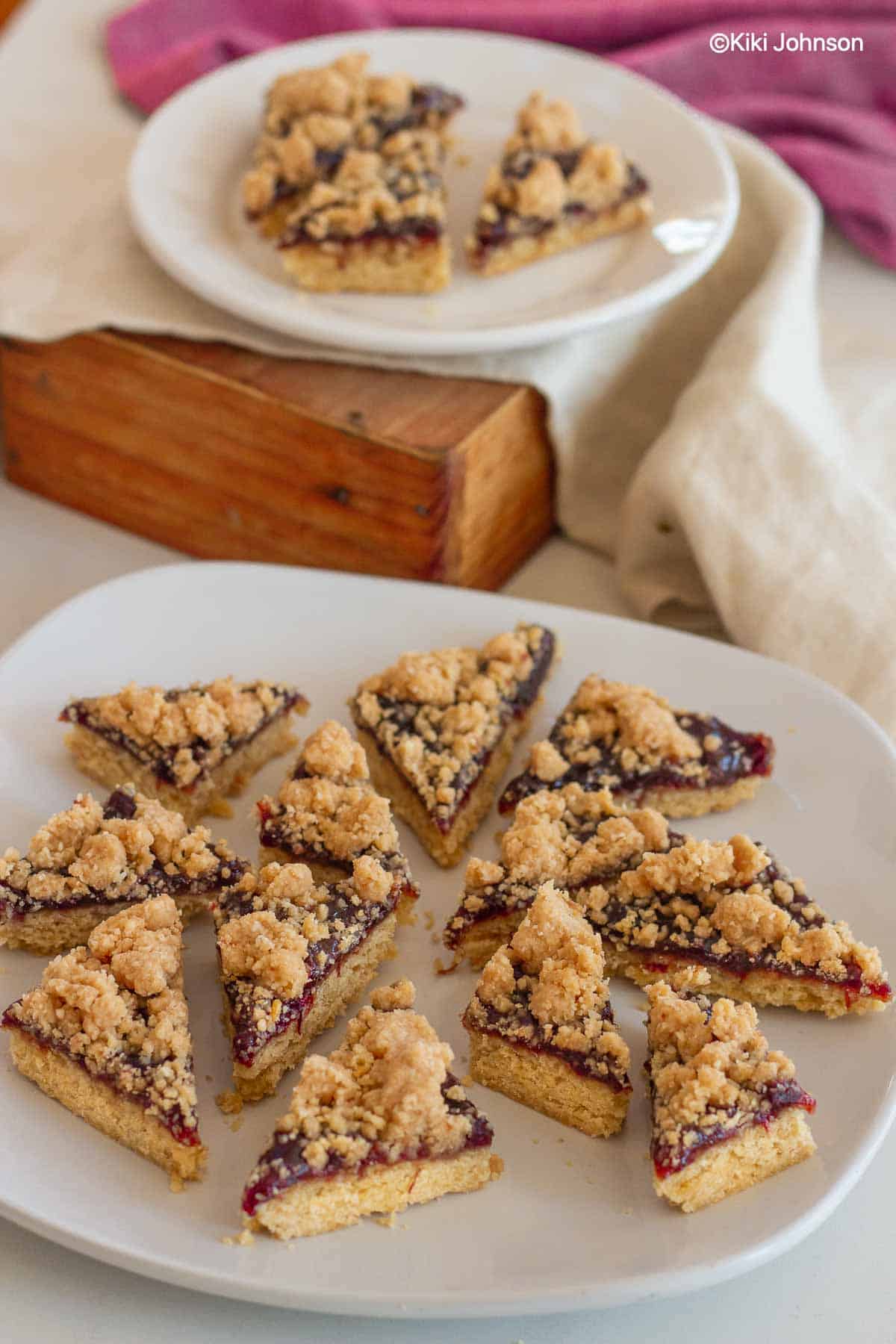 Coming at you with a traditional German holiday cookie that is simple and easy and makes any dark cold winter day cozy – Cinnamon Streusel Plum Jam Cookies! These just feel right on a snow day along with a cup of coffee.
Christmas time is cookie time and that's why in the weeks until Christmas I will show you the best German Christmas cookie recipes.
While many German Christmas cookies like Linzer Cookies are cut-out cookies, we don't need any cookie cutters here! We bake one giant cookie and then just cut it into shapes while still warm.
And I promise you that these buttery Cinnamon Streusel cookies with plum jam can definitely make your day better.
German Plum Jam Cookies with Almond Cinnamon Streusel Topping
Cookies with butter crumble topping and sweet-tart plum jam – perfect when you crave just something different and these look so cute next to gingerbread cookies and rum balls!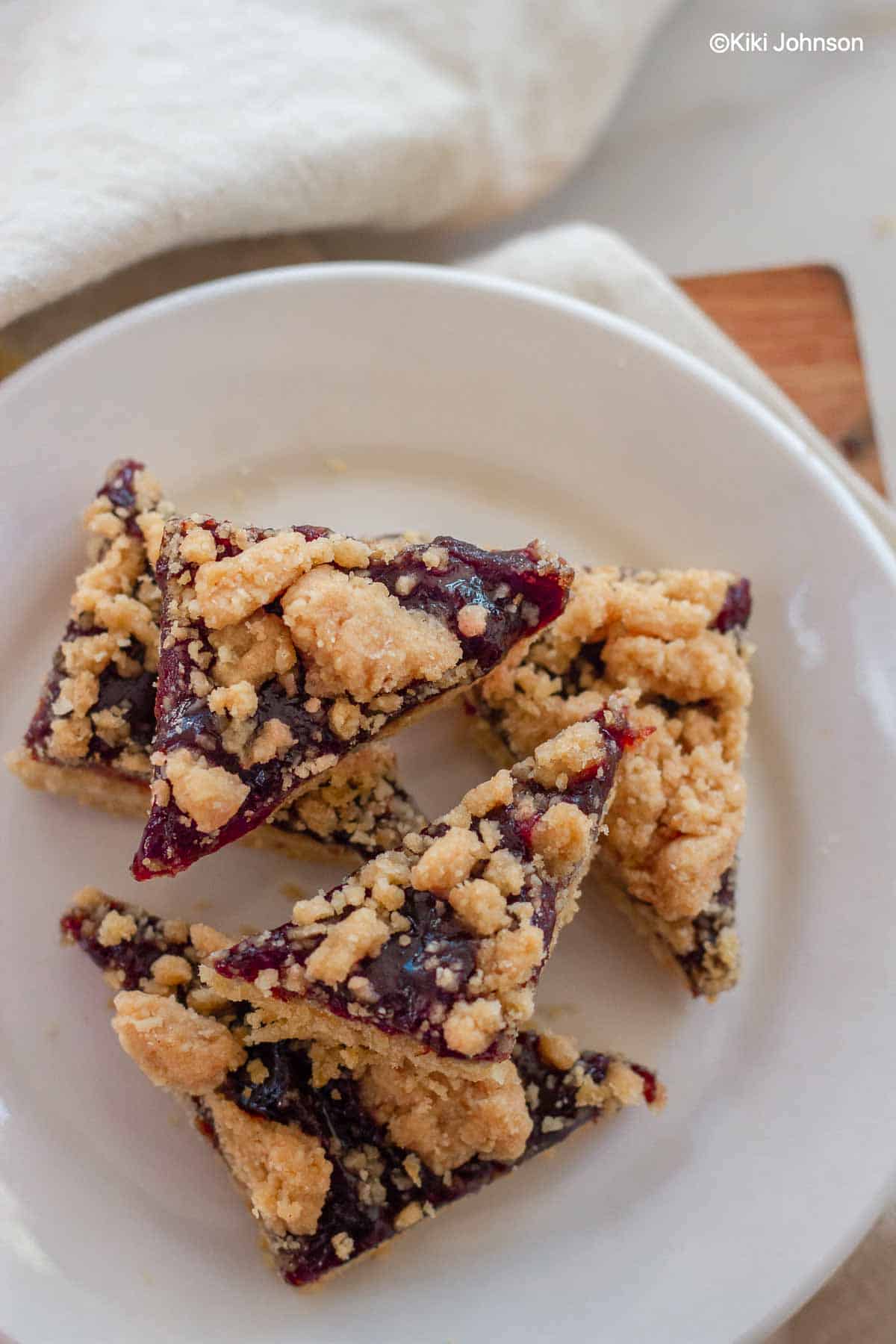 Today's recipe is for all fans of crumble cakes and basically the cookie version of my German Plum Crumble Cake! Small butter streusel sprinkled on Christmas biscuits with a shiny layer of plum jam peeking out – just beautiful!
These cinnamon streusel cookies are always a hit with every guest at any Christmas party.
Honestly, what could be better than getting comfy with a mug of mulled white wine and a wonderful German holiday treat made with shortcrust pastry, a fruity, slightly sour plum jam, and delicious crunchy cinnamon almond crumble on top?
When making my cookie platters I like to have a great variety of shapes to play with so next to vanilla crescent cookies, traditional cut-out cookies like Linzer cookies and round cookies like my walnut cookies with marzipan, I always like to put some diamond shapes on the cookie plate.
I think these diamonds are super pretty, but you can also cut the cookies with plum jam into small cubes.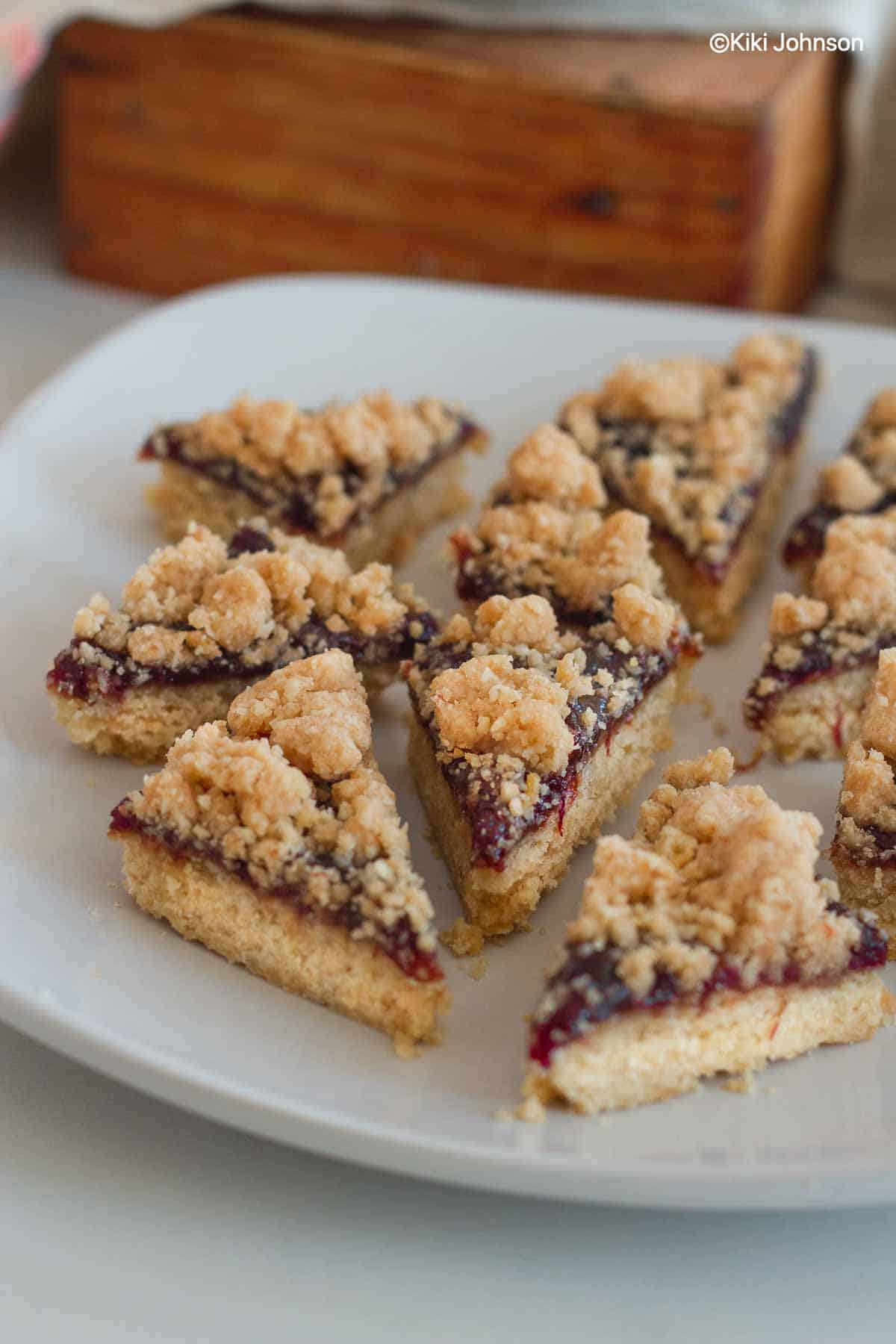 Ground almonds and a teaspoon of ground cinnamon in the streusel pastry make these taste so cozy and the batter is extra rich as we use egg yolks instead of whole eggs. You can use the whites to make my coconut macaroons.
It is important to wait 20 minutes after baking before shaping them into the desired shape.
I like to bake the cookies in an adjustable baking frame but you can also place the biscuits on a baking sheet lined with parchment paper.
Press the base down, spread with plum jam, spread a good portion of almond and cinnamon crumble on top, and then put the baking tray in the oven until the shortcrust pastry and crumble are lightly golden brown and crispy.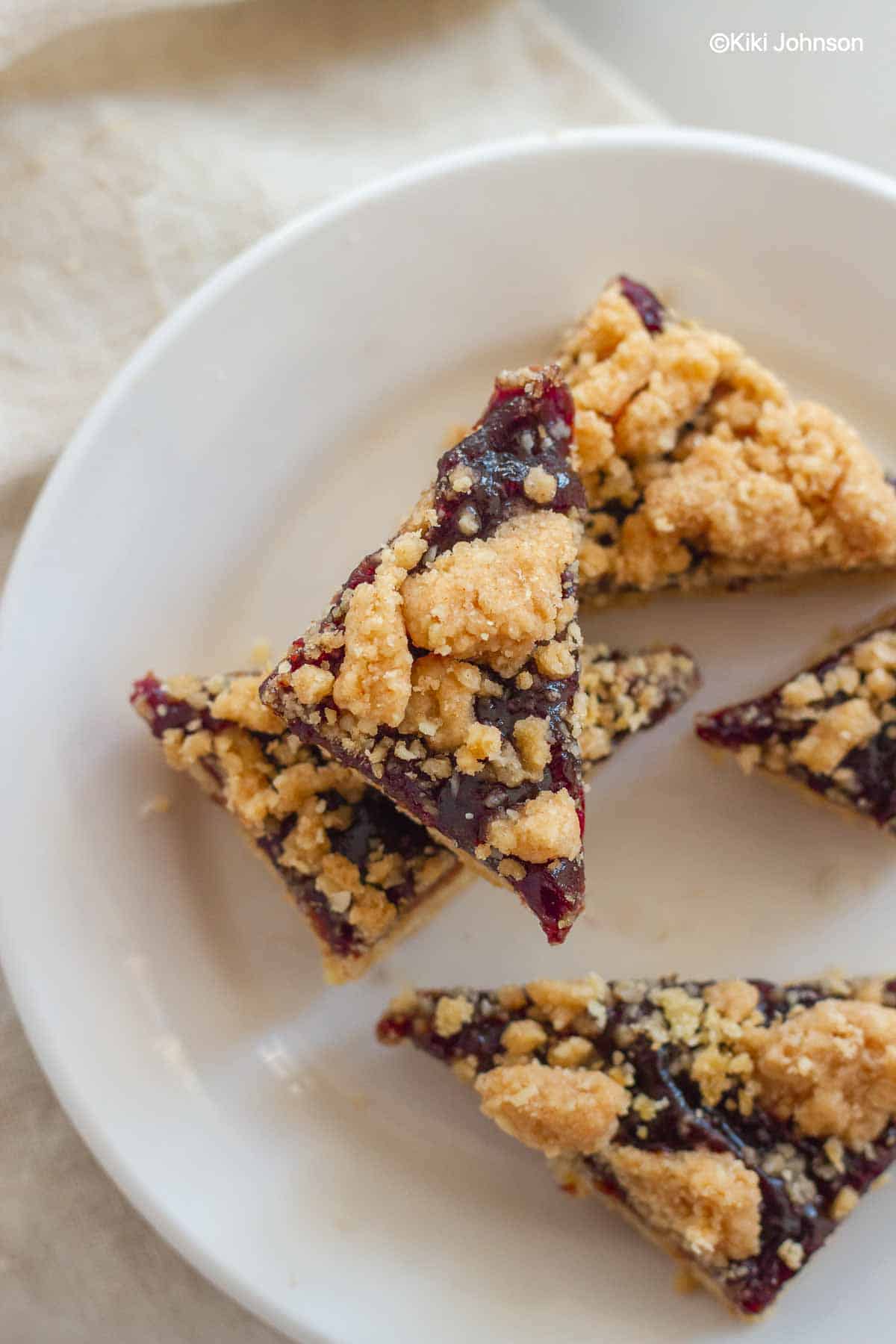 Of course, these don't just taste great at Christmas. The plum jam cookies are a delicious coffee biscuit all year round and I don't know anyone who would turn these down. As soon as I put them on the coffee table, they're basically already gone.
Tips
You can either knead the dough quickly with your hands or use the dough hook of your hand mixer.
While you need cold butter for many biscuits, here soft butter is required. So take the butter out of the fridge in good time.
The crumbles are made with melted butter and, like the dough, should be chilled in the fridge.
Finally, a tip for cutting the cookies: It is best to cut these when they are almost – but only almost – cooled. You can still get through the sprinkles with a knife, but the jam is already firm enough.
You need about a cup of plum jam for the jam filling here, so one container. If you don't have store-bought plum butter or homemade plum jam, you can use any homemade jam you like! Raspberry jam works well.
If you want, add some orange zest, vanilla extract or almond extract to the cookie dough
These cookies are also the type of candy that makes for a perfect present. Happy baking!
More German Christmas Cookies: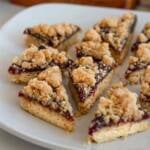 German Cinnamon Streusel Plum Jam Cookies
German Cinnamon Streusel Plum Jam Cookies - festive holiday cookies that are easy to make with simple ingredients. A delicious Christmas cookie recipe from Germany
Ingredients
500

g

flour - 4 cups

250

g

butter softened - 1 cup + 2 tbsp

200

grams

of powdered sugar 1 1/2 cups

2

egg yolks class M

Salt
Streusel and topping:
100

grams

of butter 1/4 cup + 3 tbsp

100

grams

of flour - 3/4 cups

100

g

ground almonds - 1 cup

100

grams

of sugar - 1/2 cup

1

tsp

cinnamon

Salt

200

g

plum jam or any other jam - about 1 jar - 1 cup
Instructions
For the shortcrust pastry, quickly knead the flour, butter, powdered sugar, egg yolks, 1 pinch of salt and 4 tablespoons of ice-cold water with your hands to form a smooth dough. Form the dough into a flat piece and wrap in cling film and refrigerate for 1 hour.

Melt butter for the crumble. Place the flour, ground almonds, sugar, cinnamon and a pinch of salt in a bowl. Pour in the butter and fold in forming crumbles with your fingers. Refrigerate.

Place the dough on a baking tray (40 x 30 cm) or rectangular pan lined with baking paper and press up a bit at the edge of the tray. Prick the dough several times with a fork. Spread the plum jam evenly over the dough, cover with the crumbles. Bake in a preheated oven at 180 C - 375 G (gas 2-3, fan oven 160 C) on the middle rack for 30 minutes until golden brown. Leave to cool for 20 minutes, then use a sharp knife to cut into 1 inch wide strips. Cut strips into 4 cm long diamonds. Leave to cool completely on the sheet. Shelf life: 4-6 weeks.