Dieser Beitrag ist auch verfügbar auf:

Deutsch (German)
Learn how to make traditional German Rum Balls from scratch using this easy authentic rumkugeln recipe. The perfect addition to any Christmas cookie tray and a delicious post-dinner treat. Jump to Recipe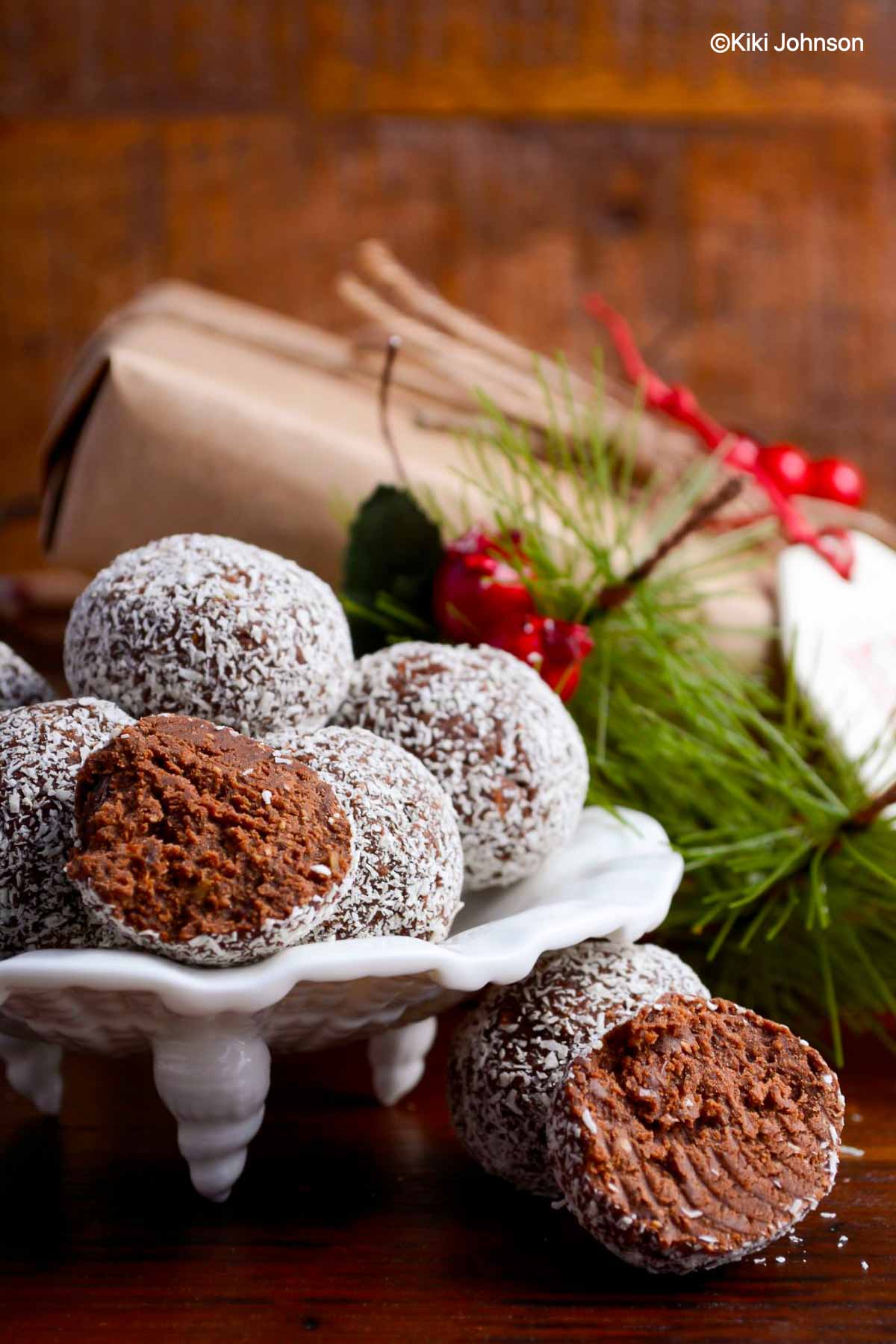 Rumkugeln aka. German Rum Balls are a delicious treat from Germany and a bit like German almond horns, these chocolate rum balls are sold in bakeries all year long but are especially popular during the holiday season and Christmas time.
This authentic German rum balls recipe will show you how to make them completely from scratch using simple ingredients!
While you can get rum balls at the local bakery, these homemade ones are so much better than store-bought, and they make great foodie gifts to hand out to your friends and family!
Making these was how German Bakers would get rid of cake leftovers and cake crumbs that could not be used otherwise in the bakery. They were just mixed with melted chocolate, butter, and rum and then coated in chocolate sprinkles! Easy!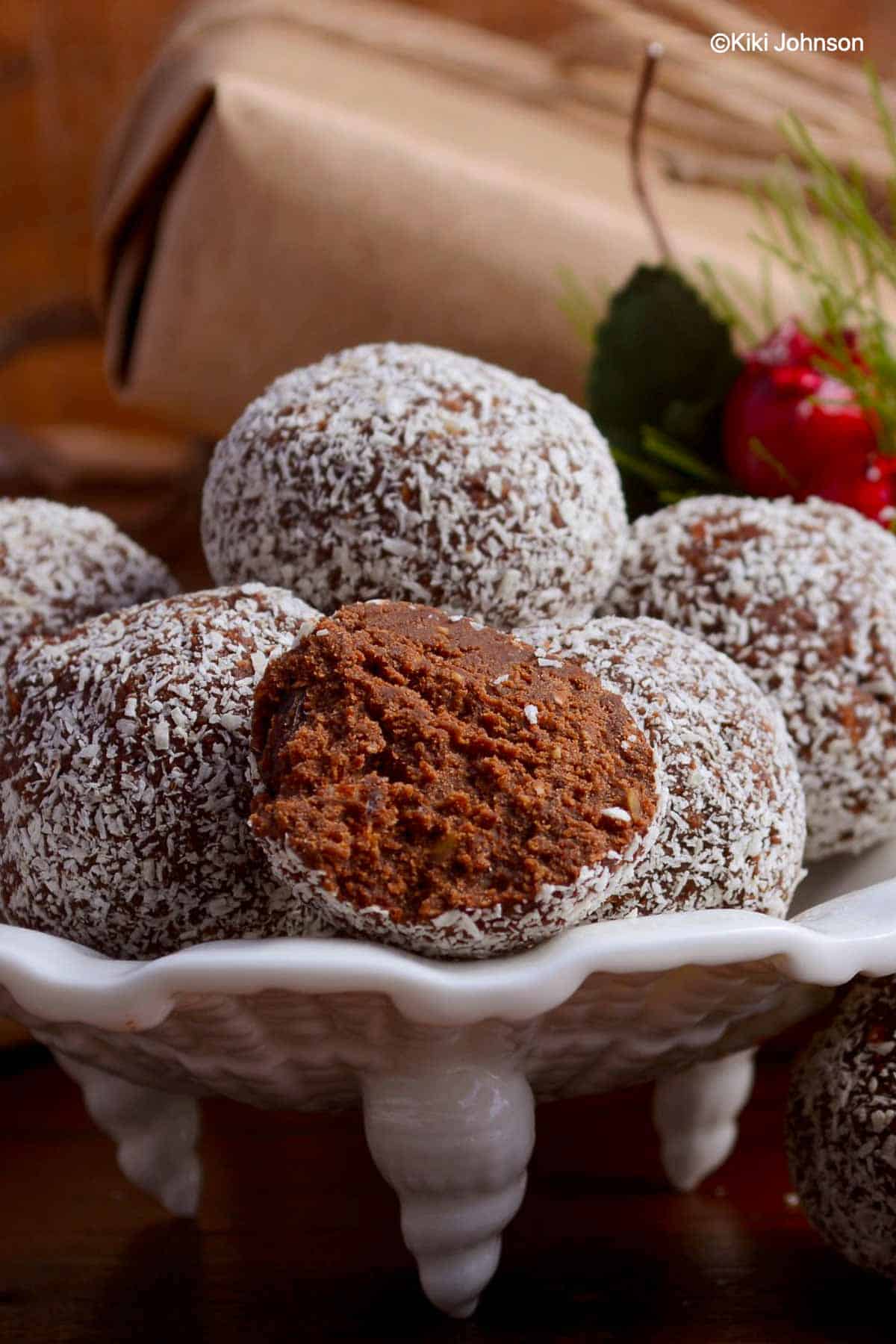 If you have cake leftovers from making a pound cake or a chocolate cake these traditional rum balls are your recipe.
I use brown real jamaica rum for the recipe and I certainly don't skimp on it either, but you can also make pretty delicious German rum balls without alcohol and simply add rum extract to the chocolate mixture.
Making your own rum balls is quick and easy, and a few chocolates always look good on the Christmas cookie plate. Traditional rum balls are also wonderful as a small gift from the kitchen.
You only need to put a few ingredients on your shopping list. I think in the run-up to Christmas we don't need to add additional stress with complicated recipes.
What cake leftovers shall I use for the rum balls?
You can use any cake leftovers for your rum balls. This recipe works best with a simple sponge cake, or a pound cake without any fruits added to it. Nuts or dried fruit are fine.
If you are using leftover chocolate cake, you can omit the cocoa powder in the recipe. If you don't have any leftovers, just use a store-bought cake base.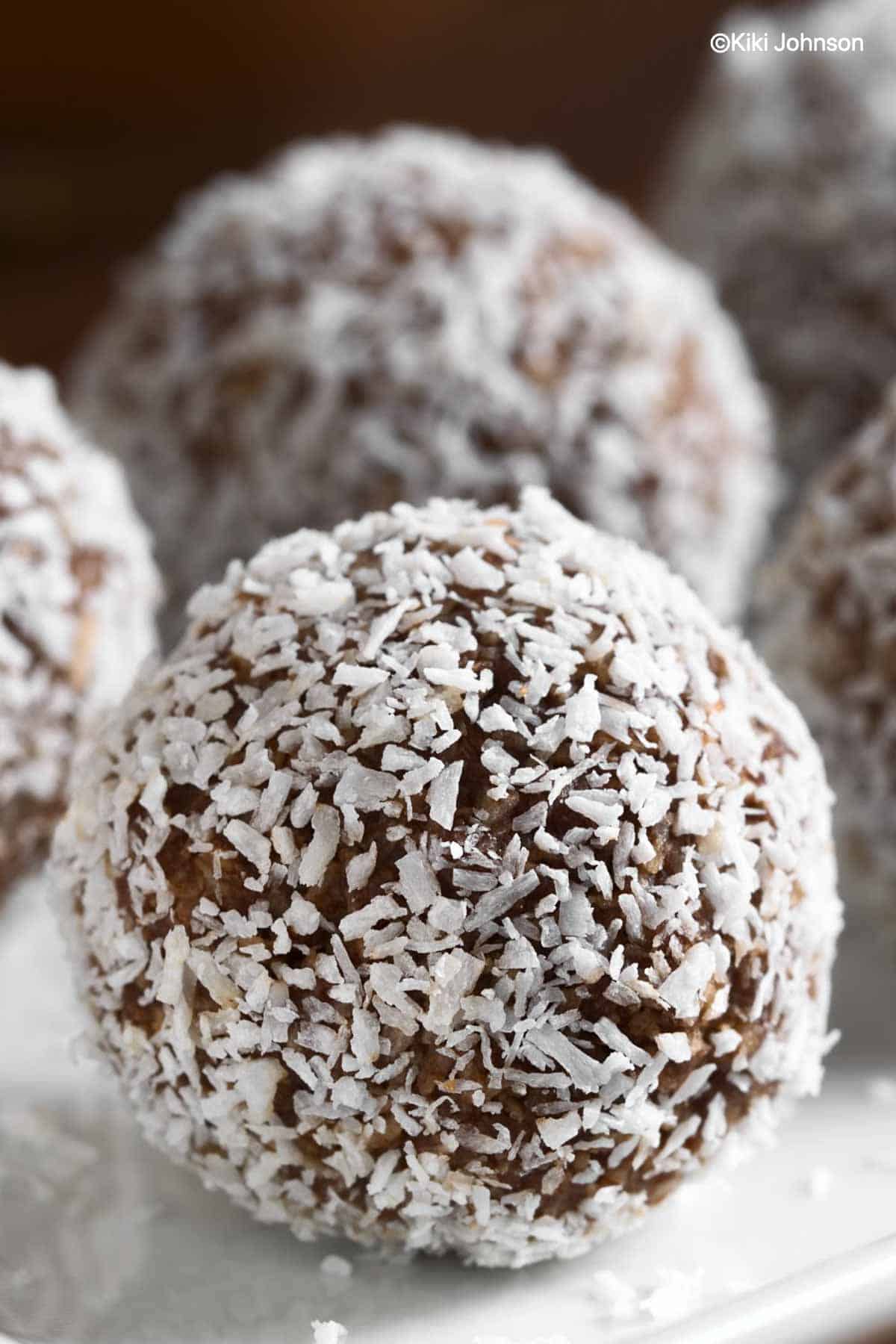 Recipe Variations
You can make smaller or large rum balls.
Christmas rum balls: Want to make German rum balls for Christmas, maybe even as a gift? Great idea. You can add a little cinnamon or gingerbread spice to the batter. Finely chopped raisins or dates in the batter also taste good.
If you don't like rum or don't have any actual rum at home, use amaretto, Cointreau or orange juice and add rum aroma and mix everything until you have a dough-like consistency.
I like to roll my finished rum balls in shredded coconut but cocoa or chocolate sprinkles also works. You can also dip the balls in melted chocolate again.
No cake leftovers in the house? Try vegan rum balls, or make my whiskey chocolates.
Not a fan of dark chocolate? Skip the cocoa and add white chocolate and apricot jam. Then the cake balls look like this.
Storing Rum Balls:
I keep them in the fridge in an air-tight container in a cool place until ready to eat. That should happen within a week. If you want to store them for a long time you can also freeze rum balls on a baking sheet and then thaw them when needed.
Tips:
make sure to taste the chocolate rum mixture before rolling and add some confectioners' sugar for sweetness if needed
use high-quality chocolate, no cheap chocolate chips – milk chocolate or rich dark chocolate are both delicious
If you find the batter too moist add some ground hazelnuts,or more crumbled marble cake
I shape the mixture with moist hands to make rolling easier
make them as big as you want. For gifting, I recommend small balls
I make them with my hands but you could make the batter in a food processor
for vegan German rum balls melt chocolate chips with coconut butter and use vegan chocolate
Want to bake more treats for the holidays?
Cinnamon Streusel Plum Jam Cookies
★ Did you make and love this German Rum Balls recipe? Give it your review below! And make sure to share your creations by tagging me on Instagram!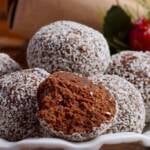 German Rum Balls
Learn how to make traditional German Rum Balls from scratch using this easy authentic rumkugeln recipe. The perfect addition to any Christmas cookie tray and a delicious post-dinner treat
Ingredients
500

g

cake leftovers such as crumbled up marble cake

chocolate cake or sponge cake - it should be about 3 1/2 - 4 cups but I would weigh it out

70

ml

brown rum -1/4 cups + 1 tbsps

30

ml

orange juice - 2 tbsps

2-3

tbsp

cocoa

3

tablespoons

of currant or raspberry jam

100

grams

of chocolate - 3/4 cups

chopped

2

tablespoons

butter

shredded coconut or chocolate sprinkles for rolling
Instructions
Crumble the leftover cake into a bowl. Pour the rum and orange juice over the cake crumbs, then stir in the cocoa and jam and mix well. Set the mixture aside for 10-15 minutes.

Meanwhile, melt the chopped chocolate and the butter over hot waterbath or in the microwave.

Then add the butter-chocolate to the crumbs and stir well with a whisk.

Taste the rum ball mass and add a bit more powdered sugar or rum flavoring if necessary. Pour the coconut or chocolate sprinkles into a bowl.

Sprinkle a thin layer of coconut flakes or sprinkles on a flat plate.

Shape into balls of any size you like and immediately roll them in the sprinkles.

Put the finished balls on a plate and then put them in the fridge for at least 30 minutes

I put the rum balls into little paper cases so they keep their shape