Dieser Beitrag ist auch verfügbar auf:

Deutsch (German)
An easy no-bake recipe for vegan rum balls that is amazingly fudgy but secretly healthy thanks to hidden black beans. Low in calories, sugar-free, dairy-free but high in protein and fiber, these vegan chocolate rum truffles make for a great holiday treat.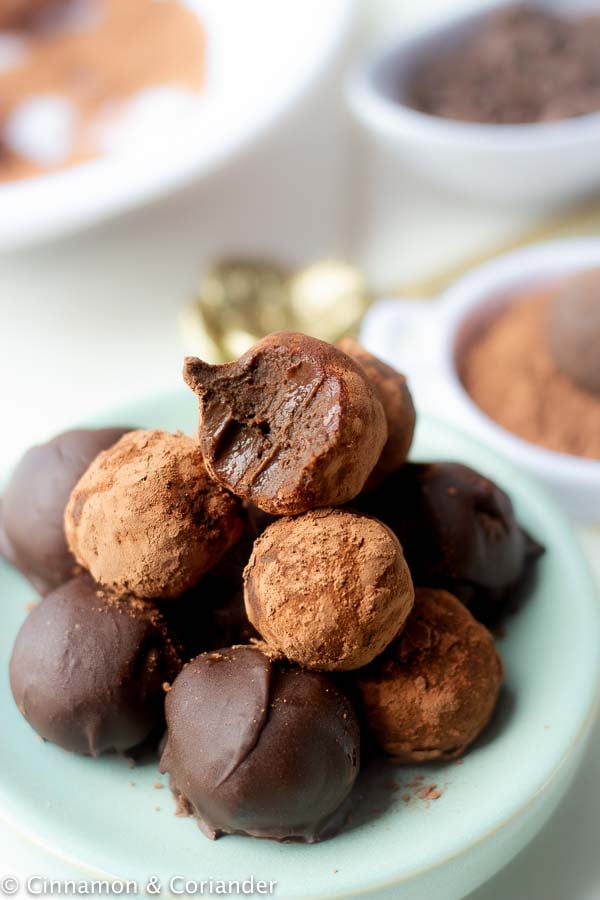 An easy healthy recipe for Vegan rum balls -sugar-free & no-bake!
Oh, rum balls how I love thee! I've been loving German Rum Balls ever since I was a teenager. I don't know how much rum was in them. Probably not even that much. But I do know they were made with A LOT of butter, chocolate, sometimes graham crackers, corn syrup, and sweetened condensed milk.
Or as "the nanny" would say "a minute on the lips, a lifetime on the hips".
I love creating healthier alternatives to my all-time favorite Christmas desserts. Do I still like to overboard during the holidays?
Absolutely. But in the time between Thanksgiving and Christmas, I like to keep things lean while still treating myself to some guilt-free holiday sweets. Are you with me?
These healthy vegan rum balls have only 70 calories/serving and are packed with healthy ingredients!
Ingredients for making healthy no-bake vegan rum balls:
This healthy vegan recipe for rum balls is made with:
Cacao powder or unsweetened cocoa powder. You can you either of these ingredients but I used raw cacao for its nutritional benefits.
Stevia. Instead of icing sugar and/or corn syrup, I use calorie-free stevia s to sweeten these.
Espresso powder helps to enhance the chocolate flavor and makes these taste richer and more intense.
Vanilla Extract – go for the good stuff, not the artificial one.
Almond Butter for some added creaminess and richness. This also makes the vegan rum truffles taste like a Christmas Market treat.
Rum aroma / extract. Yes, no actual alcohol is going into these but you could add some if you want. Brandy flavor works just as well.
Black beans! For the perfect fudgy texture, we use pureed canned or cooked black beans instead of graham crackers.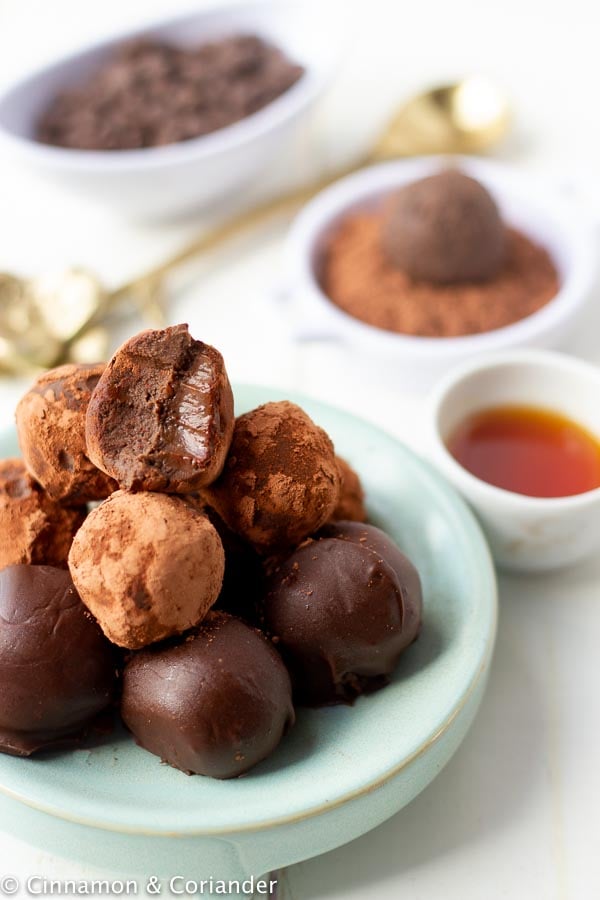 Can you taste the black beans?
Nope, no one will know they're hiding in these fudgy chocolate rum balls. They're AWESOME. Please don't question the deliciousness! These are seriously addicting! There's a reason why my black bean brownies , my white bean blondies or chickpea blondies are the most popular recipes on the blog!
How to make this vegan rum balls recipe:
You will love this vegan recipe for rum balls for its simplicity! Dissolve some espresso powder in coconut milk or coffee. Put all ingredients into your blender and let her rip! Adjust sweetness to your taste and chill the batter for a couple of hours or overnight.
Roll the chocolate truffle batter into balls and chill once more while you melt some dark chocolate with coconut oil. Dip the truffles into the chocolate and you are DONE!
Alternatively, you can roll your healthy rum chocolate truffles in cocoa powder. Even easier!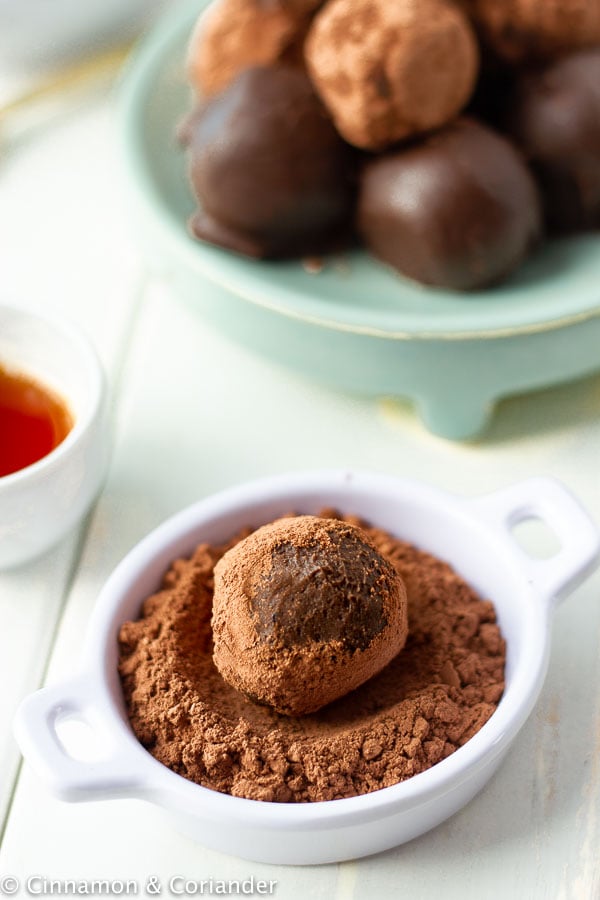 Which rum flavor should I use?
Not all rum flavors are created equal. My favorite is this one by Dr. Oetker! You don't need too much – about 1 1/2 mini bottles of the 4-pack. This aroma won't make your batter too wet and it tastes like the real thing. You could use imitation rum extract from the baking aisle or this extract to make these but I find it often lacks flavor.
During the testing phase, I tried these rum balls with 2 tbsp of imitation rum extract (Great Value) and the rum flavor was still very subtle. If you can find some natural rum essence use that but start with 1 tbsp then add more to taste if desired.
That said, you can use REAL dark rum instead of rum extract. Or add some bourbon to turn these into vegan bourbon balls. It's the holidays after all. Add 2 tbsp and more to taste. If the dough seems too sticky and wet, add a bit of extra cacao powder.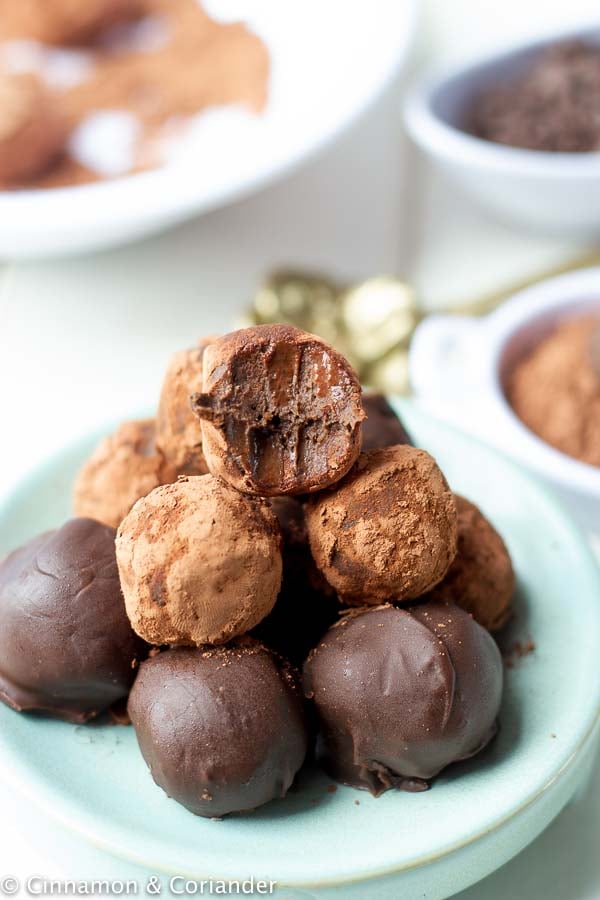 Tips for making healthy no-bake rum balls:
If you want to boost the protein content, add some chocolate protein powder. Just remember to keep the truffles vegan, you must use a vegan chocolate protein powder such as Vega.
Feel free to coat the rum truffles in whatever you'd like. Shredded coconut, ground nuts, cocoa powder, chocolate!
To avoid tummy troubles, cook beans from scratch and soak your dried beans in water before cooking! Ideally overnight, but at least for a few hours. Soaking your beans helps to remove some of the compounds that are responsible for the bean bloat.
If the truffle dough seems too sticky and wet, add a bit of extra black beans if you have some, or add in more cacao powder. A couple of tbsps of coconut flour would also work.
If you use canned beans, make sure to rinse them and let them dry very well.
I recommend you use dried beans and cook them yourself prior to using them. This will help cut the cost too.
Want to give your truffles as a food gift? Especially if the recipient will need to travel with them, it's a thoughtful touch to put each truffle in a mini decorative baking cup. This looks pretty and will also help the vegan rum truffles stay separated
★ Did you make and love this easy healthy no-bake recipe for rum balls? Give it your review below! And make sure to share your creations by tagging me on Instagram!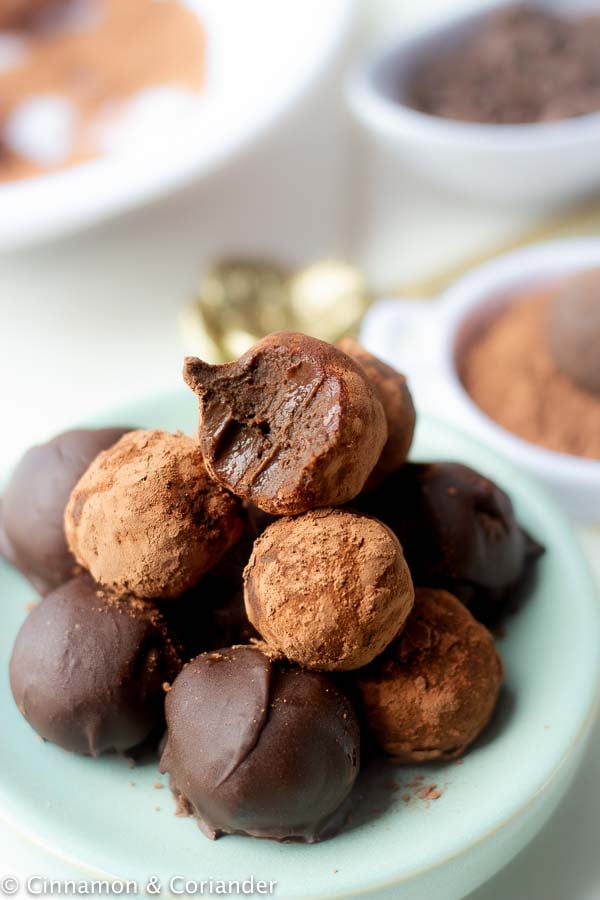 Best Vegan Recipe for Rum Balls (No Bake, Sugar-free)
An easy no-bake recipe for rum balls that is amazingly fudgy but secretly healthy thanks to hidden black beans. Low in calories, sugar-free, dairy-free but high in protein and fiber, these best vegan chocolate rum truffles make for a great Christmas holiday treat. They taste boozy but are non-alcoholic.
Ingredients
For the truffles
1

tsp

instant espresso powder

3

tbsp

coconut milk, warmed

or almond milk, or coffee

1 1/2

cups

black beans

cooked, - you can use canned. Rinse and let dry well.

3

tsp

Stevia

14 g

2

pinches

salt

1/3

cup

cocoa powder

30 g

2

tsp

Vanilla Essence

rum aroma / rum essence

see recommendations in post

2

tbsps

almond butter

or 1 heaping tbsps
For the chocolate glaze
11/2 - 2

tsp

coconut oil

1

cup

dark chocolate

chopped
Instructions
Stir warmed milk and espresso powder together until the powder has dissolved.

Blend all ingredients in your food processor until thick and smooth. The texture should be rather thick. Do not add any more liquid.

Chill mixture for 2 hours, then roll truffles using a heaping tsp per truffle. Place truffles on a baking sheet lined with parchment paper and pop into the freezer for 15 to 20 minutes.

Melt chocolate and coconut oil in a double boiler and dip the chilled truffles into the chocolate using 2 forks. Tap off excess chocolate and return to the lined sheet. If chocolate has cooled too much, reheat.

Refrigerate your chocolate rum balls about 10 minutes or until chocolate is set. Store in a covered container in the refrigerator. Remove from the fridge a couple of minutes before serving or enjoy chilled.

Recipe Notes
If you want to boost the protein content, add some chocolate protein powder.  Just remember to keep the truffles vegan, you must use a vegan chocolate protein powder such as Vega.
Feel free to coat the rum truffles in whatever you'd like. Shredded coconut, ground nuts, cocoa powder, chocolate! 
To avoid tummy troubles, cook beans from scratch and soak your dried beans in water before cooking! Ideally overnight, but at least for a few hours. Soaking your beans helps to remove some of the compounds that are responsible for the bean bloat.
If the truffle dough seems too sticky and wet, add a bit of extra black beans if you have some, or add in more cacao powder. A couple of tbsps of coconut flour would also work. 
If you use canned beans, make sure to rinse them and let them dry very well.
I recommend you use dried beans and cook them yourself prior to using them. This will help cut the cost too.
Want to give your truffles as a food gift? Especially if the recipient will need to travel with them, it's a thoughtful touch to put each truffle in a mini decorative baking cup. This looks pretty and will also help the vegan rum truffles stay separated