Dieser Beitrag ist auch verfügbar auf:

Deutsch (German)
Austrian Spritz Cookies with Jam dipped into chocolate make for the perfect addition to your cookie platter! A traditional Austrian Christmas Cookie recipe for jam cookies that melt in your mouth. Jump to Recipe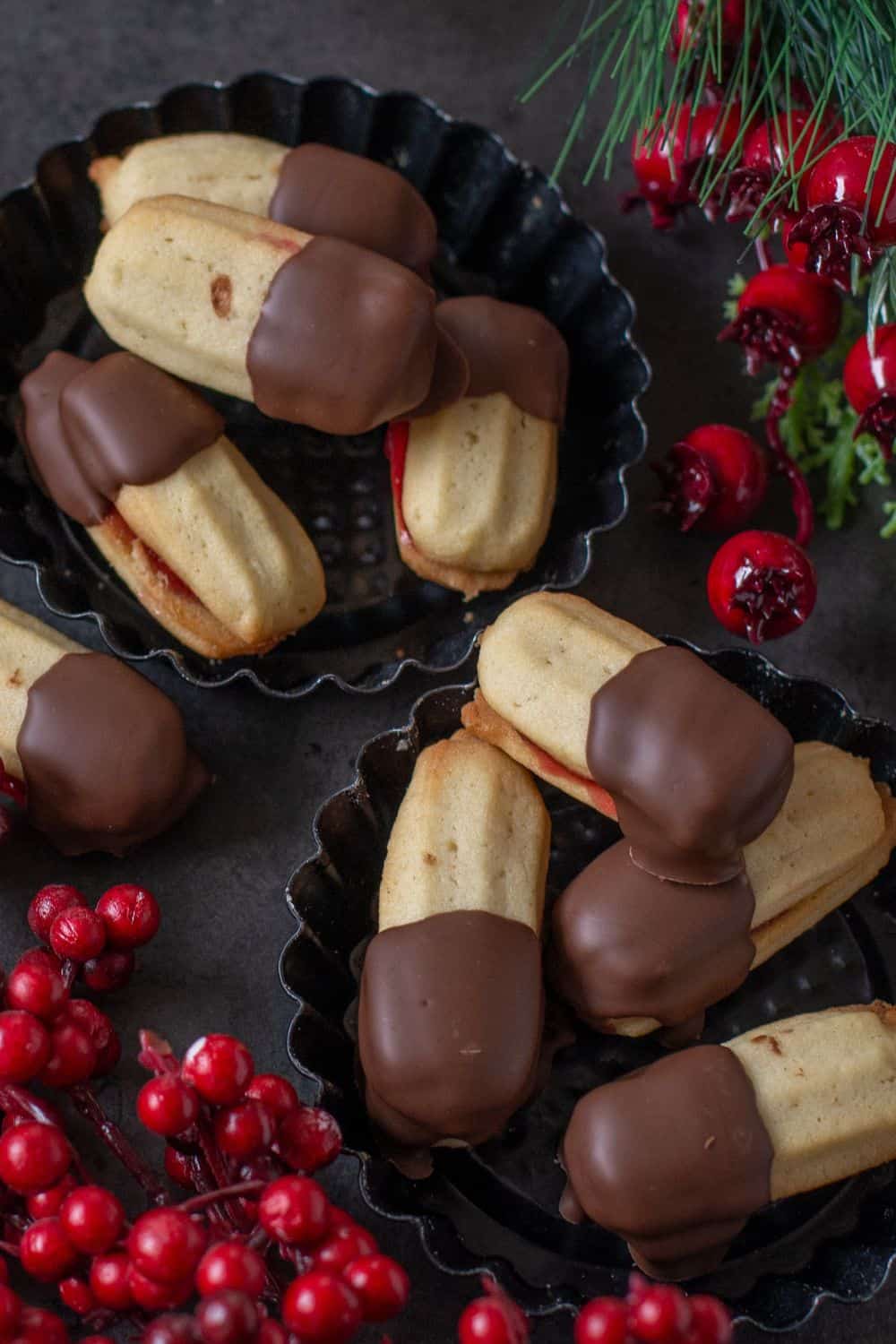 These Austrian Spritz cookies with jam and chocolate coating are amongst my favorite Christmas cookies. These simple butter cookies are also called Linzer Stangerl and belong to the classic Christmas cookies that should not be missing on any cookie plate / Bunte Teller.
Together with my Austrian Linzer Cookies, these jam spritz cookies are another classic Austrian cookie recipe that I love to make every year during the holiday season!
The Linzer spritz cookies with jam have a delicate butter taste and the raspberry jam filling provides a fruity moment. Half of the Linzer Stangerl cookies are dipped into melted chocolate – a real treat.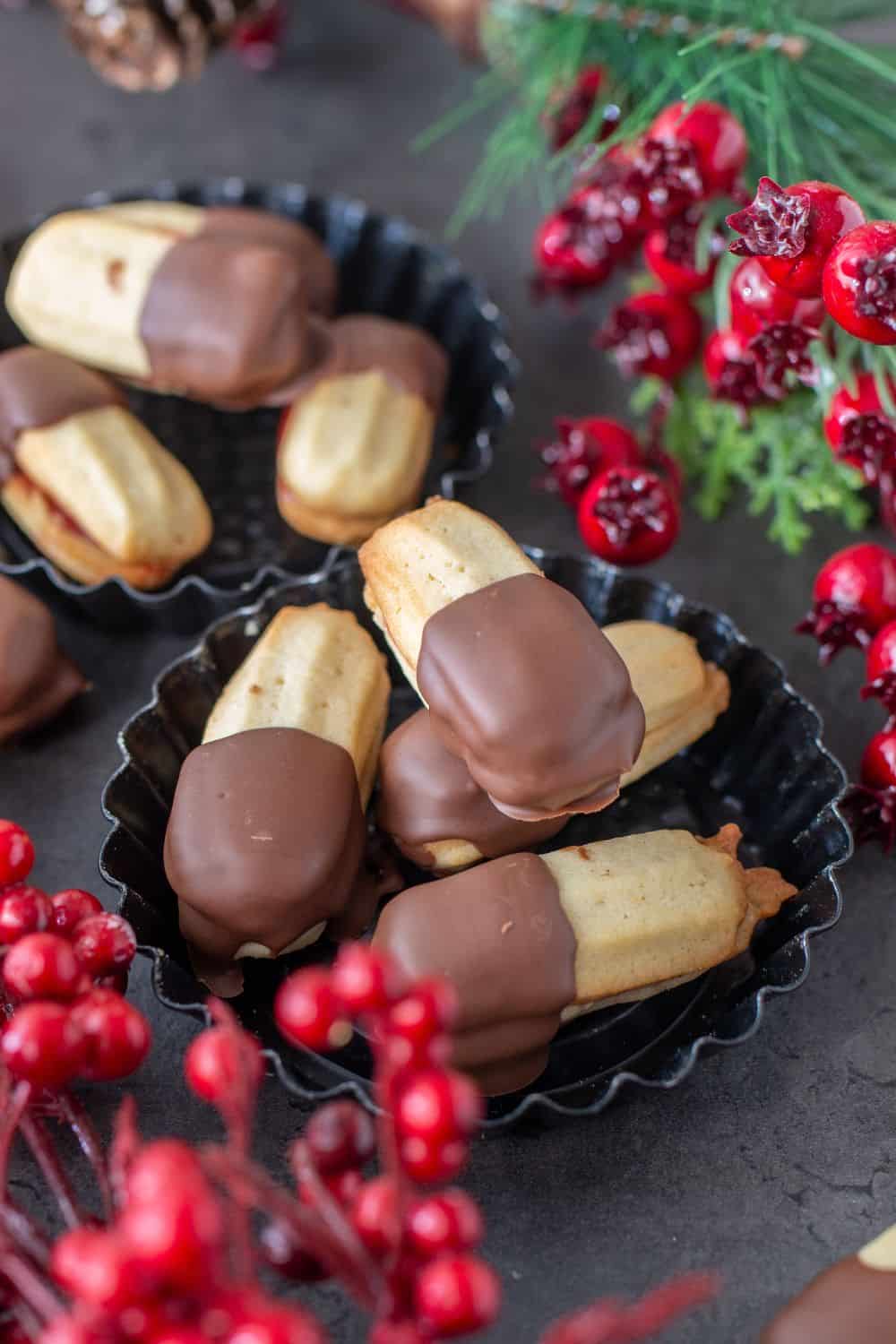 The german word "spritzen" means to pipe so spritz cookies are cookies that are piped directly onto the baking sheet.
Unlike with other spritzgebäck recipes, here you don't need to press cookies unto the baking sheet using a special cookie gun or cookie press. The spritz cookie dough is shaped using a piping bag/pastry bag equipped with a star tip.
If you want, you can also pipe these little cookies into other fun shapes onto the baking sheet – crescents, circles or little hearts, as you like.
Raspberry Jam or strawberry jam work well here but you can also choose your favorite jams for this recipe. Last time I used this mulled wine jam for the middle of the cookie and what can I say? Homemade jam always tastes best in cookies,
The safest way to melt the chocolate is in a water bath!
To do this, break the chocolate into small pieces and place them in a stainless steel pot with two handles along with the coconut fat. Then boil water in a larger pot and place or hang the smaller pot over it.
Tips:
Flavor your cookie dough with almond extract or vanilla extract
Before you cream butter and sugar together make sure your ingredients have come to room temperature
Don't overfill these with jam. Just spread a little bit of jam onto the center of each cookie and press the two halves together
Chill the cookies on the sheet before baking them to make sure they maintain their shape
Fill the cookies with a dollop of your favorite jam – raspberry, strawberry, apricot or mulled wine jam
I used unsalted butter, if you use salted butter skip the pinch of salt
To make chocolate spritz cookies, add 3 tbsps cocoa powder to the dry ingredients
More classic Christmas cookie recipes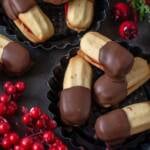 Austrian Spritz Cookies
Austrian Spritz Cookies with Jam dipped into chocolate make for the perfect addition to your cookie platter! A traditional Austrian Christmas Cookie recipe for jam cookies that melt in your mouth.
Ingredients
For the cookie batter
300

g

flour

2 1/2 cups

200

g

of softened butter

1 cup

120

g

icing sugar

1 cup

1

pinch

of salt

1

tablespoon

of vanilla paste

2

eggs
Chocolate glaze
100

g

dark chocolate

1 cup

1

tbsp

coconut oil
For filling
100

g

jam

apricot, currant or strawberry jam- 6 tbsps
Instructions
All ingredients should be at room temperature - both the butter and the eggs. You should take them out of the fridge an hour before making the dough. This will prevent the batter from curdling.

Preheat the oven to around 180°C. If you prefer to bake with convection, please note that you need to set about  160 C less.

Prepare two baking sheets by lining them with parchment paper
make biscuit
Using a mixer with a paddle attachment or a handheld mixer, cream the butter with the powdered sugar and the aromatics (salt and vanilla sugar) until fluffy. This can take 5 minutes!

Gradually beat in the eggs. Only once the first egg has been completely absorbed by the butter and a homogeneous mass has formed you should add the second egg.

It is best to sift the flour through a fine sieve into the butter and fold it in with a spatula or a wooden spoon. Fill the mixture into a piping bag with a star nozzle.

Tip: Do not use disposable piping bags here. These break and rip quite easily and in most cases do not withstand the shortbread dough.

Now pipe the cookie batter onto the prepared sheet. Bake the cookies in the oven for about 8 minutes. Let them cool down and spread a small amount of jam in the middle of a cookie, then sandwich two cookie halves together, pressing them together gently.

Melt chopped chocolate and coconut oil over a hot water bath or in the microwave. The chocolate-fat mixture should not get too hot.

Dip one side of the cookies into the chocolate icing and leave to set on a piece of baking paper.