Dieser Beitrag ist auch verfügbar auf:

Deutsch (German)
This Plum Coffee Cake recipe features juicy Italian prune plums on a tender shortcrust pastry topped with fluffy meringue and crunchy streusel with poppyseeds and hazelnuts! A great recipe for late summer and fall! Jump to Recipe
Shortcrust pastry topped with juicy prune plums, light, and fluffy meringue, and a streusel topping! This easy plum coffee cake recipe is a great way to bake with fresh plums in late summer and fall. A surprisingly easy delicious coffee cake that looks super impressive.
I LOVE plum cake recipes like my traditional German plum cake and especially ones using sweet and slightly sour Italian prune plums / also called empress plums or Italian plums.
Amongst all varieties of plums these are best for baking as they have the right amount of moisture and so much flavor!
They start to pop up at farmers markets at the end of august and I always buy in bulk and use them to make mulled stewed plums or plum jam. However you can also use red plums if that is what you have available.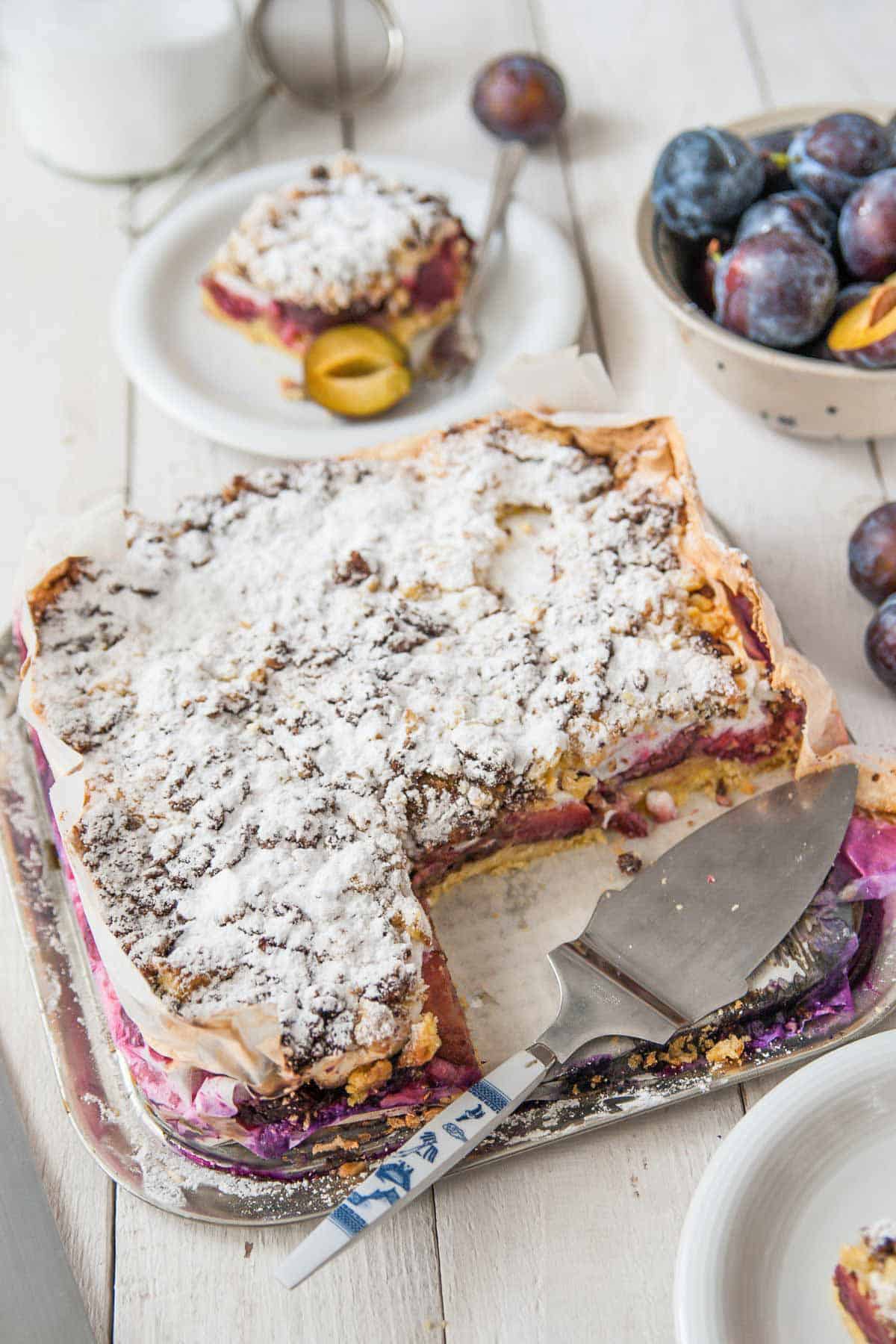 The cake batter is light and has very little sugar added to it. The addition of baking powder makes it even more delicate and causes the batter to rise during baking resulting in a tender cake with a soft crumb.
The meringue topping is sweet, and light as marshmallows and goes perfectly with the slightly sour prune plums. You should use ripe sweet plums for the recipe.
If your plums are a bit too ripe I recommend sprinkling them with some cornstarch or potato flour before putting them into the dough so that they do not release too much juice.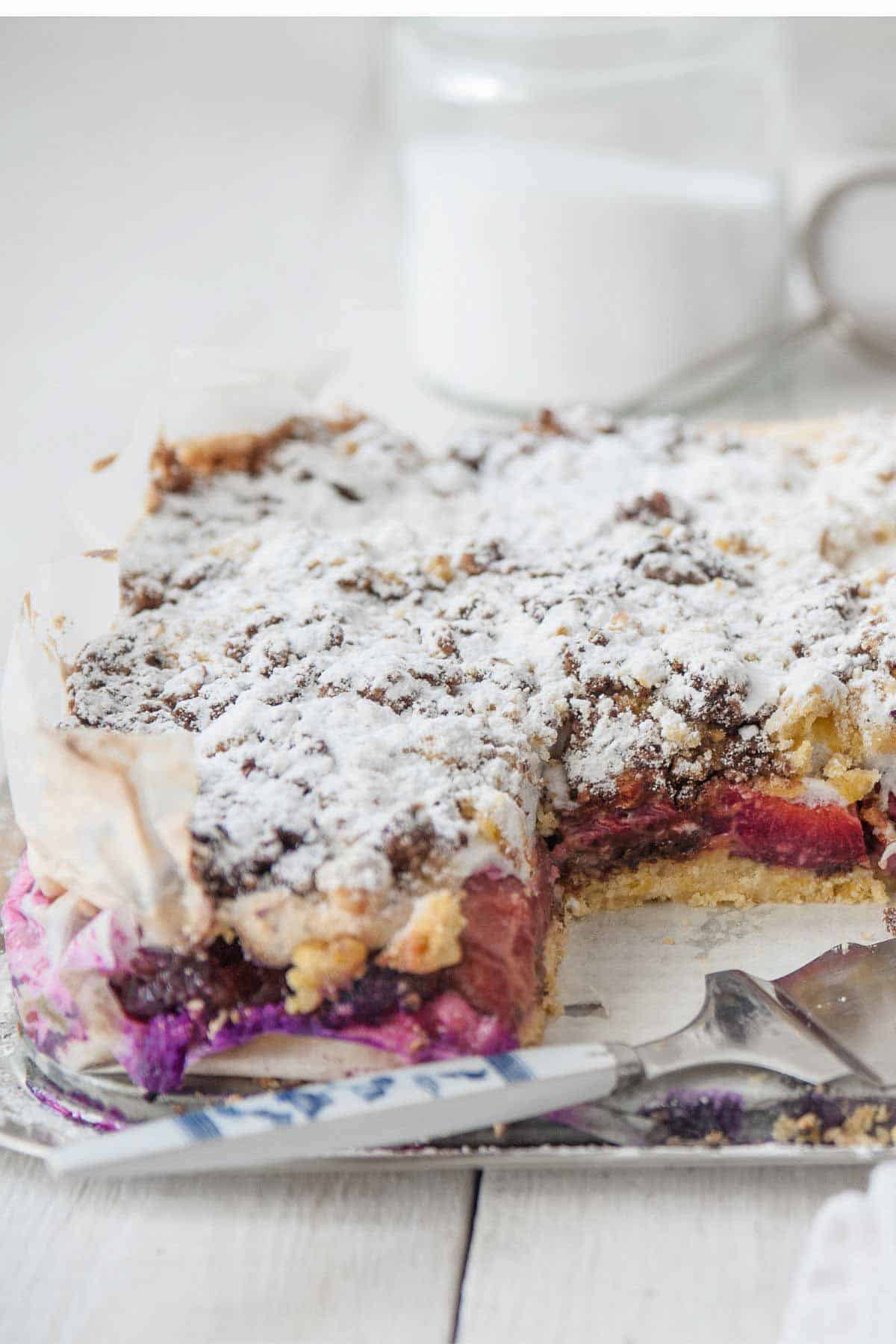 This simple plum cake recipe with Meringue is another easy recipe for late summer and early fall aka plum season.
There are so many different versions of plum cake out there and while most of the plum cakes on the blog are super rustic and simple, this one is more special. A showstoppers, so to say. But while it looks complicated, the recipe is actually really easy.
A beautiful cake perfect for the next family celebration and leftovers taste amazing for breakfast with a cup of morning coffee !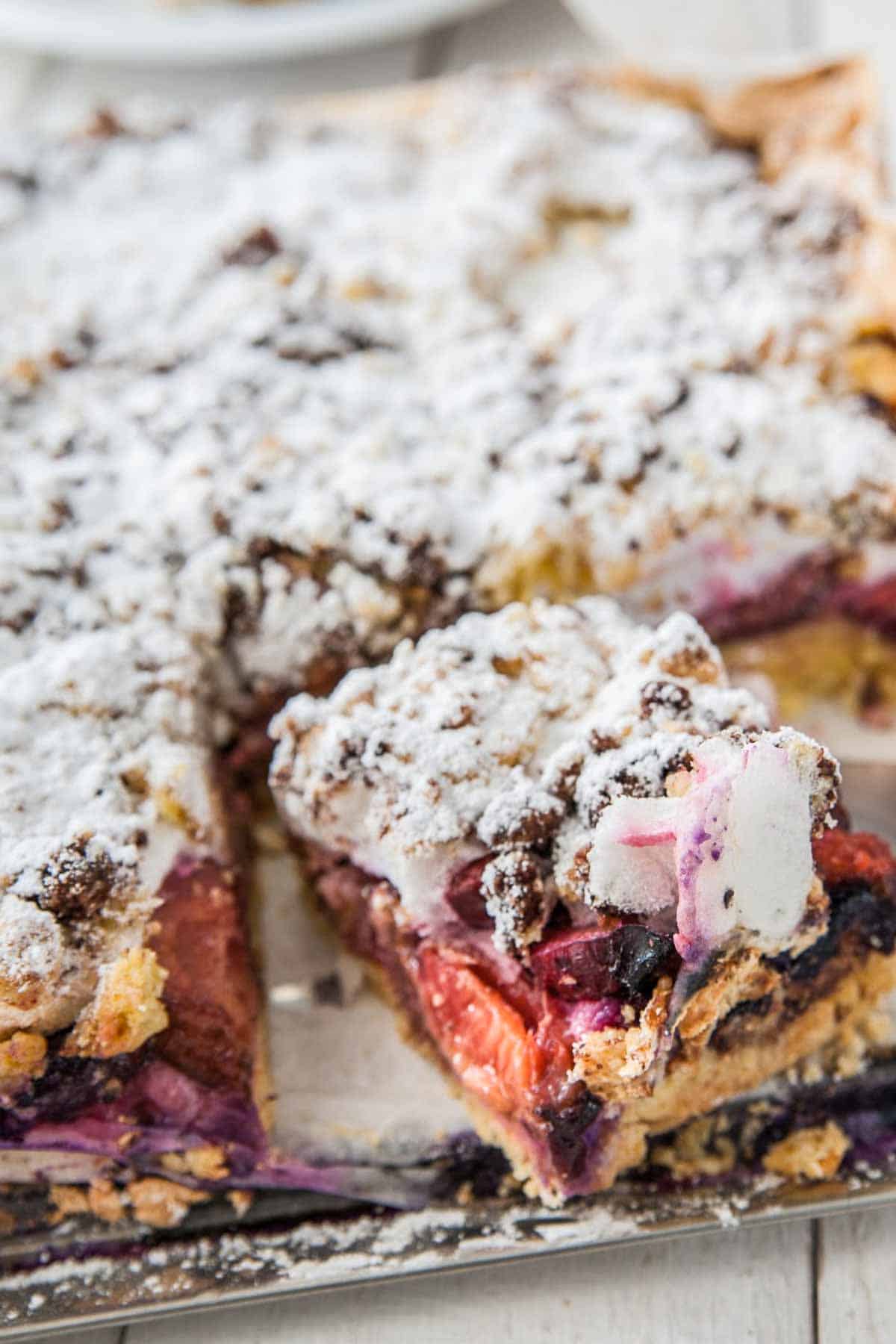 Let's make plum cake! All you need for making this delicious cake is a large mixing bowl, a hand mixer, and a square cake pan!
Storing cakes with meringue topping
Cakes or tarts with meringue topping should be covered and placed in the refrigerator for storage. Place the cake in Tupperware or under a cake topper.
This way the meringue cake will be fine in the fridge for about three days. If you freeze cake with meringue, it will keep for several weeks but the texture will suffer slightly.
Can you freeze cakes with meringue?
It works and the taste of the plum cake doesn't detract from it.
However, frozen and thawed cake is always slightly softer/moist after thawing. And it gets worse the more water there is in the cake.
The egg white in the meringue has a high water content, and when frozen meringue thaws, often all that's left is a wet mess.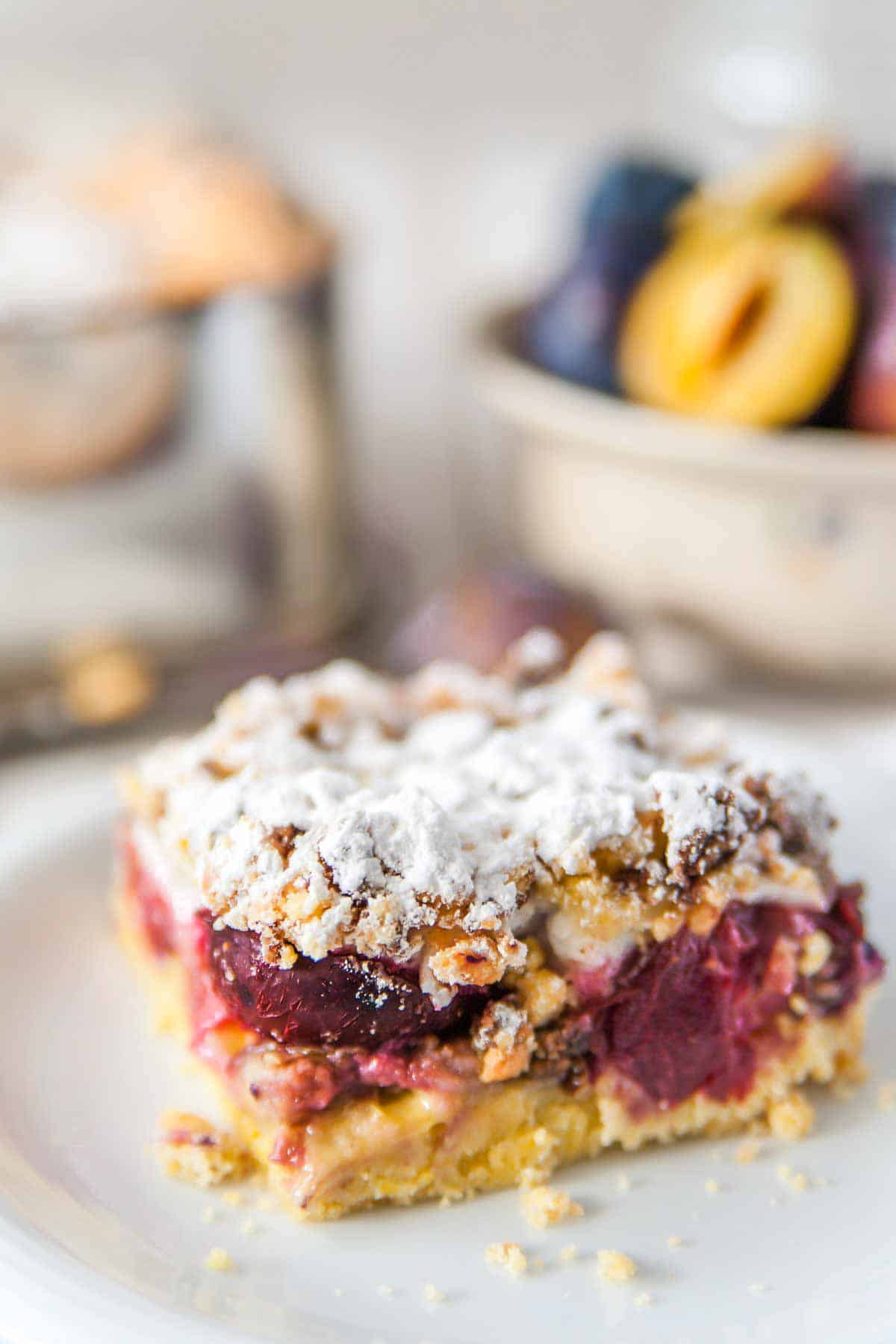 Can you bake cakes with meringue the day before?
This should work out! I would say if you don't put the cake in the fridge the meringue will stay even slightly crispy overnight. I always put mine in the cool cellar and then it easily survives a night there and tastes like freshly baked.
Can you use frozen plums?
Fresh plums are best but yes you can use frozen plums and make this cake any time of year. If making plum cake do not thaw the plums. I would sprinkle more breadcrumbs or poppyseeds and nuts under the plums though as they will lose more liquid.
How to serve this
I would serve this cake for kaffee und kuchen – German afternoon coffee time -as is. Really apart from some powder sugar on top of the cake it does not need much. If you want to go all out a great choice would be to serve it with some vanilla ice cream, sour cream or homemade whipped cream. I say homemade because you don't want to sweeten the cream too much. It's a sweet enough cake as is.
Tips:
Make sure your egg whites are at room temperature for fetting the perfect meringue
If you cannot find rum aroma, add some almond extract, vanilla extract or lemon zest or lemon extract to the cake batter.
For best results, let the cake cool on a wire rack before cutting.
You can make this cake using any stone fruit you like. Next time, I will try it with cherries. you can also use peaches, apricots or nectarines instead of the plums, preparing them exactly as you would the plums.
The dish I used is a rectangular one ( 25 x 35 cm that is 9 x 13inches )
For more easy sheet cake recipes try
Let's bake cake you guys!
★ Did you make and love this Plum Coffee Cake recipe? Give it your review below! And make sure to share your creations by tagging me on Instagram!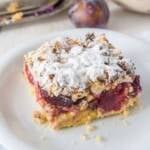 Plum Coffee Cake
This Plum Coffee Cake recipe features juicy Italian prune plums on a tender shortcrust pastry topped with fluffy meringue and crunchy streusel with poppyseeds and hazelnuts! A great recipe for late summer and fall!
Cook Time
1
hour
5
minutes
Total Time
1
hour
30
minutes
Ingredients
INGREDIENTS FOR CAKE:
2 1/2

cups

of cake flour

3

tablespoons

of powdered sugar

200

g

butter or margarine

cold - 3/4 cups + 2 tbsp

5

yolks

1

teaspoon

of baking powder

pinch

of salt

1/2

tsp

rum essence / aroma or 1 tsp vanilla essence or almond essence
INGREDIENTS FOR MERINGUE
5

egg whites at room temperature

1

cup

of sugar

40

g

of potato flour or cornstarch - 4 tbsp

pinch

of salt
TOPPINGS
about 800 g / 2 pounds of plums

4

tablespoons

of poppyseeds

ground (use breadcrumbs as substitution)

3

tbsp

ground hazelnuts

use any other ground or chopped nut as substitution
Instructions
Sift the flour together with the baking powder and powdered sugar. Add salt and pieces of cold butter. Chop with a knife or pastry cutter or  combine in a food processor quickly to make the shortcrust pastry. Add the egg yolks and knead all to a uniform dough. You can use hand mixer with hook attachment to prepare the dough. Divide the finished dough into two parts (one a bit larger than the other - 2:3 , the larger part will be the bottom), wrap it with cling film, and chill for 2 hours.

Preheat the oven to 180 C / 365 F.

Line a square baking pan with dimensions 9x13 inches / 25 × 35 cm with baking paper. Grate the bigger half of the dough into the baking pan using a box grater and spread it evenly, pressing it lightly to form the base. THis sounds unusual but it works!  We bake this cake base at 180 C - 365 for about 20 minutes. After the baking time, take it out of the oven and sprinkle with half the poppyseeds or breadcrumbs and nuts. Arrange the plum halves with the cut side up on top of the batter and sprinkle with the remaining nuts and poppy seeds.

Beat the egg whites with a pinch of salt until stiff. At the end of mixing, gradually add in the sugar, cornstarch lemon juice and oil. Spread the mix over the plums and grate the rest of the shortcrust dough over the meringue. Bake at 180 C / 365 for about 40-45 minutes more . After baking, sprinkle with powdered sugar.