Dieser Beitrag ist auch verfügbar auf:

Deutsch (German)
These Banana Blondies with Peanut Butter Ganache are the stuff that Peanut Butter Lover's Dreams are made of! So moist and chocolatey! Your family will be all over these!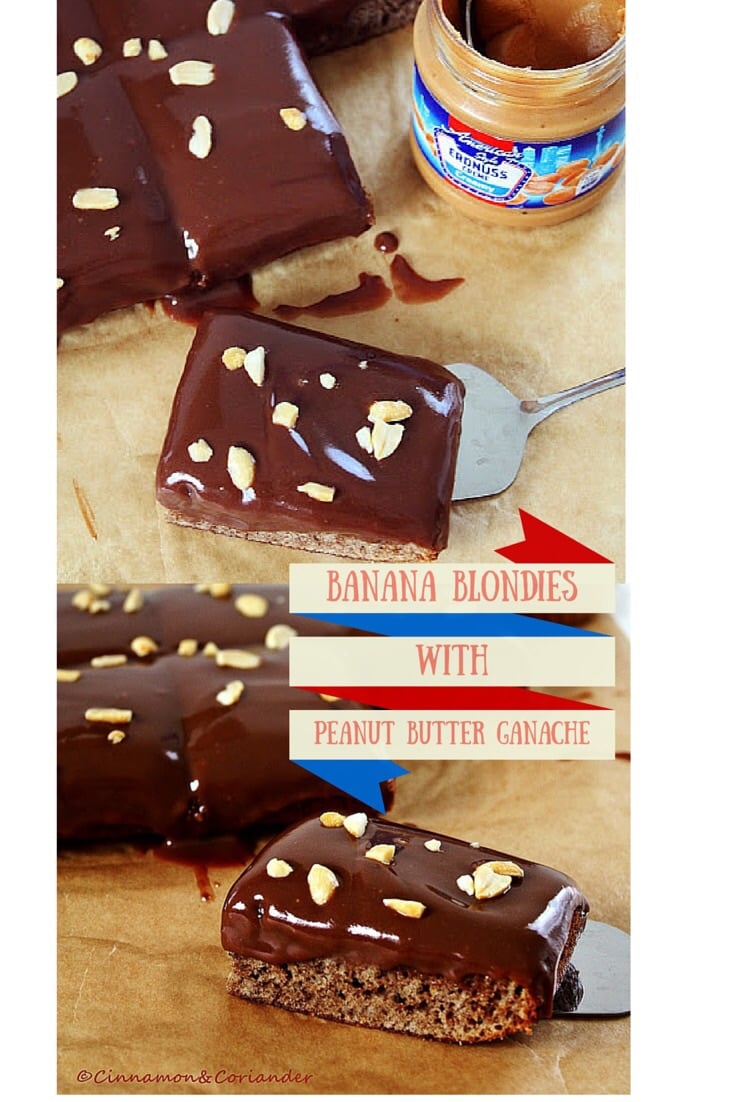 When I saw these Banana Blondies on Jessica`s Blog I seriously needed a minute or two to recover.
That for me is the definition of food porn. Silky chocolate dripping from a banana blondie.
It was the Peanut Butter Ganache part that really got to me. I meant, that sounds dangerous!
Chocolate, Peanut Butter and Bananas in one bake! Now that´s what I call a treat.
I whipped these up for all the helpers who volunteered to help me carry a bunch of furniture. A little fuel to keep them going.
They were met with rave reviews. Especially the Peanut Butter Ganache was a huge hit.
With them being less dense than a normal blondie, you can easily have 2 servings without having to lie down for a siesta.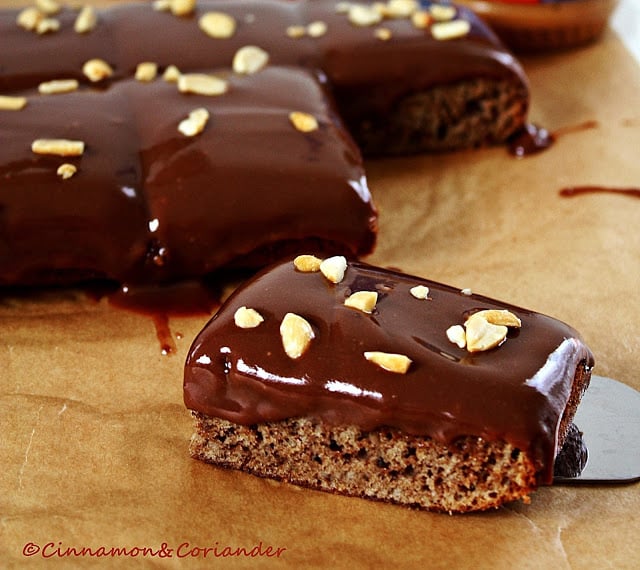 Banana Blondies with Peanut Butter Ganache
Having Banana, Chocolate and Peanut Butter in one bake is what I call a REAL treat!
Ingredients
1

cup loosely packed brown sugar

2

large egg yolks

1

teaspoon vanilla extract

1/2

cup unsalted butter

melted

2

ripe bananas

mashed

1

cup all-purpose flour

1/2

teaspoon baking soda

1/4

teaspoon salt

chocolate peanut butter ganache

6

ounces milk

your choice, dark or semi-sweet chocolate, chopped

1/3

cup peanut butter

1/2

cup heavy cream
Instructions
Preheat the oven to 350 degrees F. Spray an 8x8-inch with nonstick spray, layer it with parchment paper and give it another spray.

In a bowl, whisk together the brown sugar and egg yolks until smooth. Slowly stream in the butter while whisking until combined. Stir in the mashed bananas. Add the flour, baking soda, and salt, stirring until a thicker batter comes together. Pour the batter into the greased pan. Bake for 30 to 35 minutes, or until the bars seem set in the center and are golden in color. Remove and let cool slightly.

chocolate peanut butter ganache

Add the chocolate and peanut butter to a large bowl. Heat the heavy cream in a saucepan over medium heat until it is hot but not boiling - just until bubbles form on the sides of the pan. Remove it from the heat and pour it over the chocolate and peanut butter. Allow it to sit for 1 to 2 minutes, then stir continuously until a ganache forms - this may take a full 5 minutes but keep stirring! Allow the ganache to cool for a few minutes before pouring it over the bars or serving it with a spoon.
Chunky Monkey Breakfast Bars
Fudge Brownies
Strawberry & Salted Macadamia Blondies
Love,
Kiki