Dieser Beitrag ist auch verfügbar auf:

Deutsch (German)
My Granny's delectable Boozy Raffaello Cake with a decadent Coconut, White Chocolate and Advocaat Liqueur Cream Filling! An easy-to-make, showstopping cake for the Christmas Season!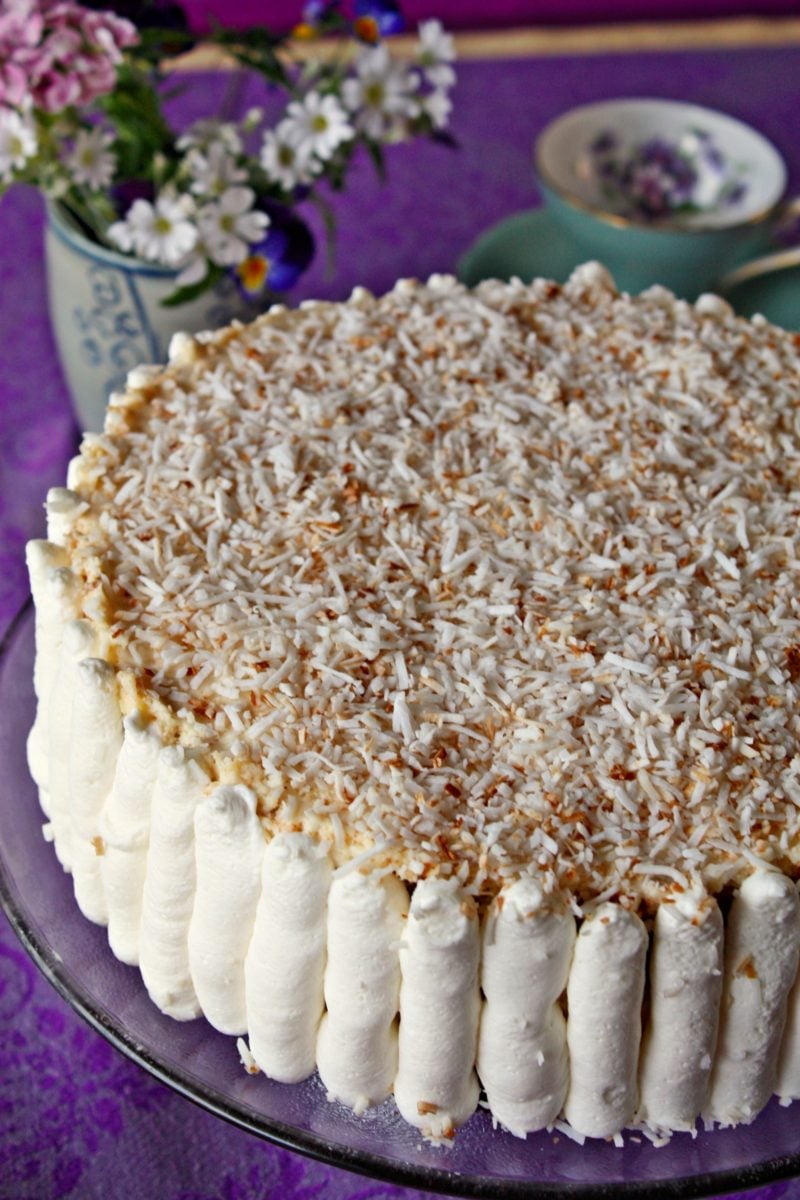 Try my Granny's Secret Recipe for the Best Raffaello Cake EVER!
Granny's Cakes in general and this Boozy Raffaello Cake with White Chocolate & Advocaat Liqueur in particular, were what made me fall in love with baking years ago!
Whenever she would have us over for " Kaffee and Kuchen" we would look forward to her cakes for days. Depending on the occasion she would either bake her " casual " Chocolate Red Wine Cake with Pears or something fancy, like this showstopping Raffaello Cake.
The secret to this Raffaello Cake Recipe is the Coconut, White Chocolate, and Advocaat Liqueur Cream Filling!
These flavors go so incredibly well together and the Raffaello Cake ends up tasting like the delicious filling of a Ferrero Raffaello Chocolate!
Even better – because there's also that slightly boozy and vanilla-y aftertaste from the Advocaat Liqueur! For those of you who are not familiar with Advocaat or the advocaat of the devil, as we call it: It is a creamy liqueur made from egg yolks, sugar, brandy, and vanilla.
Germans put it in a lot of their desserts and bakes. And drizzle it on top of them when eating it. You see, we LOVE it! You can buy it at your liqueur store or just make it yourself. If you decide to make your own you can head over to my German Egg Liqueur / Advocaat Liqueur Recipe. It's really easy!
How to make the best Raffaello Cake:
The Boozy Raffaello Cake filling is made without gelatine – the best thing about this Raffaello cake recipe if you ask me.
To make sure that the coconut white chocolate cream is firm enough, we add lots of unsweetened coconut and fresh cake crumbs to the white chocolate cream.
Yes, cake crumbs! This might sound unusual but trust me, this is how granny made it, and granny knows best.
You basically cut the sponge in three even layers and crumble one of the layers into the filling. Obviously, the ugliest one, which is often the middle or the top layer!
This Raffaello Cake is a rustic granny – bake after all. But don't worry, the filling will not look lumpy and the mouth-feel will be smooth.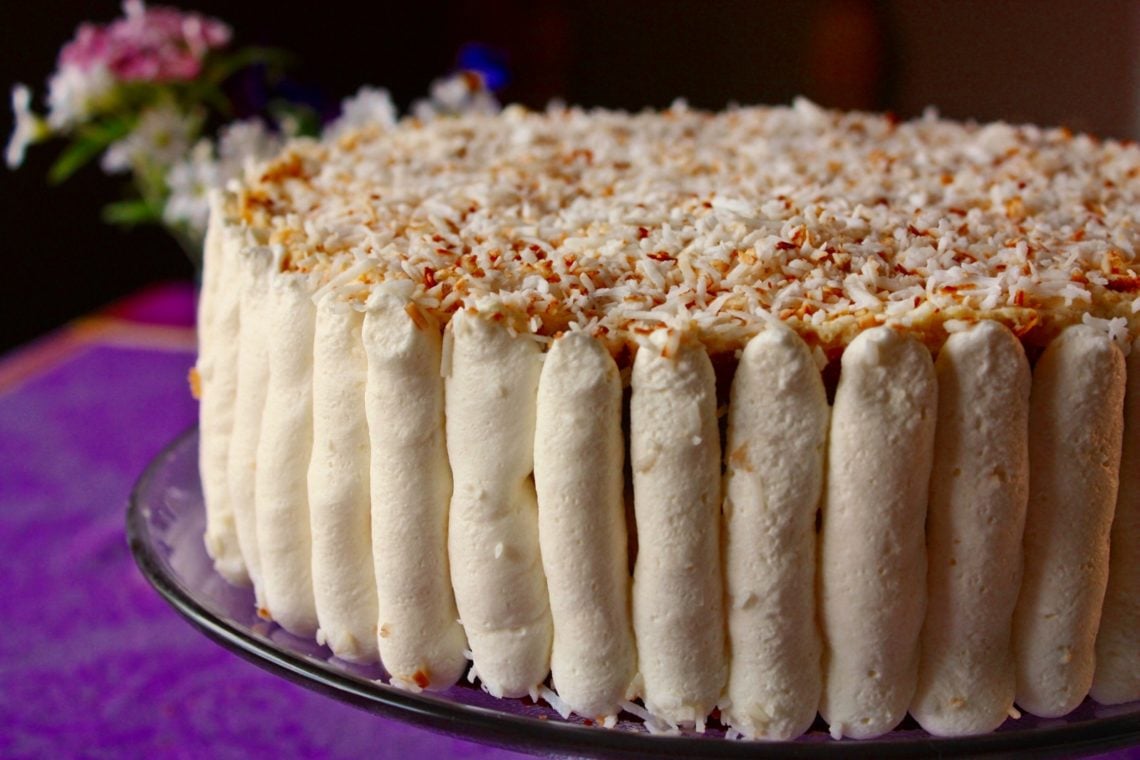 The sponge layers of Granny's Boozy Raffaello Cake need to be soaked properly so don't skimp on the soaking liquid. I like to mix some orange juice with rum or amaretto … and sometimes even a splash of advocaat!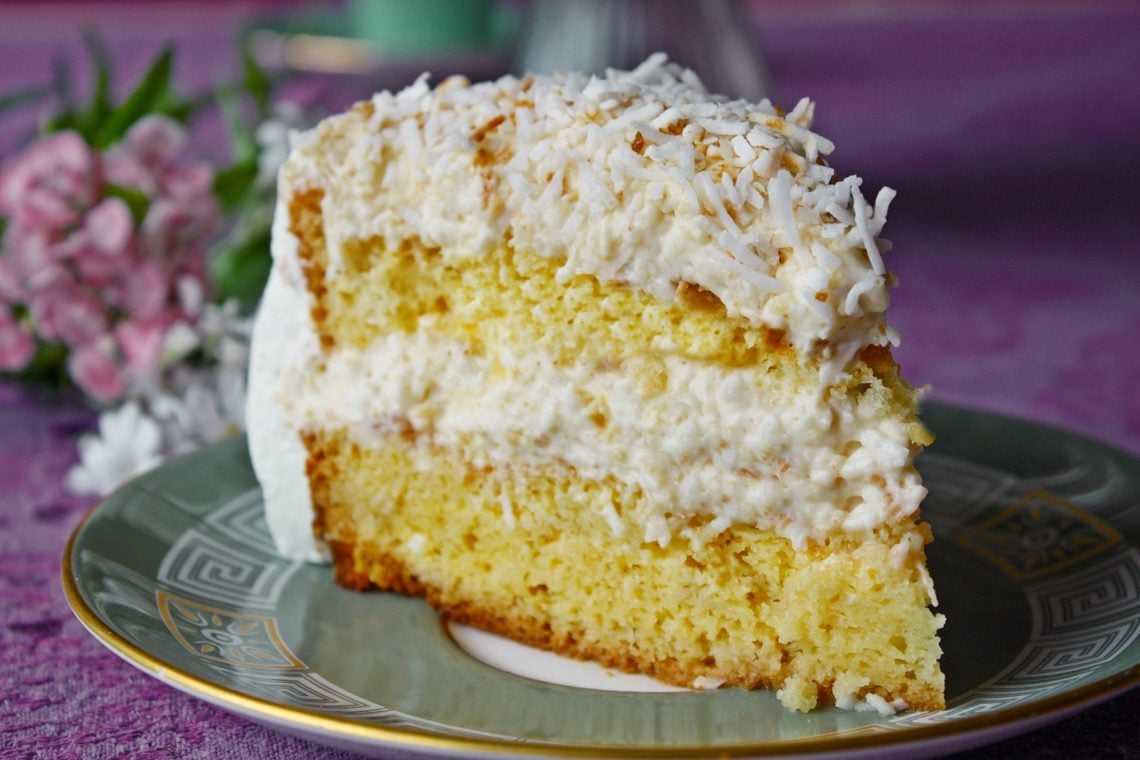 I really hope you give my Granny's Best Raffaello Cake recipe a shot! I am sure you are gonna love every bite of it!
I like to bake this cake around Christmas as is has this winter-wonderland look to it! The comforting vanilla and coconut flavours are just what I crave when it is cold outside! Paired with a nice cup of coffee or my new favourite – maple cappuccino – sheer bliss!
★ Did you make and love this Raffaello Cake recipe? Give it your review below! And make sure to share your creations by tagging me on Instagram!
Granny's Boozy Raffaello Cake
My Granny's delectable Boozy Raffaello Cake with a decadent Coconut, White Chocolate and Advocaat Liqueur Filling! An easy-to-make, showstopping cake for Christmas Season! Today I share her secret recipe with you!
Resting time
6
hours
40
minutes
Total Time
1
hour
30
minutes
Ingredients
For the sponge
6

eggs

1

pinch of salt

3

tbsp

sugar

4

tbsp

flour

2

tbsp

cornstarch

1

tsp

vanilla extract

1

tsp

baking powder
For the filling
600

ml

whipping cream at room temperature

2

packs

cream stabilizer /whip it

250

g

chopped white chocolate

180

ml

advocaat

50

g

fresh cake crumbs

from the sponge

140

g

unsweetened grated coconut
For the soaking liquid
50

ml

orange juice

5

tbsp

Amaretto or rum
decoration
100

ml

whipping cream

100

g

grated sweetened coconut

alternative: unsweetened
Instructions
Preheat the oven to 180 Celsius or 350 F and prepare a 9-inch springform pan.

Separate eggs and whisk whites with salt and sugar until stiff. Stir in vanilla and egg yolks. Mix flour. cornstarch and baking powder in a bowl and sift on the egg mixture. With a rubber spatula, carefully fold dry into wet ingredients without deflating the dough. Pour into the springform pan and bake for about 45 minutes. Take sponge out of the mold and let cool on a cooling rack. Cut in 3 equal layers and crumble one layer up into fine crumbs. You should have about 50 g of cake crumbs.

Heat the cream until hot but not boiling and pour over the chopped chocolate. Stir to dissolve chocolate and let cool. Whip leftover cream with stabilizer. When cream starts to form peaks add the chocolate cream bit by bit and whip until stiff. Fold in cake crumbs, coconut and advocaat.

Mix all the ingredients for the soaking liquid. Take your bottom layer and put a metal cake ring around it. Brush with 1/2 of the soaking liquid using a silicon brush and spread 1/2 of the cake filling on top. Put the second sponge onto filling and soak again. Spread leftover cream on top of the second layer and put the cake in the fridge over night or for 4 to 6 hours.

Before you serve it, toast the 100 g of sweetened coconut and let cool. Remove metal cake ring from the cake. Whip 100 g of whipping cream and decorate the outside of the cake using a piping bag with the big hole-tip.

Sprinkle toasted coconut on top of the cake and serve or cool until serving.
Recipe Notes
The cake gets better with time! Prepare it a day in advance to make it extra delicious!
For best results, use my recipe for Advocaat Liqueur for the filling.