Dieser Beitrag ist auch verfügbar auf:

Deutsch (German)
Cream Cheese Almond Cookies are simple and quick to make and just melt in your mouth. The perfect easy Christmas or holiday cookie recipe.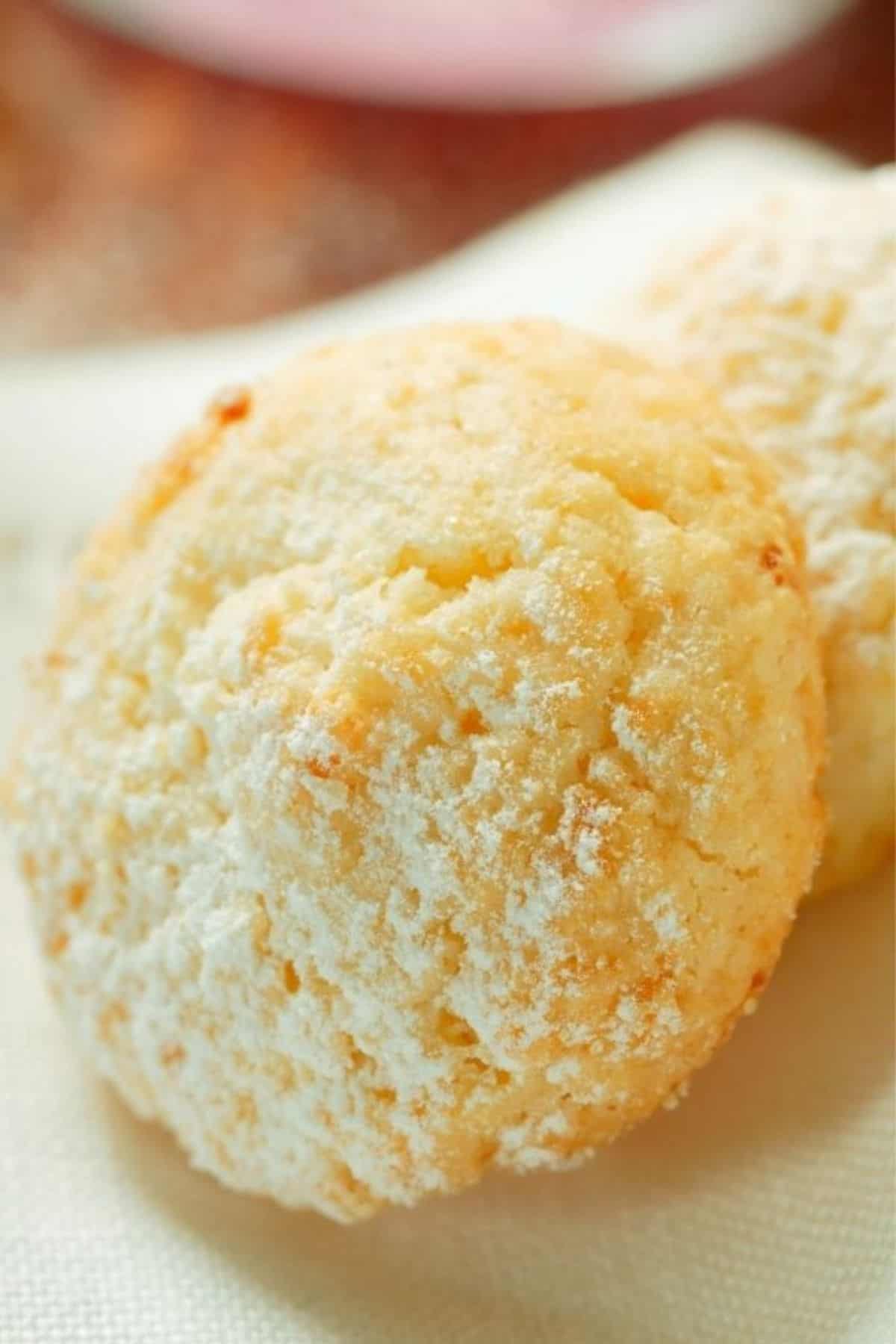 These easy and simple cream cheese almond cookies will become your favorite cookie for whenever you want something sweet but you're not in the mood for anything overly rich or sweet.
As much as I love all things Christmas – as we get closer to the holidays I find myself scrambling to get things done and baking cookies is one of the activities I cannot miss out on. These Cream Cheese Almond Cookies are perfect for whenever you need a simple quick cookie recipe for the holidays!
Fair warning: After handing out my test batch of these almond cookies last week, I've had to make three separate shopping trips for more supplies for cream cheese and butter because they've become so popular with my friends and family.
These cookies combine two great things…butter and cream cheese, and if you love the flavor of almond, you'll really love them, since they have a good amount of pure almond extract in them. You can also omit the almond extract if you want plain vanilla-flavored cookies. This cookie recipe is so versatile.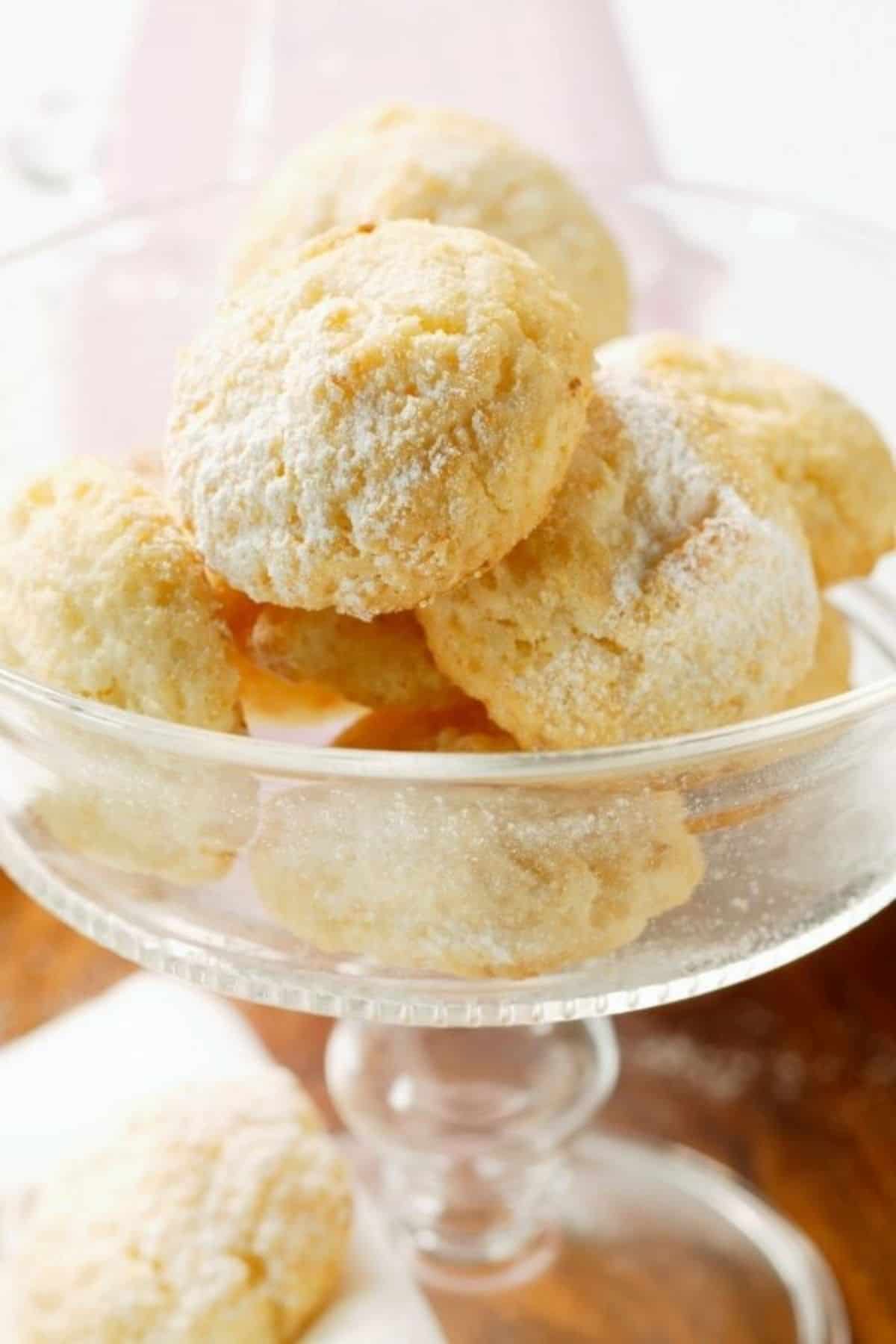 They're also incredibly easy to make and can be stored in a tightly sealed container for weeks. These little darlings blow whatever store-bought cookie you can get right out of the water. Just check out how soft and thick these cookies are! If you're like me, you'll find yourself eating 5 or 6 of these delicious cookies before you even notice.
So *ahem* dearest friends and family – the first batch was on me, but you really need to stop calling me in a panic when you run out. Here's what you do…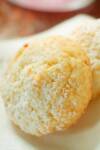 Cream Cheese Almond Cookies
Cream Cheese Almond Cookies are simple and quick to make and just melt in your mouth. The perfect easy Christmas or holiday cookie recipe.
Ingredients
3

cups

flour

1/2

cup

ground almonds or almond flour

1/4

tsp

salt

1

teaspoon

baking powder

1

package cream cheese

8 ounces, softened

2

sticks unsalted butter

softened

2

cups

granulated sugar

2

large eggs

2

teaspoons

pure vanilla extract

2

teaspoons

pure almond extract

Powdered sugar for dusting tops
Instructions
Preheat oven to 375 degrees.

Whisk together the dry ingredients: cake flour, salt, almond flour and baking powder in a large bowl and set aside.

Add the cream cheese to the bowl of a stand mixer or use a hand mixer.  Beat the cream cheese on medium-high speed until it's smooth and creamy making sure to get rid of any lumps.  Add the butter and mix until incorporated with the cream cheese and the mixture is light and creamy.  Add the sugar, eggs, and extracts and mix to combine.  Add the dry ingredients one third at a time and mix just until incorporated.

Using a cookie scoop, drop scoops of dough onto ungreased cookies sheets and bake for approximately 9 to 11 minutes or until cookies are golden brown on the bottoms and around the edges. The cookies should still be very light in color on the tops.

Remove from oven and allow to cool for one minute on cookies sheets. Transfer cookies to a wire rack to cool. Once cookies are cool, dust with a light coating of powdered sugar.

Store cookies in an airtight container.

Cookies will stay fresh for up to one week.
Recipe Notes
these cookies are an excellent cookie for freezing.
Make ahead and store in a freezer safe container for up to 3 months.
Layer them between layers of wax paper before freezing.