Dieser Beitrag ist auch verfügbar auf:

Deutsch (German)
Try my German Wild Garlic Spätzle recipe – an easy dumpling recipe that comes together so easily and makes for a great side dish anytime! Serve these egg noodles with cheese, sour cream and crispy bacon. Jump to Recipe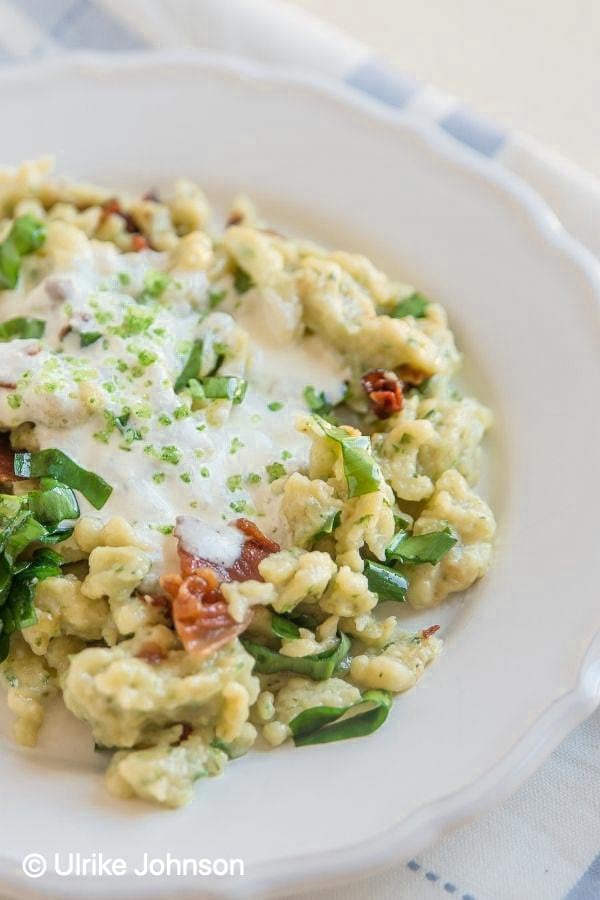 Germans might just put every other nation to shame when it comes to foraging. In Spring one can find wild asparagus, morels, rhubarb, dandelions, elderflower and of course wild garlic.
Because wild garlic can only be harvested from the beginning of March until the end of May, this traditional German dish is highly seasonal and a prime example of German comfort food.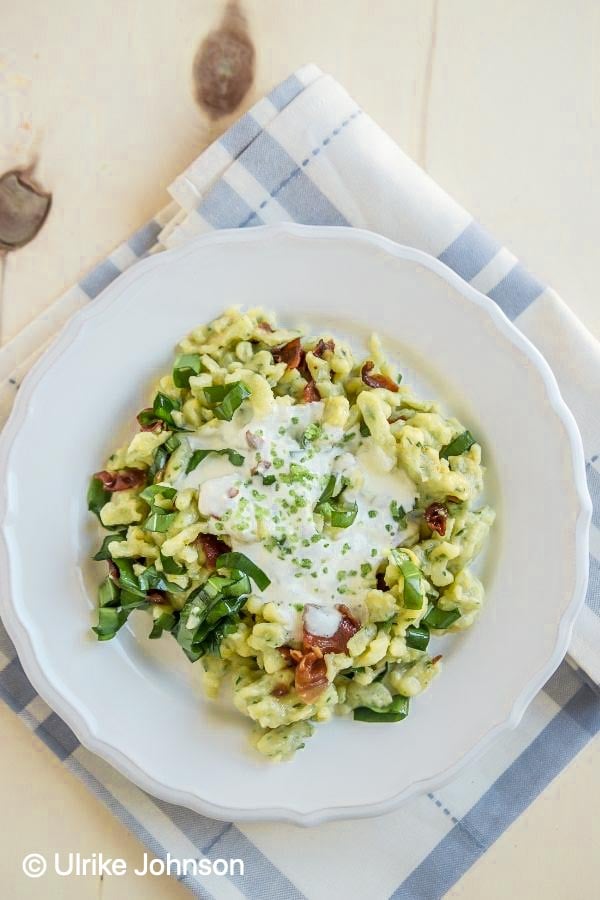 Why Wild garlic should be at the top of your foraging list.
In Germany, wild garlic is easy to source. It can be purchased at all major grocery stores as well as harvested in the forest. T
Wild garlic is easy to identify and tastes absolutely delicious. You will certainly catch its delicious sharp scent before you actually find it. The season for garlic is very short – April until early June. Rubbing the leaves you will smell the familiar scent of garlic. Unlike domestic garlic, the bulbs of wild garlic are not eaten – just the fresh leaves.
The characteristic white flowers, however, are perfectly edible and look very pretty on a salad! I love Wild Garlic as it is slightly more subtle than standard garlic and adds a wonderfully tangy flavor to many dishes such as pesto, bread, dumplings, gnocchi, you name it. When harvesting wild garlic, be sure not to pull out the entire bulb – only snip off the leaves. That way you allow plant to regenerate and flourish the following year.
I cannot find wild garlic! Can I still make this Spätzle recipe?
Yes! Just add some pesto – about 2 tbsps! It is actually really easy to adjust spaetzle dough to incorporate all kinds of different flavor profiles. If can't source wild garlic, spinach spätzle might also be a great option for you. The color is the same, the taste, however, is different and you might want to add some parmesan cheese to add some for oomph.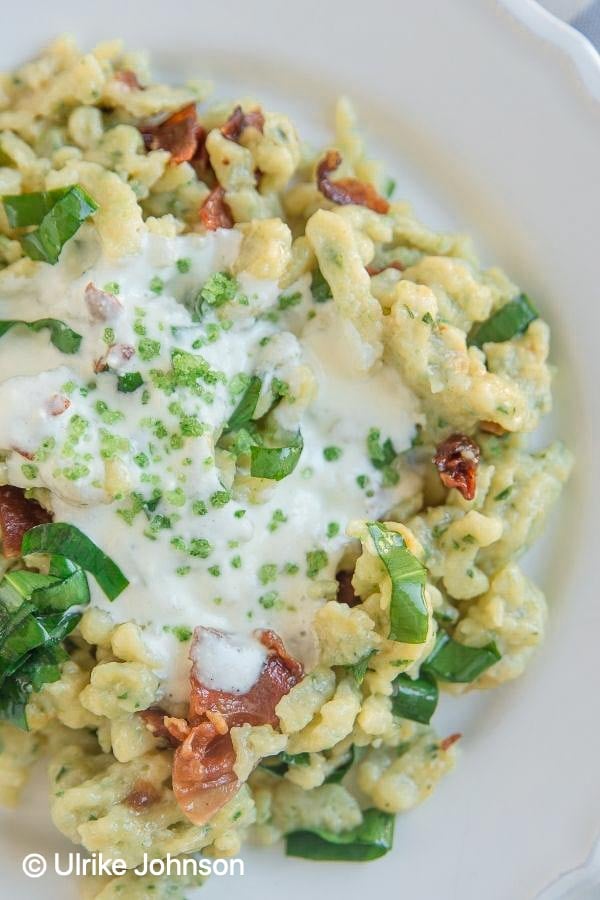 The taste of wild garlic in these German Spätzle is fresh, garlicky, with a pleasant sharp note. When added to the spätzle dough as a pesto, it would turn them a bright green color. However, I prefer just chopping the garlic up and stirring it into the spätzle dough.
How to serve German Spätzle?
I enjoy spätzle as a main pan-fried with some bacon and topped with sour cream. But you can also serve these spätzle alongside meat like pork or beef roast, or with salmon. Or serve them as a filling vegetarian meal with some steamed asparagus or tossed in a creamy cheese sauce for a satisfying springtime meal.
For more traditional German recipes, check out
★ Did you make and love this German Wild Garlic Spätzle recipe? Give it your review below! ? And make sure to share your creations by tagging me on Instagram!
German Wild Garlic Spätzle
Try my German Wild Garlic Spätlze - a dumpling link German egg noodle that comes together so easily and makes for a great side dish anytime! Serve with cheese, sour cream and crispy bacon. An authentic German
Ingredients
170

g

plain flour

2

eggs

2

tbsp

whole milk

1

tbsp

vegetable oil

¼

tsp

salt

0.5

bunch of wild garlic

more for serving
For servings
4

slices

bacon

2

tbsp

butter or bacon fat

sour cream
Instructions
Cut the bacon into pieces. Wash and drain the wild garlic, then chop it into small pieces.

Put all the ingredients for the spätzle dough in a bowl and mix with a wooden spoon to form a dough.

Bring about 3 liters of salted water to a boil. Either spread a thin layer of batter on a wooden board previously rinsed with cold water and scrape off thin strips of dough with a pastry scraper or a knife and let them slide into the boiling water.

Or use a standard Spätzle Maker, which should also be rinsed off with cold water beforehand.

Let the spätzle come to a boil once, let them steep for a few seconds until they float to the top of the water, then drain the water with a sieve and place the spätzle in a bowl with cold water until all the spaetzle are ready.

Now strain the spätzle through a large sieve and drain well. Put the bacon in a cold pan and heat slowly over medium heat until and fry the bacon in its own fat until crispy. Toss the strained wild garlic spaetzle in the pan with the bacon, and mix in some freshly chopped wild garli. Season with salt and pepper and divide between two plates.

.

Serve with sour cream and garnish with freshly chopped wild garlic.
Recipe Notes
If there is no fresh wild garlic, you can alternatively stir 2 tbsp wild garlic pesto or any green pesto into the spaetzle dough.