Dieser Beitrag ist auch verfügbar auf:

Deutsch (German)
This poached pear cake with marzipan is a traditional German cake recipe that is perfect for fall and the holiday season! A moist marzipan cake baked in a springform pan along with pears poached in vanilla and white wine! It's quick and easy to make! Jump to Recipe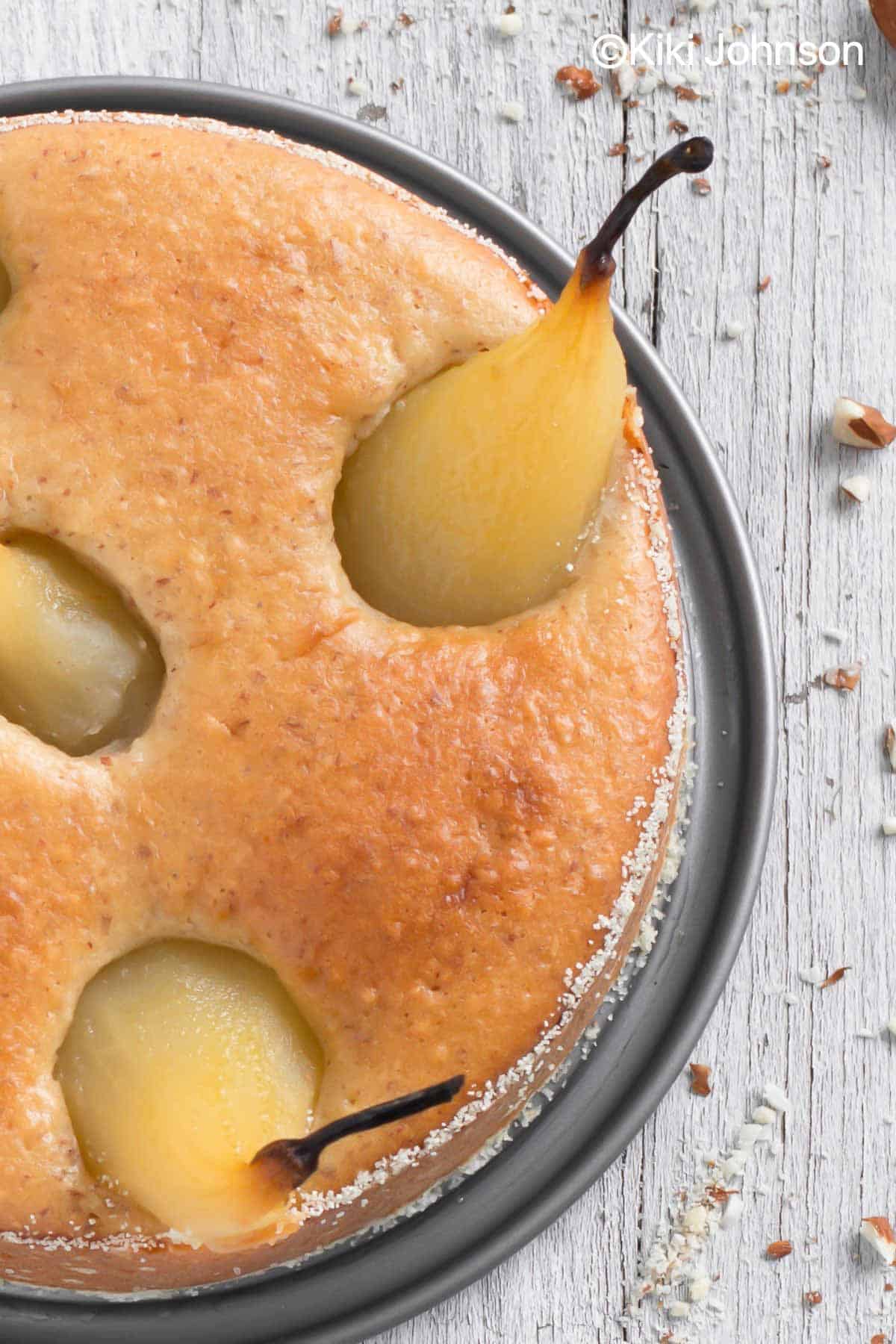 This quick and easy marzipan cake with poached pears really took my heart by storm! The perfect elevated pear dessert to make this holiday season.
The cake is super moist and juicy thanks to ground almonds. In this poached pear cake recipe, I flavored the cake batter with some amaretto liqueur and nestled white wine poached seasonal pears right in the batter to turn it into a comforting fall bake. As the cake batter is not overly sweet, it goes perfectly with the syrupy vanilla and white wine poached pears.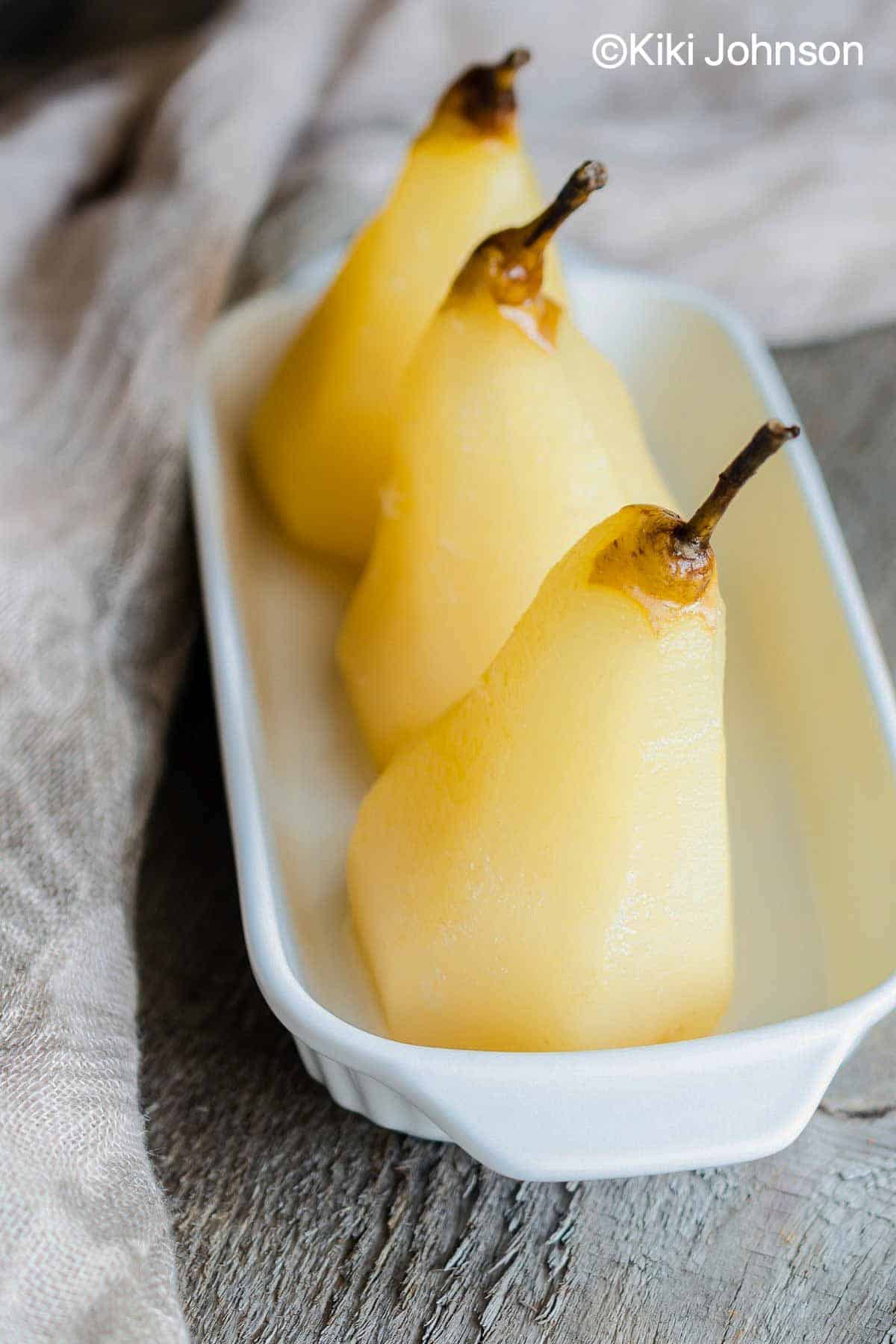 In Germany there are many popular traditional pear cake recipes. While my German Red Wine Cake recipe used sliced canned pears, this German Marzipan cake features fresh pears poached in white wine. They stay whole and we stick them right into the cake batter. This makes for a particularly juicy cake that is perfect for autumn and winter!
I used bartlett pears, as they hold a great shape after being poached and baked. However, bosc pears will work great too.
The pears are peeled, then poached in a mixture of white wine, vanilla and whole spices! The secret to the best marzipan & poached pear cake? We drizzle the finished pear cake with a little amaretto and the leftover white wine poaching syrup from the pears.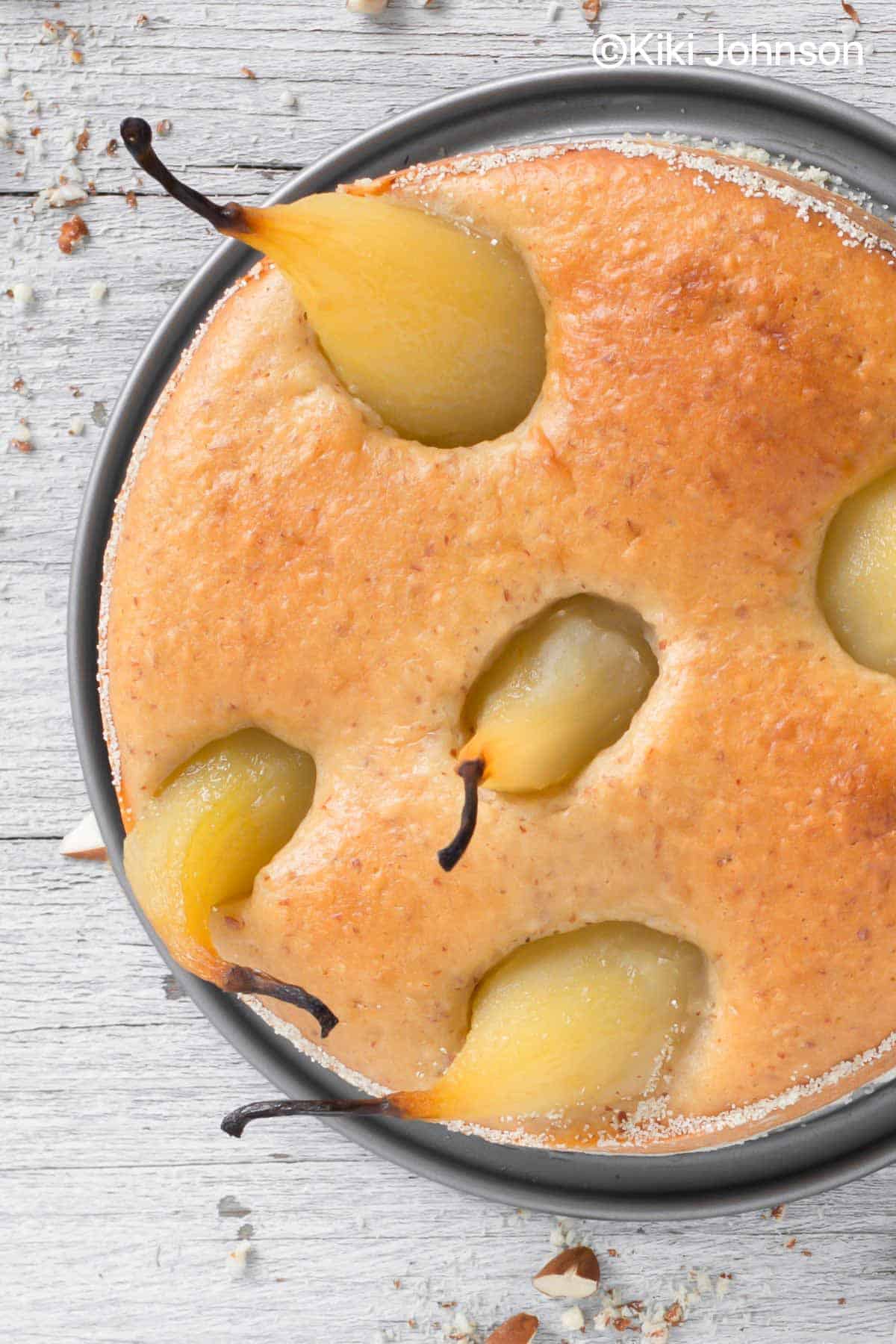 How to Make this Poached Pear Cake:
While this cake looks fancy shmancy, it's actually not all that complicated to make! Simply peel and poach 4 – 5 small pears. Then make the marzipan cake batter. Pour the batter into a thoroughly greased springform pan, nestling the pears right into the batter. Then bake!
For me, there is simply nothing better than cakes and cookies with marzipan, especially during the cozy season! If you love marzipan be sure to also try my poppy seed marzipan muffins and my German marzipan cookies.
Tips:
For a quick version, you can use canned pears in syrup, and skip the poaching step
Make your own marzipan using my tutorial on how to make marzipan
More German Baking recipes:
★ Did you make and love this German Poached Pear Cake recipe? Give it your review below! And make sure to share your creations by tagging me on Instagram!
Poached Pear Cake with Marzipan
Cook Time
1
hour
30
minutes
Total Time
1
hour
30
minutes
Ingredients
For the poached pears

about 5 small pears

150

grams

of sugar - 2/3 cups

1

vanilla pod

slit open

6

cloves

1

star anise

1

lemon

750

ml

white wine

- 3 cups

Pears poached in wine on a plate

For the cake batter:

75

g

butter - 5 1/2 tablespoons

75

ml

milk - 1/3 cup

200

g

marzipan - 1 cup

4

tbsp

amaretto liqueur

175

g

flour - 1 1/2 cups

70

g

ground almonds - 3/4 cups

1/2

teaspoon

baking powder

1/2

teaspoon

baking soda

1/2

teaspoon

salt

80

g

of sugar - 1/3 cup

3

eggs

3

tablespoon

whole milk yogurt

5

small poached pears

see below
Instructions
Peel the pears with a peeler. Halve the lemon and gather the juice in a pot. Add the sugar to the lemon juice and toss in the squeezed out lemon halves. Now place the peeled pears upright in the pot with the top facing up. Now fill the pot with white wine, add the whole spices and heat everything in the pot.

The pears should be completely covered with liquid. If your pot is too big, you may have to add more wine or water. Bring the mixture almost to a boil, then turn the temperature down and let it simmer on low heat for about 40 minutes. It shouldn't boil anymore! Turn the fruit every now and then so that they cook evenly. Then let the pears cool completely in the syrup. Drain before using in the batter.

Preheat the oven to 170 C - 340 F

Drain the pears on paper towels and pat dry. Cut off the rounded bottom of the poached pears so that they can stand upright in the cake pan without falling over. Grease the mold well. Heat the butter with marzipan and milk in a saucepan and cook everthing. Stir constantly using a whisk. Stir in 3 tablespoons of amaretto and allow the mix to cool.

Mix the flour, almonds, baking soda, salt and baking powder in a separate bowl.

Beat the sugar and eggs until frothy and then slowly stir in the cooled marzipan mixture. Sift the flour mixture over the batte and work it in carefully. Finally stir in the yoghurt and add another tbsp of Amaretto.

Place pears in the springform pan.

Pour the batter around the pears until only the slim neck of the pears peeks out.

To bake:

The cake has to bake for about 50 minutes -1 hour. Test for doneness after 50 minutes and cover the cake with aluminum foil after 30 minutes in the oven so that your pears don't get wrinkly!

Drizzle the finished cake with a few tablespoons of soaking syrup.

Serve still warm with a dusting of icing sugar!