Dieser Beitrag ist auch verfügbar auf:

Deutsch (German)
Today I share one of my most decadent cheesecake recipes with you! A creamy & rich Peanut Butter Cheesecake with Red Currant Marshmallow Topping! A summery variation of the Peanut Butter & Jelly theme and a real showstopper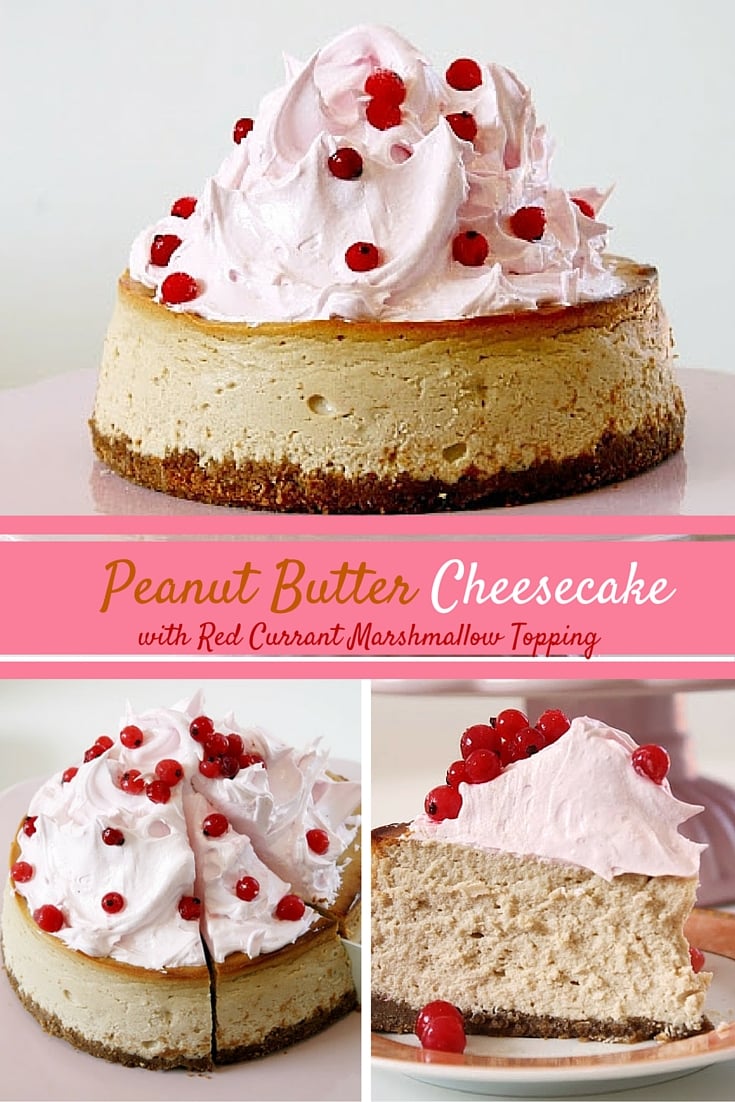 This Peanut Butter Cheesecake with Red Currant Marshmallow Topping is one of the best cheesecakes I've ever eaten! It's silky, smooth and soooo creamy! Like what I wish a Peanut Butter Cup would taste like. Understand that I usually don't like Peanut Butter in desserts as I often find them too sweet and I really dislike this slightly claggy mouth feel most peanut butter desserts leave you with! This Peanut Butter Cheesecake is different! It melts in your mouth!
You could easily get away with just serving this Peanut Butter Cheesecake with whipped cream but I wanted to take it to the next level. By topping it with a red currant marshmallow topping! Don't be afraid – it sounds complicated but it's actually a breeze to make. All you need is a kitchen thermometer, some red currants, sugar and egg whites! Easy peasy.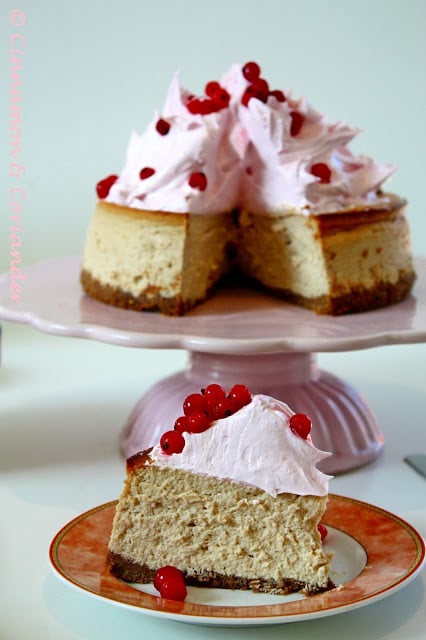 I love the contrast between the rich peanut butter cheesecake, the sweet and cloudlike red currant marshmallow frosting and the tart berries! It sounds heavy but it actually does not taste heavy at all! I added some sour cream to my Peanut Butter Cheesecake Filling, which in my opinion makes for a better cheesecake in so many ways. First, it adds a slight tangy edge to the flavor. Second, it makes it silkier and creates that creamy texture we so love about cheesecake. Third, it also makes our cheesecake more resilient to freezing without altering the texture.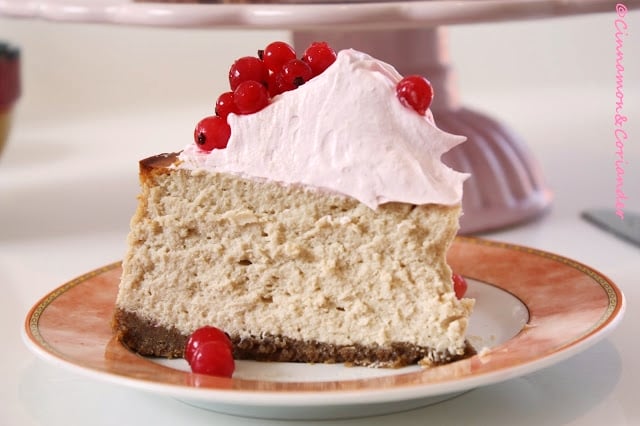 Recipe for one 23 cm springform pan
For the crust
150 g graham crackers
75 g Butter, molten
For the Peanut Butter Cheesecake Filling
700 g full fat cream cheese, room temperature
150 g sour cream, room temperature
250 g peanut butter
180 g sugar
2 eggs , roomptemperature
2 tsp vanilla
Preheat the oven to 350 degrees F. Stir together the peanut butter cookie crumbs and melted butter, then press it into a 9-inch springform pan. Bake for 5 to 6 minutes, until it's just slightly set. Let cool completely.
In the bowl of your electric mixer, beat the cream cheese until smooth, light and creamy. Add in the peanut butter and sugar, then beat on medium speed until combined and fluffy, about 1 minute. Add the sour cream. Scrape down the sides of the bowl if needed. Beat in the vanilla extract, then beat in the room temperature eggs one at a time until just combined. Pour the cheesecake mixture into the crust, smoothing out the top. Place the pan on a baking sheet.
Bake the cheesecake for 50 to 55 minutes, or until the center is almost set. Remove and let cool completely. Refrigerate overnight.
For the red currant marshmallow frosting
150 g red currants
3 egg whites, roomtemp
180 g + 30 g of sugar
1/4 Tsp cream of tartar
Put the currants in a pot with 15 g of sugar and bring to a boil. Strain through a sieve and measure out 75 ml of juice.
Heat up 180 g of sugar with the juice and bring to 118 Celsius.
Once you have reached 100 C start whipping the egg whites and add the cream of tartar and the 15 g of sugar as you go. Whip the whites to soft peaks, then on high speed slowly pour the 118 C hot syrup into the whites. Keep on beating until you have a stiff, shiny, pastel pink frosting.
Fold under some red currants and top your cheesecake with the Red Currant Marshmallow Frosting! Sprinkle some red currants on top for decoration.