Dieser Beitrag ist auch verfügbar auf:

Deutsch (German)
If you're looking for German Muffins try these German Apple Cake Muffins with Streusel topping! They have all the flavor of German Apple Cake and come together so quickly and easily.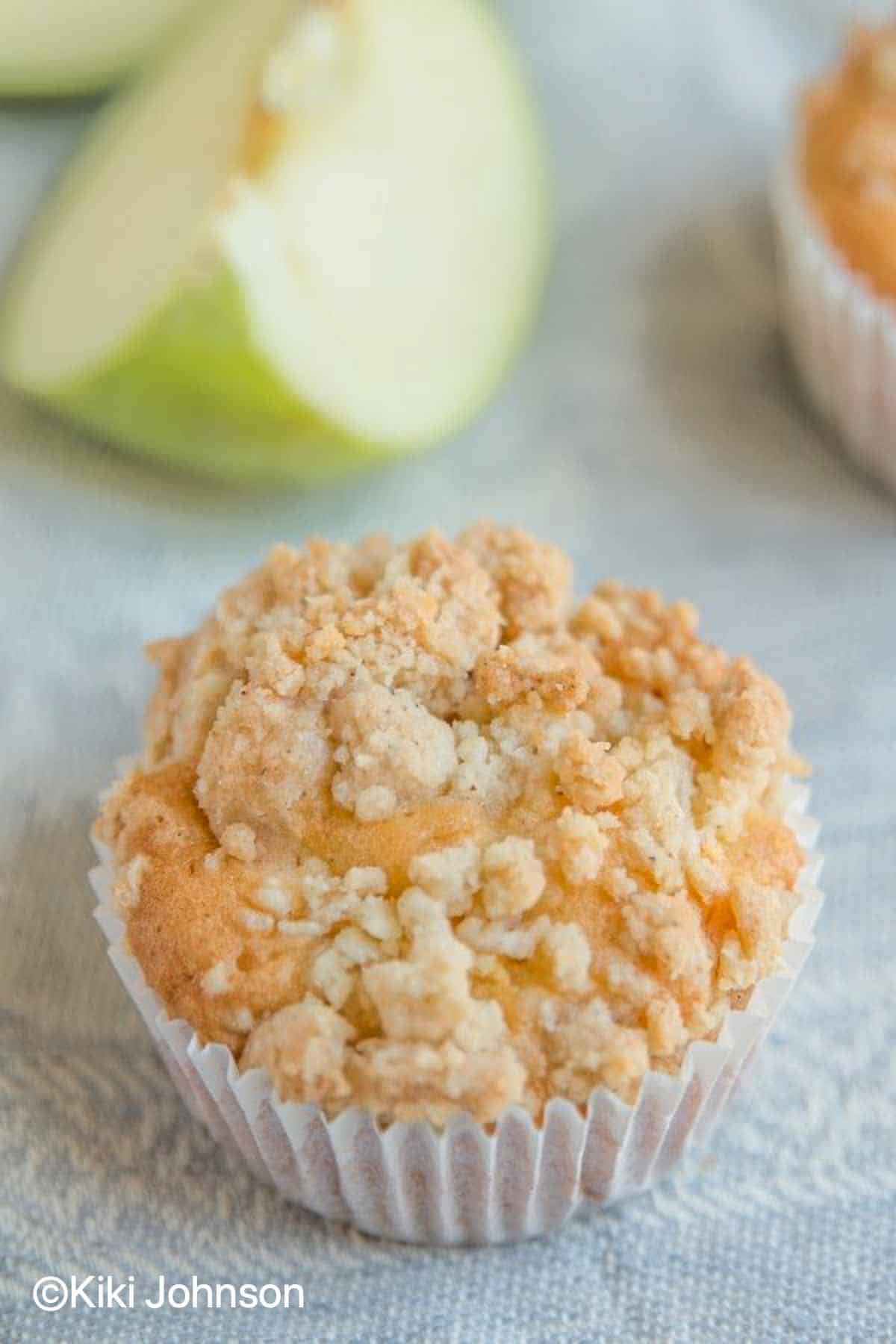 Home bakers, these German Muffins are such special treats for the cozy season and so delicious with a cup of hot tea or coffee! If you like German Apple Cake then you will love these apple streusel muffins.
These apple streusel muffins start with an easy muffin batter that's flavored with only natural ingredients and no artificial flavors – some lemon zest, a hint of cinnamon, and plenty of chunks of juicy apples.
The simple batter is made with yogurt and oil and produces soft, and cakey apple cake muffins that will stay moist for days They're always a favorite where ever you bring them! Enjoy these German muffins plain or drizzle them with some lemon icing.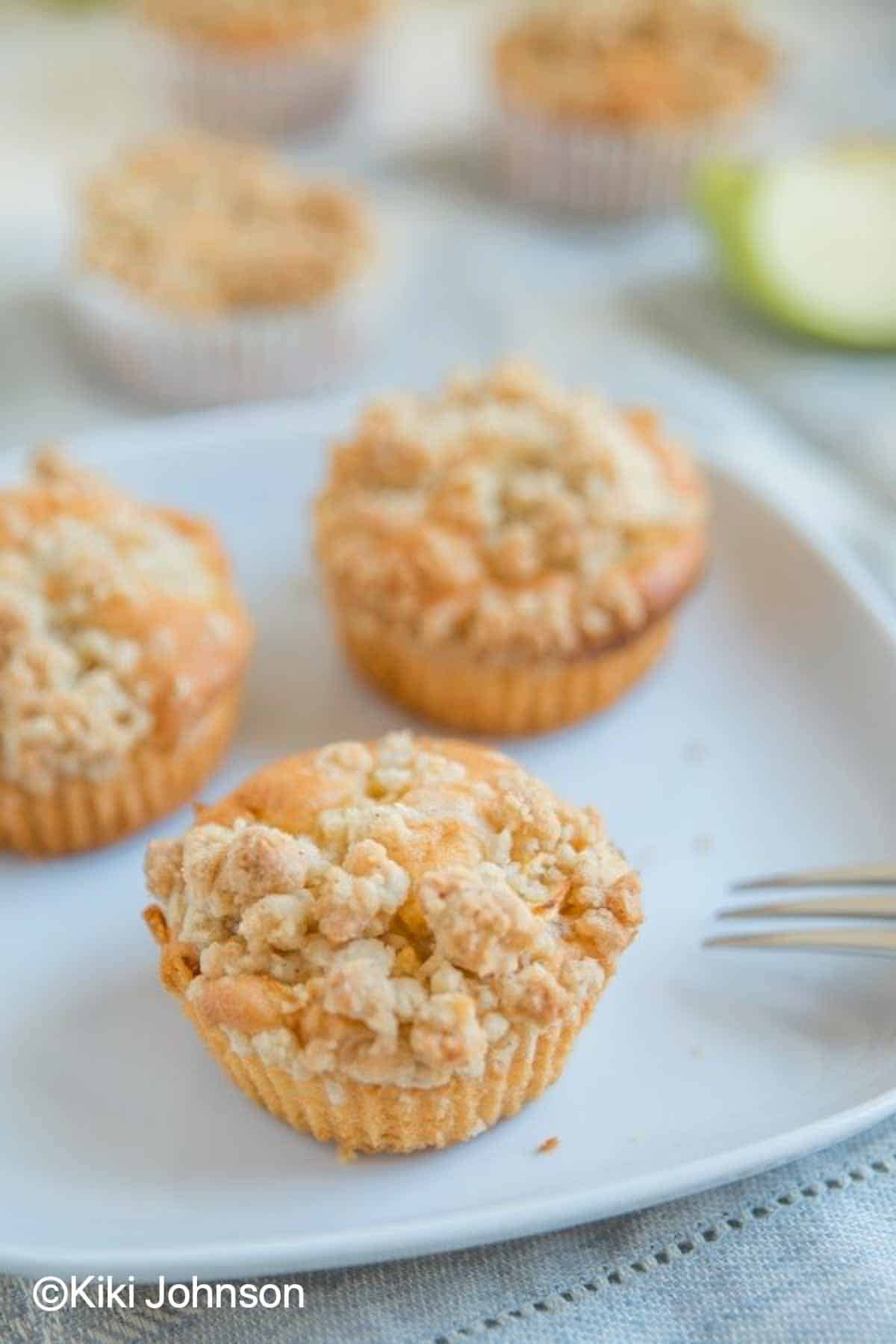 They are basically like my German Apple Streusel Cake but mini-size. We all like a small cake as a tasty treat, don't we?
There are many different varieties of old German muffins out there and these are a more modern take on an old-fashioned German apple cake recipe. Here we do not cream butter which is usually done in German baking but use oil. Instead of milk, I add yogurt which makes these extra moist.
The recipe is so easy! Just grab a large mixing bowl and some basic ingredients! The flour mixture gets folded into the wet ingredients. I like to mix cinnamon and a pinch of nutmeg into the dry batter.
I wanted these to be light in color so I did not overdo it with the cinnamon but you can totally add more.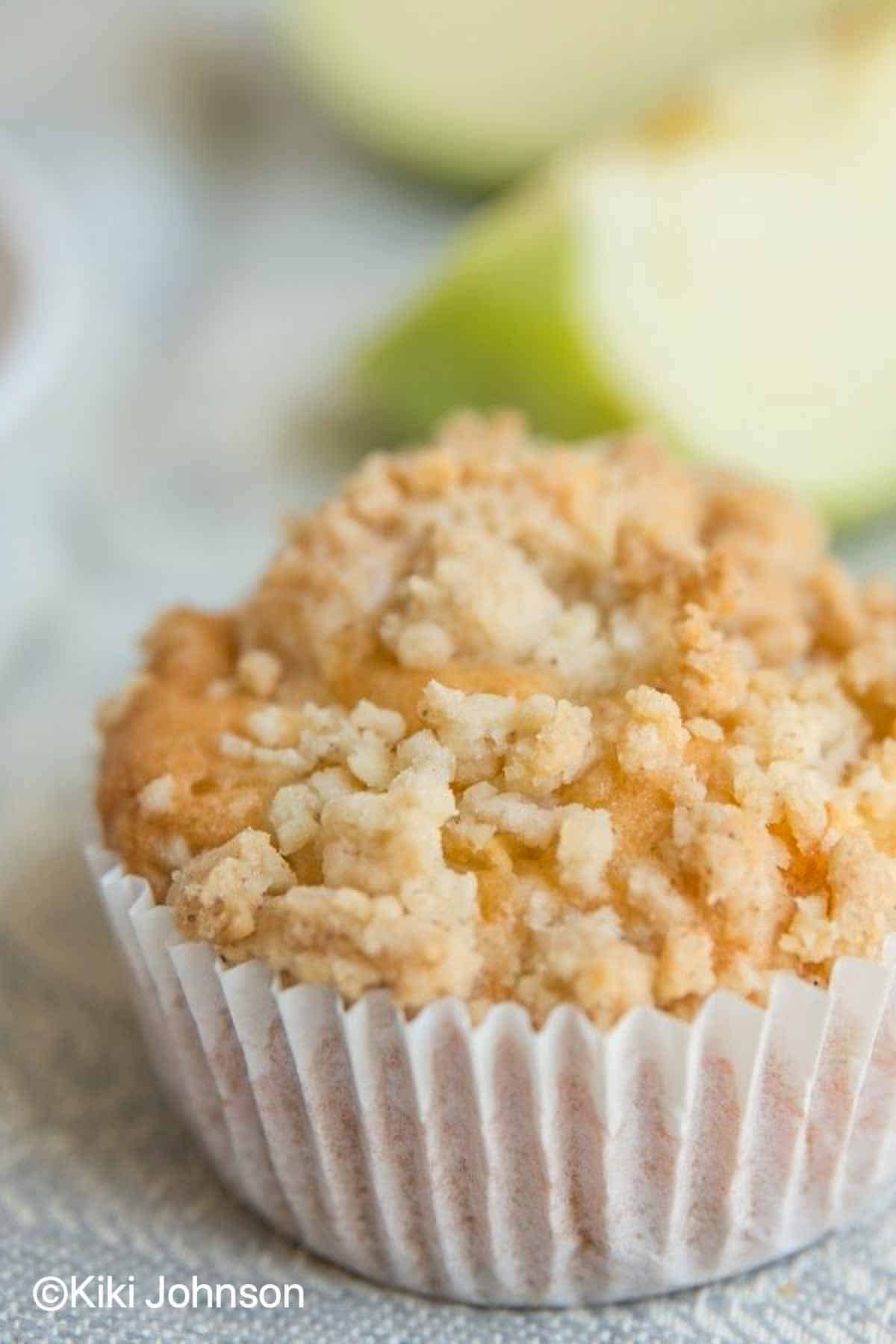 Tips:
If you want, replace a part of the flour with ground almonds
You can use orange zest or any other citrus zest instead of lemon zest
Make sure to mix the dry ingredients well before adding the wet ingredients
I recommend neutral-tasting vegetable oil for this recipe, not olive oil or anything strong tasting
You can try making these with plant-based egg for a vegan German muffin
You can replace half of the amount of sugar in the recipe with brown sugar
If you want add some golden raisins or regular raisins to the batter before baking
Pick a good quality vanilla extract of vanilla bean paste
HOW DO YOU STORE FRESHLY BAKED MUFFINS?
These German muffins are perfectly fine stored in a sealed container on the counter at room temperature. They will keep fresh like this for up to 4-days. Alternatively, they can also be stored in the refrigerator.
If you like this German muffin recipe, try these others:
More German recipes to try:
German Marble Cake With Cherries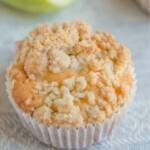 German Apple Cake Muffins with Streusel topping
If you're looking for German Muffins try these German Apple Cake Muffins with Streusel topping! They have all the flavor of German Apple Cake and come together so quickly and easily.
Ingredients
160

g

of flour 1 1/4 cups

1

tsp

cream of tartar

1/2

tsp

baking soda

1

tsp

vanilla paste

1/2

tsp

cinnamon

Pinch

of nutmeg optional

80

grams

of sugar 1/3 cups

1

tsp

lemon zest

finely grated

1

egg

120

grams

of yoghurt - 1/2 cups

40

ml

sunflower oil - 3 tbsps

1

tsp

vanilla extract
sprinkles
130

grams

of flour 1 cup

3

tablespoons

melted butter

lightly browned

60

grams

of white sugar 1/4 cup

1/2

tsp

cinnamon optional
apples
1

apple cut into cubes

1/2

tsp

starch

2

tbsp

cold water

1

tsp

cinnamon

1

tbsp

lemon juice
Instructions
First prepare the muffin batter. Mix flour, baking powder, baking soda and cinnamon separately in a bowl.

Use your fingers to rub the lemon zest into the sugar to flavor it. Beat the egg and sugar until creamy. Stir in the rest of the batter ingredients - yogurt , oil and vanilla. Now slowly add the flour mixture and mix in briefly.
sprinkles
For the streusel place the flour, sugar and cinnamon (optional) in a bowl with a pinch of salt and mix together. Melt the butter slowly on the stove over low heat, lightly brown it if you have the patience and allow to cool slightly. Add the butter and mix with a fork or hand mixer until crumbles form. If they are too dry add a little more butter.
apple pieces
Core the apple, dice and mix with the cinnamon and starch. Heat briefly in a small saucepan with a small splash of water and lemon juice while stirring. This step makes for juicy apple chunks.

Line a muffin tin with paper cups and pour the muffin batter into the cups. These should only be half full. Then top with the apple pieces and press lightly into the dough. Finally, sprinkle the crumble topping generously over the muffins.

Bake the muffins for about 25 minutes at 180 degrees.