Dieser Beitrag ist auch verfügbar auf:

Deutsch (German)
Lactose free carbonara with a creamy sauce made with mushrooms, raw eggs, nutritional yeast and parmesan cheese. No heavy cream needed to make this easy family dinner! Jump to Recipe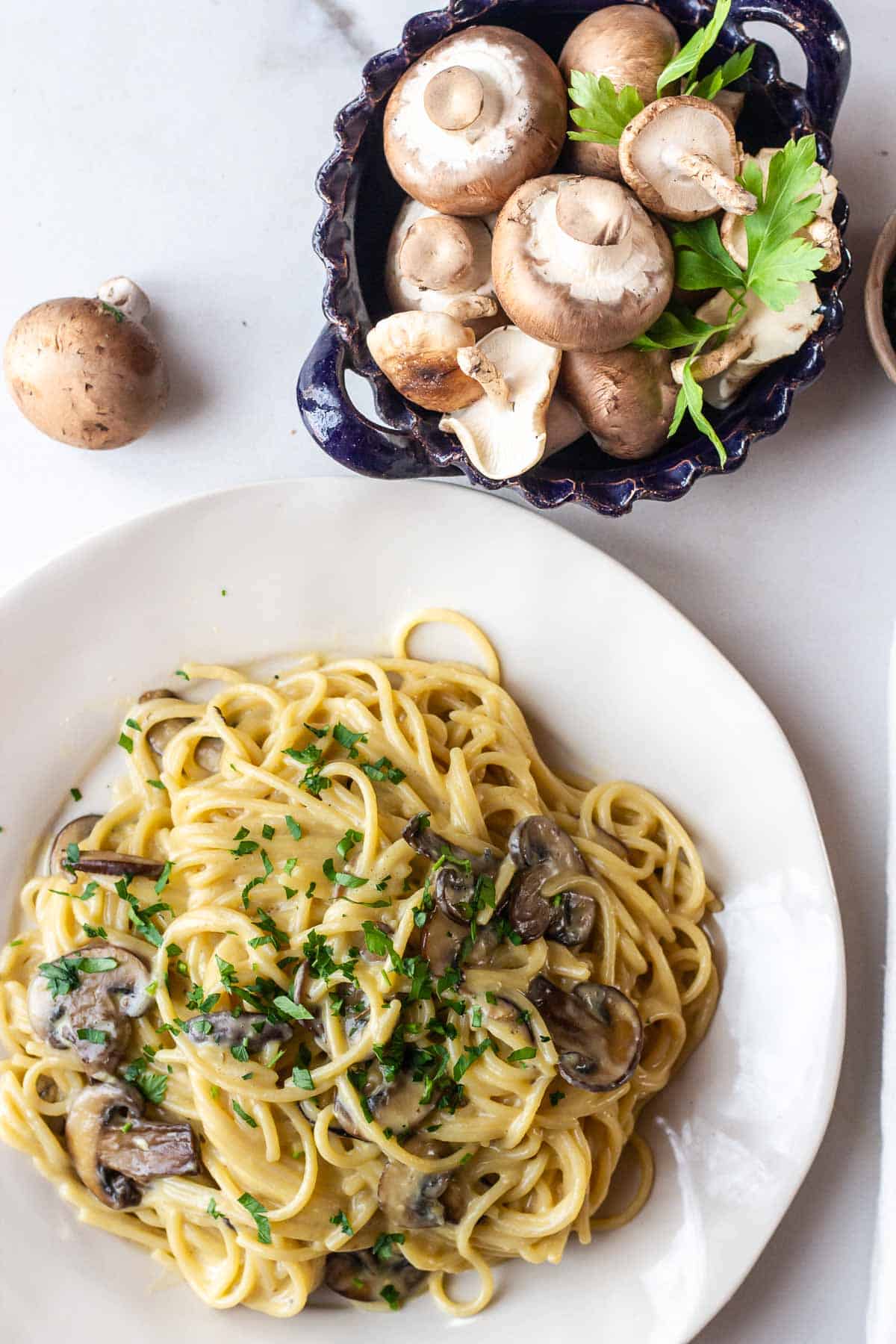 This lactose free carbonara with mushrooms is an incredibly delicious and easy vegetarian alternative to a classic carbonara for those of us who don't eat meat in general or pork in particular. The creamy sauce is made with whole eggs, egg yolks, and lots of lactose free grated parmesan cheese!
Lactose Free Carbonara with Mushrooms
We are making Lactose Free Mushroom Carbonara today! Mushroom carbonara is made with simple ingredients and is yet seriously every bit as delicious as an authentic carbonara recipe.
A vegetarian spin on a traditional carbonara with no bacon, no heavy cream just good old eggs, and some grated parmesan cheese. Yes, this is not a dairy-free carbonara recipe but yet lactose-free!
I am not always a fan of inventing meatless versions of pasta classics that usually heavily rely on meat and think there is not always a need to replace dishes when we can just completely reinvent them.
However, vegetarian pasta dishes are one of my favourite things to eat AND I do love a really good spaghetti carbonara.
However, if we borrow the title of an extremely iconic pasta classic here, it had better be really close to the original. And I think this dish is that.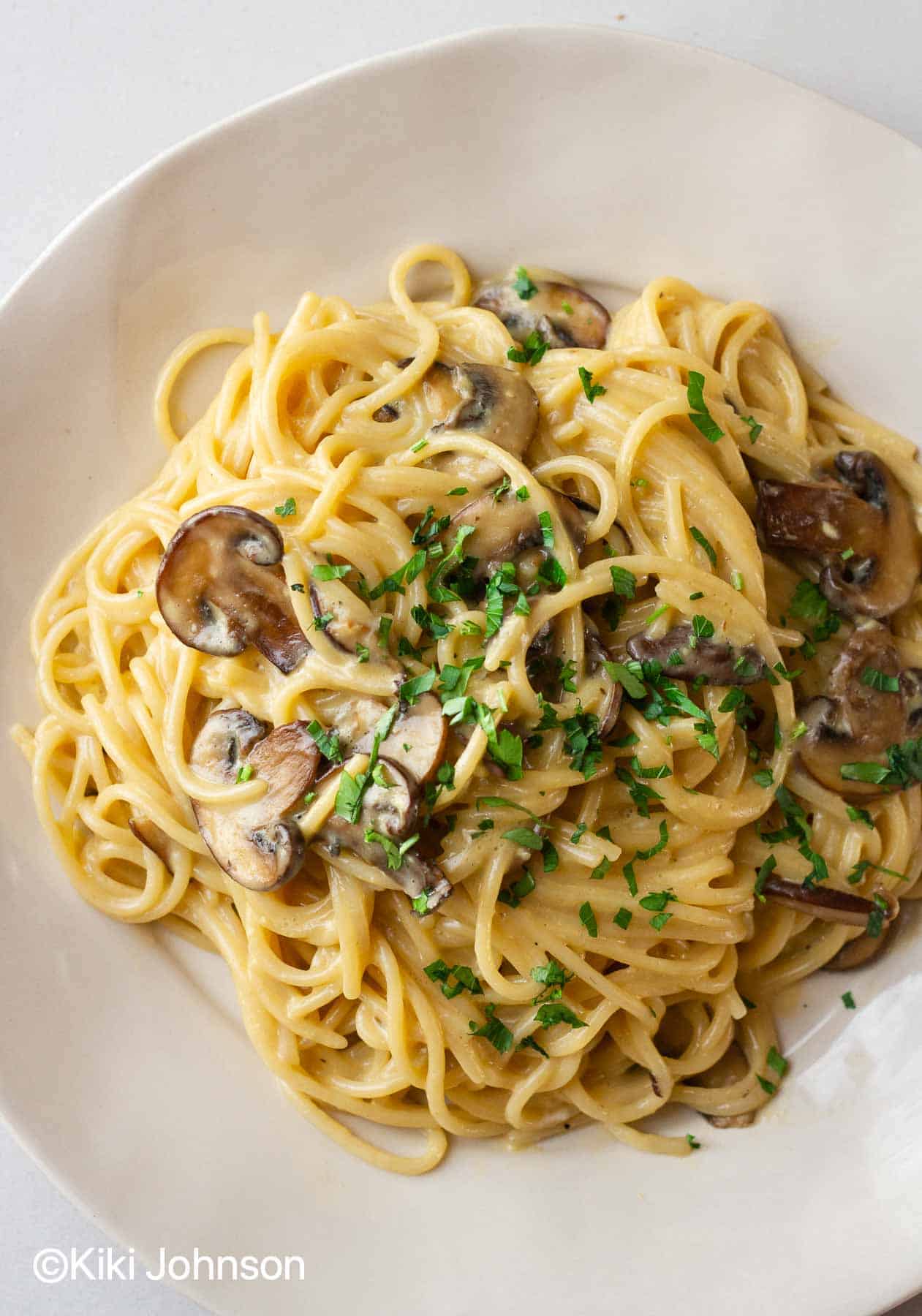 What makes this pasta dinner special
This meatless mushroom carbonara is a super hearty and delicious vegetarian alternative to the classic carbonara for all those of us who don't eat meat or just don't eat bacon AND can't handle lactose.
A super satisfying and hearty creamy pasta dish loaded with umami from the grated parmesan cheese, some nutritional yeast and the mushrooms! Every bit as delicious as the real thing.
A blend of shiitake and portabella or botton mushrooms is sauteed until brown and crispy, then garlic, Parmesan cheese, and raw egg yolks are added to finish the creamy pasta sauce.
There's no heavy cream in this mushroom carbonara recipe and no need either as the starchy hot pasta water helps bind all ingredients together.
The classic Italian pasta Carbonara is traditionally made with Guanciale (pronounced gwan-cha-leh), a triangular cured meat from a pig's jowl but pancetta or crispy bacon are also often used.
For me, the only way to take a carbonara and make it meatless but still delish is by including some mushrooms – the bacon amongst the veggies.
Instead of the bacon we use shiitake and cremini mushrooms that are sauteed until brown and crispy! If you can find them, use fresh shiitake mushrooms as they lift the whole dish to a completely new level!
I did add some fresh garlic cloves to this recipe but you totally could also add some garlic powder to the mushrooms when they are almost done cooking or skip it.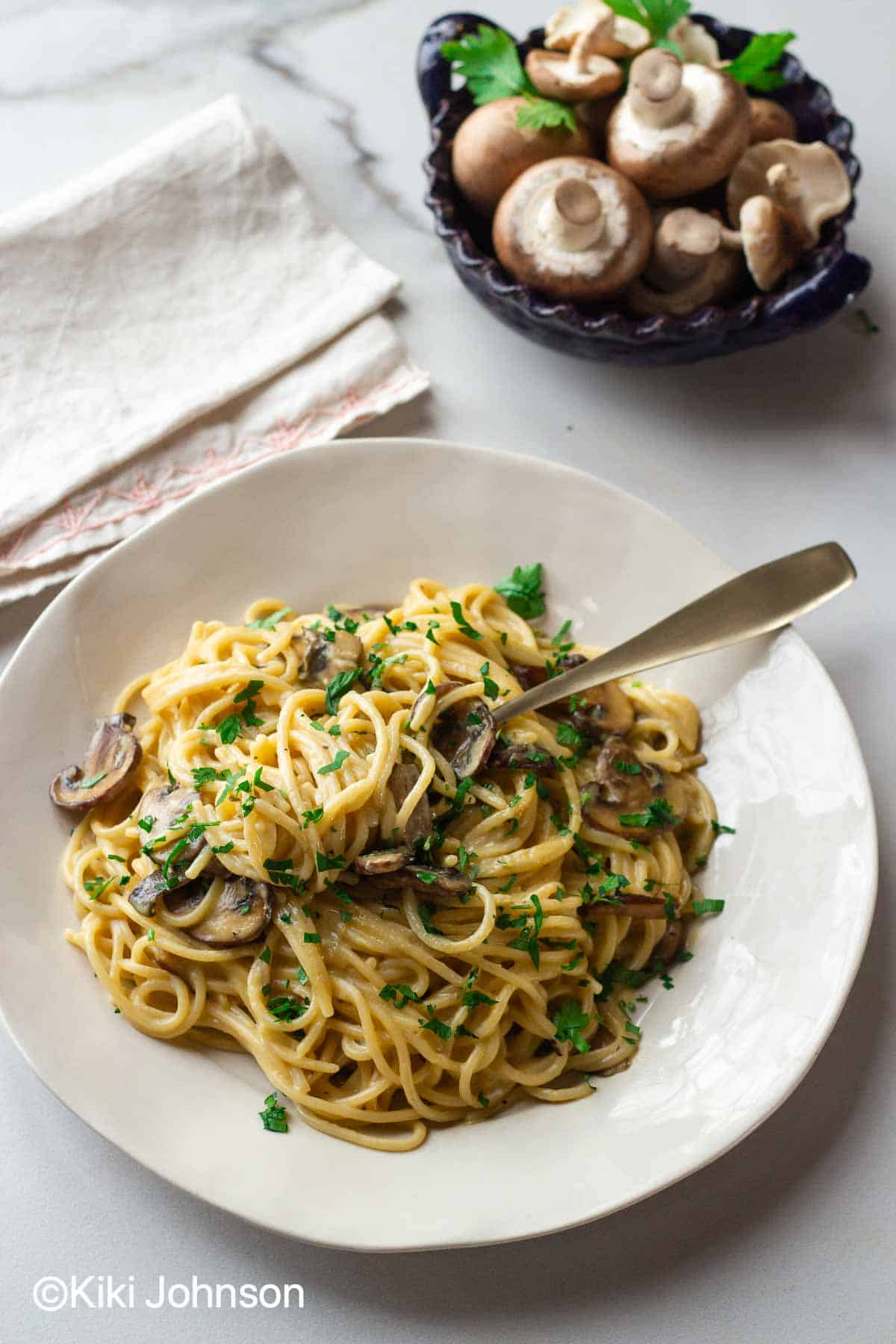 Why is Parmigiano Reggiano lactose free?
Parmigiano Reggiano is the perfect cheese for all of those with lactose intolerance as it does not contain lactose or galactose. Its absence is a natural consequence of the typical process used to obtain this Italian cheese, and it is the result of the long aging process.
Which mushrooms shall I use for this carbonara recipe
Use kinds that are very rich in umami – the bacon of mushrooms are obviously shiitake.
With the sauce, we keep it classic, so Pecorino Romano cheese, and eggs. There's no cream going into a classic Carbonara, you guys! And it is really not necessary because the starchy pasta water we add in when tossing pasta with yolks and cheese helps create a luscious sauce.
This is one of my favorite family dinner and workday lunches and also the perfect midweek dinner but it is also special enough to serve for a special occasion!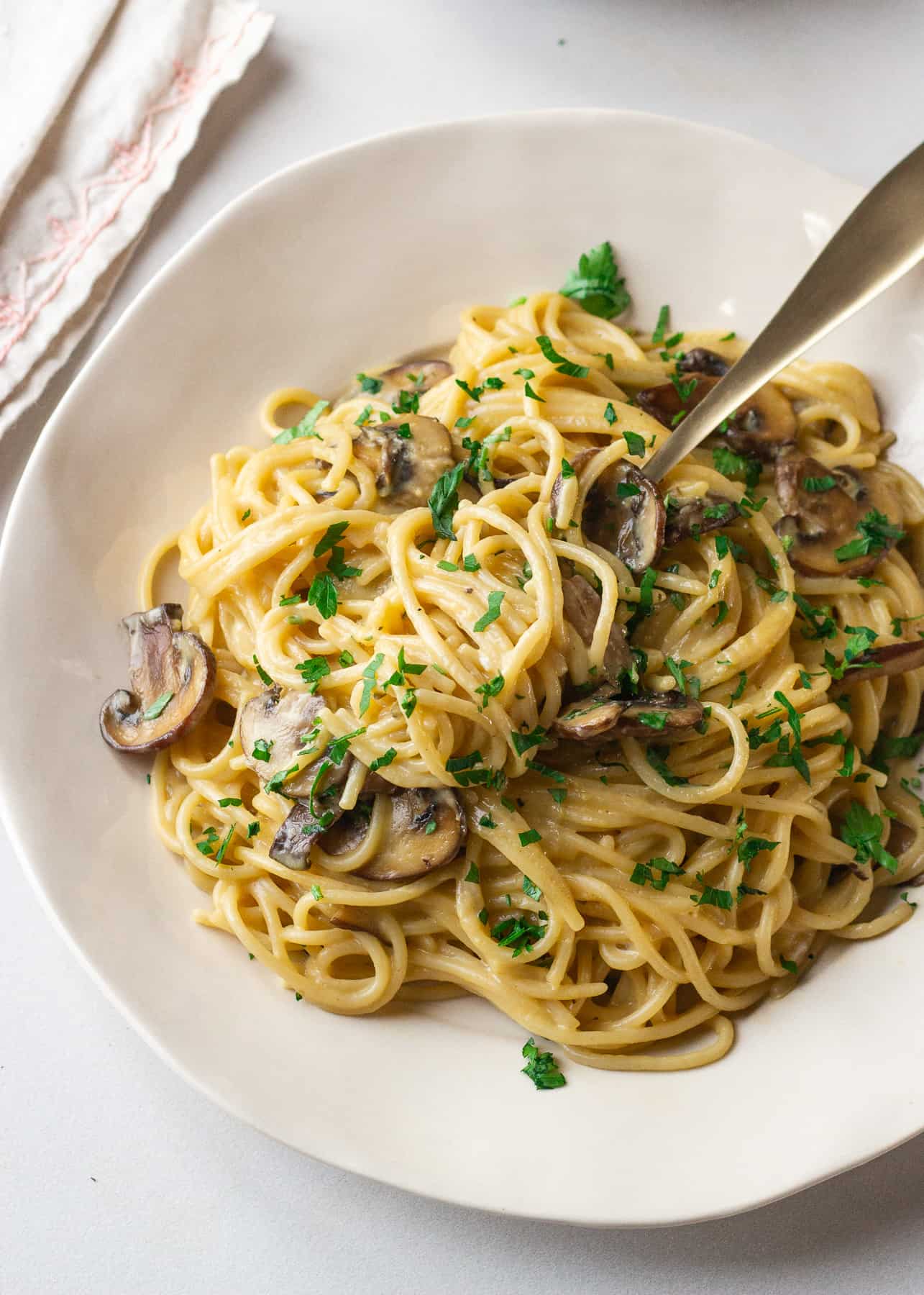 Make it dairy free
For dairy-free version of carbonara, use vegan cheese and vegan butter or ghee and dilute 2 – 3 tbsp of nutritional yeast flakes in the hot pasta water before adding it to the sauce and cooked spaghetti.
Make it low carb
For a low carb mushroom carbonara. use zucchini noodles or make a spaghetti squash carbonara. You will need to add some hot plant based milk or chicken broth to the sauce to bring it all together and maybe add one yolk more to allow for the perfect texture. Remember that we do not have the starch in the water here.
For a vegan mushroom carbonara recipe, you might want to go a very different direction. You can make a creamy cashew sauce using this recipe. Double the cashew sauce, and add it to the mushrooms along with the cooked pasta and thin out with pasta water. Use vegan parmesan instead of parm and vegan butter instead of butter. You could also try to make this with vegan cashew alfredo or cauliflower carbonara sauce.
Tips:
When mixing the egg mixture, make sure to not cook it. If the egg curdles, the mushroom sauce will curdle.
Make sure the pasta water is hot when you add it. You can microwave it if it has cooled down too much.
Classic carbonara is made with spaghetti, but you can use any type of pasta you like, but keep in mind that longer pasta like spaghetti or linguine will give the best results here, as we have a perfect ratio of surface area to volume.
Original Italian carbonara recipes use Pecorino Romano but I used Parmesan instead without any problems.
Be sure to buy the Parmesan in one piece and grate it freshly. That makes the difference!
Since the eggs for spaghetti carbonara are not heated to high temperatures, it is important to use very fresh free-range eggs.
If you want, you can serve the pasta with some grated cheese on top.
Always when cooking pasta dishes you want to salt the pasta water well! Several teaspoons of salt are normal. The water should taste like sea water.
If you want, stir in a bit of lemon juice and lemon zest for a fresh kick
For more delicious pasta recipes, check out
Pistachio Pesto Pasta Salad Recipe
Creamy Tomato Basil Sauce Pasta
Lactose Free Carbonara with Mushrooms
Lactose free carbonara with a creamy sauce made with mushrooms, raw eggs, nutritional yeast and parmesan cheese. No heavy cream needed to make this easy family dinner! 
Ingredients
½

pound

spaghetti - 220 g

2

tablespoons

ghee or vegan butter

1

tablespoon

olive oil

5

oz

cremini mushrooms 1 cup - / 140 g

3

oz

shiitake 1.5 cups

100 g

¼

tsp

black pepper

salt to taste

2

cloves

minced garlic

optional

3

eggs at room temperature - - 2 yolks + 1 whole egg

½

heaping cup grated pecorino cheese or parmesan

2 - 3

tbsps

nutritional yeast

1

pinch

nutmeg

¼

cup

chopped parsley
Instructions
Bring a large pot of salted water to a boil. While the water is heating up.

Prep the mushrooms. Discard the stems of shiitake. They are too tough to eat, but you should save them and add them to veggie broth that you can then use a base for pho soups or mushroom soups and sauces! Use a sharp paring knife to trim the stems where they attach to the cap. They do not twist of easily.

Melt ghee or vegan butter in a large skillet on medium heat. Once melted, add olive oil. Add mushrooms and cook until golden, about 10-15 minutes. Stir as little as possible to make sure they brown and moisture is locked in. Add in garlic in the last minute. Season with pepper and a pinch of salt.

The pasta water should be ready by now.

Cook pasta al dente (about 10 minutes - check the package for exact timing).

While the mushrooms and pasta are cooking, whisk together the two egg yolks, the whole egg, grated cheese, and nutmeg in a small bowl. Set aside.

Once the pasta is cooked, ladle out about 1 cup of the pasta water and if using nutritional yeast, dilute it in it . Drain the pasta.

Return drained pasta to the saucepan with the mushrooms. The pan should still be pretty hot but the stove turned off. Immediately add ½ cup of the hot pasta water in with the cooked pasta and stir to combine.

Add the egg and cheese mixture. Stir quickly to create a creamy sauce. Add more pasta water if necessary and if it's not binding, quickly return to the still hot stovetop just for a second but don't heat it too much. Transfer to a serving plate or serving dish. Garnish with chopped parsley and more cheese. Serve immediately.
Recipe Notes
When mixing the egg mixture, make sure to not cook it. If the egg curdles, the mushroom sauce will curdle.
Make sure the pasta water is hot when you add it. You can microwave it if it has cooled down too much.
Classic carbonara is made with spaghetti, but you can use any type of pasta you like, but keep in mind that longer pasta like spaghetti or linguine will give the best results here, as we have a perfect ratio of surface area to volume.
Original Italian carbonara recipes use Pecorino Romano but I used Parmesan instead without any problems.
Be sure to buy the Parmesan in one piece and grate it freshly. That makes the difference!
Since the eggs for spaghetti carbonara are not heated to high temperatures, it is important to use very fresh free-range eggs.
If you want, you can serve the pasta with some grated cheese on top.
Always when cooking pasta dishes you want to salt the pasta water well! Several teaspoons of salt are normal. The water should taste like sea water.
If you want, stir in a bit of lemon juice and lemon zest for a fresh kick