Dieser Beitrag ist auch verfügbar auf:

Deutsch (German)
German marble cake with cherries baked on a sheet pan! With grandma's traditional Bavarian marble cake recipe, you can make this Black Forest marble cake with fresh or canned cherries within minutes and it will be wonderfully juicy. The best traditional german marble cake recipe. Jump to Recipe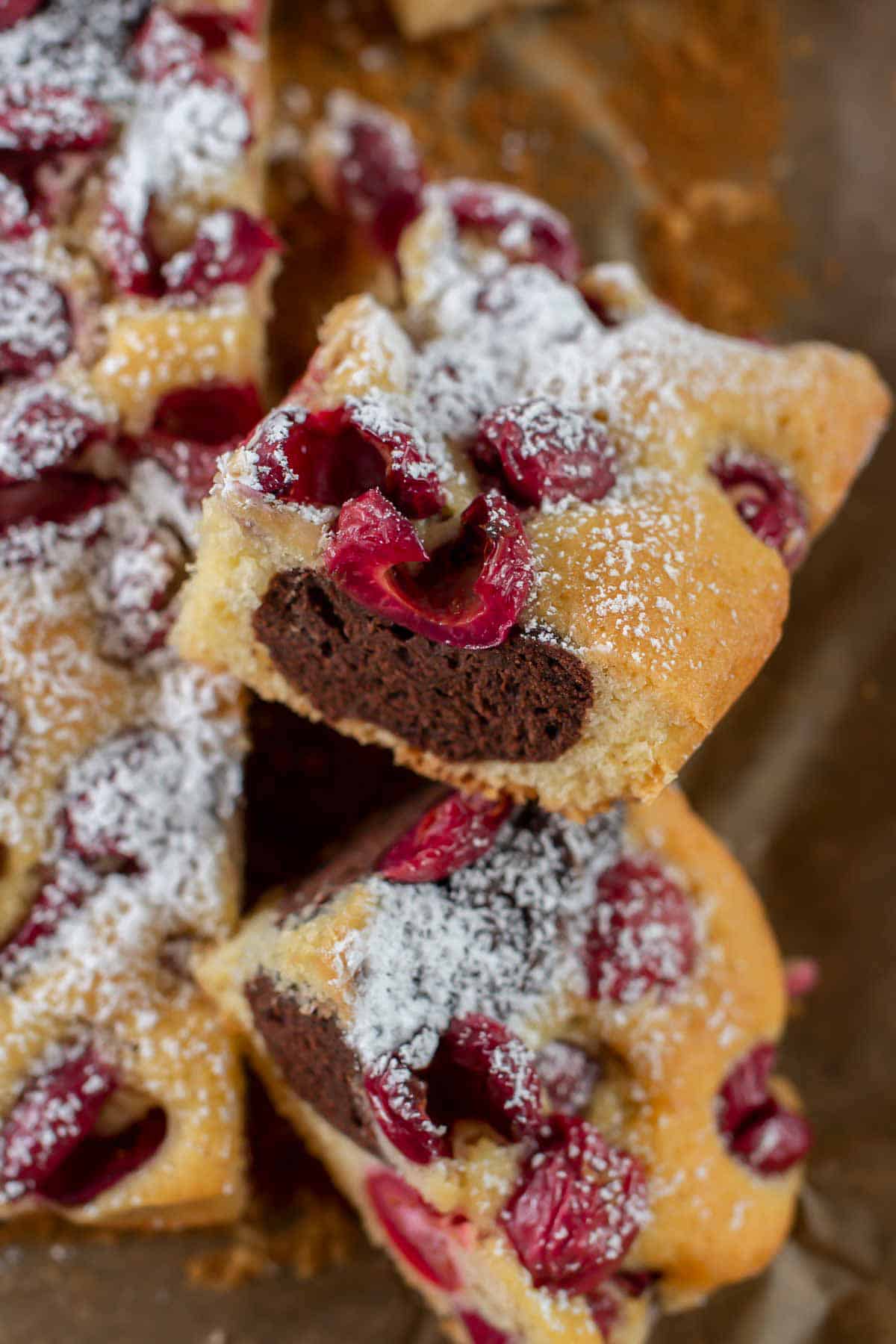 German marble cake with cherries baked on a sheet pan!
If you are looking to bake a cake that looks fancy but really isn't – you should look into baking a German marble cake!
Marble cake – or Marmorkuchen – is a very popular cake recipe and can now be found in any American cookbook but it was German immigrants that brought the idea over in the 19th century.
This classic German cake recipe is a fantastic way to showcase simple flavors, chocolate and vanilla.
Grandma's Juicy Black Forest Marble Cake with cherries is baked on a baking tray instead of in the traditional Bundt pan! The simple sheet cake recipe with cherries is quick to make and very popular in Bavaria, the part of Germany I was born in.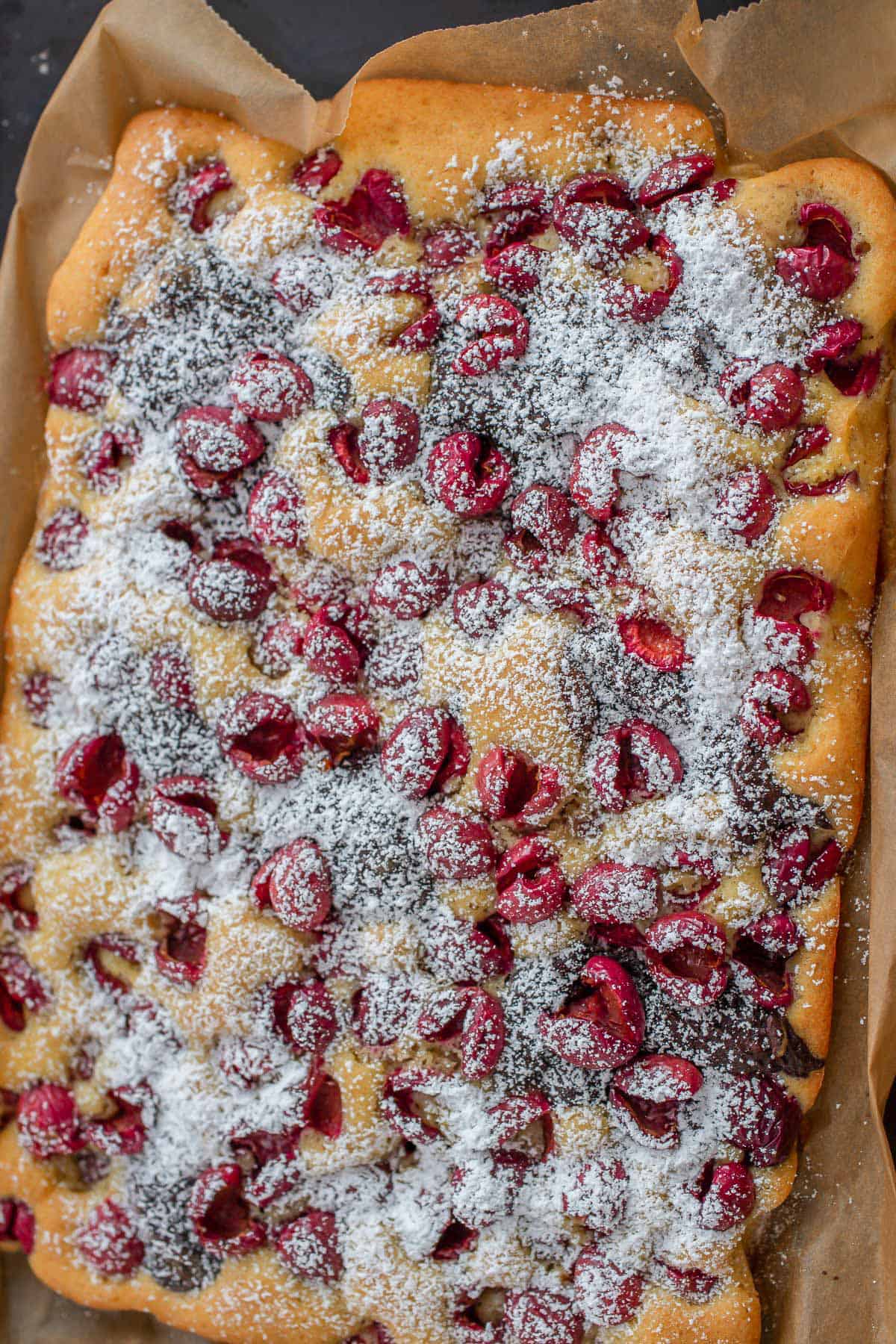 This Cherry Chocolate Marble cake is the perfect recipe when you need something quick on short notice. It's easy to bake and always a hit. It is such a lovely cake with a long shelf life and few steps of preparation. With grandma's recipe, you can make this traditional german marble cake recipe in no time.
The fun part with marble cake is the marble effect when swirling the different colored batters, the vanilla mixture and the chocolate batter, together. You can get very creative with the design or just stick to a simple light swirl of the batter – it's up to you!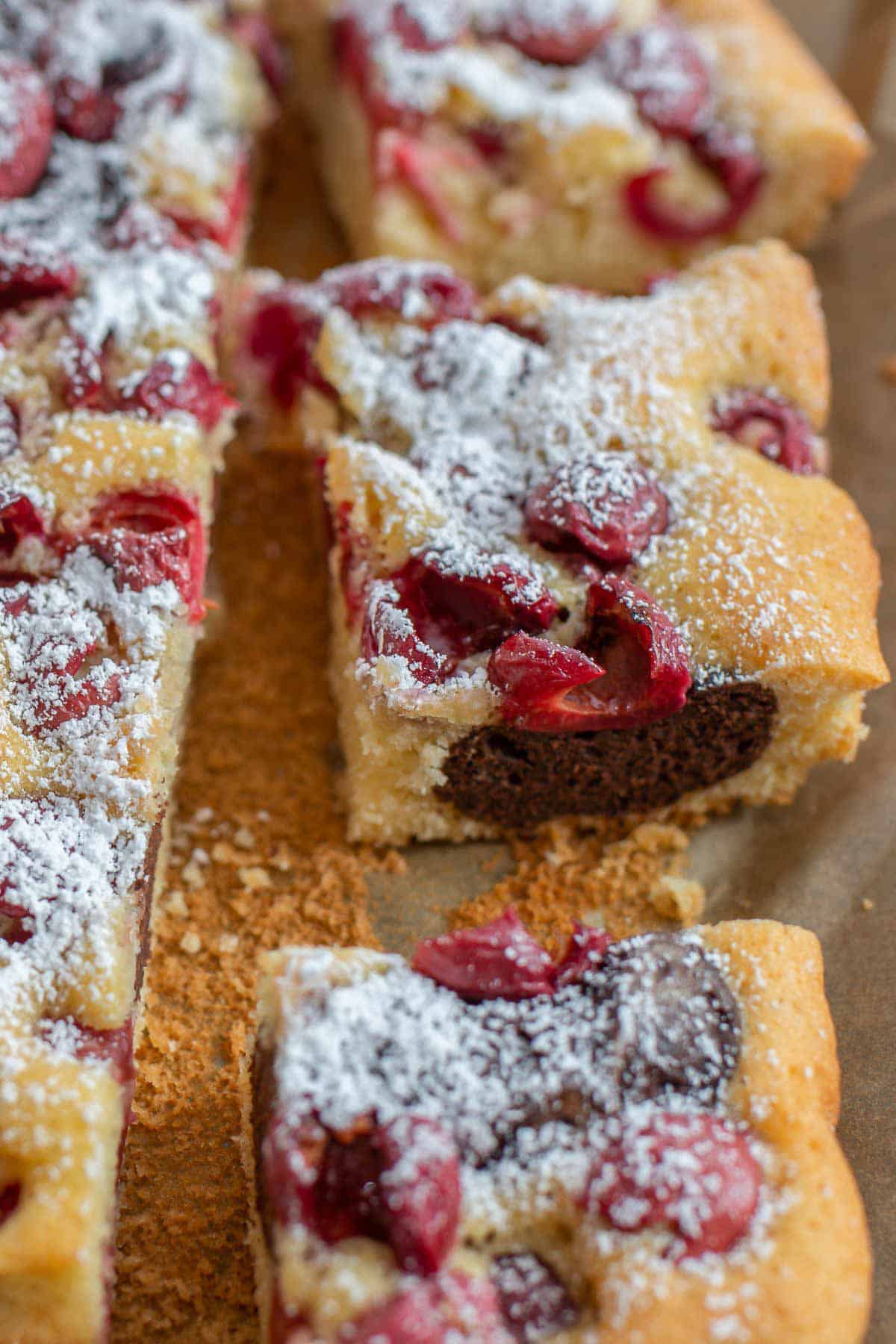 As a modern twist, I added cherries to my granny's recipe. I think that cherries and cake and especially cherries and chocolate cake simply belong together. Have you tried my recipe for vegan chocolate cherry cake yet?
Granny's German marble cake with cherries is a great cake for kaffee und kuchen and reminds me a bit of Donau Wellen Cake (danube waves), only without the chocolate ganache and custard, which makes the cake much lighter and also increases its shelf life.
This is how you make german marble cake with cherries
In a large bowl, you prepare a basic vanilla batter and pour half of the batter into the baking tray.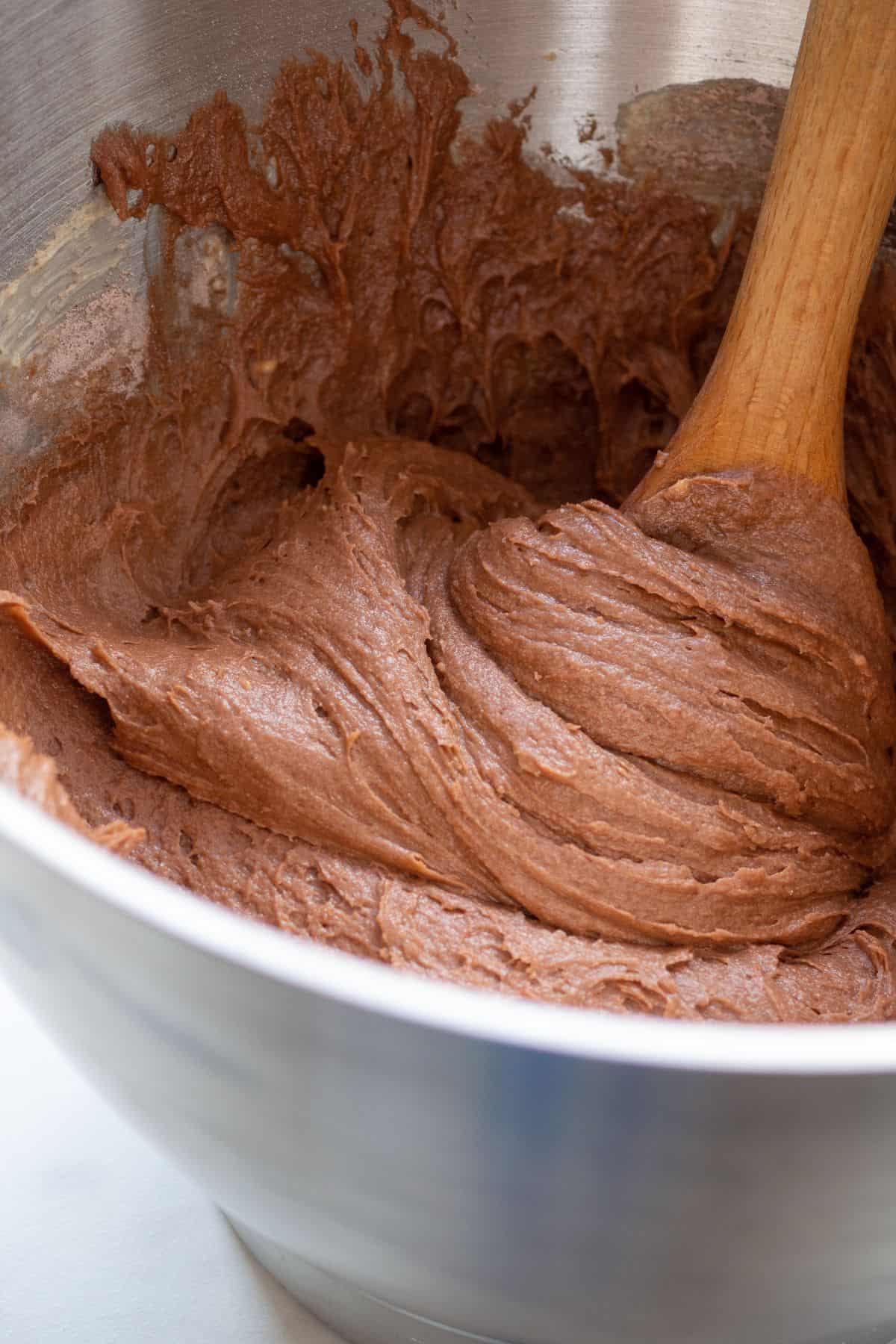 Now, we stir a few tablespoons of unsweetened cocoa powder into the remaining batter. No need to get a separate bowl.
Some recipes add liquid chocolate to the chocolate part, but I find the chocolate melting to be an extra effort and I really wanted to keep it as simple as possible here.
In general, I'm a huge fan of cocoa in dough and even make my brownies with cocoa powder.
Now we place dollops of the chocolate mixture onto the vanilla mix and swirl the chocolate cake batter into the vanilla batter.
Then you spread fresh cherries or cherries from the glass onto the dough. I like it when cherries don't sink so much into the batter, so I toss them in a little bit of flour. This little trick works every time.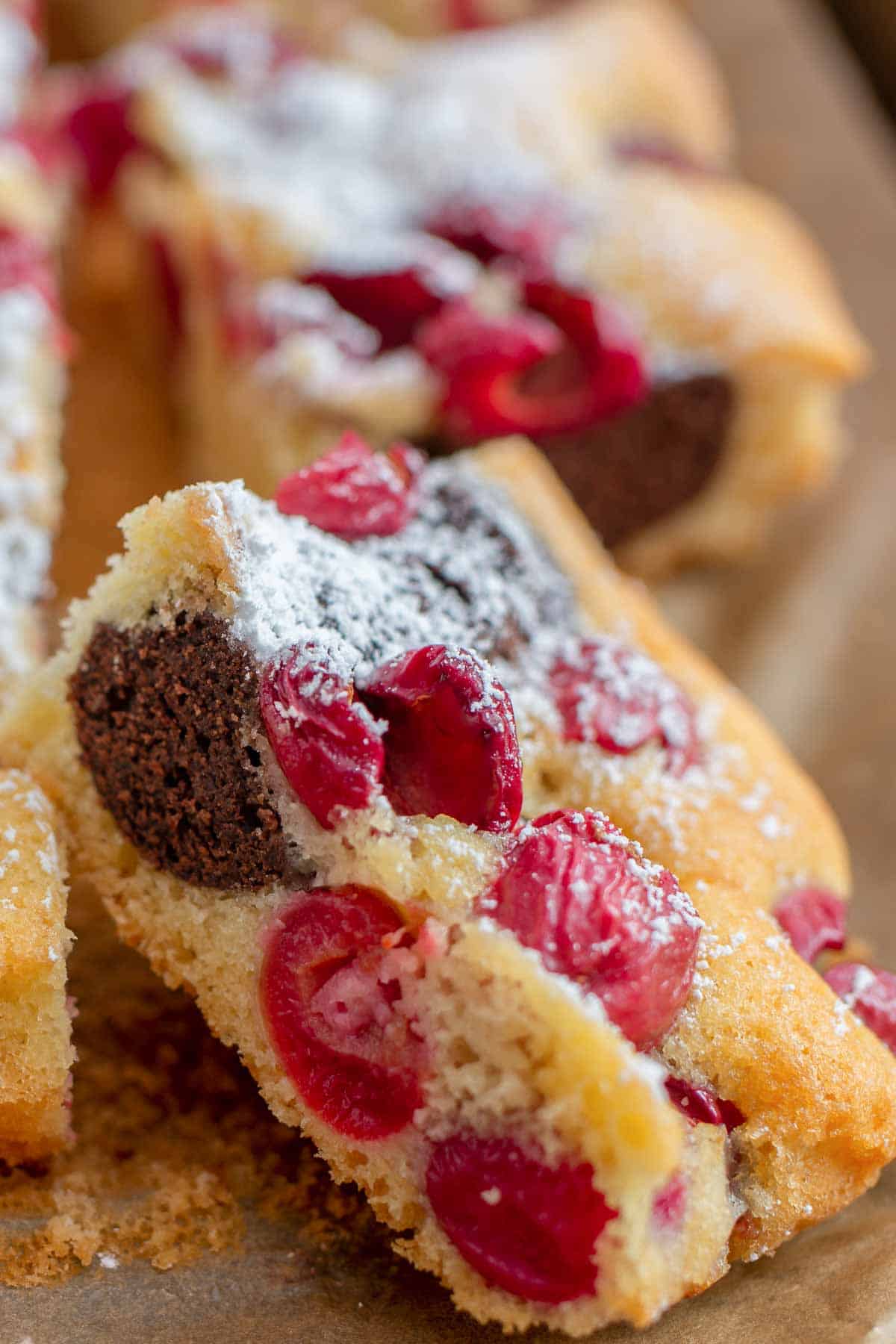 ingredients:
Eggs – preferably organic and at room temperature. It's best to take the eggs out of the fridge a while before baking. Beat in the eggs one at a time for a perfect batter.
Butter – German cakes use a lot of butter so pick a good European butter and have it at room temperature if possible, so it mixes well with the sugar.
Sugar – white granulated sugar. If you do not use sugar or use alternative sweeteners, like xylitol
Vanilla sugar – or vanilla paste, whatever you have on hand. Grandma's German marble cake is made with Dr Oetker vanilla sugar and I often use it for nostalgia's sake. But to be honest, it tastes fine with vanilla paste or vanilla extract.
Flour – cake flour
Baking Powder – Always mix the baking powder well with the flour
Milk – Whole milk makes the batter moister than light milk. The cake is particularly moist with cream. And yes, you can also use German Egg Liqueur
Cocoa – unsweetened baking cocoa is the best choice here.
cherries or even better sour cherries – fresh cherries also work, but in Germany, we use the ones that jam in a jar, in their own juice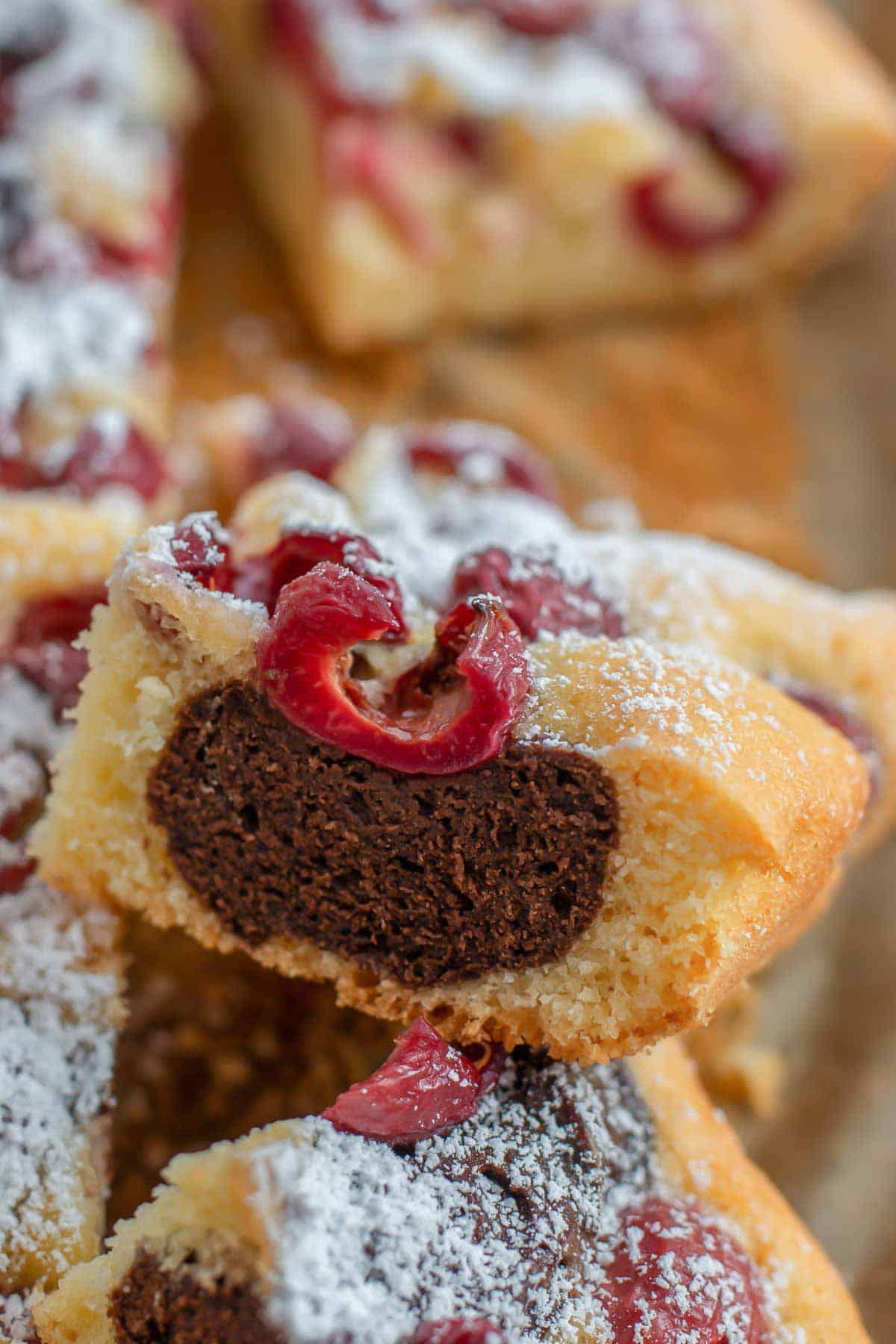 How to avoid a dry marble cake
Your marble cake turned out dry and you're wondering what you did wrong? Here are 4 tips for a Moist Marble Cake.
In general, marble cake should not be baked for too long. My tip: Towards the end of the baking time, do the famous skewer test.
Insert a toothpick in the center of the cake and if there is still dough on the stick, the cake will need a while longer.
Note that every oven is different, which is why baking instructions in recipes are always guidelines.
If the marble cake is still too dry despite the correct baking time, it could be due to an incorrect ratio between wet and dry ingredients.
Always measure the flour and milk accurately. If possible, please use a scale. I know North American baking uses cups but if you want to get serious about German baking, the scale will lead to better and more consistent results.
Don't mix in the dry ingredients for too long and mix on low speed. It is enough to just combine them. A few streaks of flour are no issue.
Recipe variations:
If you want, add a small amount of almond extract to the chocolate batter or add some lemon zest to the light yellow batter
For an extra moist cake, add some German Egg Liqueur to the batter
Serve this German Marble Cake with cherries with a cup of coffee and maybe some brandy cherry ice cream. My German family loves this one and I am sure it will become one of your favorite cakes in no time.
For more German cherry cake recipes, also make sure to check out my German Cherry Cheesecake and my German Cherry Cake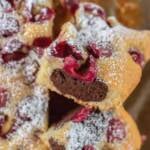 German Marble Cake on the Sheet Pan with Cherries
German marble cake with cherries baked on a sheet pan! With grandma's traditional Bavarian marble cake recipe, you can make this Black Forest marble cake with fresh or canned cherries within minutes and it will be wonderfully juicy. The best traditional german marble cake recipe.
Ingredients
200

g

butter at room temperature - 3/4 cup + 2 tbsp

250

grams

of sugar - 1 cup + 3 tbsp

250

grams

of milk - 1 cup + 2 tbsp

4

eggs at room temperature

400

grams

of cake flour - 2 1/2 cup

16

g

cream of tartar or regular baking powder - 2 1/2 tsp

15

grams

of cocoa powder - 1/4 cup

350

g

pitted cherries - 2 cups pitted
Instructions
Line a 30 x 40 cm ( 11 ¾ x 15 ¾ inch) baking sheet with parchment paper

For the batter, cream the soft butter with the sugar until white and fluffy, then gradually add the eggs one after another and continue beating.

Stir in the baking powder mixed with the flour and add the milk alternately with the flour.

Spread about half of the dough evenly on the prepared lined baking sheet or use a baking frame.

Mix the second half of the dough with the cocoa powder. Stir in a dash of milk, cream or German Egg Liqueur (See notes) into the dark batter. Now place dollops of the dark batter on top of the light batter and swirl the two batters together using a skewer.

Dust the cherries briefly in cornstarch and spread on top of the cake.

Bake the cake in the preheated oven at 180 C / 356 F for about 35 minutes.

Then let cool and sprinkle with icing sugar.