Dieser Beitrag ist auch verfügbar auf:

Deutsch (German)
This vibrant Purple Sweet Potato Pie with Coconut Topping is easy to make and a real showstopper! Try this sweet Hawaiian recipe for the next family gathering or for Thanksgiving and leave everyone impressed!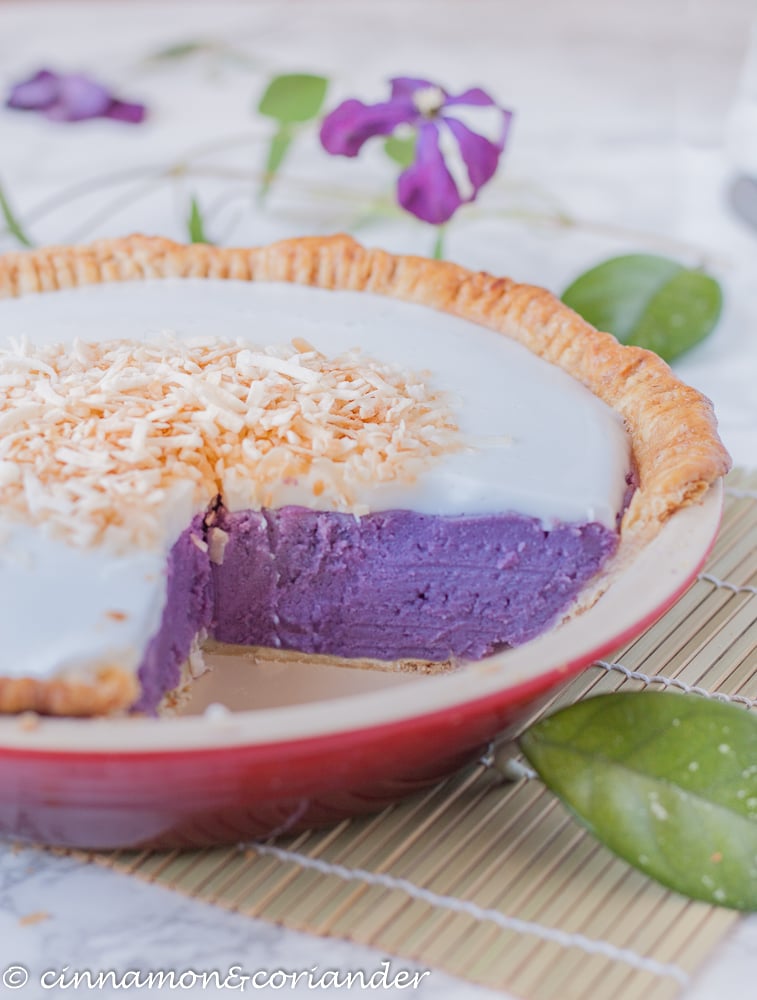 Fans of exotic desserts will love this Hawaiian Purple Sweet Potato Pie with Coconut Topping! 
I know August is a bit early to bring out the Sweet Potato Pie, but I am so in love with this vibrant, purple beauty that I couldn't hold back any longer.
And this one is quite different from the Sweet Potato or Pumpkin Pies that pop up around Thanksgiving, anyway. Both in looks and flavor!
Purple sweet potatoes, or Okinawan sweet potatoes,  are a pretty recent addition to my family's menu but we already would not want to miss them.
I could write a whole paragraph about the versatility and don't even get me started on the health benefits. Just head over to my recipe for Purple Sweet Potato Salad, if you want to learn a bit more about them. They are incredible.
A buttery pie crust filled with a smooth coconut and sweet potato filling & topped with coconut custard! 
Those of you, who have been to Hawaii might have gotten the chance to try the famous Okinawan Sweet Potato Pie with Haupia – a pie made from purple sweet potatoes topped with a layer of homemade, rich coconut custard and toasted sweetened coconut!
I have never been to the island myself but if all Hawaiian desserts are that yummy, I would consider putting it right on the bucket list.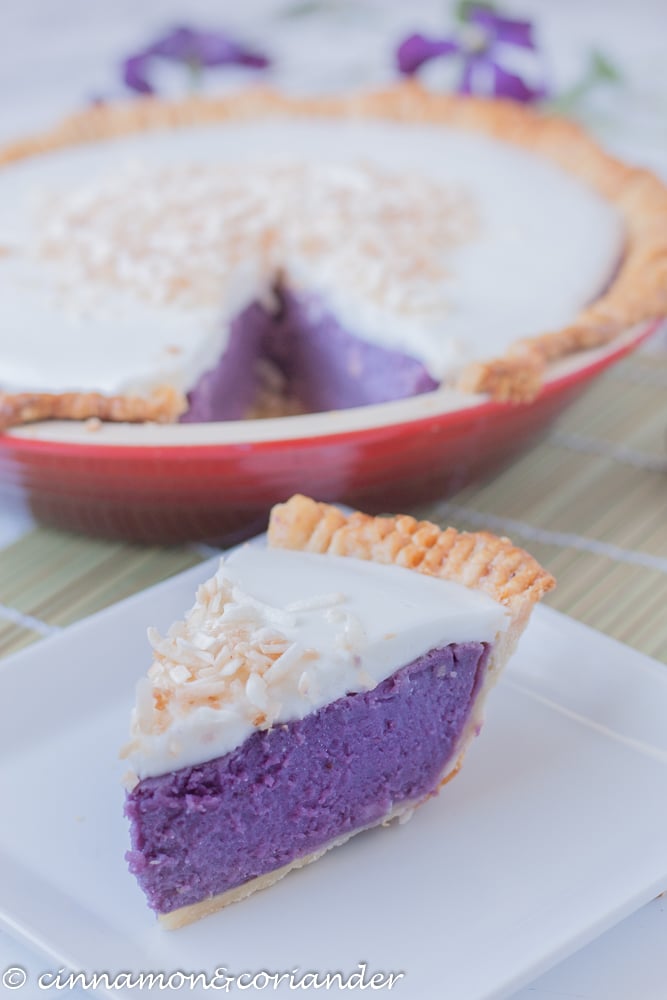 Browsing the net for creative recipes using Okinawan sweet potatoes, I came across Samantha's genius pie recipe and knew that I would need to try it myself!
The pie filling uses pureed purple sweet potatoes and a mix of evaporated milk and coconut milk, which makes it both rich AND silky.
Coconut goes so well with the floral sweetness of the Okinawan purple sweet potato and gives the whole pie a certain island flair. You will love it!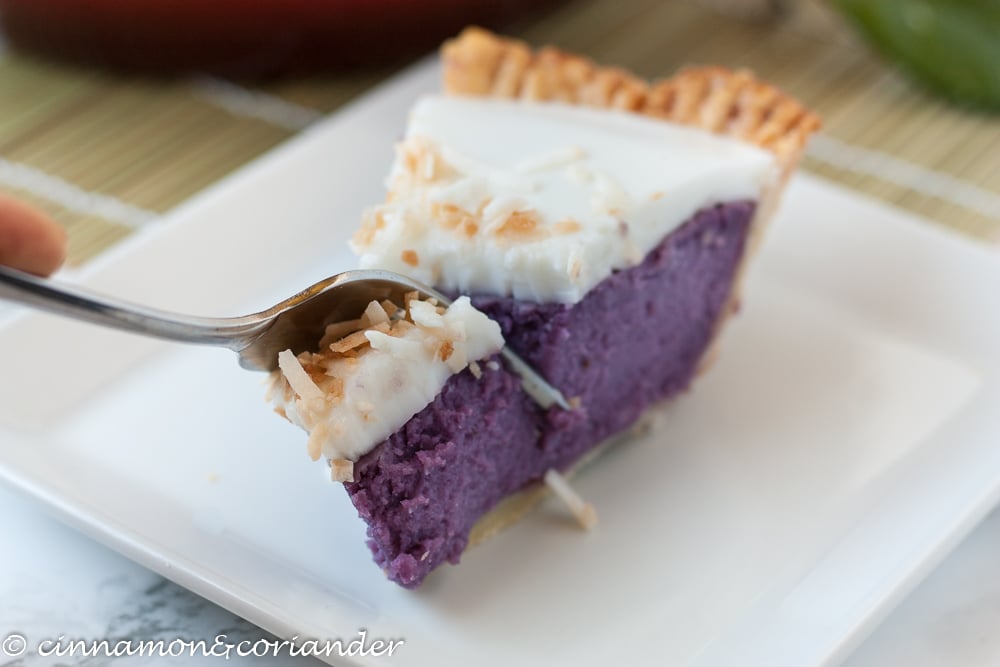 How to Make Okinawan Purple Sweet Potato Pie with Haupia: 
A note before you start: Begin with the pie crust.
Here's how I make my Pie Crust with a Food Processor.  The crust needs to be blind baked for quite some time, but you can bake your purple sweet potatoes in the oven at the same time. Check out my note on the low-and-slow blind baking method!
The filling is a simple mix of mashed purple sweet potatoes, coconut milk, evaporated milk, eggs, and vanilla. I used sugar to sweeten my pie, but you can use stevia to make it healthier.
Now, we pour the filling into the cooled pre-baked pie crust and bake everything for 45 minutes, until set.
The purple sweet potato pie should cool almost completely before adding the haupia layer.
Making Haupia is really easy. It's basically a simple custard with coconut milk and a cornstarch slurry to thicken it. I added a splash of rum aroma, because I love rum and coconut, but this is totally optional.
The haupia layer takes only about 10 minutes to make but the pie does need to sit in the fridge for another 2 hours to allow the coconut layer to set. I simply made the pie the night before and then the haupia layer in the morning, so that I could serve it for tea.
Can I make this Purple Sweet Potato Pie in advance: 
There are many steps that you can prepare in advance, starting with the pie crust. If you are short on time, you can even go for store-bought.
If you want to make this pie for Thanksgiving, I recommend you do the following:
Day One: Prebake the pie crust, let cool down and cover with aluminum foil.
Day Two: Make the purple sweet potato filling, bake with the pie and let the pie cool overnight.
Thanksgiving Day: All you need to do is whip up that Haupia Topping and pour it on top of the pie – now off into the fridge and you are done!
Can I make this Purple Sweet Potato Pie gluten-free?
Absolutely, you can use this Coconut Flour Pie Crust recipe. The filling and Haupia Topping uses cornstarch as thickeners, which is naturally gluten-free!
My product recommendations:
A note about affiliate links in this post: some of these links will take you to Amazon where I may receive a small percentage of sales, at no extra cost to you. 
★ Did you make and love this recipe for Purple Sweet Potato Pie? Give it your review below! And make sure to share your creations by tagging me on Instagram!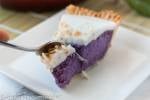 Purple Sweet Potato Pie with Coconut Topping ( Haupia )
Lovers of exotic desserts will love this vibrant Purple Sweet Potato Pie! This popular Hawaiian dessert is topped with a rich Coconut Custard (Haupia) and sprinkled with toasted sweetened coconut!
Cook Time
1
hour
30
minutes
Total Time
2
hours
15
minutes
Ingredients
1

recipe

Pie crust

filling is enough for 2 pie crusts or 1 deep dish
For the pie filling
3

medium

okinawan purple sweet potatoes

500 g

150

g

butter, melted

1

can

evaporated milk

375 ml

1

can

full fat coconut milk

400 ml

1

tsp

vanilla

2

large

eggs

150

g

sugar

1

pinch

salt
For the Coconut Custard - Haupia Layer
45

g

sugar

27

g

cornstarch

125

ml

water

if using rum, only 100 ml

2

tbsp

rum

optional

1

can

full fat or light coconut milk

25

g

sweetened shredded coconut, lightly toasted

1/4 cup
Instructions
Prepare the pie crust (recipe here or your go-to recipe) according to the recipe instructions for blind baking.

Wrap the purple sweet potatoes in foil, prick them with a fork and bake them together with the pie crust or up to 2 days in advance until tender. I bake mine at about 180 Celsius (356 F) for 45 to 50 minutes.

Preheat the oven to 175 Celsius (350F). Peel the baked potatoes and add them to the bowl of your food processor. Then, add melted butter, evaporated and coconut milk, eggs, and vanilla. Process everything together until it becomes a smooth creamy consistency.

Pour purple sweet potato filling into your cooled pie shell and bake for 40-45 minutes. Should your pre-baked pie crust turn too dark, you can cover the whole pie with foil. Your pie is done when you can inset a knife into the potato layer and it comes out clean.

Once the pie is baked, remove it from the oven and allow it to cool to room temperature for a few hours. I like to place it in the fridge overnight.

For the Haupia Topping, make a slurry by stirring together sugar, corn starch, water and, if using, rum. In a medium pot, bring the coconut milk to a boil and stir in the slurry. Stirring all the time, let the custard cook for about 5 minutes or until it turns shiny and reaches a glue-like consistency.

Pour the custard topping on top of the cooled sweet potato pie and sprinkle with toasted coconut
Like my recipe for Hawaiian Purple Sweet Potato Pie with Coconut Custard Topping?