Dieser Beitrag ist auch verfügbar auf:

Deutsch (German)
This German Potato Salad recipe will become your new go-to in no time! Crispy Baked Potatoes, Caramelized Onions, Bacon Bits and a warm Bacon Vinaigrette take this traditional German recipe to a whole new level! 

This German Potato Salad Recipe with Warm Bacon Vinaigrette will be your new go-to potato salad!
Sharing my favourite German Potato Salad recipe with you guys has been on my agenda for ages. With the cold season coming up and Oktoberfest starting, THIS is the perfect time for it, don't you think?
Let's forget about carbs for a moment and enjoy a bowl of potato salad! 
Growing up in rural Southern Germany meant that I had no idea what carbs were until I turned, like, 18. Before, carbs were simply food my Granny would cook.
Oh yes, my Oma's Cooking was far from what nutritionists would recommend these days. However, she still reached a respectable age and maintained good health all life long.
While I love my healthy diet, I still like to remember those childhood days when food was simple, delicious and ever so comforting – fuelling me and my sisters up for another adventure out in the village forest.
Yep, we were wild children. We collected mushrooms and build fires though I swear our mom was sometimes hiding behind a tree with a bucket of water ready to pounce.
One of my granny's go-to recipes was her potato salad, which she served warm along with whatever protein was on the menu that day. My granny's version was a bit heavier on the vinegar and had raw onions in it.
So over the years, I have created my own German Potato Salad recipe. It has become a real staple, especially with my Canadian family, who request this potato salad a lot.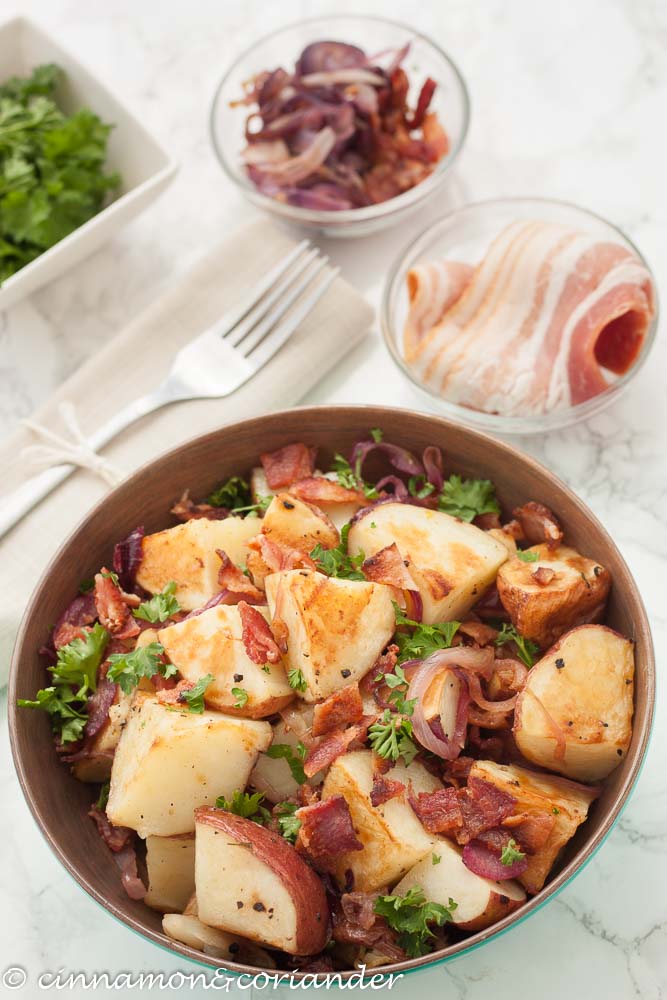 Caramelized Onions, Crispy Baked Potatoes and a Warm Bacon Vinaigrette – this German Potato Salad recipe is a real treat!
Imagine slowly caramelized red onions tossed with crispy baked potatoes and crunchy bits of bacon. This alone would be quite delicious.
However, it would not be a German Potato Salad if it weren't for the warm vinaigrette we toss our hot potatoes in.
And this is not just any vinaigrette. It's a divine concoction made from white wine vinegar, Dijon mustard, lemon juice, olive oil, and the bacon fat leftover from frying the bacon!
All in all, this is definitely the BEST potato salad I have ever made and everyone who has tried it so far has asked for the recipe.
How to make German Potato Salad:
The German Potato Salad recipe is quite easy. It starts with washing and quartering the potatoes. I went with red potatoes as they are my favourite! Plus you can eat the peel.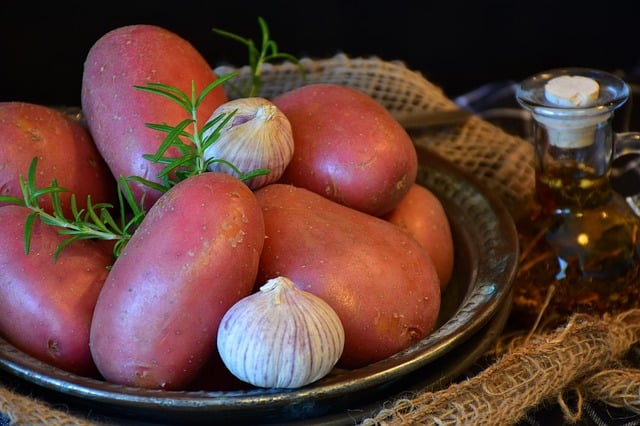 Toss them with some olive oil, salt and pepper and bake them in the oven until tender and crispy.
In the meantime, fry the bacon and caramelize the onions. When frying the bacon, it is super important that you do not discard the fat! We need it for out warm bacon vinaigrette!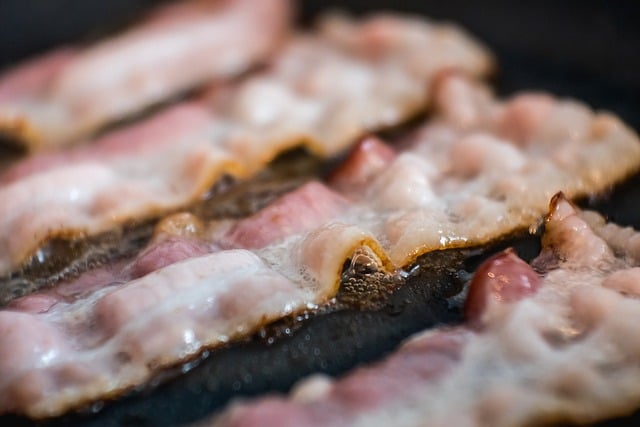 How to make Warm Bacon Vinaigrette: 
For the warm bacon vinaigrette, we mix some white wine vinegar, dijon mustard, lemon juice, salt and sugar. Now, slowly drizzle in the hot bacon fat while whisking. I also add a bit of olive oil at this point.
Chef's Tips for this German Potato Salad Recipe: 
This potato salad should be served warm, but leftovers can be stored in the fridge for up to a week. I like to microwave it quickly before eating it.
I fry my onions for only about 12 minutes but you can fry them for a while longer for an even more caramelized flavor.
The amount of fat you get from the bacon varies, so I always measure out 4 tbsps and add those to the dressing along with some olive oil to blend in some healthy fats. You can use more bacon fat instead of olive oil.
You can make this German Potato Salad recipe with leftover boiled potatoes. Just fry them in a pan until they are heated and sightly crispy, and toss them with the rest of the ingredients!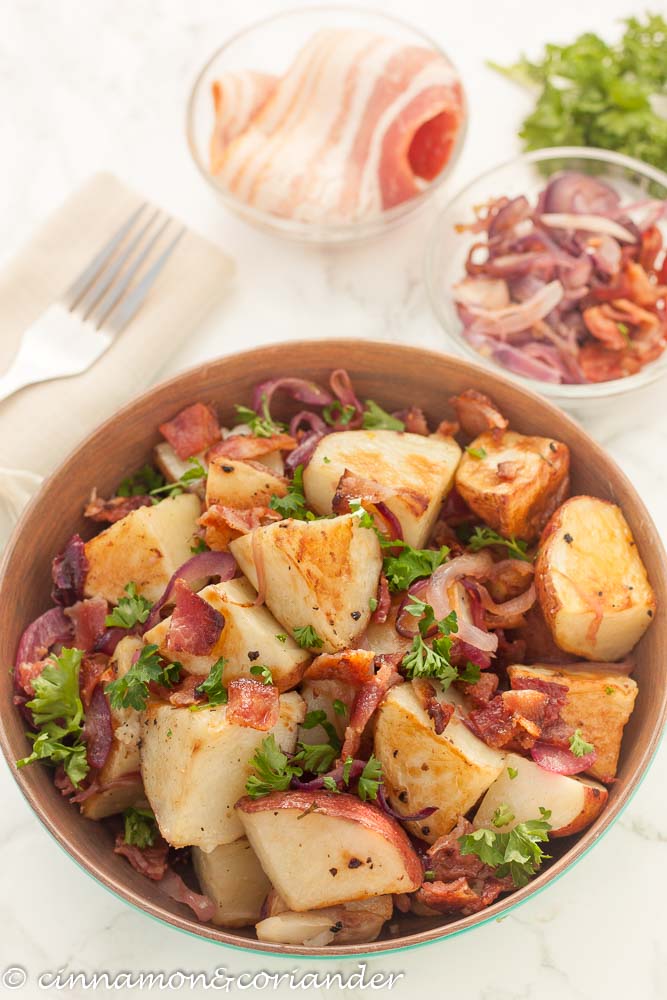 FAQ: 
What is the difference between German potato salad and American potato salad?
German potato salad is usually made with a light vinegar based dressing and sometimes bacon, chopped onions and a bit of mustard and should be dressed and served warm.
American potato salads are served cold tossed with a dressing is made using mayonnaise and folded into the cooled, cooked potatoes
Which potatoes are best for potato salad?
The potatoes you use will make or break your salad. The best potatoes for potato salad are waxy potatoes such as Yellow Finn, Yukon Gold, and red potatoes that hold their shape when they're cooked and keep their firm texture in the salad when you chop them up and toss them with dressing.
Forget about carbs for a day and tuck into a plate of German Potato Salad with Warm Bacon Vinaigrette:
For more German recipes, check out these traditional recipes for:
★
Did you make and love this German Potato Salad recipe? Give it your review below! ? And make sure to share your creations by
tagging me on Instagram
!
Best German Potato Salad with Warm Bacon Vinaigrette
This is by far the best German Potato Salad recipe out there and a tried-and-tested family favourite. Crispy baked potatoes, caramelized onions and crunchy bacon bits tossed while still hot with a warm bacon vinaigrette! German comfort food at its best!
Ingredients
For the salad:
1,5

kg

potatoes

red potatoes or Yukon Gold

5

tbsps

olive oil

1,5

tsp

salt

1

tsp

pepper

1

tbsp

butter

1

big

red onion

sliced

1

tbsp

sugar

10

strips

bacon
For the dressing:
3

tbsp

white wine vinegar

1/2

lemon

juiced

1

tsp

Dijon mustard

2

tsp

sugar

1

tbsp

olive oil

4

tbsp

bacon fat

all the strained drippings from the pan
Add ons
1/2

bunch

parsley

chopped

salt and pepper to taste
Instructions
For the salad:
Preheat the oven to 400 F and line a baking tray with parchment paper.

Wash the potatoes and quarter them. Toss them in a big bowl with 3 tbsps olive oil, salt and pepper and bake for 35 minutes until they are tender and slightly crispy on the outside!

In a pan on medium heat, melt butter and 2 tbsp of olive oil. Add sliced onions along with a pinch of salt and let slowly fry until softened for about 10 minutes.

Add sugar and let caramelize, stirring once in a while, for about 2 minutes, then take off the heat.

While your onions are frying, place the bacon in a big pan and turn on the heat to medium-high. Let fry until crispy, then remove from the pan and transfer to a plate lined with paper towels.

Strain the fat through a sieve.
For the warm bacon vinaigrette:
Add the first four ingredients to a little bowl and stir until the sugar dissolves. Now, drizzle in warm bacon fat and olive oil, while whisking. Season with salt and pepper.
Assembly:
Chop the bacon into small chunks and add to a salad bowl along with baked potatoes, caramelized onions and parsley, if using.

Drizzle the warm bacon vinaigrette on top of the potatoes and toss everything well. Serve immediately.