Dieser Beitrag ist auch verfügbar auf:

Deutsch (German)
These 4-Ingredient Vegan Salted Caramel Chocolate Cups are a decadent candy treat perfect for Valentine's Day! Filled with my never-fail Tahini Caramel Sauce, they are incredibly easy to make, refined sugar-free, paleo, gluten-free and no-bake!Jump to Recipe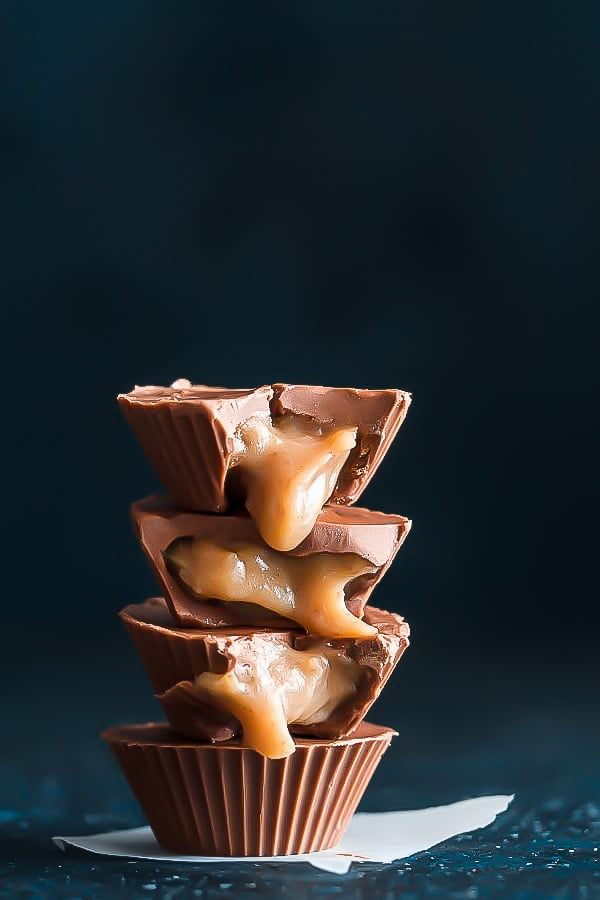 Salted Tahini Caramel is my latest obsession. I make triple batches of this stuff and swirl some into ice cream, use some to top my pancakes or my overnight oats, but there's a new favorite in my home right now that I cannot wait to share with you! Vegan Salted Tahini Caramel Chocolate Cups! I mean, caramel and chocolate is pretty much THE perfect combination!! But add in tahini and we're on a completely new level! I find that tahini flavor brings the caramel to another level.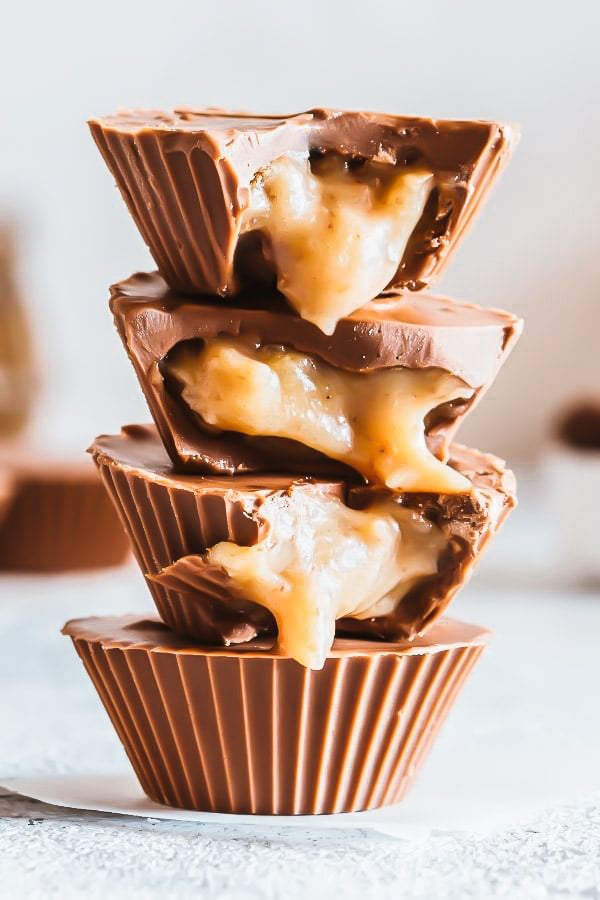 Picture a rich and sweet chocolate shell enveloping a salty-sweet and nutty surprise filling – salted tahini caramel sauce. It's the balance of the bitter cocoa and the sweet sweet center, the quick bite, the cracking of the top of the shell when you bite into a cup! Bliss!
Why you will love these:
The balance of the chocolate and caramel is sheer perfection.
they are dairy-free, vegan, paleo-approved and gluten-free so this recipe really works for those with dietary restrictions
no fuss, no-fail and super easy to make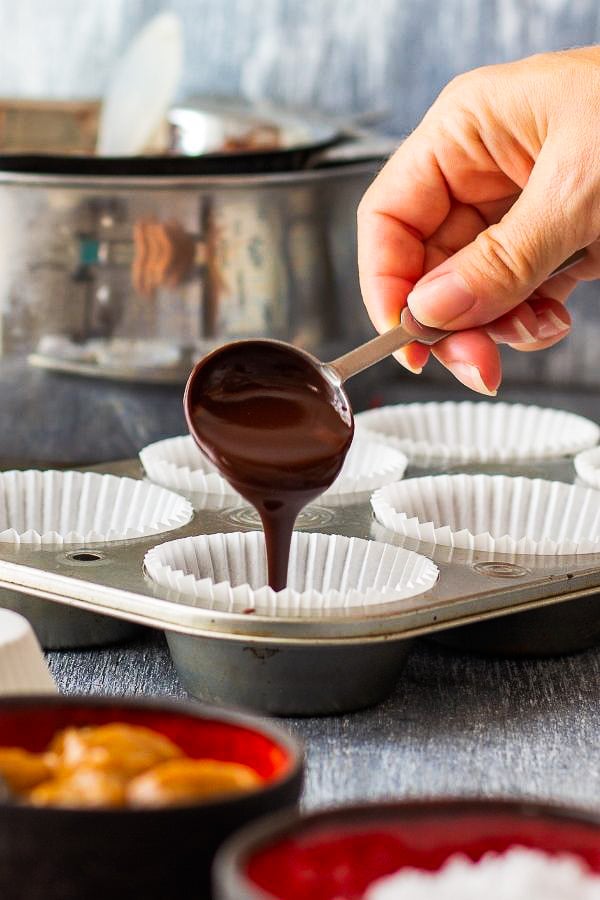 How to make Vegan Salted Tahini Caramel Chocolate Cups:
Melt vegan chocolate for the bases: Melt some vegan chocolate and coconut oil to cover the base of your cupcake liners and work it up the sides a bit as well.
Using a little brush for this is an awesome little trick and makes this really easy to do. Put it into the freezer to set.
Make the vegan salted caramel filling using this recipe: The filling is a simple mix of tahini, maple syrup, coconut oil and salt. When the chocolate bases have set, add the caramel filling.
Melt more chocolate: Now reheat the chocolate and add it to the top of the peanut butter cups which closes them up on top. Place them into the freezer to set.
They are the perfect little dessert when you need something chocolatey and sweet. Hello Valentine's Day!
Tips:
My favorite way to eat these caramel cups is to store them in the freezer and take one out as needed. Even though they are frozen, they stay really nice and creamy!
You can use date caramel or coconut caramel as a filling. If not vegan, use my salted caramel sauce.
any dairy-free chocolate chips or dark chocolate works here.
★ Did you make and love this vegan caramel chocolate cups recipe? Give it your review below! And make sure to share your creations by tagging me on Instagram!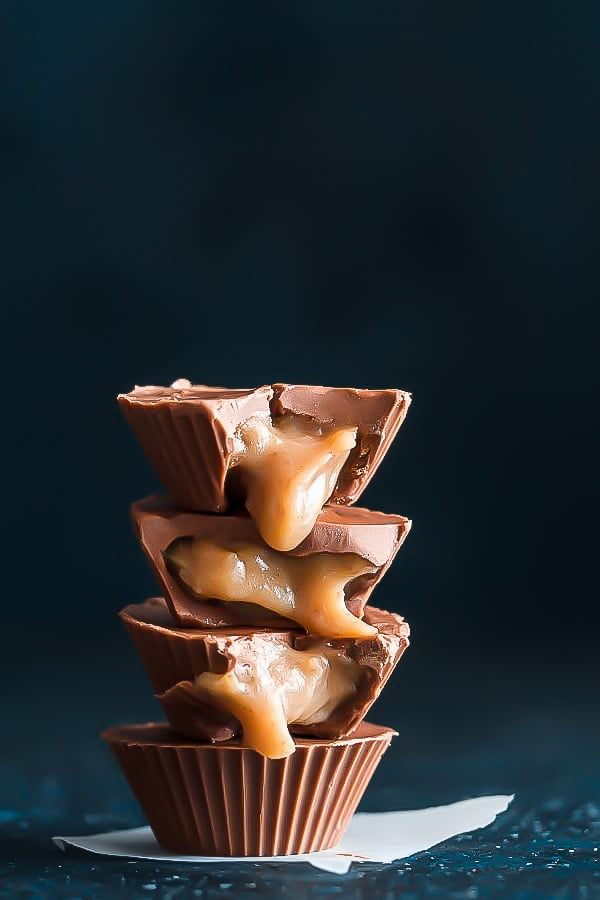 Salted Tahini Caramel Chocolate Cups
These 4-Ingredient Vegan Salted Tahini Caramel Chocolate Cups are a decadent candy treat perfect for Valentines Day! They are incredibly easy to make, refined sugar-free, paleo, gluten free and no bake!
Ingredients
1

cup

dark chocolate chips

2

teaspoons

coconut oil

6

tablespoons

salted tahini caramel

recipe link in notes

¼

teaspoon

large sea salt granules or more if desired
Instructions
Line a mini muffin tin with 12 mini cupcake/muffin liners.

In a bowl, add the chocolate chips and the coconut oil and stir together. Melt in the microwave for 1 minute, then stir together. You might need to microwave them for 30 seconds at a time until melted. You can also melt this in a double boiler method.

Spoon a little bit of melted chocolate into each of the muffin liners, and spread it so it covers the bottom, as well as ¾ way up the liners. I use a pastry brush to "paint" the melted chocolate onto the bottom of the cupcake wrapper, and around the sides (only go about 2/3 of the way up the wrappers, not all the way to the top) Place muffin tin in the freezer.This will ensure the caramel filling is covered properly.

Put in the freezer for about 10 minutes to set.

Remove the mini muffin tin from the freezer and set beside this bowl. Dollop about ½ tablespoon of the caramel into each cup and return to the freezer for about 5 minutes.

You might have to reheat the chocolate if it has set already. Pour the rest of the chocolate equally over each cup to cover completely (I went all the way to the top of my liners). Place in the freezer to set for another 10 minutes or up to 30 minutes. Peel off liners, eat and enjoy!!
Recipe Notes
For the vegan salted caramel, use this recipe