Dieser Beitrag ist auch verfügbar auf:

Deutsch (German)
This Orange & Apricot Twist Bread with Parmesan is one of my favourite yeasted breads of all times!
The sweetness of the chopped dried apricots combines beautifully with the saltiness of the Parmesan cheese. A good grating of orange zest adds a fresh and summery touch to this delicious yeasted wreath.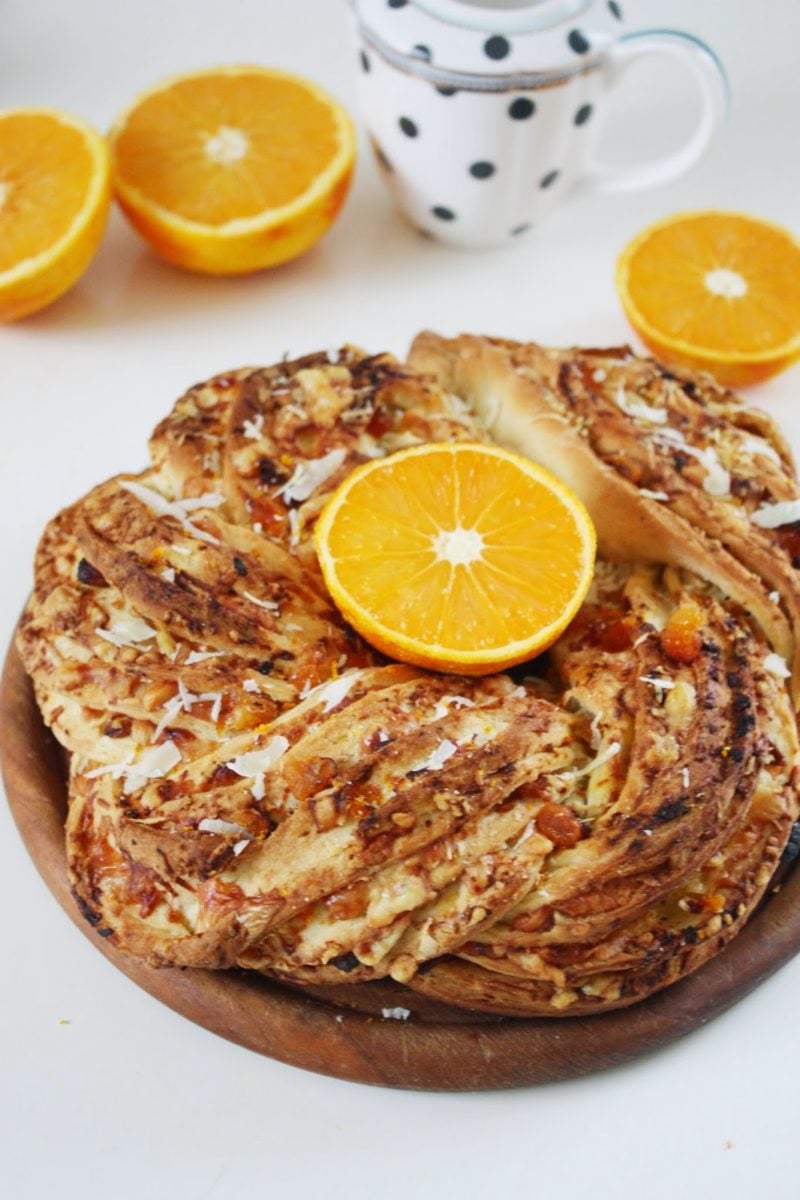 Here's my recipe for Orange Apricot Twist Bread with Parmesan
For the yeasted dough
400g flour
7g instant yeast
1 tsp salt
2 tbsp sugar
120 ml milk, lukewarm
120 ml water, lukewarm
30 ml melted butter
for the filling
4 Tbsp butter
2 cups grated parmesan
100 g dried apricots, chopped
zest of an orange
Mix the dry ingredients. Dissolve yeast in lukewarm water and milk and let stand for 10 minutes. Mix the yeast and melted butter with the flour mix and knead in your stand mixer until smooth and elastic. Add more flour if the dough is too sticky.Form the dough in your mixing bowl into a ball, cover with a towel or cling film and let stand in a warm place until doubled in size.
Once doubled, knead the dough lightly and roll into a rectangle. Brush with melted butter and sprinkle the remaining ingredients on the dough.  Roll up the dough and, using a sharp knife, cut the log in half lengthwise leaving one edge uncut for about 1/2 inch.  Start braiding the two pieces, trying to keep the open layers exposed so the cut ends remain on top. Pinch the ends together and form a wreath.Transfer it to the prepared baking sheet and let rest for 30 minutes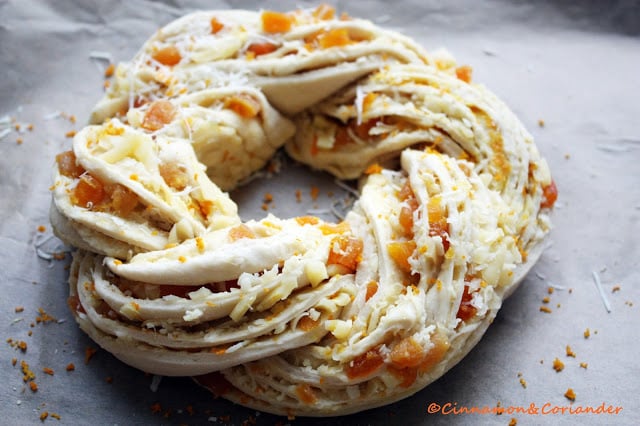 Brush the Parmesan & Apricot Twist Bread with eggwash and bake at 200 Degrees Celsius for about 35 minutes. Reduce the temperature to 180 after 10 minutes. If you find your bread is browning too quickly, you can cover it with aluminium foil for the last bit.
Apricots and Parmesan – such an amazing duo! If you liked the combo in my  Apricot Parmesan Twist Bread, you'd love these Apricot Buttermilk Scones with Parmesan!