Dieser Beitrag ist auch verfügbar auf:

Deutsch (German)
These easy Rhubarb Scones are THE scone recipe for your next garden breakfast, brunch or picnic! The addition of sour cream makes these scones extra moist and tender!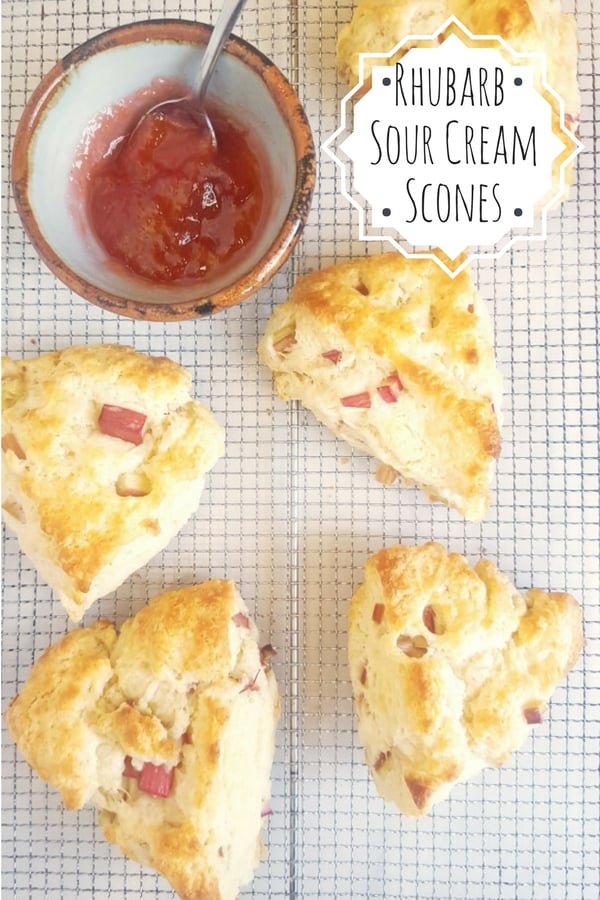 The weather in Calgary is finally nice enough to have breakfast in the garden so I wanted to make my favourite scones and take them outside with a cup of coffee and a good book! As a special treat, I did not make just any plain scone, but soft and tender rhubarb scones – crispy on the outside and soft on the inside!
Why this recipe for Rhubarb Scones works:
Can you think of a better springtime breakfast treat than tender, soft Rhubarb Scones? Light as a cloud, fluffy and studded with tart and juicy rhubarb chunks?
The recipe for these delicious Rhubarb Scones is super easy! You can even make them in advance and freeze them before baking.
Whether fresh out of the oven or warmed up in the toaster the next day, these Rhubarb Scones with Sour Cream are the ultimate breakfast treat!
How to make Rhubarb Scones with Sour Cream?
For my fluffy, tender Rhubarb Scones, I use my Basic Recipe for Flaky Scones . In this recipe video, you can see a step-by-step guide on how to make the best ever scones!
However, I wanted to add the maximum amount of sour cream to make the Rhubarb Scones especially tender.
Which means I added 200 ml of sour cream whisked with 4 tablespoons of full-fat milk and some vanilla. The Scones turned out perfect!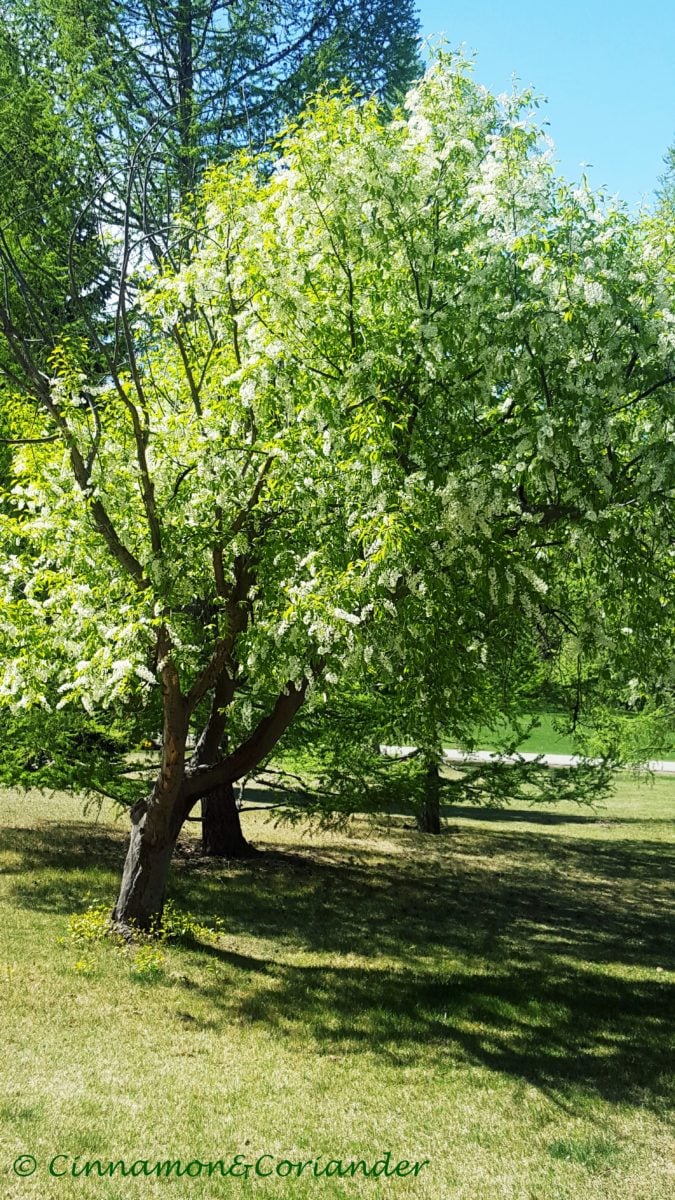 We packed the leftover rhubarb scones and took them to Calgary's Confederation Park! Because Park Elevenses is a thing!!!
I personally don't add a lot of toppings to my rhubarb scones. Especially not when they come fresh out of the oven and are already studded with fruit!
But as I happened to have some homemade Rhubarb Ginger Jam standing on the kitchen counter I just could not resist.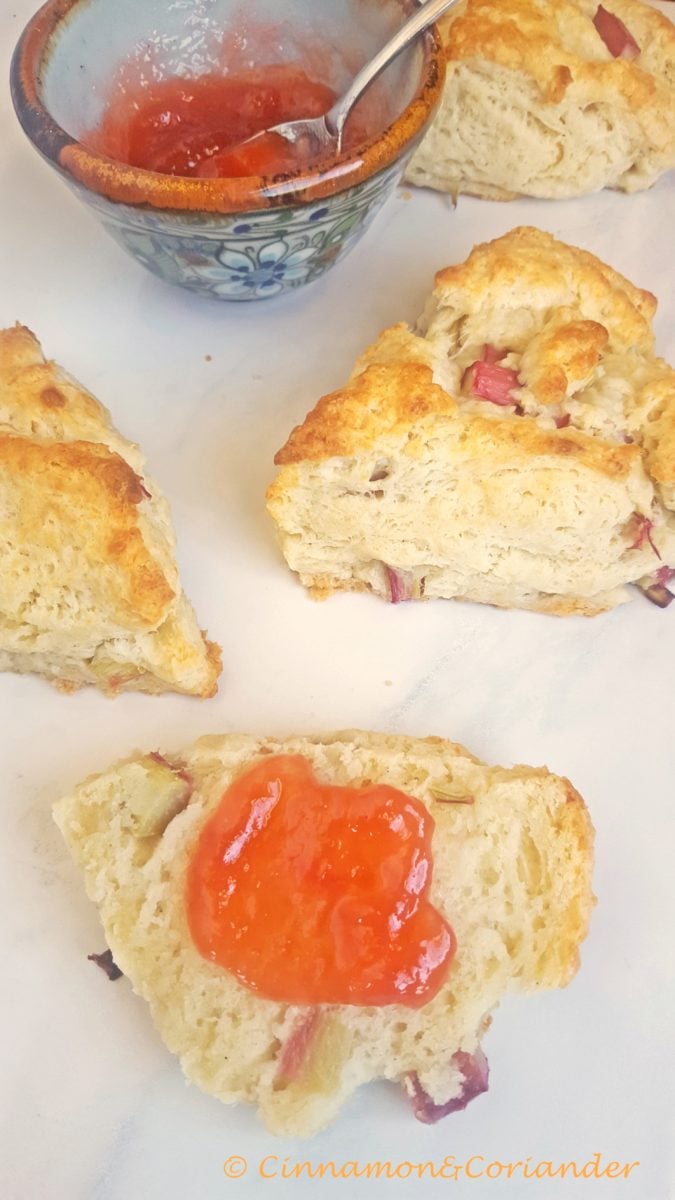 Tips for this Rhubarb Scones Recipe:
Here's a tip for baking with rhubarb! I always toss the chopped rhubarb with sugar and let it stand for a minimum of 30 minutes until the juices are released. If I want to bake first thing in the morning I even do this overnight. I did not plan for these rhubarb scones to happen that particular morning so I just chopped my Rhubarb and tossed it with 2 Tbsp of sugar and let it stand for 30 minutes. Then I simply discarded the liquid.
Make sure your ingredients are ice cold.
You can freeze the scones for about 15 minutes and preheat your oven in the meantime. This helps them keep their shape.
These rhubarb scones can be made in advance. Cut them into wedges and freeze them on a tray, then wrap them in clingfilm and store them in freezer bags. Bake them from frozen, adding about 3 minutes baking time.
My product recommendations:
Disclaimer: I am a participant in the Amazon Services LLC Associates Program, an affiliate advertising program designed to provide a means for us to earn fees by linking to amazon.com and affiliated sites
For the scones recipe, I need to send you over to my Flaky Scone Post. Just follow the recipe as described in the post with just some minor changes: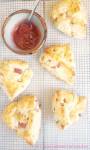 Rhubarb Scones with Sour Cream
These easy Rhubarb Scones are THE scone recipe for your next garden breakfast, brunch or picnic! The addition of sour cream makes these scones extra moist and tender!
Ingredients
200

ml

cold sour cream

whisked with milk

4

tbsp

cold milk

1

tsp

vanilla extract

1 1/2

cups

rhubarb

sliced
Instructions
For the Rhubarb Scones simply make the dough using the sour cream, milk and vanilla as liquid ingredients.

Form the scones as described in the blog post for Flaky Scones (watch the video in the posts), adding the drained rhubarb after the 1st letter fold when your dough is rolled out to a rectangle. Push the rhubarb pieces into the dough, fold, shape and cut into 8 wedges.

Glaze the scones with egg wash and bake at 220 Celsius for about 15 minutes. Let them cool slightly and ENJOY!