Dieser Beitrag ist auch verfügbar auf:

Deutsch (German)
This sophisticated Rosemary-kissed Salted Caramel Apple Pie is my favorite pie recipe of all times. Rosemary Infused Salted Caramel Sauce adds a herbal note to this delicious and festive Thanksgiving Pie!
Take your Apple Pie Game to the next level with this divine Rosemary Salted Caramel Apple Pie!
Can you believe that September is coming to an end already? I don't know about you but I am so not ready for the cooler temperatures.
What I am ready for is fall baking though — especially when it comes to apple pie baking. For me, pie baking has become nearly synonymous with fall coziness and what we look forward to the most is the season's first apple pie!
Now I am sure you all have a go-to apple pie recipe already, but if you're looking for something new and exciting to bring to your Thanksgiving dinner table this year this Rosemary Salted Caramel Apple Pie is what you should try!
Rosemary infused Salted Caramel meets Apple Pie – the winning combination for this year's Thanksgiving!
This Salted Caramel Apple Pie is a guaranteed success! I don't think there's anyone who doesn't react with a spontaneous "hmmmm" when you mention apple pie!
I'm also pretty sure we can agree upon the fact that EVERYTHING gets better when adding Salted Caramel! So this Apple Pie should be a no-brainer!
As for the little herbal twist, I added to this Caramel Apple Pie: Did you know you can infuse your salted caramel with herbs? Seriously, it's the best!
We happen to have a lot of fresh rosemary in our garden this year so this is what I went for. Feel free to use fresh thyme or even sage instead!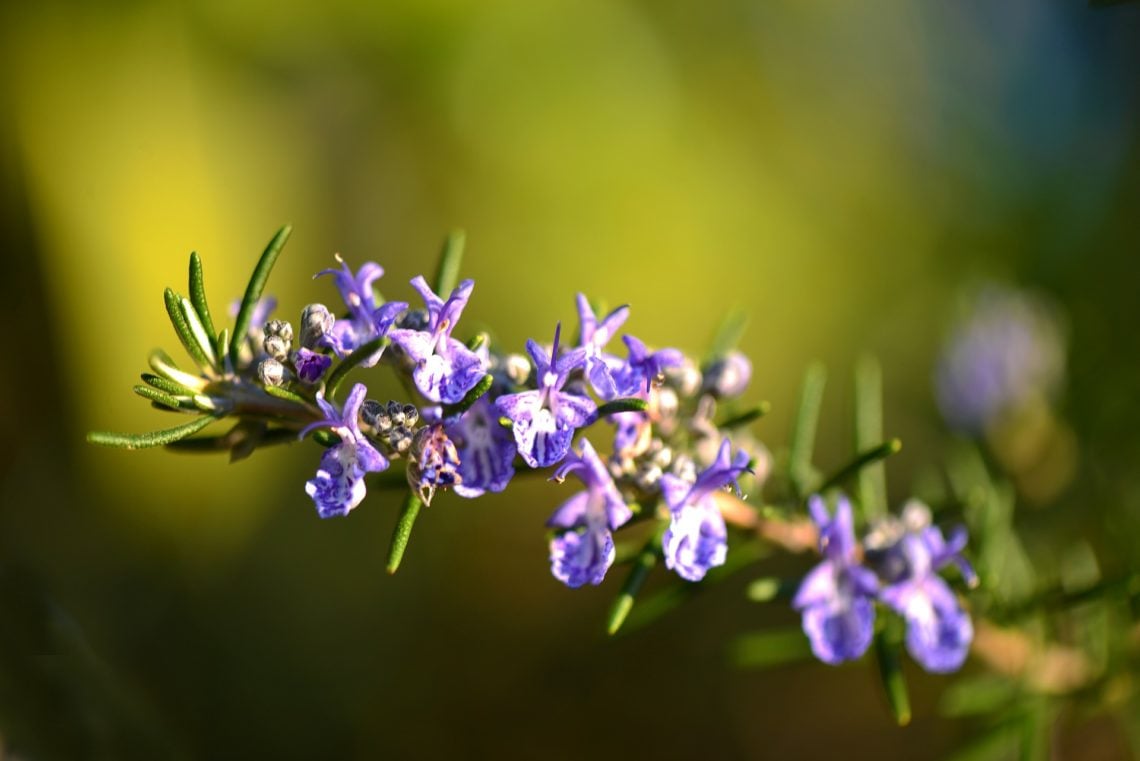 How to make Rosemary-infused Salted Caramel Sauce:
Making herb infused caramel is pretty simple! I basically just made my recipe for salted caramel sauce and infused the cream with rosemary before adding it to the caramelized sugar.
Should you have never tried Rosemary Infused Caramel – THIS IS THE MOMENT. The subtle herbal undertone in the salted caramel sauce is simply spectacular and takes this Apple Pie to the next level.
Now, we all know that "Easy as Pie" is a total lie and my Rosemary-Kissed Salted Caramel Pie is one of those recipes that might look overwhelming at first – but bear with me. With a bit of planning in advance, you can put it together with no stress at all.
Can I make this Salted Caramel Apple Pie in advance?
This is what I do if I want to serve this apple pie for a special occasion dinner- say, for Thanksgiving:
I start the evening before by infusing the cream with rosemary.
While the cream comes to room temperature I make the pie dough and store it in the fridge.
Then I finish the caramel. Done. Have a bowl of ice cream and drizzle some salted rosemary caramel on top – you deserve it!
The next morning, I prepare the apple pie filling, assemble and bake the pie. This gives the Rosemary Caramel Apple Pie time to set so that I can cut it into clean slices!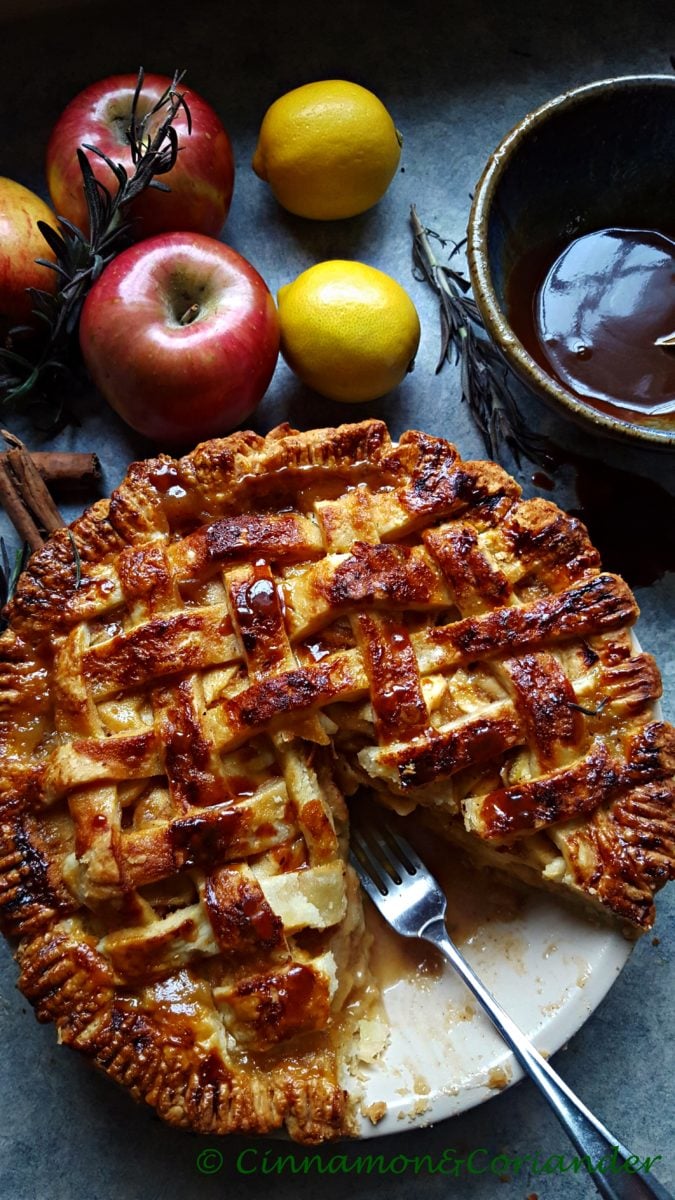 For the Pie Crust Recipe, I'll just send you over to my easy all butter pie crust recipe. It's super quick to make and makes the best, flakiest pie crust ever!
I went for the lattice design – because hiding the bubbling caramel sauce under a crust would be a sin, don't you think? If it's your first time making a lattice pie crust you might find this picture tutorial helpful.
I really hope you give my Rosemary Salted Caramel Apple Pie a try – it is a wonderful and festive pie to bake for your loved ones around Thanksgiving!
A note about affiliate links in this post: some of these links will take you to Amazon where I may receive a small percentage of sales, at no extra cost to you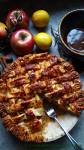 Salted Rosemary Caramel Apple Pie
This sophisticated Salted Rosemary Caramel Apple Pie is my favourite Pie of all times. Rosemary Infused Caramel adds a herbal note to this delicious fall treat! The perfect dessert for Thanksgiving!
Total Time
1
hour
45
minutes
Ingredients
For the salted rosemary caramel

1

x recipe Salted Caramel Sauce

see link above

2

twigs rosemary

For the Pie Dough

1

x recipe of double crust all-butter pie dough

see link above

Apple Filling

2

lemons

6

medium to large apples*

* For my apple pies I always use a mixture of Braeburn

Golden Delicious & Fuji

Apple Filling Seasoning

1/3

cup brown sugar

2 -3

tablespoons flour

1/2

teaspoon ground cinnamon

1/4

teaspoon ground allspice

1/4

teaspoon freshly grated nutmeg

2

to 3 dashes Angostura bitters

optional

Assembly

1

egg

brown sugar & sea salt

1

tbsp flour

1 tbsp sugar
Instructions
To make the salted rosemary caramel
Infuse your cream with rosemary by heating 150 ml of cream with 2 big sprigs of rosemary. Once it has come to a boil, remove the pot from the heat and let come to room temperature*. Prepare the salted caramel as describes in the recipe (see link in article) using the rosemary cream instead of cream.
To make the apple filling
Juice the lemons into a large mixing bowl. Core, peel, and thinly slice the whole apples. A mandolin works great for producing very thin slices.

Dredge all the apple slices in the freshly squeezed lemon juice to prevent browning and to add flavor. Set the prepared apples aside.

In a large measuring cup or small mixing bowl, combine the sugar, flour, cinnamon, allspice, nutmeg, and Angostura bitters. Sprinkle this mixture over the apples in the mixing bowl. Use your hands to gently mix and coat the apple slices and set aside for 20 to 30 minutes.
To assemble the pie
Preheat the oven to 400 degrees F.

Take your rolled out and cooled pie crust out of the fridge and sprinkle each one tbsp flour and sugar on the bottom. Layer 1/3 of the apples in the bottom (without the juices) so that there are minimal gaps. Pour 1/3 of the salted rosemary caramel over the apples. Add another 1/3 of the apples and caramel for a second layer, and then add a third layer of apples, and then the caramel again. I like to save a small portion of the caramel to pour on top of the lattice once the pie is assembled.

Assemble the lattice crust and either flute the edges of the crust or seal them with a fork. Pour the last bit of caramel on top or save it for serving. Brush the crust with the beaten egg and lightly sprinkle with raw sugar and sea salt.

Bake the pie on a baking sheet larger than the pie pan for 20 minutes. Reduce the oven temperature to 325 to 350 and bake for another 25 to 35 minutes. You can test the apples for doneness with a long toothpick or small knife. The apples should be just soft.

Let the pie cool for a couple of hours to allow the juices to set, then slice and enjoy
Recipe Notes
*You can also make your rosemary cream a day in advance