Dieser Beitrag ist auch verfügbar auf:

Deutsch (German)
These easy sweet German Poppy Seed Buns with a homemade poppy seed filling, marzipan & tart prune plums are an autumnal twist on a German Breakfast Classic and one of my favourite morning buns of all times! Picture soft, pillowy yeasted buns filled with a moist poppy seed and marzipan cream and juicy pieces of plums.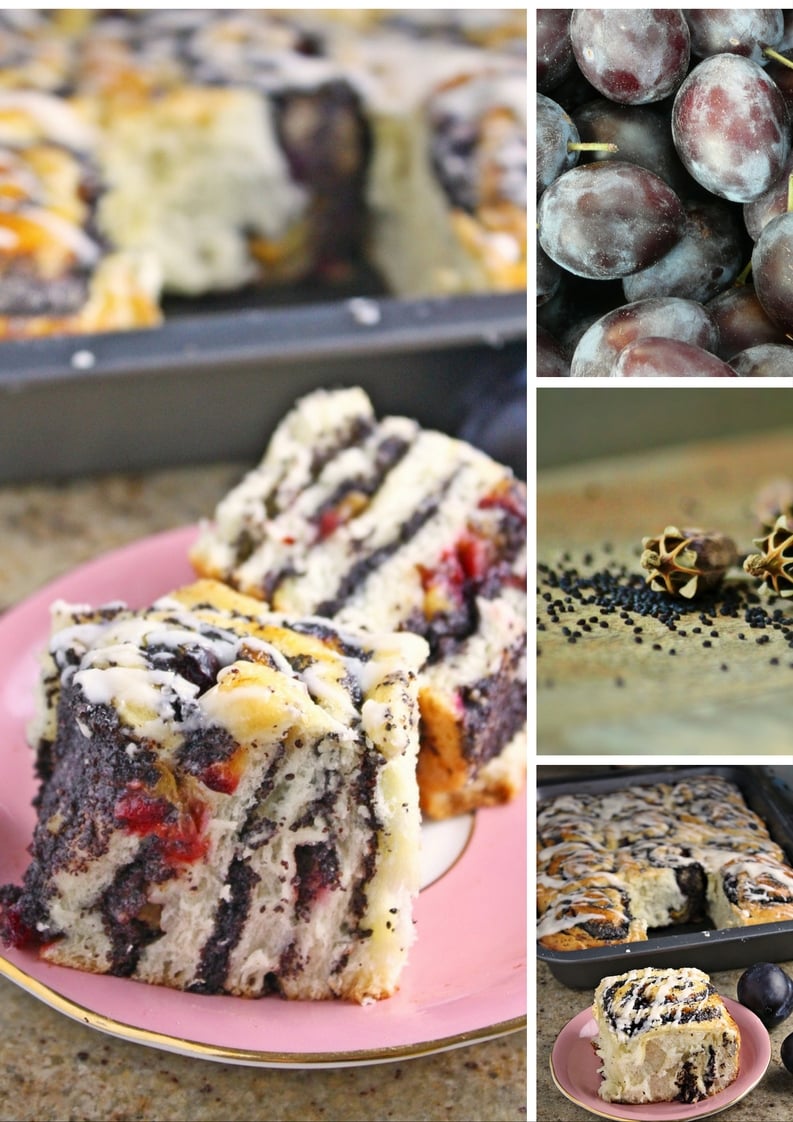 These sweet German Poppy Seed Brioche Buns are what I crave whenever I get homesick. Back in Germany, I lived in a little town between the Austrian and German border and only a couple of kilometres away from the Czech Republic.
Three Poppy Seed Loving countries!
And somehow this love of poppy seeds seemed to have culminated in my little kitchen! I bake with poppy seeds ALL THE TIME. There's really nothing I love more than a piece on poppy seed cake, a slice of a poppy roll, or soft, pillowy yeasted buns with a spiked marzipan and poppy seed filling!
These German Poppy Seed Buns with Marzipan and Prune Plums are the perfect sweet comfort food!
There's something so incredibly comforting about the nutty taste of ground poppy seeds mixed with some butter, rum and sugar.
In Germany, you can buy ready-made poppy seed filling but here in Canada you hardly ever see it so I started to make it from scratch.
I know that this amount of poppy seed might seem scary to anyone who didn't grow up those poppy countries but trust me, these Plum, Marzipan and Poppy Seed Swirls will convert you!
The secret the the yuminess is undoubtedly the homemade poppy seed filling!
Here's how I make my Poppy Seed Filling from Scratch:
For making Poppy Seed Filling, I came up with a method that requires minimal effort – you don't even need to turn on the stove! I simply grind my poppy seeds and add some melted butter, eggs, a pinch of cinnamon and a couple of tablespoons of rum.
You can skip the rum but trust me, once you've tried the boozy version once you'll never want to go back!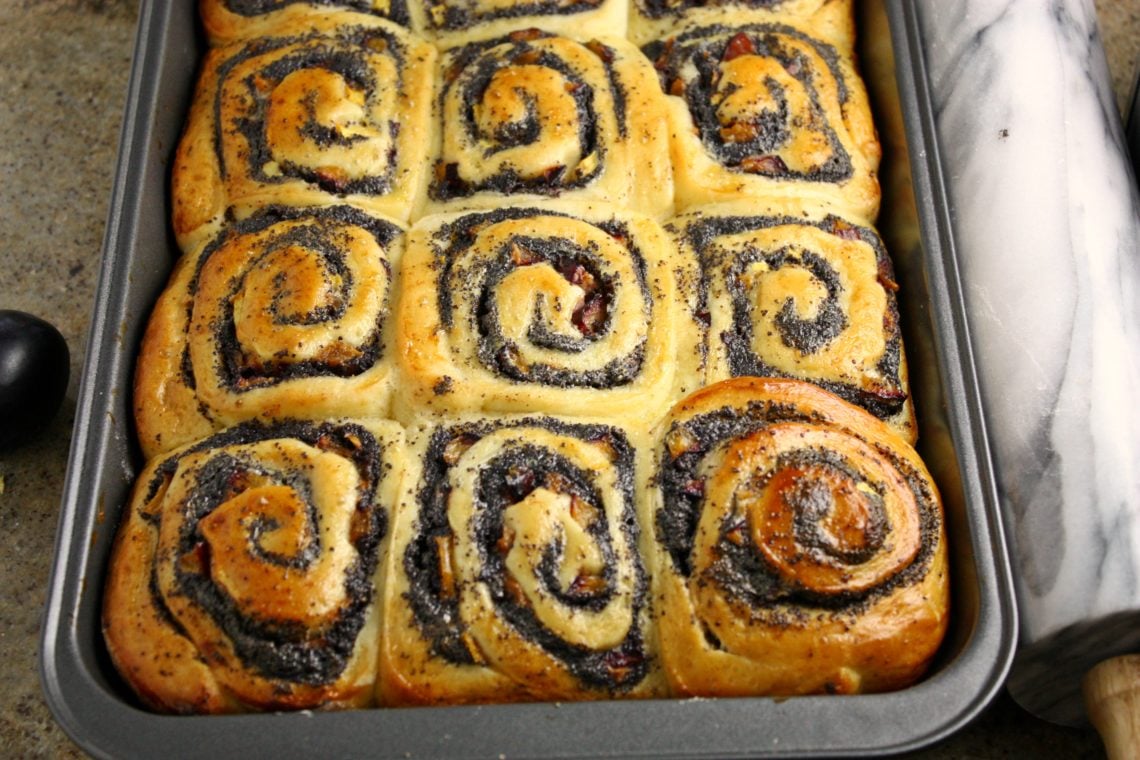 To make the poppy seed filling ever moister, richer and nuttier, we add some marzipan. Marzipan makes everything better and should really not be a Christmas-only thing.
And I don't know about you, but poppy seeds and marzipan just scream for a little fruity addition to cut through the sweetness- and there's nothing more apt for this job than the sweet & sour prune plums!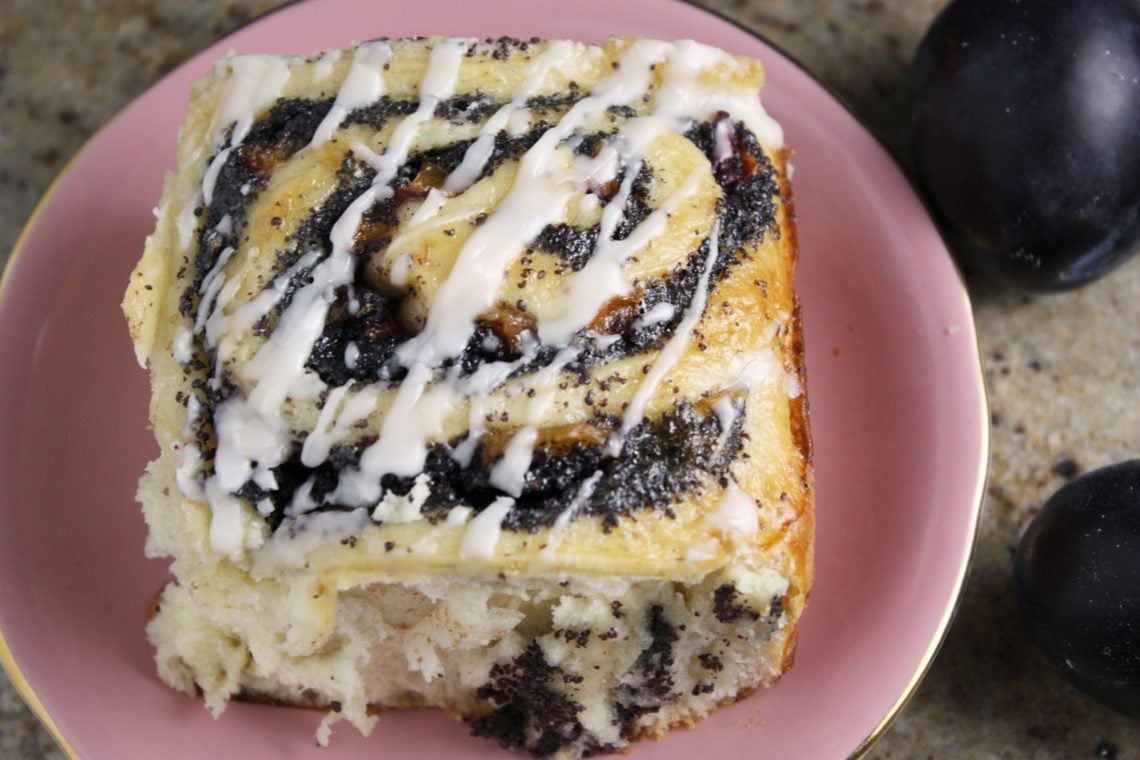 Plums, Poppy Seeds and Marzipan are a really popular combination in Eastern Europe! Once you've tried these Plum, Marzipan & Poppy Seed Swirls, you'll understand why!
If prune plums are not available or not in season you could also use regular plums, cherries, apples or apricots.
How to make German Plum, Marzipan and Poppy Seed Rolls:
For the dough, I use my favourite recipe for yeasted buns. It makes for the softest, most pillowy buns you'll ever try!
I like to prepare the dough in the evening and let it rest in the fridge overnight – et voilá: Poppy Seed Buns for Breakfast!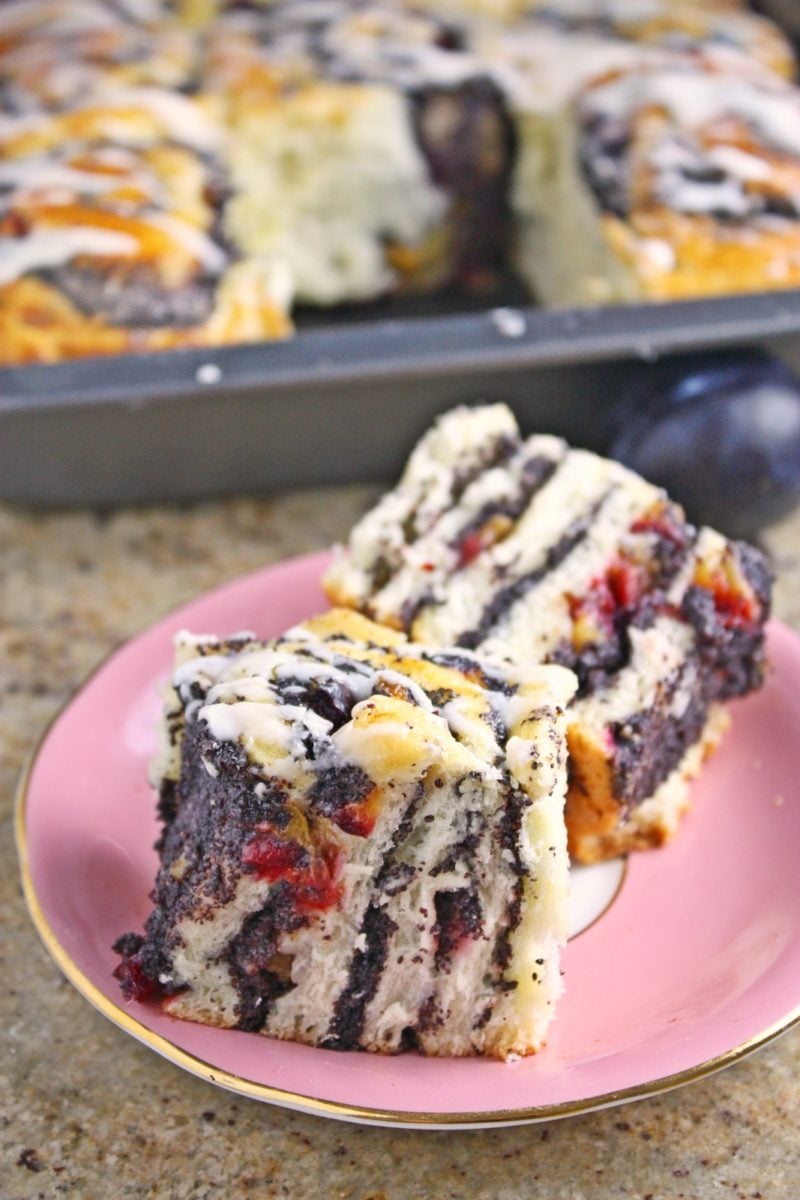 The topping on these Plum, Marzipan & Poppy Seed Buns is a simple glaze made of powdered sugar, milk or cream and some rum. Feel free to skip the rum and add some almond extract instead!
No fresh plums? Use jam!
For when fresh plums are not in season, you can make this recipe using plum jam or plum butter! You can find those jams in your grocery store often in the Eastern European section. Bonne Mamman has a good one.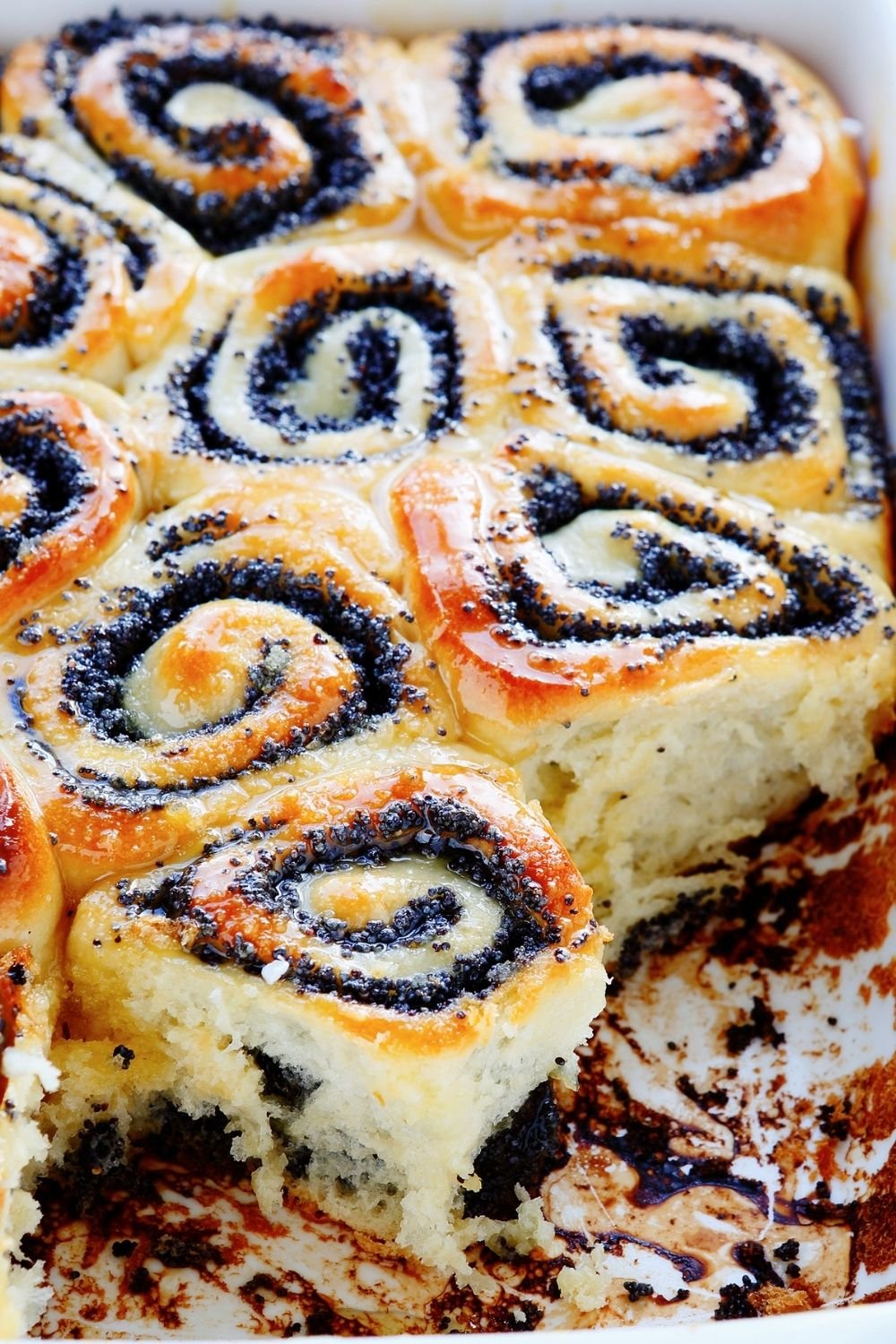 For more German recipes with poppy seeds try:
For more marzipan recipes, try:
★ Did you make and love this recipe for German Poppy Seed Buns? Give it your review below and make sure to share your creations by tagging me on Instagram!
Plum, Marzipan & Poppy Seed Buns
These Plum, Marzipan & Poppy Seed Buns are an autumnal twist on a German Classic and one of my favourite bakes of all times! Picture soft, pillowy yeasted buns filled with a moist poppy seed and marzipan cream and juicy pieces of plums.
Total Time
1
hour
20
minutes
Ingredients
500

g

flour

1

tsp

salt

250

ml

milk

lukewarm

7

g

Instant Yeast

70 - 80

g

sugar

1

egg

80

g

butter

softened

3

drops

almond extract
For the marzipan poppy seed filling:
200

g

ground poppy seeds

1/2

tsp

cinnamon

100

g

butter

melted

2

tbsp

rum

100

g

sugar

2

large eggs

+ 1 egg yolk

150 - 200

g

almond paste

marzipan

7

prune plums

cut into small pieces

1

egg

whisked with a pinch of salt and a pinch of sugar
For the rum glaze
150

g

powdered sugar

1

tbsps

milk

2

tbsp

rum

or milk

1

drop

almond extract
Instructions
For the dough
In the bowl of your stand mixer mix the flour and salt together.

Heat up the milk until lukewarm, add sugar, yeast, egg and almond extract and stir to combine everything. Pour this mixture into your flour and knead with the hook attachment for a couple of seconds until it starts to come together a bit. Then add the butter bit by bit. Knead the dough about 5 to 7 minutes in the stand mixer ( or with your hands for about 10 minutes) until your dough is very soft, smooth and elastic.

Shape the dough into a ball, brush with a bit of oil and let it proof in a lightly oiled, covered bowl for about stand mixer h or until doubled in size. You can also put the covered bowl in the fridge to proof overnight.
For the poppy seed marzipan filling
In a bowl stir together the finely ground poppy seeds, cinnamon, melted butter, sugar and rum.

Cut the marzipan into cubes and add eggs. Whisk with your mixer until smooth. Add the poppy filling and whisk until smooth. If it is too thick to spread, add another egg yolk.

Once the dough has risen, roll it out into a large rectangle and spread the poppy marzipan filling on it. Sprinkle with the plums. Starting at the long side, tightly roll up, pinching seam to seal. With serrated knife, cut into 12 pieces and place cut side down in your prepared pan. Cover and let the poppy seed swirls rise for another 35 minutes or until doubled in volume. Meanwhile, preheat oven to 375 degrees F (180 degrees C).

Let the swirls bake for 30 to 35 minutes or until puffed up and golden.
For the glaze
Whisk together the ingredients for the glaze. Once the buns have cooled down a little you can glaze them.
Recipe Notes
If you let your dough proof in the fridge over night, your ingredients can be added cold. Just make sure your butter is softened