Dieser Beitrag ist auch verfügbar auf:

Deutsch (German)
This is hands down the best sticky buns recipe ever! Mix up the dough sometime on Saturday afternoon and by Sunday morning you'll have pillowy buns packed with cinnamon and brown sugar filling, coated in an ooey-gooey caramel pecan sauce.
Let me tell you about my latest obsession with these insanely delish Caramel Sticky Buns !!!!
Back in Germany, I swore by my healthy muesli and fruit breakfast but ever since I arrived in Canada, my breakfast habits have moved more towards the sweet and decadent stuff.
I am talking about bacon, maple syrup, pancakes and all kinds of yeasted buns! My all-time-favourites are undoubtedly these incredibly soft, rich and pillowy Caramel Sticky Buns!
What is the difference between a cinnamon roll and a sticky bun?
The main difference between cinnamon rolls and sticky buns is that sticky buns feature some caramel and usually pecan nuts, which are placed in the bottom of the pan.
The cinnamon roll part is placed on top of the caramel sauce and chopped nuts. After baking, the pan is inverted and the caramel and nuts then form a sticky 'sauce' on the top of the bun."
Why you need to make these Caramel Sticky Buns ASAP:
Generously filled with brown sugar and cinnamon and topped with ooey gooey caramel sauce and toasted pecans, these Caramel Sticky Buns are THE BEST out there!
Seriously, when it comes so sweet breakfast treats it doesn't get any better than this!
Pick up one of these sticky buns with your fingers and you'll know this pastry is not misnamed. These buns have the perfect sticky, gooey, caramelized topping that you always hope for and almost never get.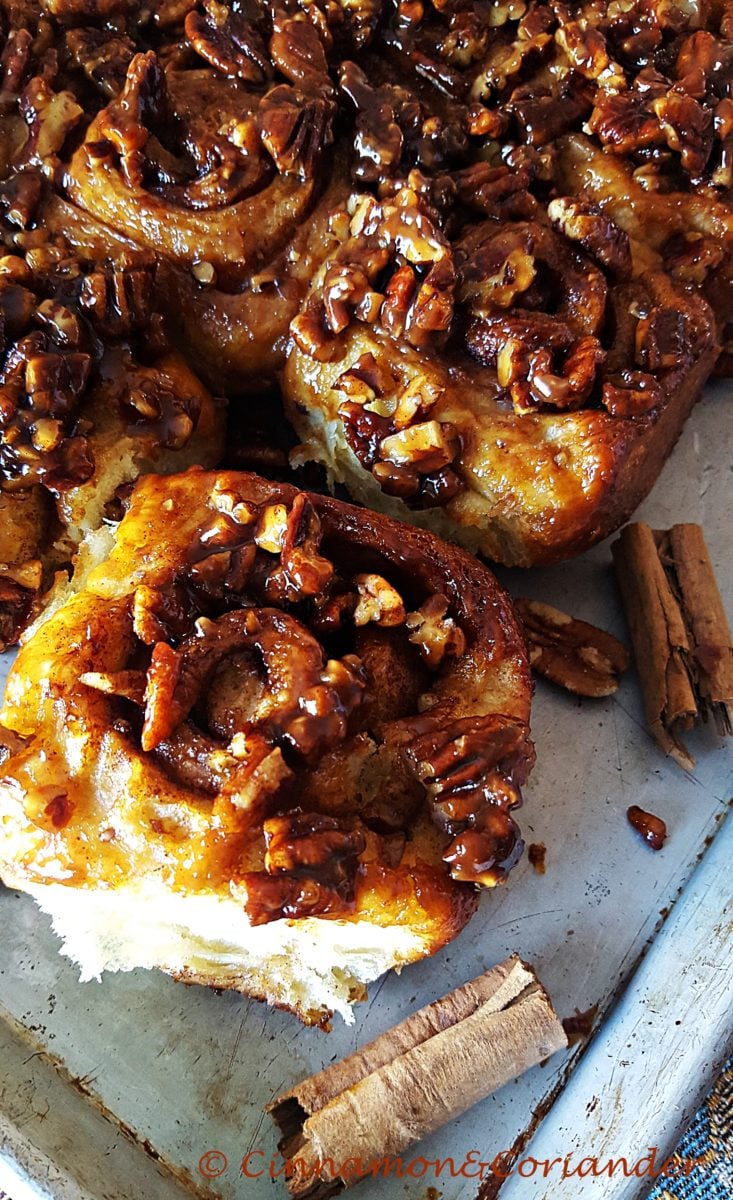 Why this recipe works:
This sticky buns recipe (adapted from Kenji López Alt`s Food Lab recipe) guarantees tender and soft buns topped with the most glorious caramel.
These Caramel Sticky Buns are made with what is called an enriched yeasted dough, meaning that in addition to the flour, water, yeast – mix found in most doughs, you've also got a decent amount of fat by adding eggs and butter!
Because of these additions, enriched doughs are way more delicate than lean doughs, with a soft and pillowy texture and smaller air bubbles. Of course, fats also adds a golden colour and a buttery flavour to doughs.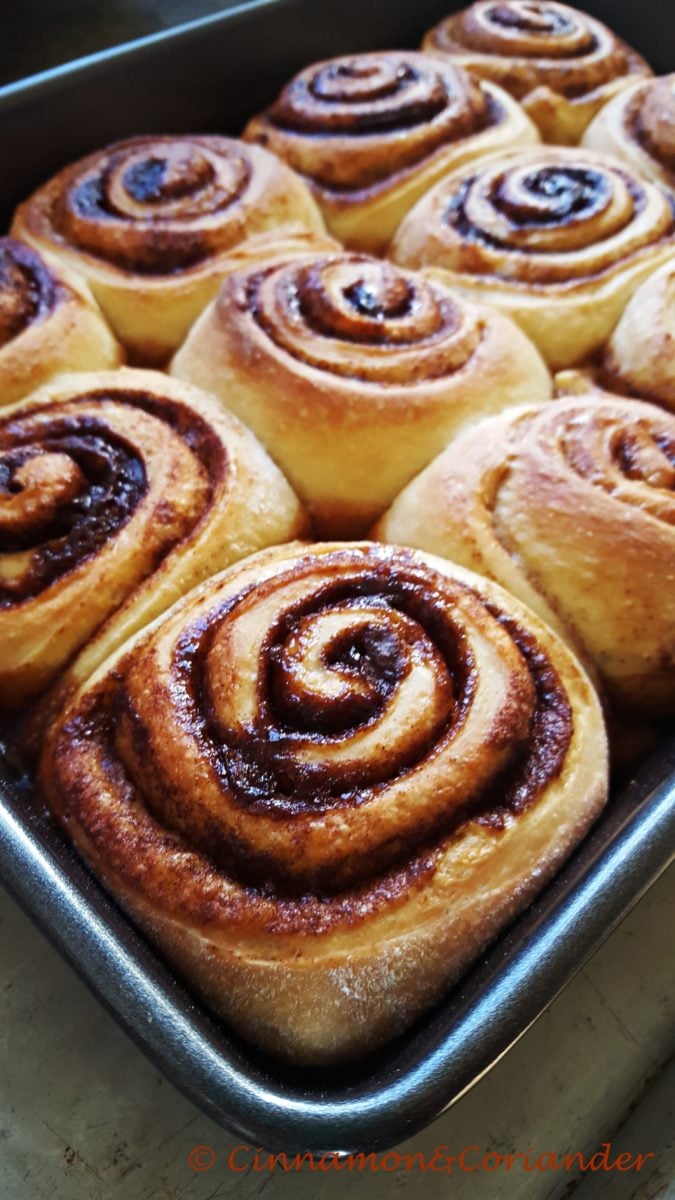 Can I make Sticky Buns ahead of time?
Yes, you can absolutely do that. I actually prefer making the Caramel Sticky Buns a day ahead and let them rise overnight in the fridge so all I have to do is pop them into the oven in the morning.
To do so, just place the buns in the refrigerator immediately after covering them in step 6 and allow to rise for at least 6 hours, and up to 12. The next day, remove the buns from the fridge while the oven preheats, then proceed as directed. Easy-peasy!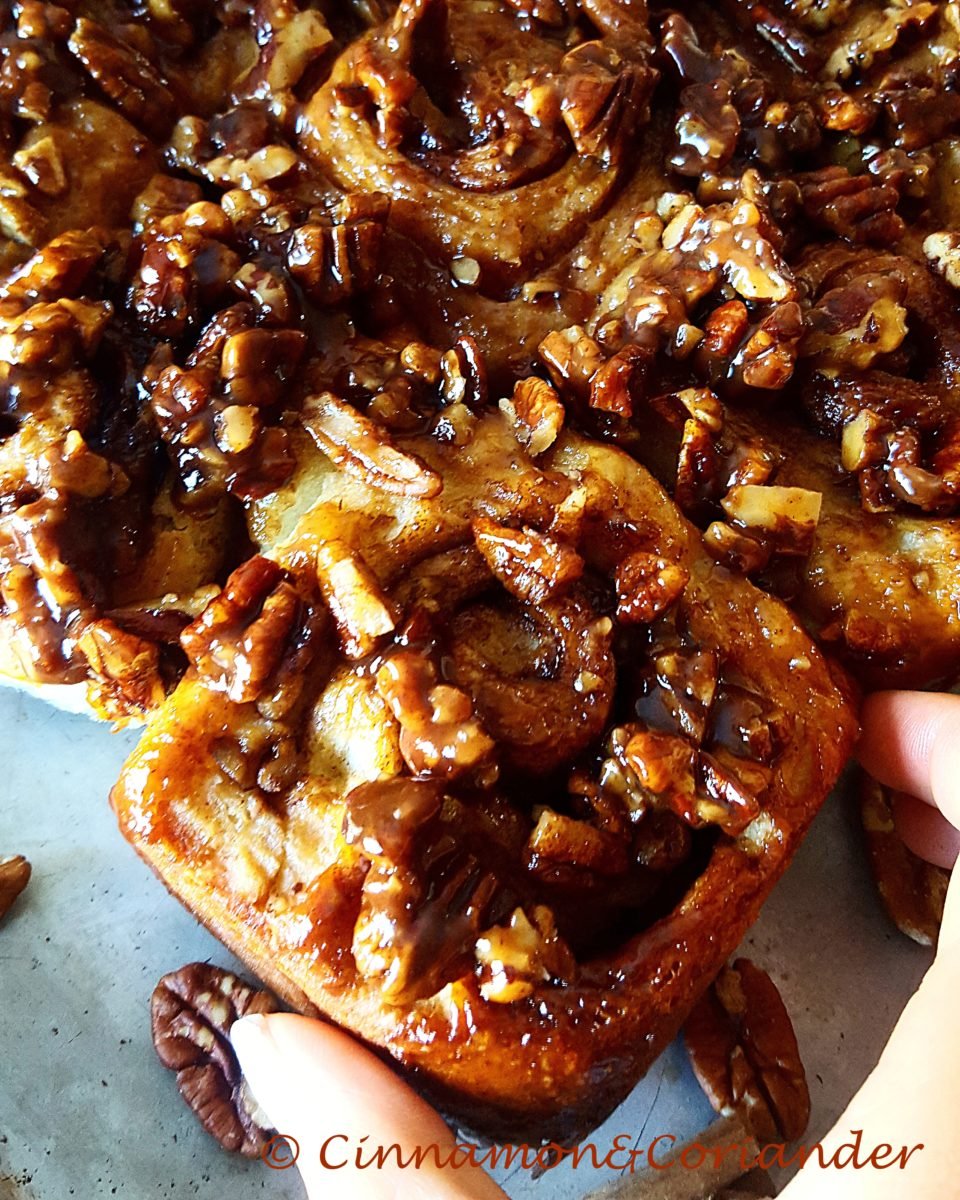 How do I store leftover Caramel Sticky Buns?
The recipe yields 12 caramel sticky buns, which is a lot! These are pretty filling after all.
Even though they taste best fresh out of the oven, you can also store them in an airtight container for a few days and simply pop them into the microwave for a few seconds to make them taste fresh.
Recipe ideas for leftover cinnamon buns or sticky buns:
Have you ever tried to use up stale cinnamon buns for making French Toast? Don´t even get me started!! Well, the same thing works with leftover Caramel Sticky Buns!
All you do is cut off the very top and bottom of the bun, then half the bun and you end up with 2 slices of cinnamon-swirl bread that you can use for making French Toast.
My product recommendations:
Disclaimer: I am a participant in the Amazon Services LLC Associates Program, an affiliate advertising program designed to provide a means for us to earn fees by linking to amazon.com and affiliated sites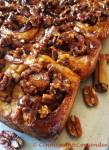 World´s Best Sticky Buns
This is hands down the best sticky bun recipe ever! Mix up the dough sometime on Saturday afternoon and by Sunday morning you'll have pillowy, nutty, ooey-gooey buns packed with cinnamon and brown sugar filling and coated in a deeply flavorful caramel pecan sauce.
Ingredients
For the dough:
3

large eggs

⅓

cup

packed light brown sugar

¾

cup

buttermilk

2

tsp

kosher or 1 teaspoon table salt

2

tsp

instant yeast

6

tbsp

unsalted butter

melted

4

cups

all-purpose flour

plus more for dusting
For the caramel sauce and pecans
4

tbsp

unsalted butter

⅔

cup

packed light brown sugar

3

tbsp

buttermilk

1

cup

toasted pecans coarsely chopped

1

pinch

kosher salt
For the filling:
1

cup

packed light brown sugar

1-2

tbsp

ground cinnamon

1

tsp

nutmeg

2-3

tbsp

unsalted butter

melted
Instructions
Make the dough:
Whisk the eggs in a large bowl until homogeneous. Add the brown sugar, buttermilk, salt, yeast, and melted butter and whisk until homogeneous (the mixture may clump up a bit). Add the flour and stir with a wooden spoon until a cohesive ball of dough forms.

Turn the dough out onto a lightly floured surface and knead for 2 minutes, or until completely homogeneous, smooth, and silky. Return to the bowl, cover with plastic wrap, and allow to rise at room temperature until roughly doubled in volume, about 2 hours.
Make the caramel pecan sauce:
Cook the butter and brown sugar in a small saucepan over medium-high heat, stirring occasionally until the sugar is completely dissolved and the mixture is bubbling, about 2 minutes. Add the buttermilk, pecans, and salt and stir to combine, then pour the mixture evenly over the bottom of a 13-by-9-inch glass baking dish.
Make the filling:
Combine the sugar and cinnamon in a small bowl and set aside.
Assemble:
Roll out the dough: Turn the dough out onto a floured surface and lightly flour it. Shape into a rough rectangle with your hands and then, using a rolling pin, roll into a rectangle about 16 inches long and 12 inches wide, with a short end toward you.

Brush with the melted butter, leaving a 1-inch border along the top edge. Sprinkle with the cinnamon and sugar mixture and spread it with your hands until the buttered portion is evenly coated. Roll the dough up jelly-roll-style into a tight cylinder, using a bench scraper as necessary to assist you. Pinch the seam shut and turn the dough so that it's seam side down. Use your hands to even out its shape.

Use a sharp knife to cut the roll into 12 even slices: The easiest way to do this is to cut it in half, cut each half in half, and then cut each section into thirds.

Nestle the 12 rolls with the swirl pattern facing up in the prepared baking dish, making sure the slices from the ends of the log go cut side down. Cover with plastic wrap and allow to rise until roughly doubled in volume, about 2 hours (for overnight instructions, see Note above). The rolls should be well puffed and pressed tightly against each other.

While the dough is rising, adjust an oven rack to the middle position and preheat the oven to 350°F. Transfer the baking dish to the oven and bake until the buns are golden brown and well puffed, about 30 minutes, rotating the dish once. Allow to rest for 5 minutes, then invert the buns onto a serving platter; scrape out any excess goo from the pan and spoon over the buns.
Recipe Notes
You can make these ahead of time! See notes in the blog post