Dieser Beitrag ist auch verfügbar auf:

Deutsch (German)
This Roasted Kabocha Squash Hummus topped with ground Lamb and Lemon Parsley sauce makes the perfect crowd-pleasing appetizer for a cozy autumn-inspired dinner.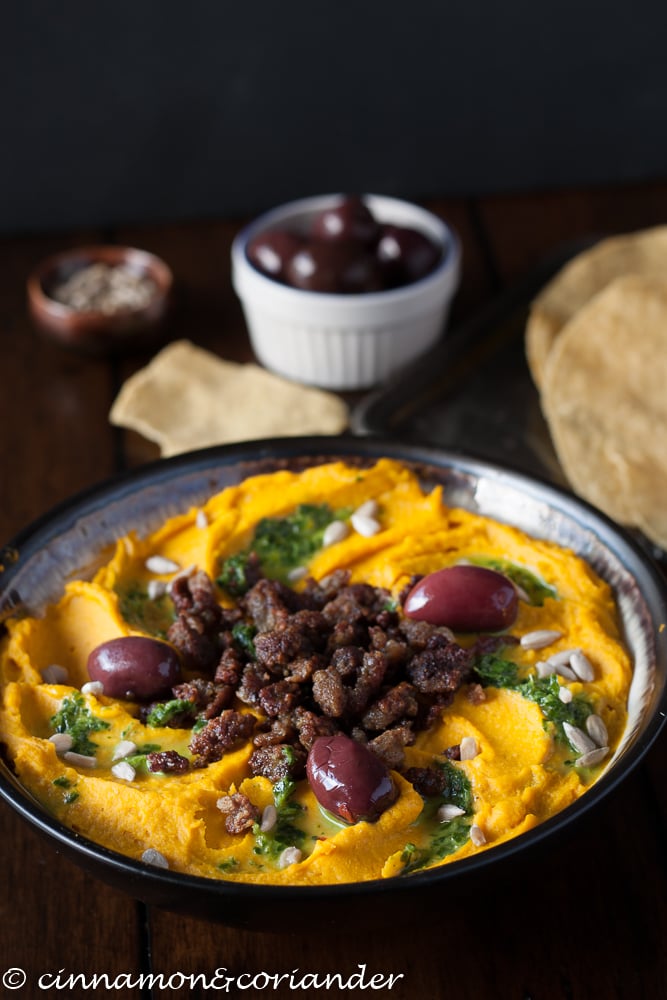 A note about affiliate links in this post: some of these links will take you to Amazon where I may receive a small percentage of sales, at no extra cost to you.
Roasted Kabocha Squash Hummus with Lamb is the perfect easy appetizer
We find ourselves in the middle of squash season – culinarily speaking, my favourite time of the year. Well, apart from Christmas, obviously.
I love me some winter squash, and on this side of the ocean kabocha squash is my absolute favourite! They cook quickly and you can eat the skin, which is a major plus.
Once cooked, this Japanese pumpkin develops an incredibly addictive sweet taste and the texture is somewhere between a sweet potato and roasted chestnuts. The perfect ingredient for a cozy fall meal.
Another reason why you really want to include Kabocha squash in your diet? It's full of beta-carotene, iron, vitamins and it's got 40 calories per cup AND less than half the carbs of most other squash.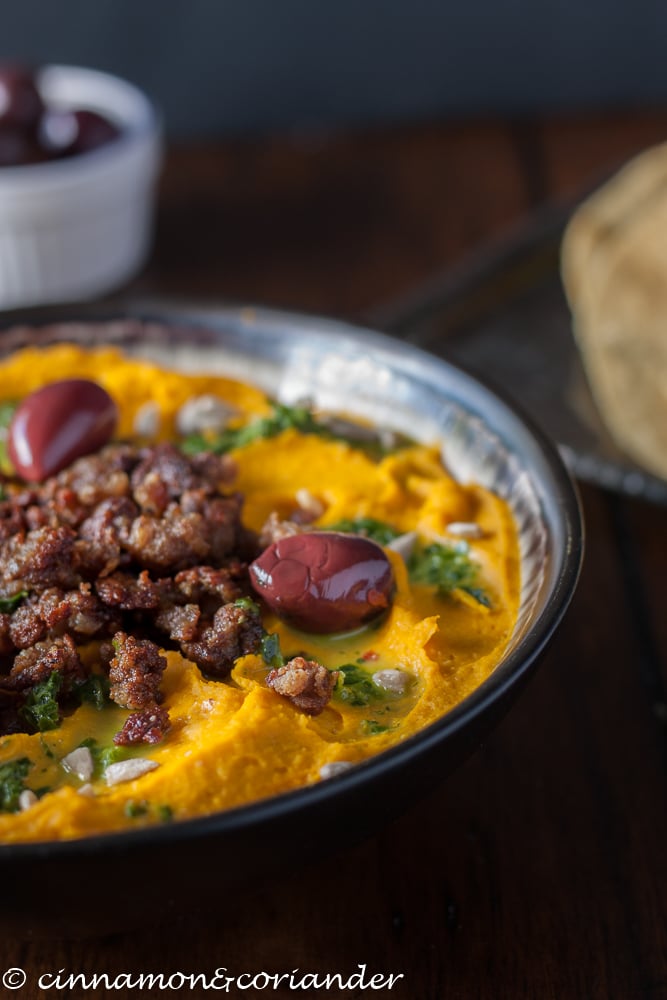 Why this Roasted Kabocha Squash Hummus is a must-try:
Roasting brings out the sweetness of this Japanese squash and I love to serve a tray of oven-roasted kabocha squash as a side dish for roasts or to top a lunch salad.
For this recipe, though, I upped the ante and pureed my roasted kabocha squash with some chickpeas, garlic, lemon and tahini to create a bright orange, fall-inspired hummus.
To take our roasted kabocha squash hummus to the next level, I decided to top it with a generous portion of Middle Eastern spiced lamb.
While the kabocha squash bakes, we simply pan-fry some minced lamb, adding a hint of cumin, coriander, cloves and cinnamon. I love to add these warming spices to my food during the cold season and the flavours go so well with the lamb.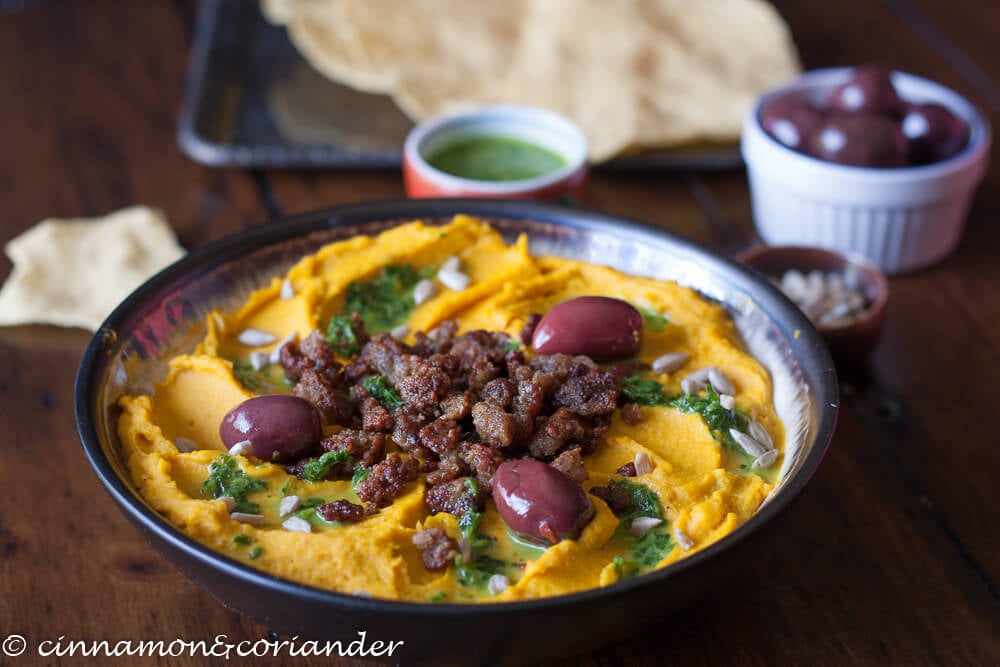 To add a fresh note to this bowl of autumn comfort, we drizzle some homemade lemon parsley sauce on top of our roasted kabocha squash hummus bowls. Little fun additions like toasted sunflower seeds and olives look nice and provide additional nutritional value.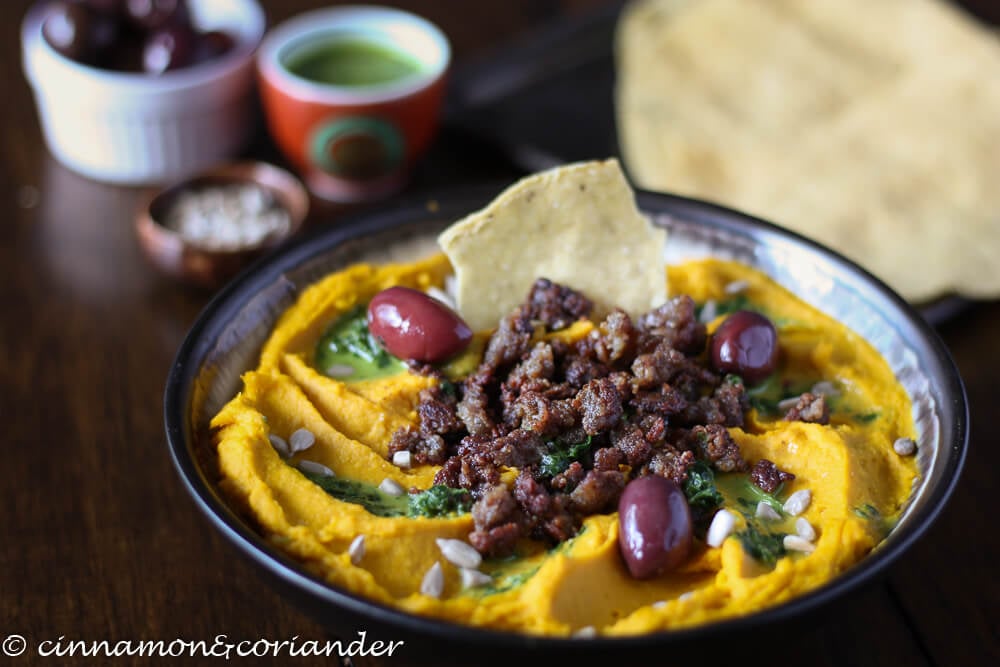 Tips for this Roasted Kabocha Squash Hummus recipe:
Having trouble cutting your squash? Bake it for about 10 minutes, then remove to cut and finish roasting.
For extra fall-flavour, sprinkle the kabocha squash wedges with some cinnamon before roasting.
Keep the liquid from your can of chickpeas (aquafaba) and use it to make my amazingly easy Vegan Chocolate Mousse!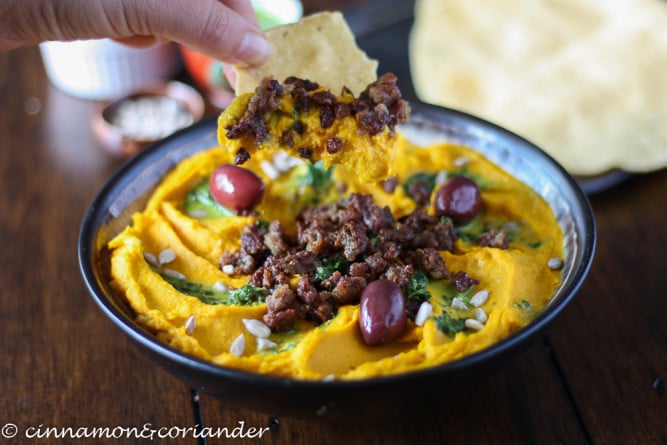 I like to serve my Loaded Kabocha Squash Hummus with a bowl of plain pita chips. If you want to have it as a main course, I would recommend to serve it with some freshly baked pita bread, some olives, and a side salad, like my Middle Eastern Tomato Salad.
Kabocha Squash is also awesome for making desserts like this Kabocha Squash Pumpkin Pie. You could also use it for making my Caramelized Pear Pumpkin Pie!
FAQ:
What does kabocha squash taste like?
Kabocha squash has an exceptionally sweet flavour, even sweeter than butternut squash. Roasted Kabocha squash is especially good and tastes a bit like a sweet potato, but starchier, like a roasted chestnut! It is available all year but is best in late summer and early fall so keep your eyes peeled.
What is a good substitute for kabocha squash in this hummus recipe?
In terms of flavour, I would say sweet potato comes closest. Butternut may also work. Acorn squash might be too mild and/or watery to sub for creamy kabocha in this hummus recipe.
What do you do if your roasted kabocha hummus is too thick?
Some squashes are starchier than others. If the hummus is too thick, simply add a tablespoon of water, moving the squash hummus to one side and letting the water flow to the bottom of your food processor or blender.
More Hummus recipes:
My recommendations:
A note about affiliate links in this post: some of these links will take you to Amazon where I may receive a small percentage of sales, at no extra cost to you.
Like my recipe for Roasted Kabocha Squash Hummus with Lamb? Pin it!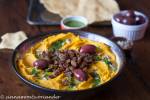 Roasted Kabocha Squash Hummus with Lamb and Lemon Parsley Sauce
Creamy Roasted Kabocha Squash Hummus topped with spiced, fried ground lamb and a refreshing homemade lemon parsley sauce! A healthy Middle Eastern appetizer recipe perfect for autumn!
Ingredients
1/2

kabocha squash (500 - 600 g)

substitute butternut or hokkaido

2

tbsp

oil

1

can

chickpeas

260 g drained

1

lemon

2

cloves

cloves

1/2

bunch

parsley

1

tbsp

honey

1-2

tsbp

white wine vinegar

2

tbsp

olive oil

200

g

minced lamb

1

tsp

cumin, ground

1/2

tsp

coriander, ground

1/2

tsp

cloves, ground

1/2

tsp

cinnamon, ground

3

tbsp

Tahini paste

2

tbsp

sunflower seeds

salt and pepper
Instructions
Preheat the oven to 200 C, or 400 F. Wash the squash, discard the seeds and cut into wedges. Arrange wedges on a tray lined with parchment paper, brush with some oil and bake for about 20 minutes, or until tender.

Drain the chickpeas and rinse them thoroughly. Cut the lemon in half and juice it. Peel the garlic and chop the parsley coarsely. Place parsley, 1 garlic clove, half of the lemon juice, all of the honey, the vinegar and the 2 tbsp of olive oil in the bowl of a food processor and blend until smooth. Scrape sauce into a little bowl and store in the fridge until the hummus is ready.

In a large pan, heat 1 -2 tsp of oil on medium-high heat and fry the lamb, adding 1/2 tsp of salt and a pinch of pepper. Separate the meat with a wooden spoon as it fries, and add the remaining spices, using only 1/2 tsp of cumin, to the meat as it starts to crisp up. Fry meat, until golden brown and crispy.

In a blender, puree the still warm squash with the chickpeas, the remaining garlic, cumin and lemon juice, as well as the tahini and1/2 tsp of salt. Puree until smooth, adding a splash of hot water, or olive oil, if the mixture is too thick still. Season to taste and divide between 2 bowls.

Serve hummus topped with lamb, sprinkle sunflower seeds on top and drizzle with the lemon parsley sauce. Enjoy!
Recipe Notes
Recipe inspired by Ottolenghi : Jerusalem
Do you like my recipe for Roasted Kabocha Squash Hummus with Spiced Lamb and Lemon Parsley Sauce? Pin it