Dieser Beitrag ist auch verfügbar auf:

Deutsch (German)
Try my granny's easy recipe for German Hazelnut Bundt Cake with ground nuts, espresso, and Nutella! A traditional German Bundt cake recipe. Jump to Recipe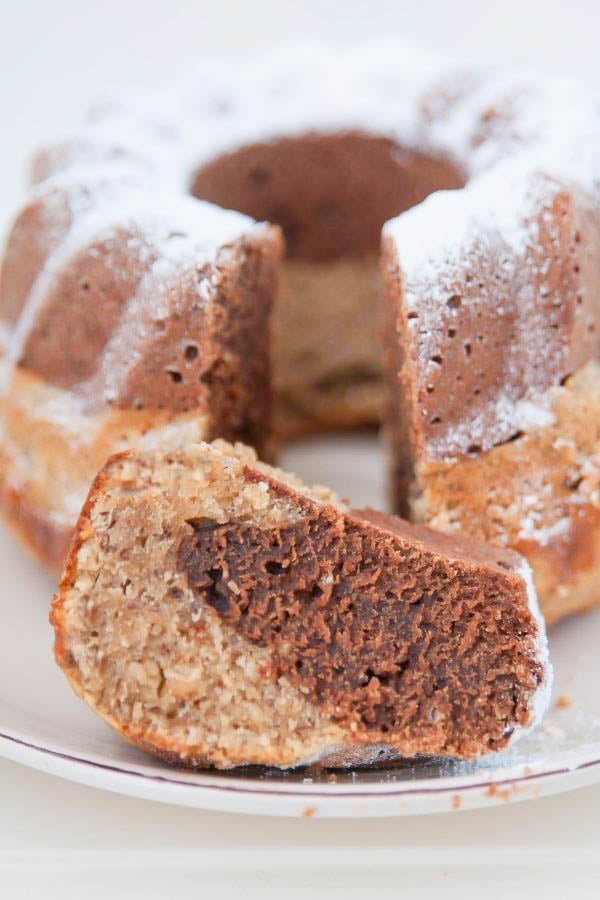 Hazelnut Cake with Nutella Swirl – A traditional German Bundt Cake recipe you will love!
This juicy, moist German hazelnut cake is an authentic and traditional German Bundt Cake recipe and a perfect choice for dessert as it is extremely easy to make! Some might thing German baking is always complicated, but that is not the always case – except for German Christmas Baking, which is another topic altogether!
Should you still bake my German Hazelnut Cookies and my Linzer Cookies this Christmas? YES – absolutely!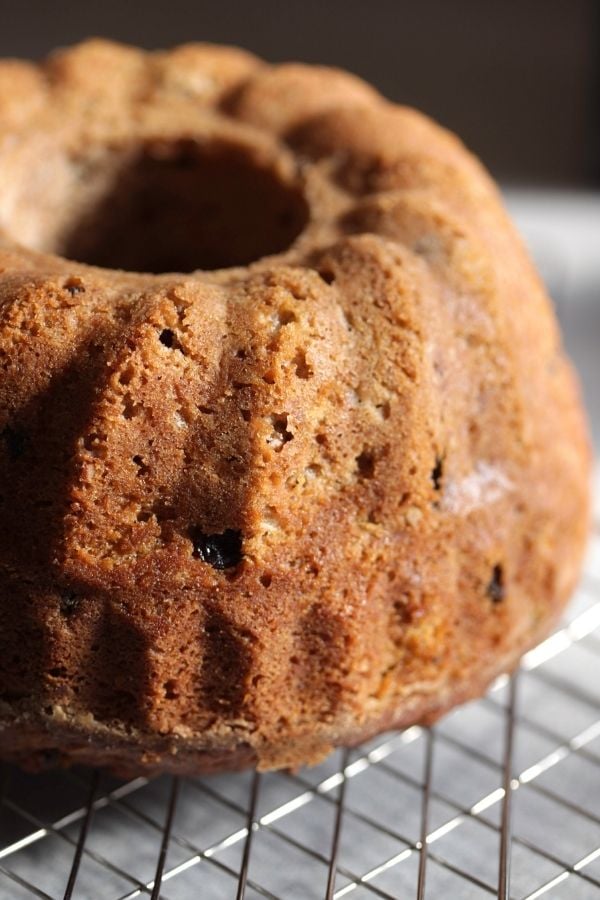 Back to German Hazelnut Cake!
I guess there is no German who doesn't know and love Hazelnut Cake! It is famously sold as a boxed cake mix in Germany but whoever grew up with a baking granny will never learn to love that version as much as the homemade one.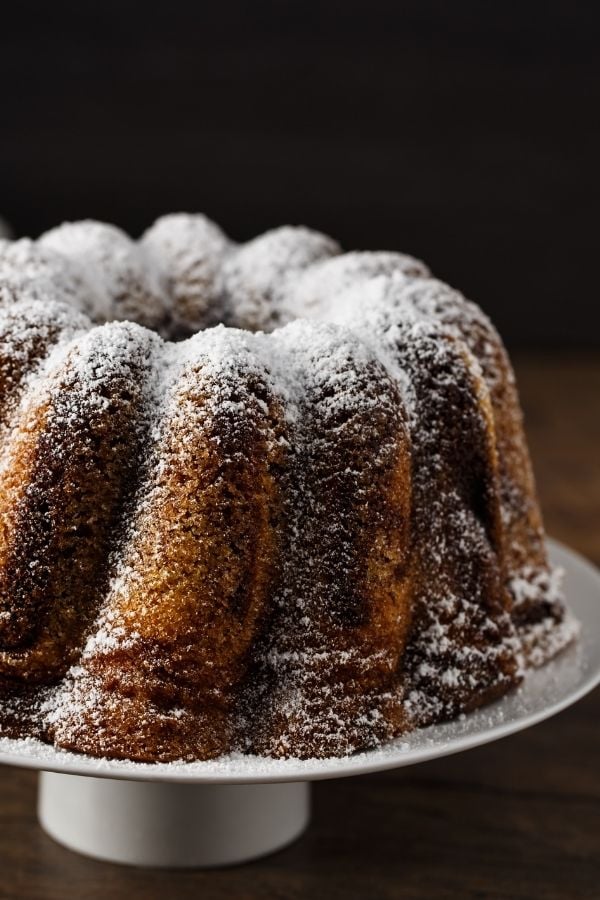 Why you will love German Hazelnut Cake
What makes this German cake so moist and flavorful is the combination of ground hazelnuts, a creamy liqueur of choice, and a good amount of butter.
As the alcohol of choice, I use my homemade German Egg Liqueur but you can use any cream-based liqueur like Baileys.)
Now, I know that for most of you in the States and Canada, hazelnuts don't come cheap. This is a little bit of a problem if you're into German baking since a lot of authentic German cakes and Christmas Cookies contain hazelnuts. You could resort to walnuts or almonds since they are cheaper but the taste would be very different.
Tips for traditional German Hazelnut Cake:
For the perfect texture and moisture, you need the hazelnuts to be ground very fine – like hazelnut flour. I like to buy hazelnuts, roast them in the oven at 300 F for 15 minutes, let them cool, and grind them myself.
To make this cake light and fluffy we separate the egg whites from the yolks and whip the whites until they are stiff. Make sure to use a clean bowl to do so. Carefully fold them into the cake batter after you have added the dry ingredients.
You don't want to have any chunks in the cake batter, but do not overwhip the batter. It is always important that you stir your cake as little and short as possible after the flour has been added to the dough. If you stir the batter too much it will let the gluten come out of the flour and this will make your cake dry.
With the hazelnuts, the cake gets very moist. Depending on how you prefer your cake, you could make this with oil instead of butter to get a moist cake. You could bake it in a big loaf pan and make some muffins with leftover batter.
★ Did you make and love this traditional German Bundt cake recipe? Give it your review below! And make sure to share your creations by tagging me on Instagram!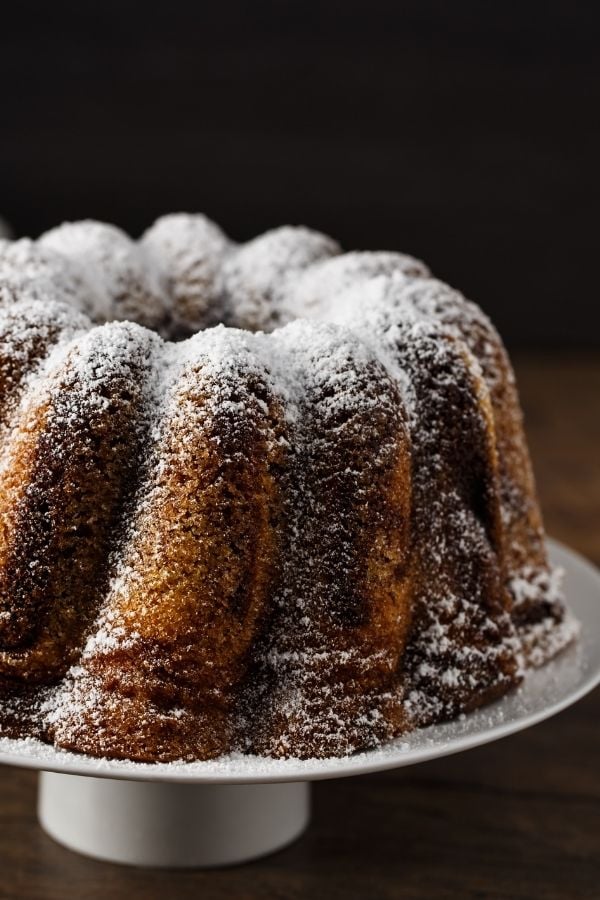 German Hazelnut Bundt Cake - a traditional German bundt cake recipe
Try my granny's easy recipe for German Hazelnut Bundt Cake with ground nuts, espresso, and Nutella! A traditional German Bundt cake recipe.
Total Time
1
hour
15
minutes
Ingredients
250

g

nutella

room temp - heat a bit in microwave to soften

6

eggs

at room temperature

350

g

flour

1

heaping tbsp

baking powder

16 g

250

g

butter

softened

200

g

sugar

200

g

ground nuts

almonds and / or hazelnuts

6

tbsp

cream liqueur

see notes

125

ml

espresso or strong coffee

1

big pinch

salt
Instructions
Preheat the oven to 160 C / 320 F. Separate 5 of the eggs and lightly toast the nuts in a pan and let them cool. You can also roast whole nuts in the oven, let them cool and grind finely in a spice grinder or food processor.

Melt the Nutella a bit in the microwave or in a water bath. Let cool down.

Beat softened butter and sugar for a few minutes until white, fluffy and creamy and then stir in first the whole egg, then the yolks of the separated eggs. Mix the flour, baking powder, salt, and nuts and fold in along with the espresso. Don't stir too long.

Now halve the dough and mix one half with the melted Nutella and the other with the liqueur.

Beat egg whites until stiff and fold one half of under each one of the batters making sure not to whip out all the air.

Grease a bundt cake pan and sprinkle with flour or semolina.

First, pour in the dark batter mixture, then the light liqueur laced batter.

Marble both layers in a spiral shape with a fork or knitting needle and bake on the middle rack for 60 minutes. Cover with foil it it gets dark.

After baking, let it cool for 15 minutes before inverting onto a cake plate.
Recipe Notes
I used my homemade German Egg Liqueur for this recipe but any cream-based liqueur works