Dieser Beitrag ist auch verfügbar auf:

Deutsch (German)
German Cherry Cheesecake – an authentic German Cake recipe with sour cherries and sour cream. Try this simple and easy German Baking recipe. Jump to Recipe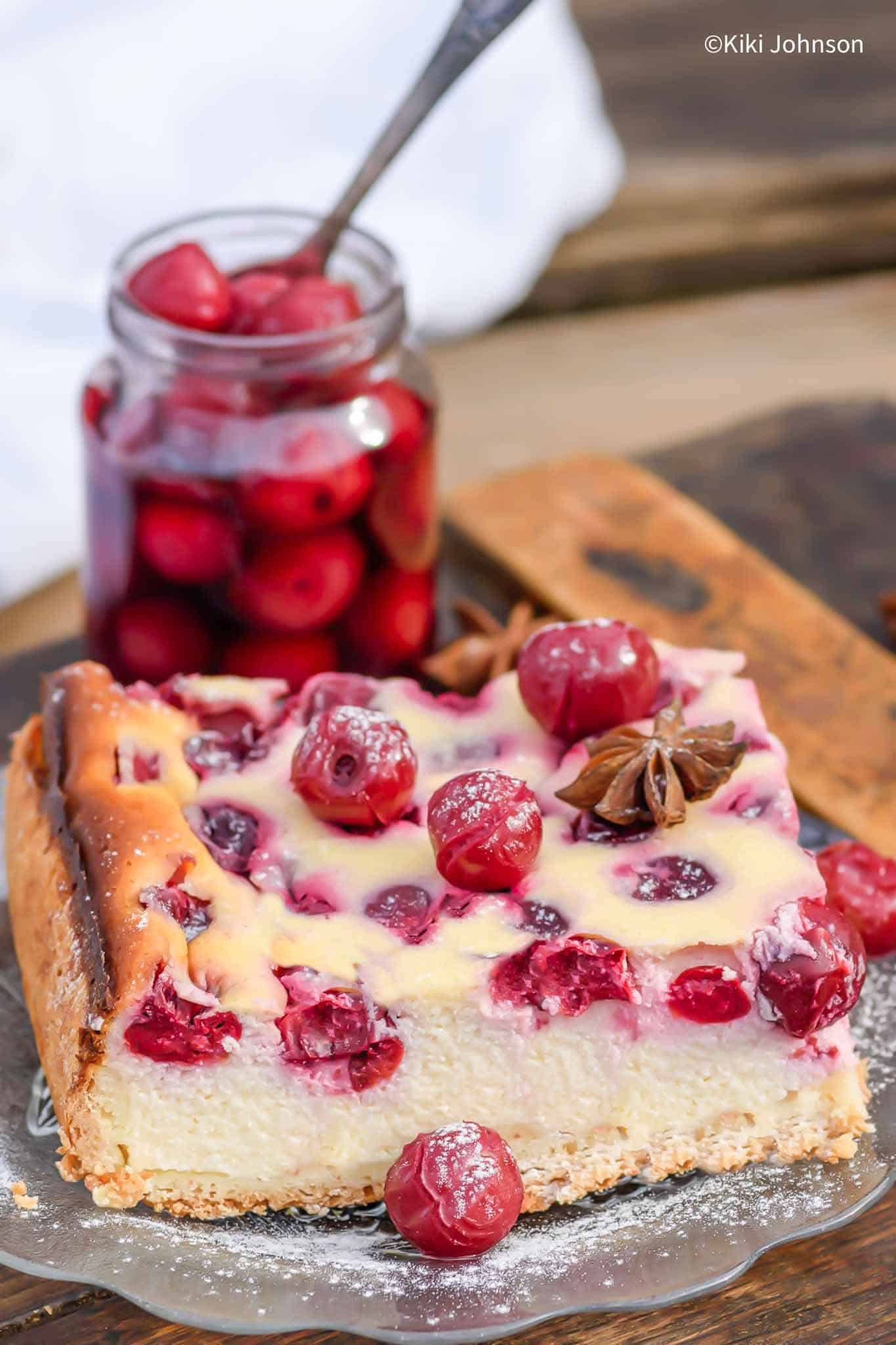 German Cherry Cheesecake with sour cream and sour cherries.
Bake this authentic German Cheesecake recipe with just a few ingredients and little effort! Such an easy dessert.
Learn How to bake Sour Cherry Cheesecake like a German Oma! This is how you do it!
Granny's traditional cheesecake recipe can be made in a half-sheet pan or in a 9 inch springform pan. Use what you have
This simple German sour cream cherry cheesecake is simply a classic and just the perfect cake for everyone who loves cheesecake.
This sour cream cheesecake with cherries is such a classic German dessert and this recipe comes straight from the little Bavarian bakery in my parent's village. The same bakery that made the best black forest cake ever! I will get you that recipe as well but now let's talk classic German cheesecake first.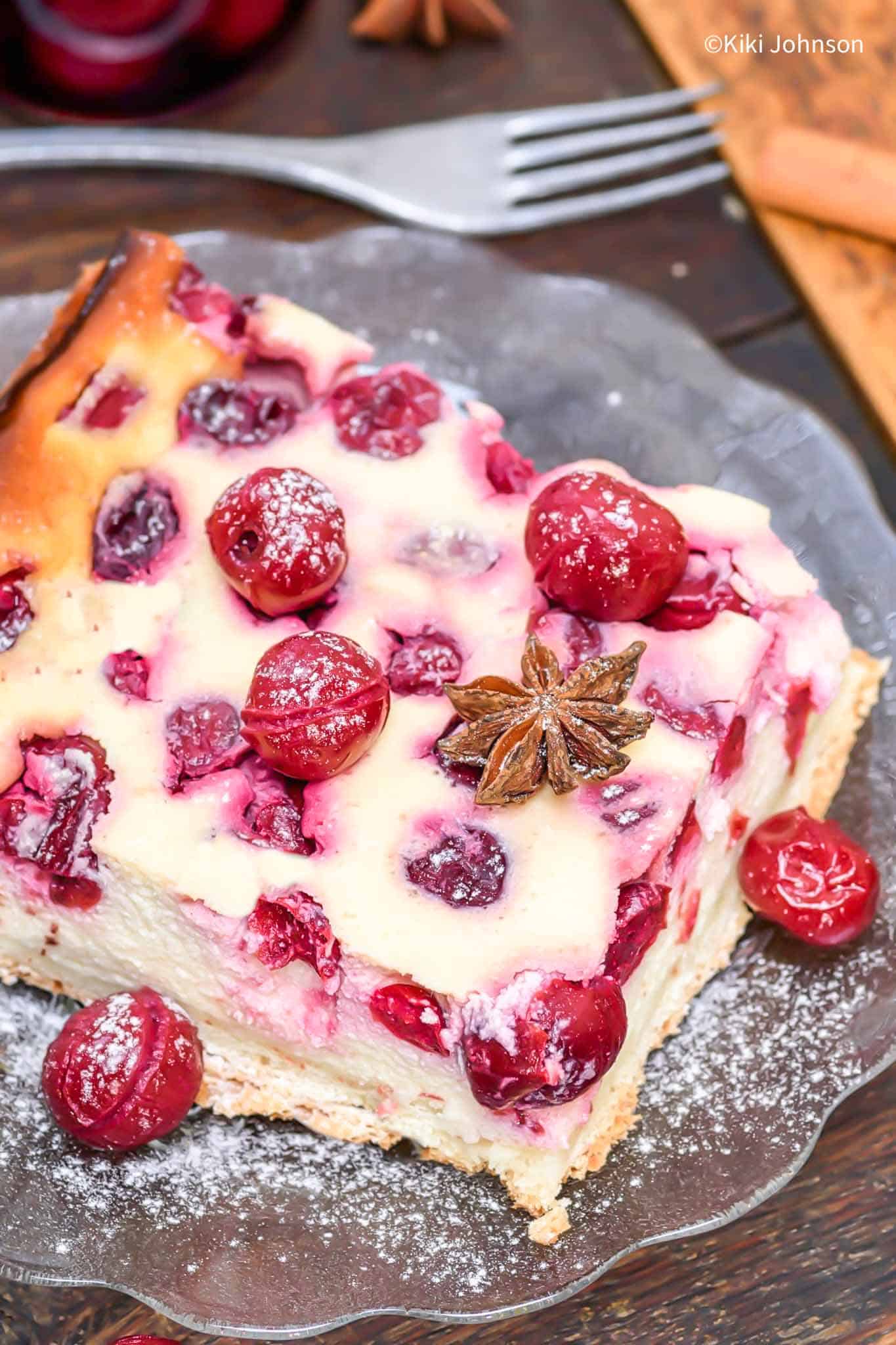 Instead of cream cheese or German quark, we use sour cream for the cheese mixture. The sour cream is mixed with homemade vanilla pudding.
The starch from the pudding powder gives the sour cream stability and the subtle vanilla flavor is simply delicious together with the tart cherries and takes me straight back to my grandmother's kitchen.
This simple German cake brings back wonderful memories of birthday parties and family celebrations from back when I was living in Germany.
While many German cheesecake recipes like my German Raspberry Cheesecake are made with German quark cheese, this one is made with sour cream. The original recipe from my village bakery uses a German dairy product called Schmand.
What is schmand?
If you're cooking and baking German recipes on a regular basis you might be familiar with Schmand. It's a sour dairy product that is not available outside of Central and Eastern Europe. However, it is a super important part of many traditional German dishes and cakes such as Flammkuchen or my Granny's German Cheesecake with Mandarin Oranges.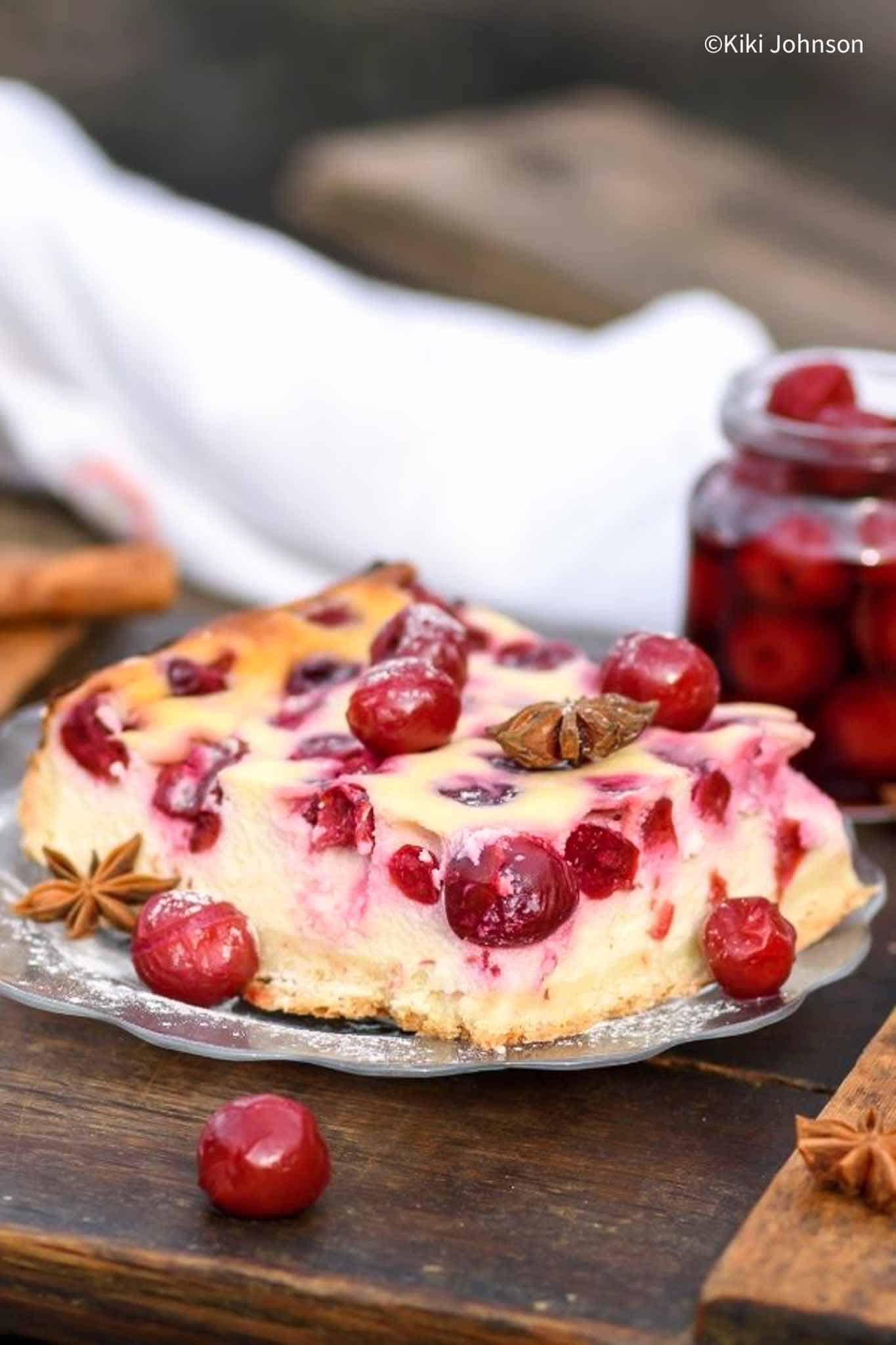 What can I substitute for schmand?
Sour cream. German sour cream has a fat content of about 10 %, Schmand of about 20 %, and crème fraîche of about 30 %. The fat content in American sour cream is comparable to the fat content in Schmand. So it is a pretty good substitute for Schmand.
However, if you want to get it perfect, I would go for a mix of creme fraiche and sour cream. Creme fraiche is luxurious and rich and together with the sour cream, it will taste just like the mild German Schmand. However, if you cannot find creme fraiche, use fatty sour cream.
Use canned or fresh cherries
I chose sour cherries from a jar, but of course, fresh cherries or any fresh berries also work! Mandarin orange fillets would be another great option.
When using canned cherries, make sure to strain them, when using fresh fruit, make sure to remove the pits.
If you have some homemade cherry pie filling, you could bake the cheesecake without fruit, heat some cherry pie filling in a small saucepan and serve the chilled cheesecake topped with the cherry mixture and some whipped cold heavy cream. Delish!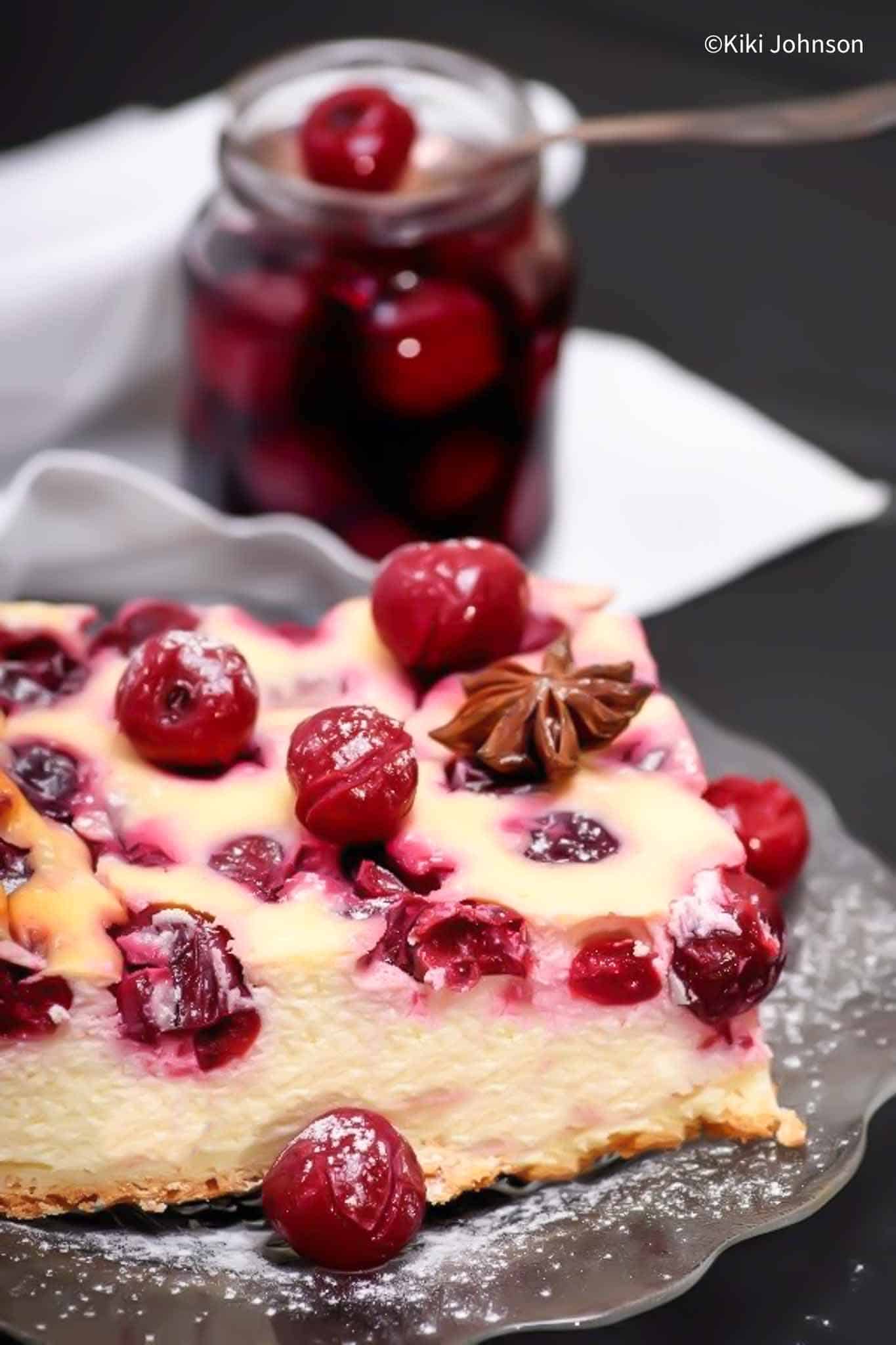 How to make German Cherry Cheesecake
Start with the shortcrust pastry. Knead all ingredients into a smooth dough and let it rest in the fridge.
Cook the vanilla pudding and cover it with plastic wrap
Roll out the chilled shortcrust pastry and line the cake pan with it.
Combine the sour cream and the pudding and pour into the tin, top with the drained sour cherries and bake the cake on the tray in the preheated oven on the middle rack.
The cake will be particularly juicy if it is left to rest in the fridge for a day or overnight
Replace sour cream
Instead of sour cream, you can also use any soft cheese like quark, or creme fraiche, or equal parts creme fraiche and cream cheese or just cream cheese lightened up with a small amount of heavy whipping cream.
Mascarpone or a mixture of quark and mascarpone also works. I would not recommend cottage cheese for the cheesecake filling
If using cream cheese, make sure you are using room-temperature cream cheese
Replace vanilla pudding powder
German vanilla pudding powder is really just cornstarch and vanilla extract and some yellow food coloring. You can make your own by just mixing cornstarch with vanilla sugar or, even better, vanilla bean paste.
If you want, you can add some fresh lemon juice and a bit of lemon zest to the filling
Which size pan shall I use ?
The amount is enough for 1/2 baking sheet or a 13 x9 rectangular baking pan or a 9 inch springform pan.
I baked this in a small sheet cake pan, which measures 20×34 centimeters and is absolutely perfect for this recipe. The cake size is about 1/2 of an regular oven tray. So if you want to bake a large baking sheet, just double the amount.
Let's Bake Cherry Cheesecake!
Shall I use a Scale?
Honestly, yes! Scales are way more precise than measuring cups. Too much flour or too little sugar can really throw off the texture of your German cakes and pastry.
So really, the only way to be truly precise in your baking and to get consistent results is to measure with a scale, not with measuring cups
More German Cake recipes:
German Sour Cherry Cake with Streusel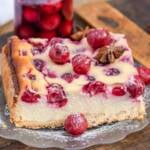 German Cherry Cheesecake
German Cherry Cheesecake - an authentic German Cake recipe with sour cherries and sour cream.  Try this simple and easy German Baking recipe. 
Total Time
1
hour
30
minutes
Ingredients
230

grams

of flour - 1 3/4 cups

1

tsp

cream of tartar baking powder

150

grams

of butter - 3/4 cups

cold

70

grams

of sugar - 1/3 cups

1

pinch

of salt

1

egg
filling
450

ml

milk scant 2 cups

1 1/2

sachets vanilla pudding powder

or 60 g cornstarch (1/2 cup )+ 2 tbsps vanilla bean paste

1

large pinch of salt

120

g

sugar - 2/3 cups

675

g

sour cream 2 3/4 cups

topping

1

jar

sour cherries

23 oz total, drained 12 oz
Instructions
Prepare a 13 x 9 pan or a 9 inch springform pan. Mix all the ingredients for the shortcrust pastry base in a mixing bowl and knead quickly to form a smooth dough. Shape into a disk. Place in the fridge for at least 30 minutes.

For the filling, cook the vanilla pudding. To do this, mix the milk, pudding powder ( or cornstach and vanilla), salt and sugar in a saucepan. Bring to a boil while stirring and simmer for about 1 minute. Pour the pudding into a bowl and cover with cling film. Let it cool down completely.

Meanwhile, roll out the shortcrust pastry into a rectangle and place in the lined baking pan. Press up the pastry on all sides and cut off the excess.

Now stir cooled down vanilla pudding together with the sour cream using a whisk, and pour on the shortcrust pastry in the mold and smooth it out. Top with drained cherries. Bake the cake in the oven at 160 C / 320 F circulating air in the lower third for about 60 - 70 minutes or until just set. The exact baking time depends on your oven. Leave to cool completely.

Store in the fridge and remove from the fridge about 1 hour before serving.