Dieser Beitrag ist auch verfügbar auf:

Deutsch (German)
Today I share with you my new favourite weekend breakfast treat. Breakfast Cake !!! Oh yes, who does not crave cake for breakfast once in a while ! And you know what? A proper cake breakfast is actually not even that bad for you. Science says that morning is the best time to consume sweets because that's when the body's metabolism is most active – and we have the rest of the day to work off the calories. Makes perfect sense to me. But then again, I would jump at any justification that allows me to eat cake first thing in the morning.
And what makes this cake a breakfast cake? Well, I guess the fact that I just took my regular weekday breakfast – granola and fruit – and dumped it into a rich cinnamon and nutmeg spiced cake batter.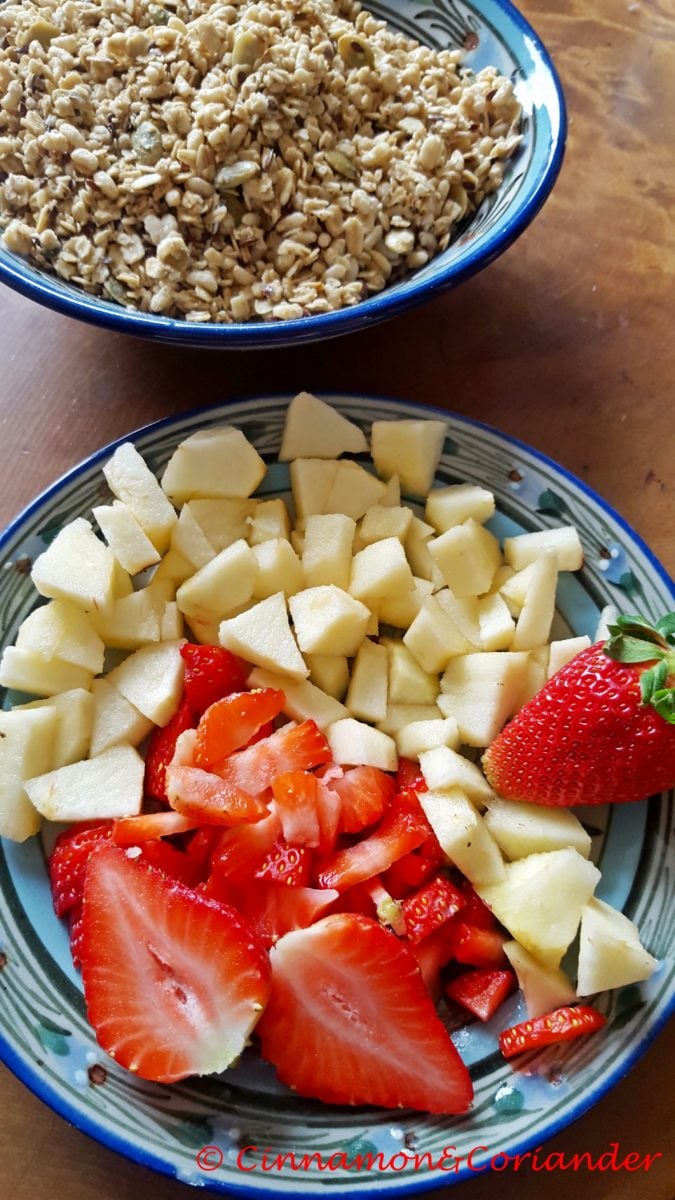 The cake batter takes about 4 Minutes to whisk together! Make sure to have your butter and eggs at room temperature! If you want to serve the Granola Breakfast Cake in the morning you might want to take the ingredients out of the fridge the night before.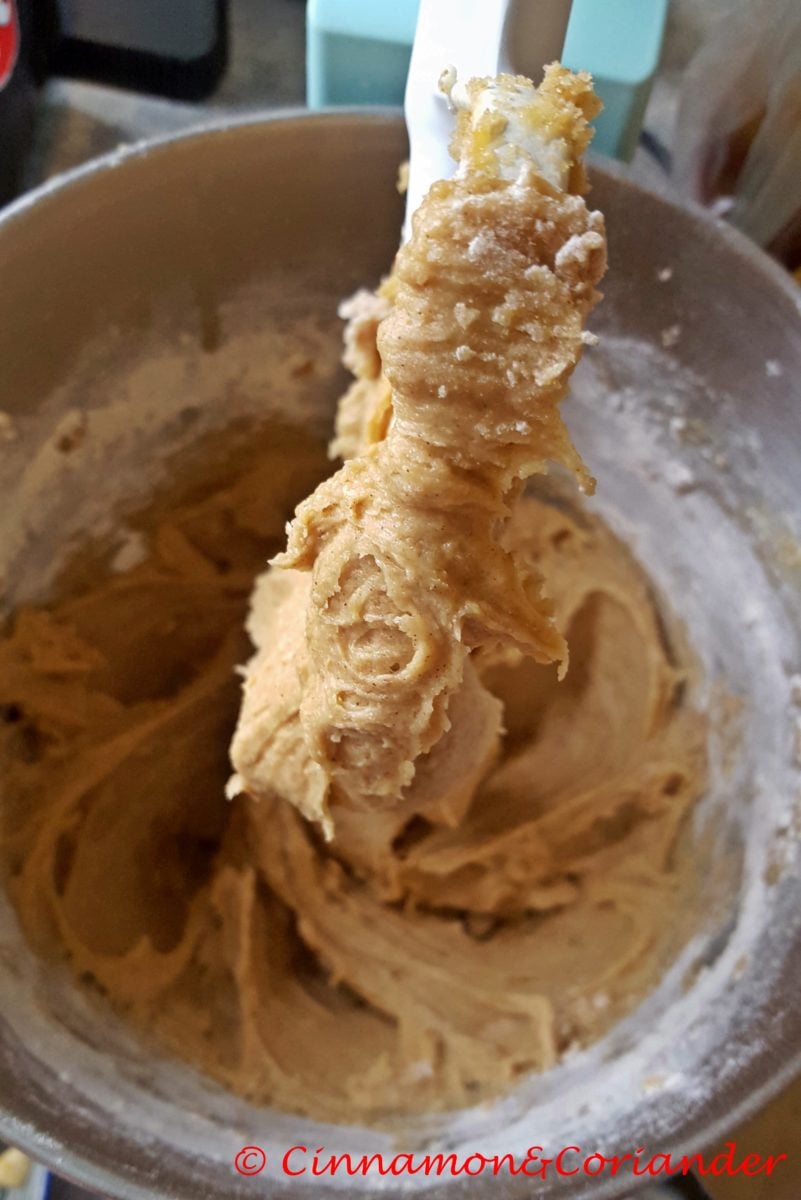 Make sure you cream your butter and sugar together for at least 2 minutes to make sure your cake is fluffy and light! When folding in the granola and fruit in the last step, I recommend switching from the standmixer to a spatula for better control. We don´t want to overmix the batter at this point!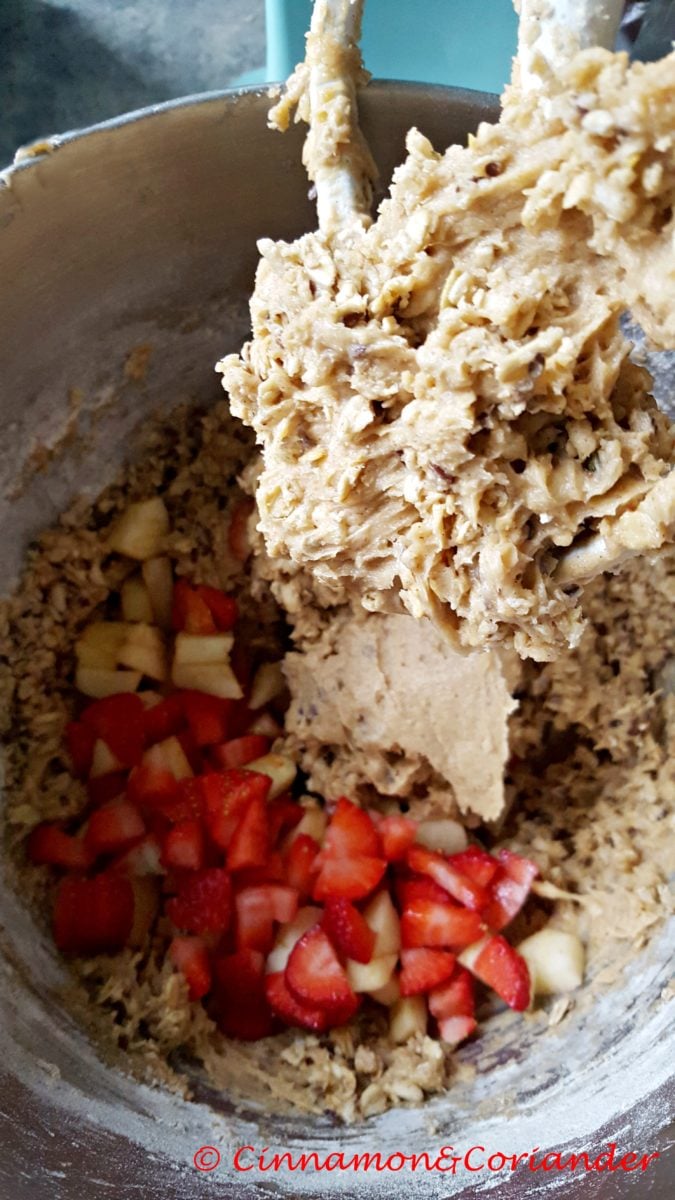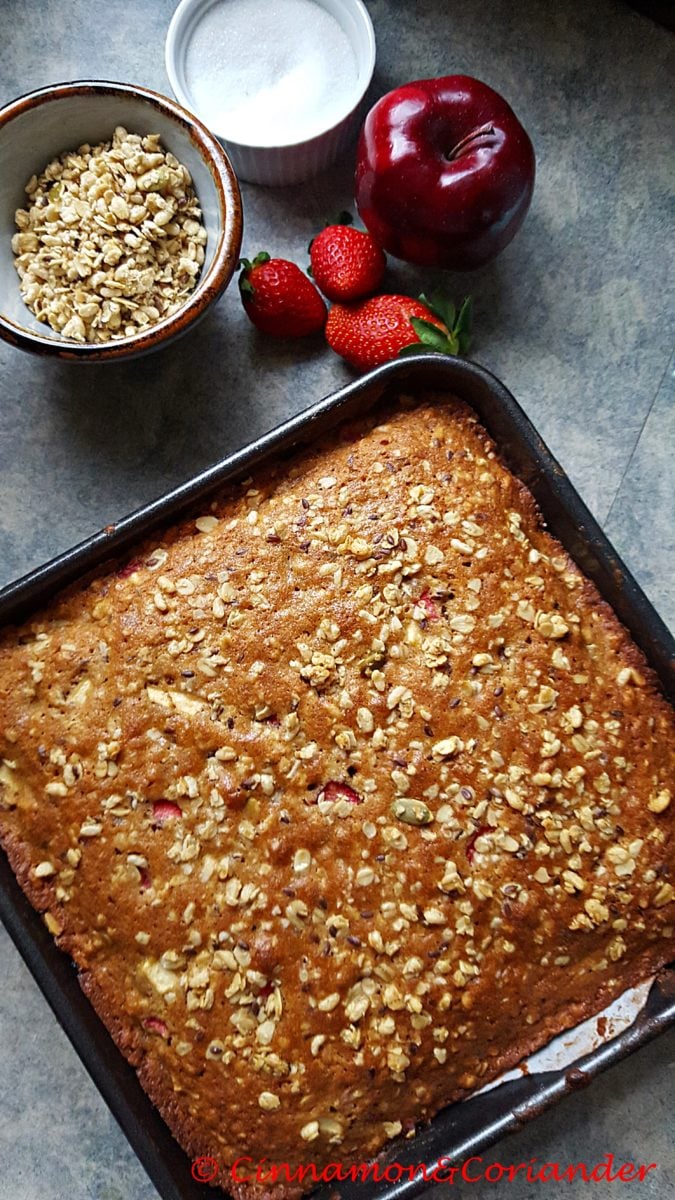 I don't even know how to describe the texture of this delicious breakfast cake. Fluffy and light, but also rich and moist without being fatty.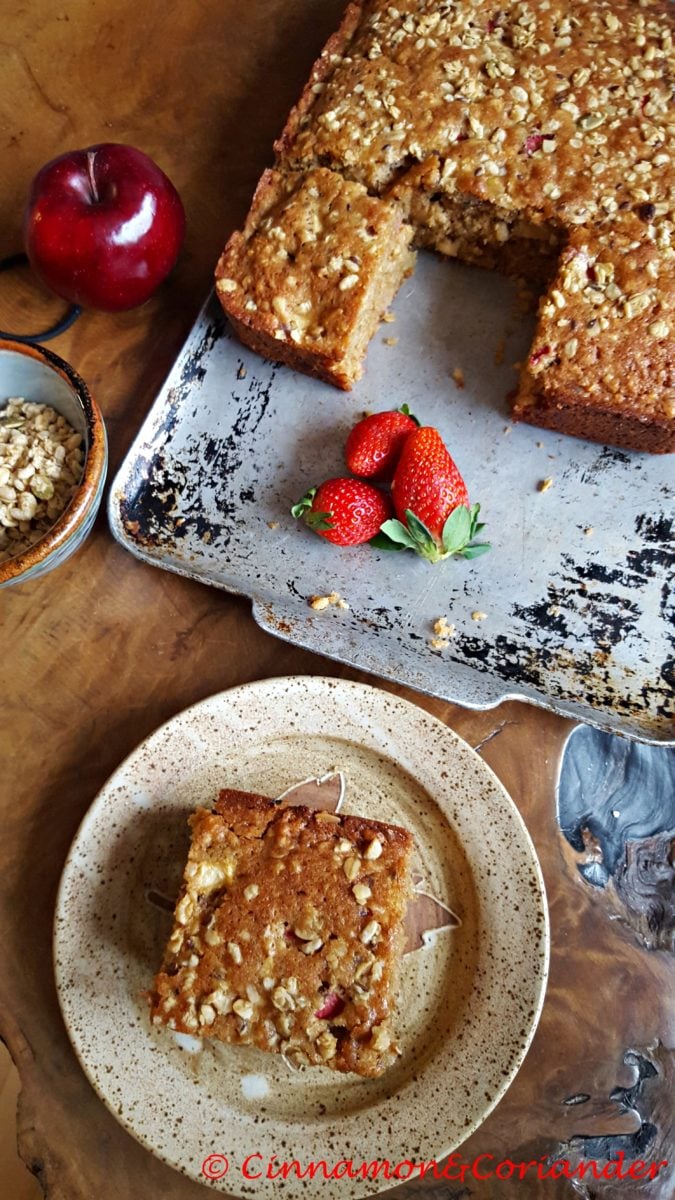 Brown sugar adds extra caramely and malty notes to this moist and fluffy cake. The Granola delivers a genius crunch to the cake and little pieces of apple and strawberries allow for a fruity burst now and then.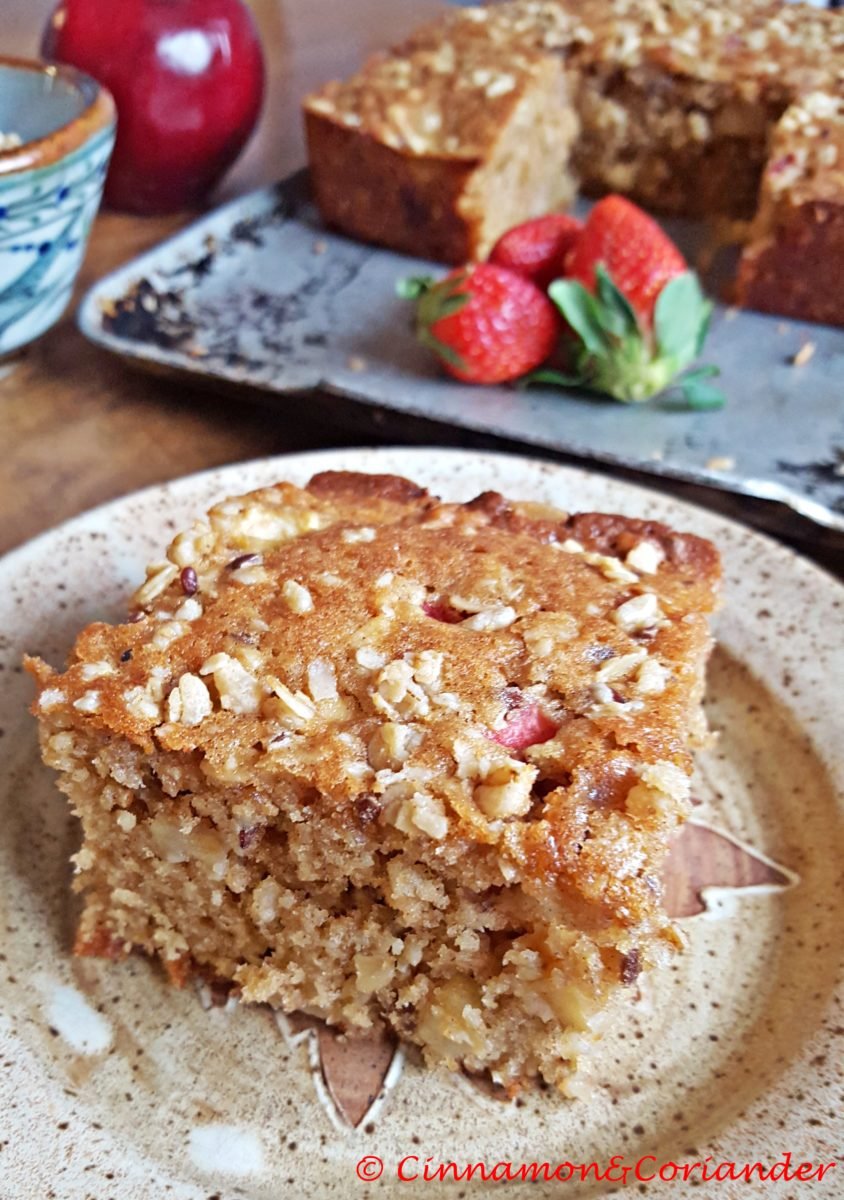 This cake is so simple and yet so perfect! Make it for your next family brunch or for Easter breakfast! Your guests will love it!
Leftover cake can be stored in Tupper-Ware containers at room temperature for more than a week. It even gets better and moister day by day! Getting up in the morning was surprisingly easy this week 🙂
Strawberry, Apple & Granola Breakfast Cake
There`s a lot of breakfasty goodness in this pudding like cake! Soft fruit pieces and crunchy crumbs of granola buried in a rich and moist cinnamon & brown sugar scented dough
Ingredients
225

g

butter

225

g

brown sugar

1,5

tsp vanilla extract

4

egg

225

g

flour

1

tsp baking powder

1,5-2

tsp cinnamon

1

tsp nutmeg

1

big apple

peeled and cut into 1 cm cubes

about 6 strawberries

chopped

200

g

granola

reserve some for topping

23

cm

square pan

9 inch, greased and lined with parchment paper
Instructions
Let butter and eggs come to roomtemperature and preheat oven to 180.

Place butter, sugar and vanilla into a mixing bowl and beat together until the butter and sugar are well mixed and the mixture is fluffy.

Mix the flour with baking powder and spices.

Beat in the eggs. then the flour mix. Now, gently fold in the granola and fruit chunks.

Scoop the mixture into your baking pan and level off. Sprinkle over more granola and bake for about 40 minutes or until a skewer comes out clean.