Dieser Beitrag ist auch verfügbar auf:

Deutsch (German)
This Indian inspired 100 % Vegetarian Burger has layers of vibrant flavors – from the spicy pan-fried paneer,  crispy onion bhaji, and fresh herbs, to tangy Raita and  Sweet Mango Chutney! Fans of spicy cuisine will be all over this Indian-inspired Burger!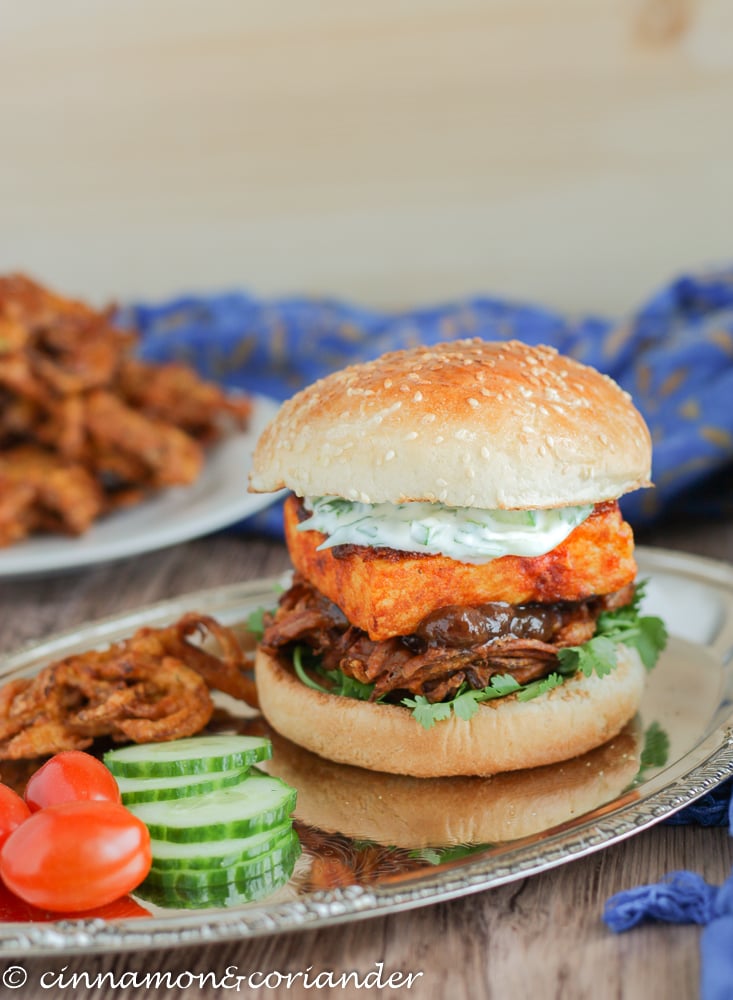 Disclaimer: A note about affiliate links in this post: some of these links will take you to Amazon where I may receive a small percentage of sales, at no extra cost to you. 
We're back from our epic Europe trip and after two months of mostly Italian, Spanish and German fare, I am craving good old Canadian Classics. I am talking about burgers and, well – a big old takeaway order from the tandoori grill around the corner! As I am very impatient and undecided at the same time, I am gonna kill these two birds with one stone! I am talking about an Indian inspired Veggie Burger with paneer, onion bhaji, mango chutney and cucumber raita! Pretty much all my favorite Indian snacks in one delicious burger!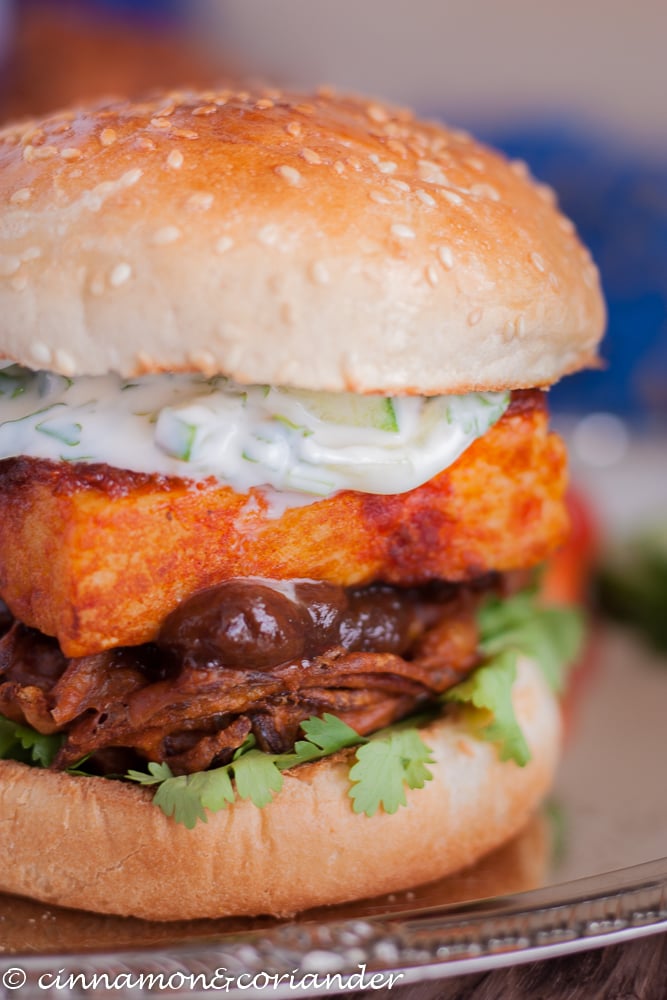 This burger is insanely delicious! Perfect for Vegetarians, obviously – but also carnivores will be amazed by the intensive aromas going on in this Indian-inspired Burger. I decided to name it the "Bollywood Burger"! Apart from the alliteration, we like the name because it evokes the image of the flavors of spicy, fried cheese, onions, fresh herbs and sweet chutney dancing on your tongue like dancers in a Bollywood movie. I am probably not the first one to invent an Indian style Burger or even a Bollywood Burger.  I am pretty sure though, that I´ve never seen fried paneer and onion bhaji in a bun. And this should be a thing! I am sure you will agree with me once you've tried this beautiful beast yourself.
This vegetarian burger recipe does require a bit more prep work than your regular burger, but it is really worth the effort! Feel free to double the recipe for the onion bhaji and serve some small bhajis as a side instead of fries!

If you like my Bollywood Burger, you should check out these Vegetarian Burger Recipes
Easy Grillable Veggie Burgers by Minimalist Bakers
Sweet Potato and Black Bean Burger by Cookie and Kate
Tomato Basil Veggie Burger by Hummusapien
Chickpea Carrot Burger with Cilantro Peanut Pesto by me
Indian inspired Vegetarian Burger with Chili Garlic Paneer & Onion Bhaji
My Vegetarian Bollywood Burger has layers of vibrant flavors from the spicy pan-fried paneer, crispy onion bhaji, and fresh herbs, to tangy Raita and Sweet Mango Chutney!
Ingredients
Chili Garlic Paneer
2

cloves

garlic, minced

1

tsp

chili powder

2

tsp

chili sauce

2

tsp

cornstarch

200

g

paneer

1

tbsp

butter
Onion Bhaji
500

ml

oil for frying

1

big

onion, sliced

2

fresh

curry leaves, sliced

1/2

bunch

fresh cilantro, chopped

100

g

besan

chickpea flour

1/2

tsp

baking powder

1

tbsp

rice flour

1 1/2

tsp

cumin, ground

1/2

tsp

turmeric

1

tsp

ground coriander

1/2

tsp

nigella seeds

black onion seeds
Cucumber Raita
1/4

cucumber

150

g

sour cream
for assembly
2

burger buns

2

tsp

mayo

2

tbsp

mango chutney

sugar, salt, pepper,

optional

2 twigs of

fresh mint

substitute with lettuce
Instructions
Put minced garlic in a shallow bowl and add 1/2 tsp chili powder, chili sauce, 1/2 tsp salt, 1/2 tsp sugar, and a pinch of black pepper.

Add a splash of water and stir to form a paste. Cut the paneer into 2 thumb-thick patties and cover the cheese with the marinade. Make sure all sides are covered with the paste. Set aside for 15 to 30 minutes.

Heat 500 ml of oil in a deep pan or pot. Measure out 50 ml of cold water and put aside. Mix leftover chili powder with the flours, baking powder, 1 tsp cumin, turmeric,1/2 tsp ground coriander, nigella seeds and 1 tsp salt. Add water and stir everything together. Add more water, if needed to form a thick paste. Add onions, halve of the chopped coriander, and all of the curry leaves and mix. The batter should be quite thick.

Once the oil has reached 175 Celsius or 347 F it is ready for frying. Take a hand full of batter at a time and shape it into 2 patty-shaped, flat bhajis. Let it slide into the oil, using a slotted spoon. Fry for about 3 minutes or until the bhaji is browned evenly. Take the bhajis out of the oil and transfer them to a plate lined with kitchen paper. Should there be some leftover batter, fry a couple of small bhajis and serve them as a side.

Wash and grate the cucumber. In a medium bowl, mix cucumber with sour cream as well as the leftover cumin and coriander. Season with 1 tsp sugar, 1/2 tsp salt and black pepper to taste.

Heat a pan on medium heat and add 1 tbsp of butter. Fry the marinated paneer cheese for about 5 minutes each side, or until golden brown. Take out of the pan.

Halve the buns (toast them or heat them up if you like) and spread a tsp of mayo on each bottom half. Pluck the leaves of the mint and roughly chop the leftover cilantro. Put fresh herbs on the bottom half. Add the onion bhajis and spread some Mango Chutney on top of each bhaji patty. Lay a fried paneer on top of the onion bhaji and top off with some raita. Finish with the top half of the burger bun and serve!
Recipe Notes
You can serve any leftover bhajis with some raita and mango chutney
Like the recipe for my Indian-inspired Vegetarian Burger with Onion Bhaji, Chili Garlic Paneer, Chutney & Raita? Pin it!!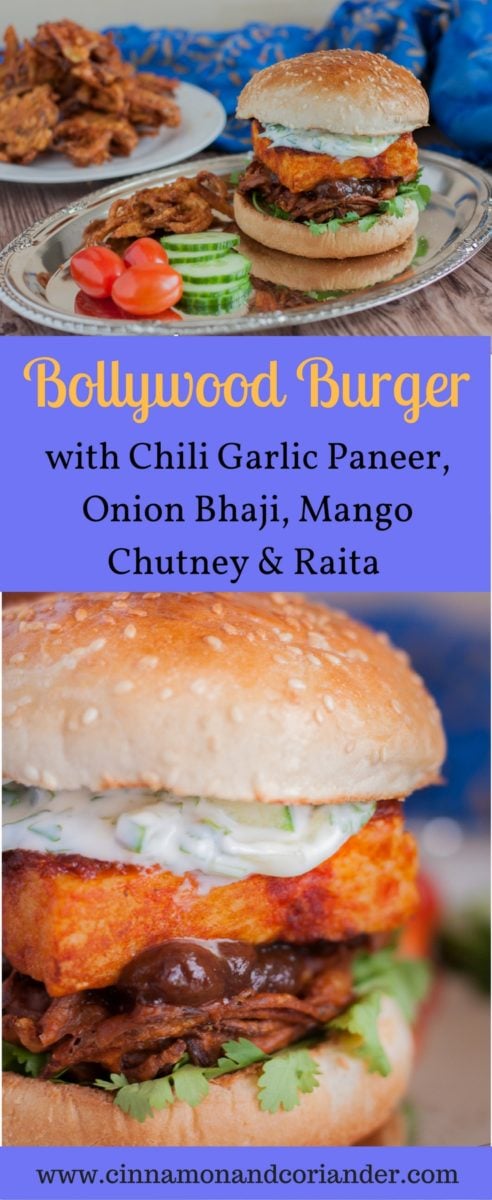 Bollywood Burger