Dieser Beitrag ist auch verfügbar auf:

Deutsch (German)
This creamy tomato basil pasta sauce recipe tastes like a fancy Italian restaurant pasta but has way fewer calories. The best homemade pasta sauce using fresh ingredients! Jump to Recipe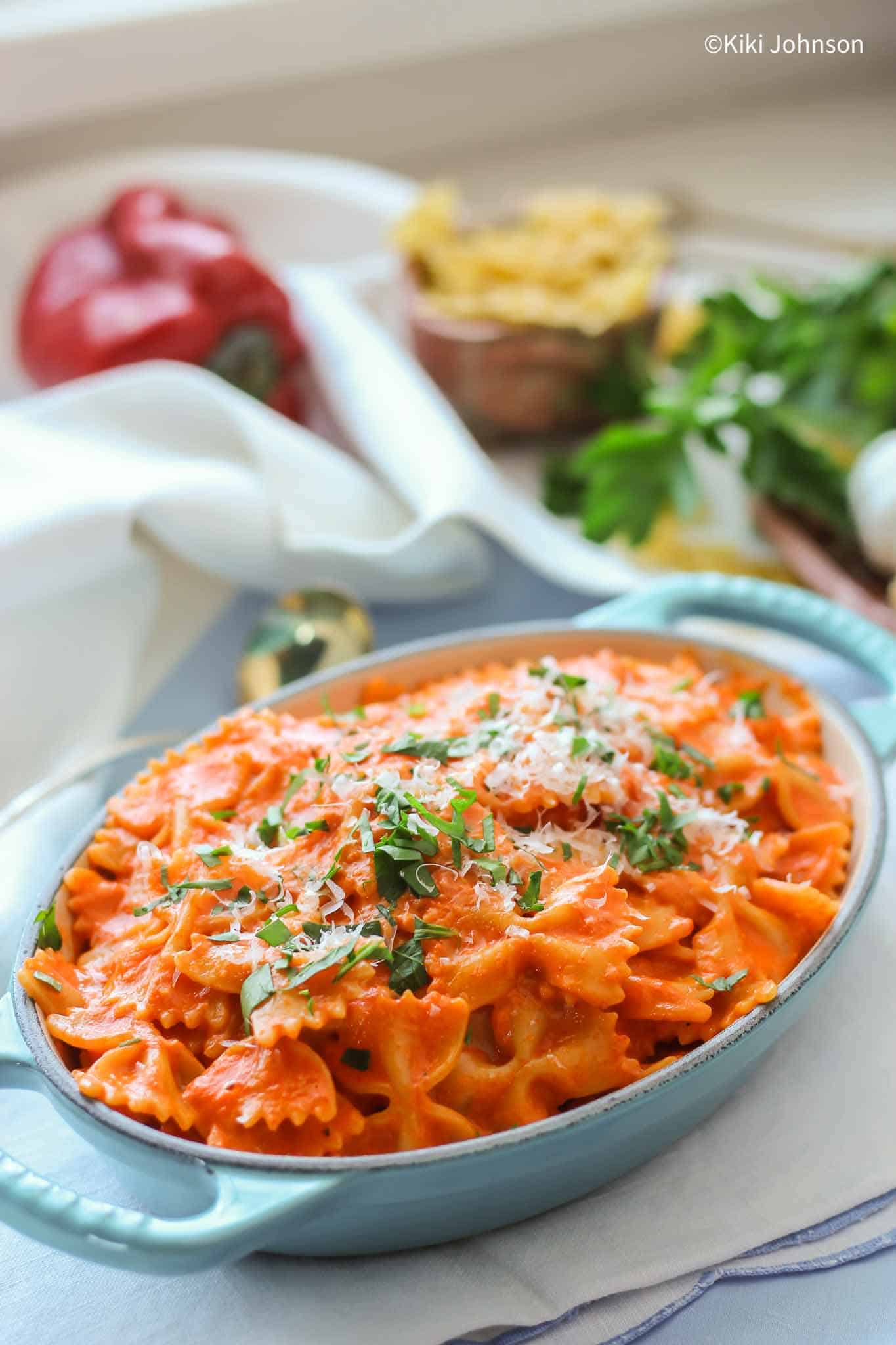 This homemade tomato basil sauce is seriously the best pasta sauce recipe for a busy weeknight.
Knowing how to make good spaghetti sauce from scratch using fresh ingredients is a life skill and a great way to put dinner on the table in a cinch.
I love me a good creamy pasta sauce – have you tried my creamy paprika pasta? Another easy way to put a smile on your family's faces come dinner time!
This homemade Pasta with tomato cream sauce, fresh basil, and parmesan cheese is a wonderfully uncomplicated meal for the whole family that is ready in no time at all. It tastes just like a fancy favorite pasta dish at your favorite Italian restaurant and is perfect for date night
This creamy tomato pasta sauce is such a winner and another one of those easy dinner recipes for whenever life gets hectic. Sprinkle with some coarsely grated Parmesan and the day is saved.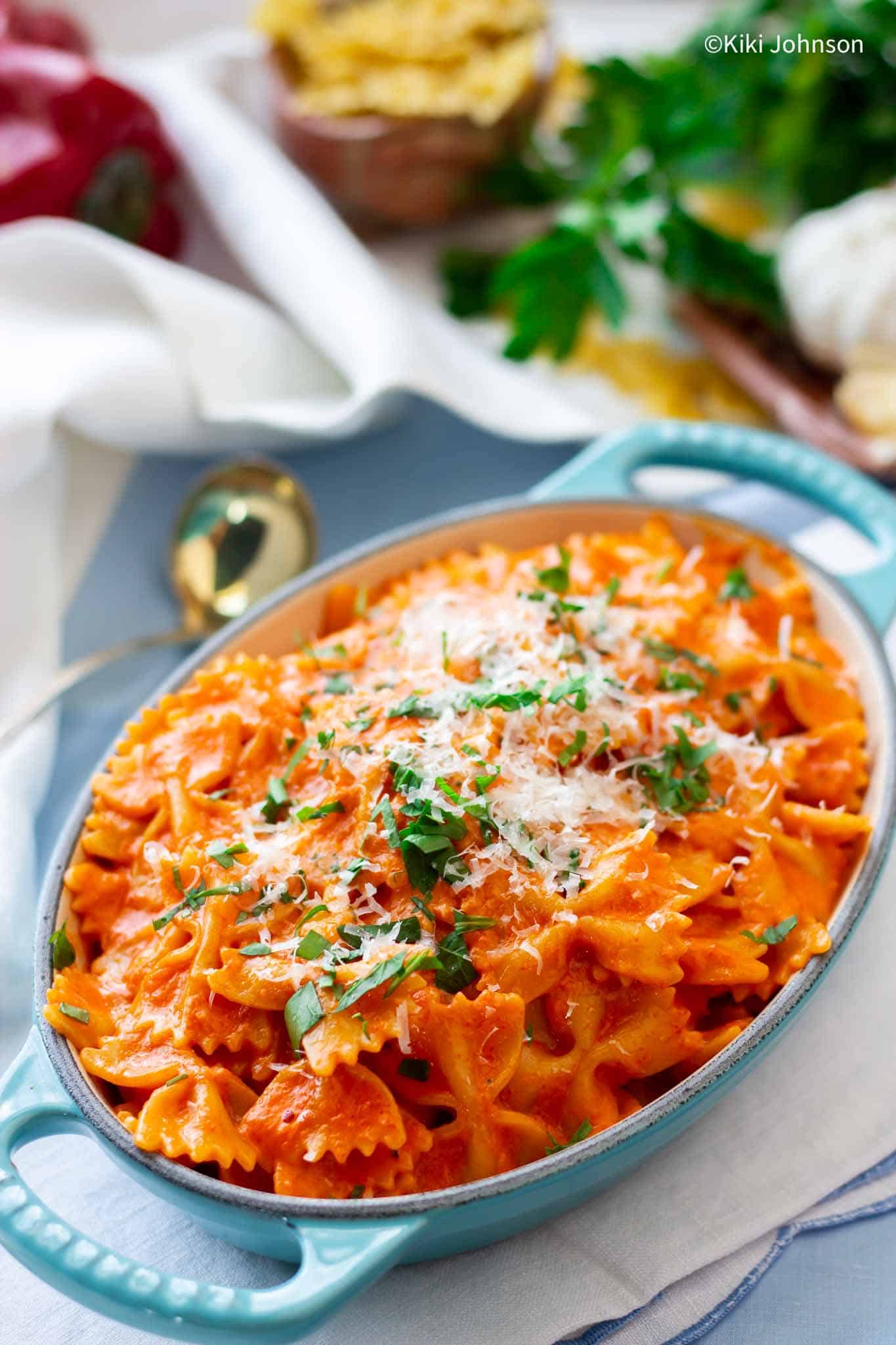 The addition of heavy cream makes the tomato sauce wonderfully creamy, and the grated Parmesan cheese makes it hearty and adds some umami.
We often reach for ready-made pasta sauces for convenience. I admit to buying prego creamy tomato basil Italian sauce more than I would like to.
However, these sauces are often packed with sugar and preservatives. Cooking the perfect tomato sauce is actually not difficult at all and one of the basic recipes that everyone should have in their pocket.
Ingredients
The ingredient list for making this flavorful sauce is short.
You need:
some garlic and onions,
extra virgin olive oil,
tomato puree,
fresh basil leaves,
aged parmesan cheese,
fresh cream and that's basically it.
You will love this tomato sauce because it is:
creamy & fruity at the same time – like from the best Italian
prepared quickly
better and healthier than ready-made pasta sauce from the jar
can be got prepared and varied endlessly
goes perfectly with pasta of all kinds, but also with rice and chicken
Fresh tomatoes or canned tomatoes
Does the tomato sauce taste better with fresh tomatoes or canned tomatoes? Most professional chefs use canned tomatoes. Canned tomatoes and tomato passata / canned tomatoes have a more intense taste because they are harvested when they are fully ripe.
Fresh tomatoes, on the other hand, are harvested when they are still green because of the long transport. Of course, some of the flavor is lost in the process.
That's why canned tomatoes are recommended when preparing aromatic sauces. If you have ripe tomatoes in your garden and can harvest them when they are fully ripe, you can of course prepare the tomato pasta sauce with fresh tomatoes.
6 – 8 fresh tomatoes correspond to 2 cans, depending on the size. For pasta sauces using fresh tomatoes, I recommend an extra tablespoon of tomato paste.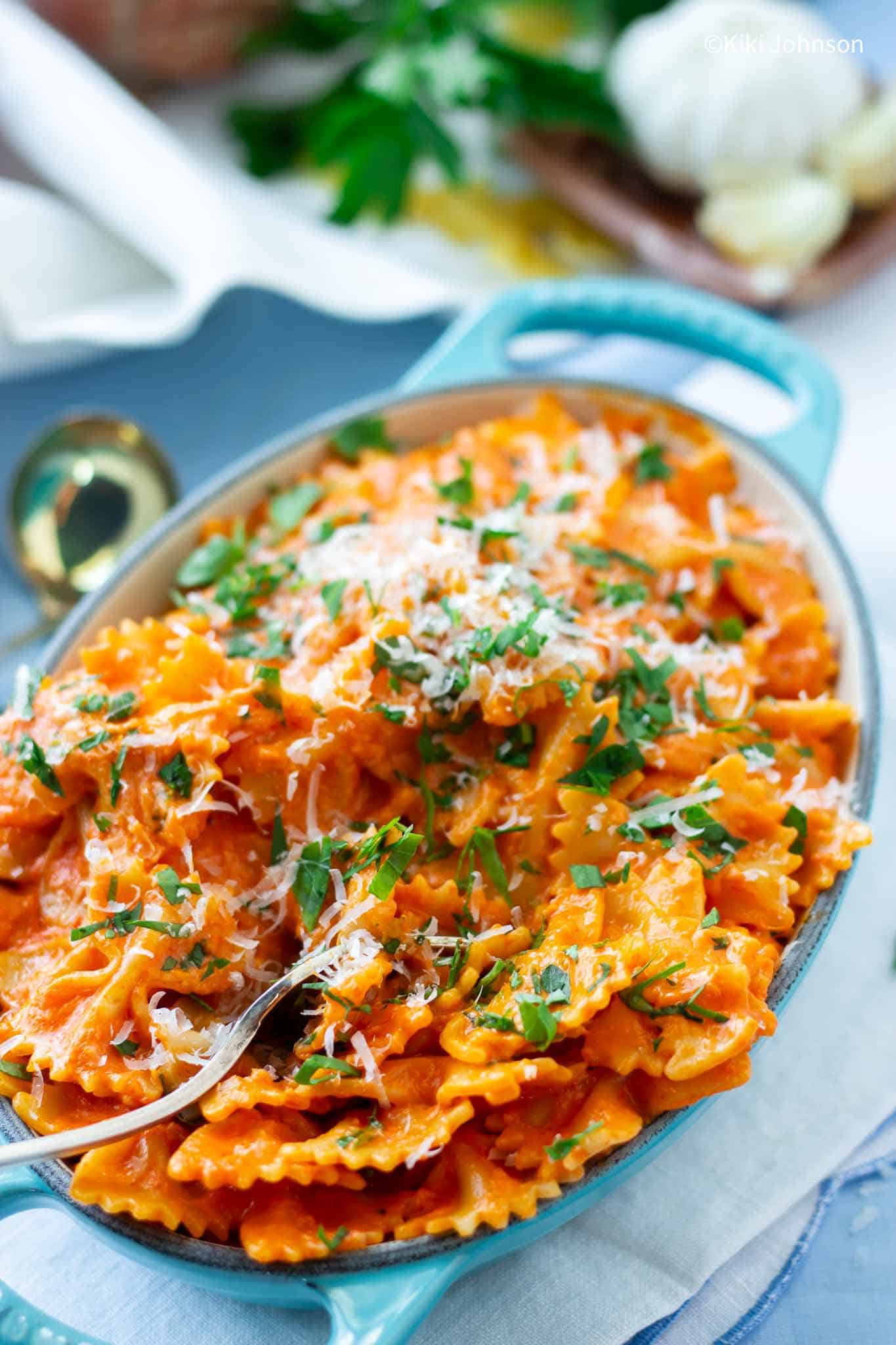 Which pasta goes with which sauce?
As a general rule, the thicker and chunkier your pasta sauce, the wider/ broader the noodle should be. Long or thin types of pasta should be eaten with liquid and light sauces.
Creamy sauces like this tomato cream sauce are suitable for thicker egg pasta such as fettuccine, linguine, tagliatelle or parpadelle. I went for butterfly pasta/farfalle. This creamy tomato sauce is also a real dream with tortellini or ravioli.
Recipe Variation:
Chicken with tomato cream sauce: Fancy Tuscan Chicken Pasta? The classic can be prepared with this creamy tomato sauce. I always make double the amount of the sauce and serve the leftovers with chicken breasts the next day. To cook this, I fry some chicken breast fillets in a pan, then I pour the sauce over them in a casserole pan or, if oven-safe, in the same pan I fried the chicken in, top with some grated cheese and bake everything in the oven at 180 degrees for around 20 minutes.
Who wants to add some green asparagus or green peas to the pasta? It adds some crunch and makes this perfect for spring
Tip:
For an extra boost of flavor, toss in a piece of parmesan rind when you add in the tomatoes and let that simmer in the sauce. No need to remove it after cooking. It will keep on flavoring the sauce
More easy pasta recipes
Pasta salad with pistachio pesto and asparagus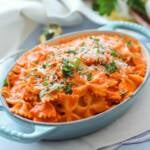 Creamy Tomato Basil Sauce Pasta
This creamy tomato basil pasta sauce recipe tastes like a fancy Italian restaurant pasta but has way fewer calories. The best homemade pasta sauce using fresh ingredients!
Ingredients
2 14

oz

cans of chopped tomatoes

2

garlic cloves

finely chopped

1

small onion

some olive oil for frying

1

tbsp

tomato paste

2

tsp

sugar

1/3

cup

white wine

optional

1

cup

cream

2

tsp

dried Italian herbs alternatively thyme

rosemary and oregano

4

tablespoons

freshly grated Parmesan

salt and pepper

17

oz

/ 500 g pasta of your choice

for example spaghetti, tortellini, conchiglioni, penne or fusilli
Instructions
First, finely chop 1 onion and 2 cloves of garlic. Sauté in a pan with a little olive oil. Meanwhile, boil the water for the pasta. Add plenty of salt to your pasta water.

Now add tomato paste and sugar and let caramelize. Then add the white wine, let reduce and add in 2 cans of canned tomatoes to the saucepan and stir.

Then addin the cream and Italian herbs. You can also add a large sprig of basil – it adds even more flavor. Let the sauce simmer gently for about 15 minutes. Meanwhile, cook the pasta al dente according to package directions.

Season tomato sauce

Season the tomato cream sauce with salt, pepper, grated parmesan and roughly torn basil leaves. Then mix with the pasta and serve. I wish you a good appetite!