Dieser Beitrag ist auch verfügbar auf:

Deutsch (German)
These extra dark Black Forest Cheesecake Cupcakes are the ultimate treat! A rich chocolate cheesecake on a black oreo crust topped with drunk cherries and whipped cream! 

I wish I could say that these Black Forest Cheesecake Cupcakes were a homage to my fatherland, Germany and my endless love for our national cake, the Black Forest Cake. But given the fact, that I am not a huge sucker for Black Forest Cake to start with ( with all that whipped cream, and often too dry sponges) I think these little black forest cheesecake cupcakes are more my way of making Black Forest Cake more appealing to me. And maybe to you as well! So let´s see if I can hide a Black Forest Cake in a Cheesecake Cupcake and make you AND myself happy.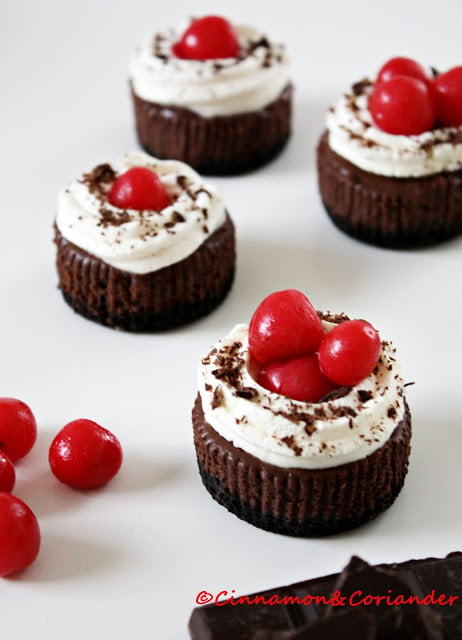 The black forest cheesecake recipe starts with crushing some oreo cookies! So this is when we should all realize that this is not a German recipe! It´s more like an All-American Cheesecake in cupcake size. But we are only getting started! Wait until you see how much chocolate we put into the filling!!!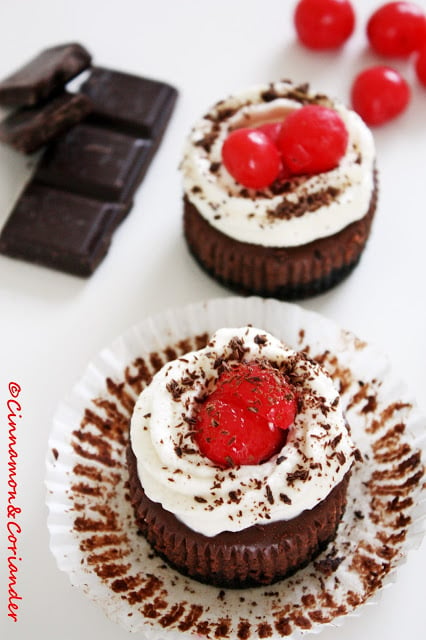 These cute little Black Forest Cheesecake Cupcakes are actually mini chocolate cheesecake cupcakes with a swirl of vanilla-scented whipped cream, some tipsy cherries and chocolate shavings on top. If you want to German-ize your cupcakes and go full on Black Forest, feel free to add a tbsp or two of kirsch into your cherry filling!  Or make your own cherry filling using sour cherries and kirsch!!
Recipe for 12 Black Forest Cheesecake Cupcakes
adapted from cooking classy
Crust
12 Oreos
1 1/2 Tbsp salted butter, melted
Black Forest Cheesecake
4.5 oz (3/4 cup) semi-sweet chocolate chips or chopped semi-sweet chocolate, melted and cooled slightly
2/3 cup granulated sugar
2 Tbsp unsweetened cocoa powder
1 pinch salt
12 oz. cream cheese, softened well (1 1/2 8 oz. pkg)
2 large eggs
1 tsp vanilla extract
1/2 cup sour cream
Directions
For the crust:
Preheat oven to 325 degrees. In a mixing bowl, using a fork, blend together crushed Oreos and butter. Divide mixture evenly among 12 paper-lined muffin cups, adding a heaping 1 Tbsp to each. Press crumbs into an even layer. Bake in preheated oven 5 minutes. Remove from oven and allow to cool while preparing the filling.
For the black forest cheesecake filling:
In a mixing bowl, whisk together 2/3 cup granulated sugar, cocoa and salt until no clumps of cocoa remain. Add cream cheese to a mixing bowl and pour sugar mixture over cream cheese, then using an electric hand mixer set on low speed, whip mixture just until smooth. Mix in eggs one at a time, blending just until combined after each addition and adding in vanilla with second egg. Pour in melted chocolate and mix just until combined, then add sour cream and mix just until combined. Tap bowl against the countertop,  to release some of the air bubbles. Divide mixture among muffin cups (over crust layer), adding about a slightly heaping 1/4 cup to each. Bake in 325-degree oven 17 – 20 minutes until centres only jiggle slightly. Remove from oven and allow to cool at room temperature 1 hour, then cover with plastic wrap and refrigerate 2 hours.
Store-bought (canned) or homemade cherry pie filling ( I add a few tbsp of kirsch to mine)
1 1/4 cups heavy cream
2 1/2 Tbsp granulated sugar
1 tsp of vanilla extract
Finely chopped or shaved chocolate, for garnish (optional)
In a mixing bowl, using an electric hand mixer, whip 1 1/4 cups heavy cream until soft peaks form then add 2 1/2 Tbsp sugar and vanilla and whip until stiff peaks form. Pipe or spread the heavy cream into an even layer over cupcakes then pipe a rim around edge over that layer  Spoon a tbsp of (spiked?) Cherry pie filling into the centre of each Black Forest Cheesecake Cupcake. Store in refrigerator in an airtight container.
Enjoy!
Like my Black Forest Cheesecake Cupcakes? Pin them: