Dieser Beitrag ist auch verfügbar auf:

Deutsch (German)
This beet salad with apple and feta cheese is so quick and easy to prepare and is guaranteed to delight your guests thanks to the combination of the earthy flavor of raw beets paired with fresh apple slices, creamy feta and fresh mint.Jump to Recipe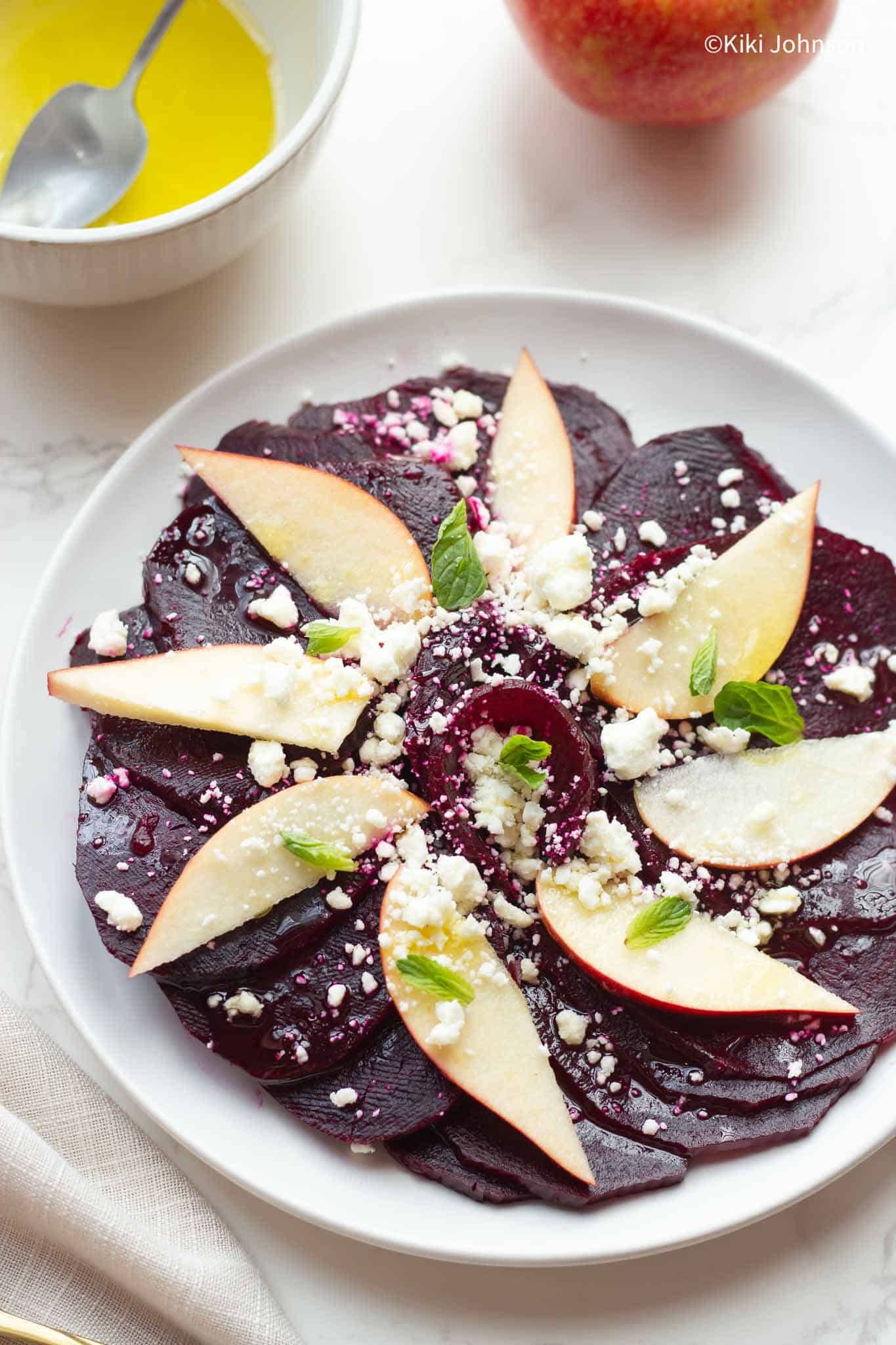 If you are looking for a great side dish look no further than this beet apple salad recipe with sliced green apple and crumbled feta. My new favorite way to enjoy beets and the perfect side dish for fish, meat, or tofu.
This apple beet salad recipe makes for an easy weeknight meal and comes together in a snap. A great addition to your salad repertoire and with the winter time-y beet and apple combination, especially great this time of year, when these ingredients are in season.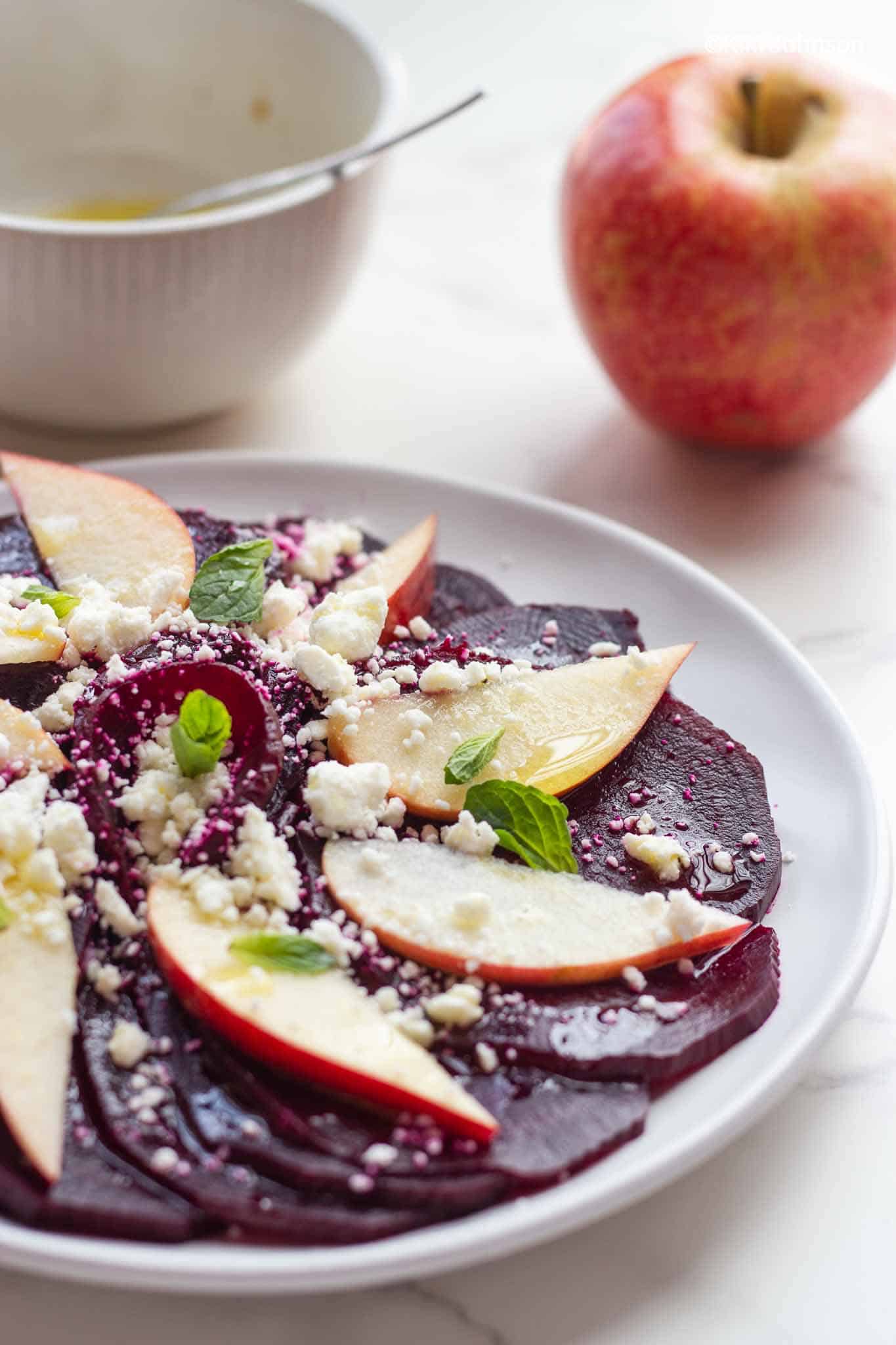 What's not to love about a healthy recipe that is simple and easy to make and sure to impress guests? This simple recipe for beetroot apple salad tastes particularly good if you let the beetroot marinate in a large bowl along with the dressing for half an hour before adding the remaining ingredients.
A great recipe that can be served as a starter with a winter menu but is also makes for a fantastic healthy side dish.
Raw beetroot or cooked?
Beetroot can be used raw in this beet salad because if you slice them thinly, they are also delicious when uncooked. Boiled or baked whole beets work just as well. I usually bake a whole tray of beets at a time and use them in other beet recipes.
With cooked beets or roasted beets, you can alternatively cut them into small cubes instead of slicing them
Boil beets or bake them in the oven
Boil beets
First, remove the leaves from the beetroot without cutting into the tuber.
Now remove dirt from the tuber under cold running water. Put the beets in a saucepan, fill with water, and cook the vegetables for 30-40 minutes until soft, depending on the size of the bulbs.
Do not salt the water, otherwise, the salt will take away the bright color of the beetroot.
If the red beets can be easily pierced with a fork or something similar, they are done. Let them cool down.
Bake beetroot whole
For a roasted beet salad, bake the beets in a hot oven. Wrap the beets in a piece of aluminum foil, place on a baking sheet and bake for 1 – 1.5 hours at 200 C until cooked.
What goes well with beetroot salad?
Beetroot salad is the perfect accompaniment to fish, tofu, and roasted or stewed meat, but also a nice starter for a pasta dish
Tips:
If you want, you can roughly chop a few walnuts and sprinkle them over the salad. A few tablespoons of sunflower seeds or pumpkin seeds are also great here.
You can obviously use golden beets for this recipe as well
If you do not eat animal products, you can make this without the feta and for a vegan beetroot salad you can simply use maple syrup instead of honey
Since beetroot stains heavily, I definitely recommend using kitchen gloves when slicing or slicing
When it comes to apple varieties, I recommend tart varieties such as Braeburn or granny smith apples
To prevent the apple slices from turning brown, we sprinkle them with a few tablespoons of lemon juice
Feel free to use goat cheese instead of feta
A great way to make this more filling, is to double the dressing add toss with some leafy greens or your favorite greens and top with a protein of your choice
More recipes with beets:
Beet Salad with Apple & Feta
This beet salad with apple and feta cheese is so quick and easy to prepare and is guaranteed to delight your guests thanks to the combination of the earthy flavors of raw beets paired with fresh apple slices, creamy feta and fresh mint.
Ingredients
500

g

beets

- 3 medium sized beets

1

big

lemon

1

tbsp

red currant jelly or raspberry jam

3

tbsp

olive oil

ground pepper and salt

2

tart apples e.g. Boskop or Braeburn

100

g

feta

1/2 cup

3

tablespoons

chopped parsley or a few mint leaves
Instructions
Since beetroot stains a lot, it is best to wear kitchen gloves: If you use raw beetroot, wash, clean and peel the beetroot. Cut it into thin slices with a vegetable peeler. If pre-cooked, simply cut into thin slices.

Mix the juice of ½ big lemon with currant jelly, 3 tablespoons of olive oil, some pepper and some salt to form a dressing and season to taste. Pour the dressing over the beets, mix well and leave to marinate for 5-10 minutes.

Meanwhile, wash, halve, core, quarter and thinly slice the apple, drizzle with the remaining lemon juice.

Take the feta out of the packaging and roughly crumble it. Rinse the parsley or mint, shake dry, chop finely.

Arrange the beetroot salad with apple slices on a plate or platter. Sprinkle with the crumbled feta and chopped parsley or mint and drizzle a little honey over the apples and cheese. Serve with toasted bread or fresh crusty baguette.