Dieser Beitrag ist auch verfügbar auf:

Deutsch (German)
A traditional German Cheesecake with Mandarin Oranges, Quark, Vanilla Pudding, and Sour Cream! An easy, old-fashioned authentic German Cheesecake recipe that is popular all year round! Jump to Recipe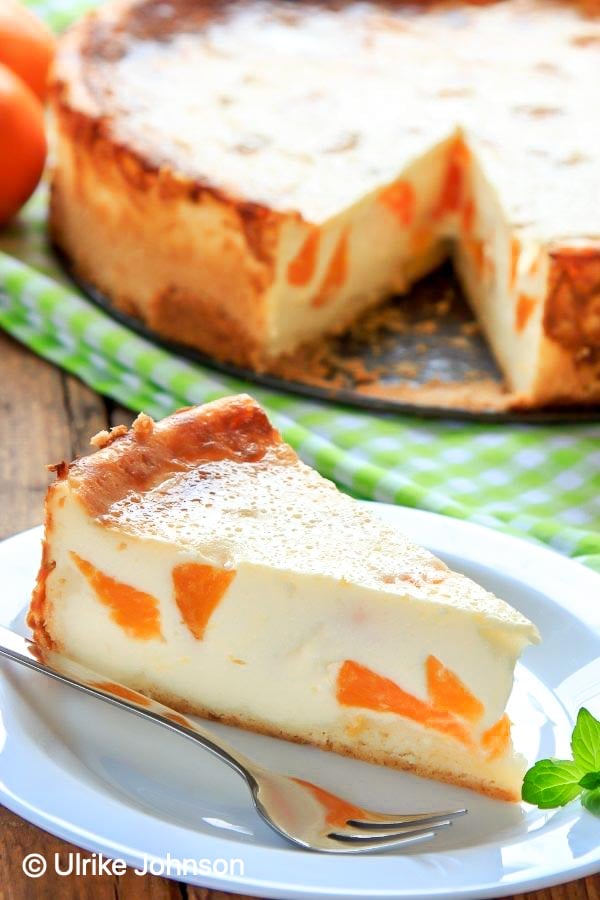 This Authentic German Cheesecake with Mandarin Oranges is also called "Lazy Girl Cake" as it is so easy and quick to make with simple ingredients that are all staples of traditional German Baking.
When it comes to traditional German cheesecake fillings, we are talking about a mix of quark, sour cream, eggs and vanilla pudding custard powder. That's how we make cheesecake in Germany. But don't panic if you have no idea where to get quark or the custard powder. I will tell you all the substitutions in a secind. But let's talk about the traditional version first.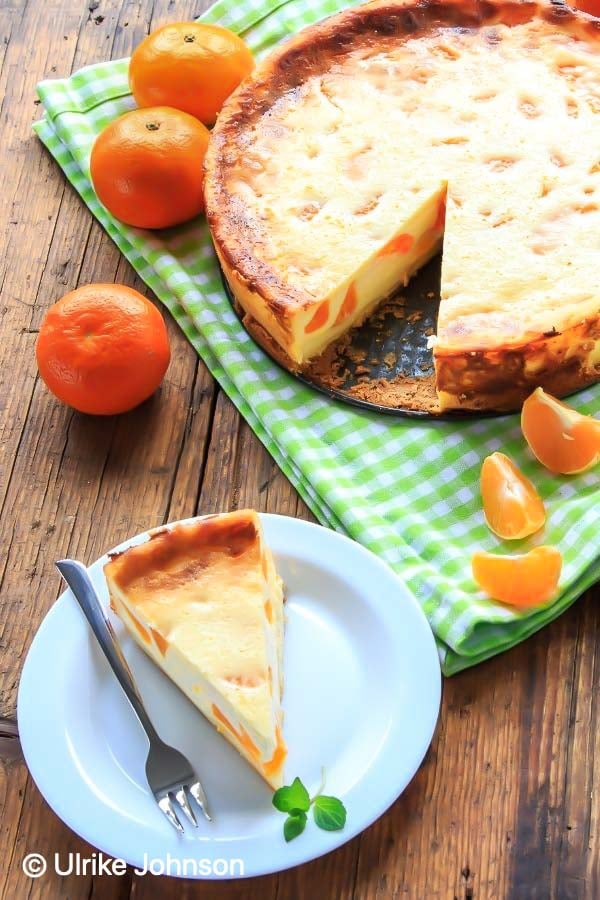 The base for any German cheesecake recipe is a simple shortcrust pastry. Simple as in mix it and press it straight into the pan – no chilling of the pastry needed!
This authentic German cheesecake is quite a bit lighter than say, an American New York Cheesecake. The filling is made with low-fat quark instead of full-fat cream cheese and we add sour cream instead of whipping cream!
Lemon and vanilla give the German Cheesecake a fresh flavor.
This German cake would not be complete without slices of sweet and floral mandarin oranges! Such a favorite in my little Bavarian village!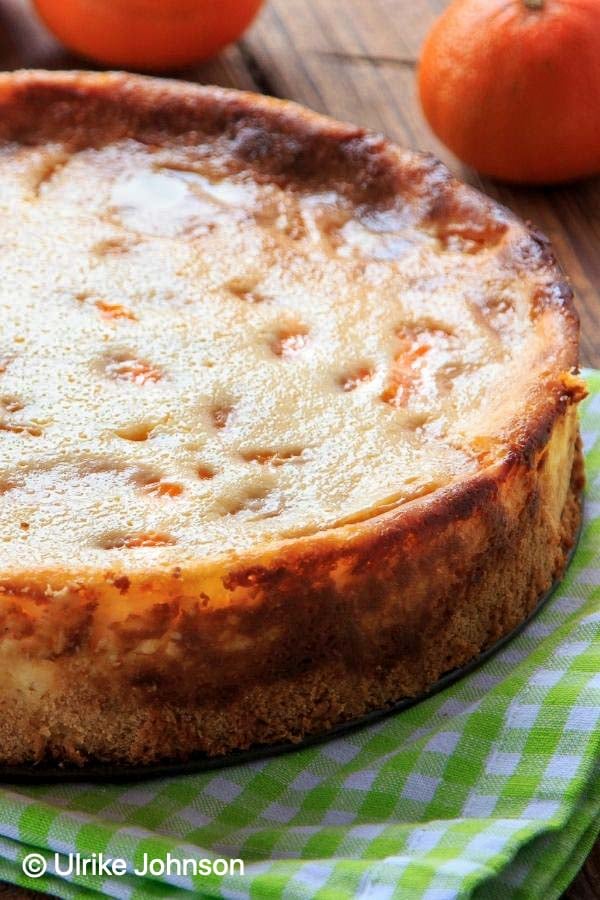 Why I love baking with quark:
I love baking cheesecake with quark! Quark is a fresh dairy product made by adding lactic acid to milk, and it is very similar in flavor to yogurt or cottage cheese. It is a very healthy dairy option, as it has fewer calories and lower levels of fat than cream cheese. You can get it in the dairy-aisle, close to ricotta or mascarpone. But hey, you can also make your own quark.
What can I use instead of quark in this German Cheesecake recipe?
You have several possibilities! You could use either all mascarpone or half Mascarpone cheese and half thick Greek Yogurt. Both quark and mascarpone are smooth, yet thick, dairy products, so when replacing one for the other, they will create similar textures. However, this version will be richer and lacking the refreshing tang of quark.
Another way is to Combine 2 parts ricotta cheese with 1 part full-fat sour cream.
Another good substitution for the quark is cottage cheese, but you want to place it in a food processor, add a bit of milk, and process until very smooth. Cream cheese seems like an easily-accessible substitute in this German cheesecake recipe.
However, I do not recommend using Philadelphia instead of quark for this recipe. If you can't seem to find any other replacements, that you could use it and add an extra hint of acid, such as lemon juice as cream cheese is not quite as sour or tangy as quark.
Can I make this German Cheesecake Dairy-free?
For a dairy-free version of this quark cheesecake, use margarine instead of butter and use homemade vegan quark using this recipe. Yes, you can simply strain some plant-based yogurt to make dairy-free quark. Instead of sour cream, use a dairy-free yogurt with no flavor and soy sour cream that is processed with soy cream cheese.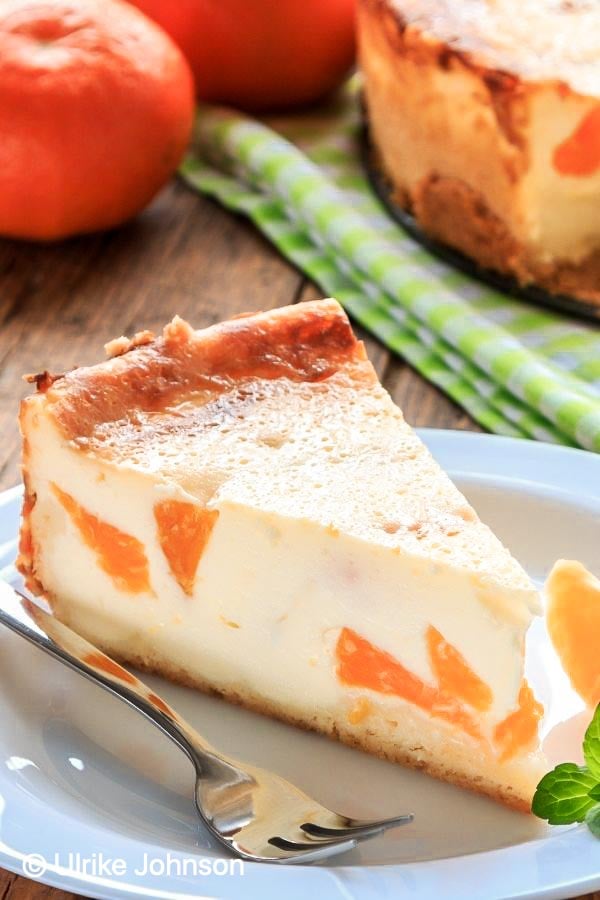 Tips
The sour cream should be full-fat!

You can make this German Cheesecake recipe with apricots or peaches instead of mandarin oranges.
To make this extra authentic, use 1 Package of Dr. Oetker Vanilla Pudding Custard Powder instead of the cornstarch.
More easy traditional German Cake recipes you will love:
★ Did you make and love this German Cheesecake recipe with mandarin oranges? Give it your review below! And make sure to share your creations by tagging me on Instagram!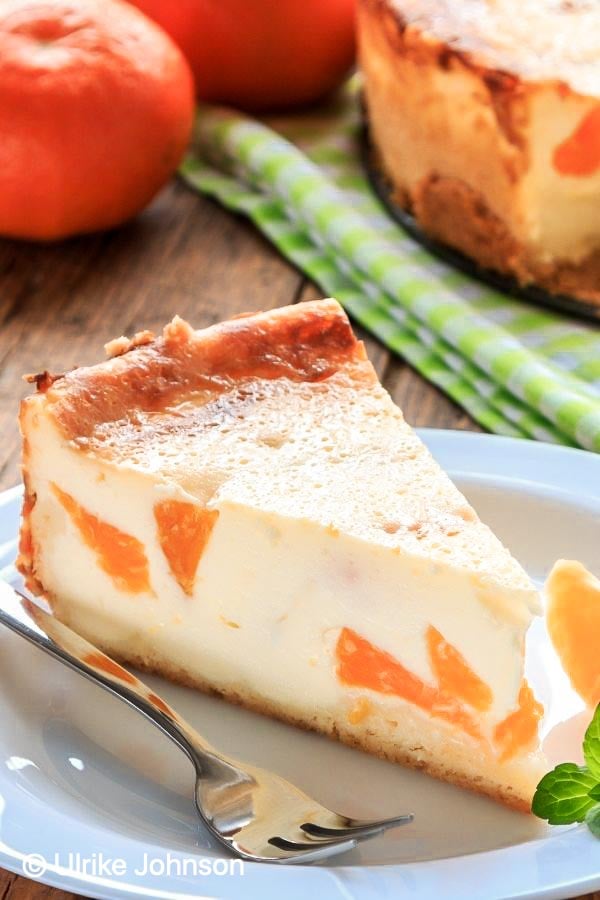 German Cheesecake with Mandarin Oranges
A traditional German Cheesecake with Mandarin Orangen, Quark, Vanilla Pudding, and Sour Cream! An easy, old-fashioned authentic German Cheesecake recipe that is popular all year round!
Ingredients
Shortcrust pastry base:
Zest of ½ lemon

60

g

of sugar

¼ cups

200

g

of flour

1 ¼ cup

1

pinch

of salt

1

teaspoon

baking powder

80

g

cold butter

⅓ cups

1

egg
Filling:
500

g

low-fat quark

2 ½ cups

400

g

sour cream or sour cream

1 ¾ cups

70

ml

vegetable oil

scant ½ cups - like canola

2

eggs

Zest of half a tangerine or meyer lemon

120

g

sugar

½ cups

41/2

tbsps

cornstarch

1

tbsp

vanilla paste

1

can

mandarin oranges
Instructions
Grate the lemon zest directly into the sugar and rub into the sugar with your fingers so that it really smells like lemon. That way the lemon sugar infuses the whole pastry.

Cut or grate the butter and place in a bowl along with the remaining ingredients for the shortcrust pastry and knead into a crumbly dough using the dough hook. Put on the work surface and bring together with your hands. Roll out the dough on a floured work surface with a rolling pin or press it directly into the mold. No chilling needed before rolling out, just press the dough into the springform pan, press the edge up the side and prick the base several times with a fork. Put the springform pan in the refrigerator for 30 minutes. You can prepare the pastry ahead of time and put the pastry in the mold and store in the refrigerator.

In the meantime, stir together the quark with sour cream, oil and eggs using the hand mixer. Mix until smooth. Just like with the pastry ,rub the lemon or tangerine peel into the sugar and rub in in with your fingers to make it frangrant. Mix the cornstarch with the citrus flavored sugar and add into the cheesecake batter. Add vanilla and stir everything to a homogeneous mass.

Preheat the oven to 180 ° C / 360F

Put a bowl of water in the oven as it preheats! This provides moisture in the oven and guarantees a German cheesecake without cracks!

Drain the mandarin oranges from the tin and drain very well. Pour the cheese mixture onto the chilled base, smoothen it out and cover with the mandarin oranges (I like spreading out my mandarin oranges and put a few on the pastry before adding the cheesecake batter).

Bake the cake in the preheated oven for an hour. Then turn off the oven and let the cheesecake cool with the door cracked slightly open. Let cool down to room temperature and chill overnight in the fridge.
Recipe Notes
Keep the cake in a cool place, or better chill in the fridge until serving. Before serving, it is best to take it out of the refrigerator half an hour before eating, so that the cake warms up a little can develop its full aroma.
You can also make this German Cheesecake recipe with apricots, red currants, raspberries, blueberries or peaches!