Dieser Beitrag ist auch verfügbar auf:

Deutsch (German)
The best recipe for roasted beetroot hummus inspired by Ottolenghi – healthy & vegan. The combination of chickpeas, beetroot, tahini, and a touch of horseradish makes this the best roasted beetroot dip ever.Jump to Recipe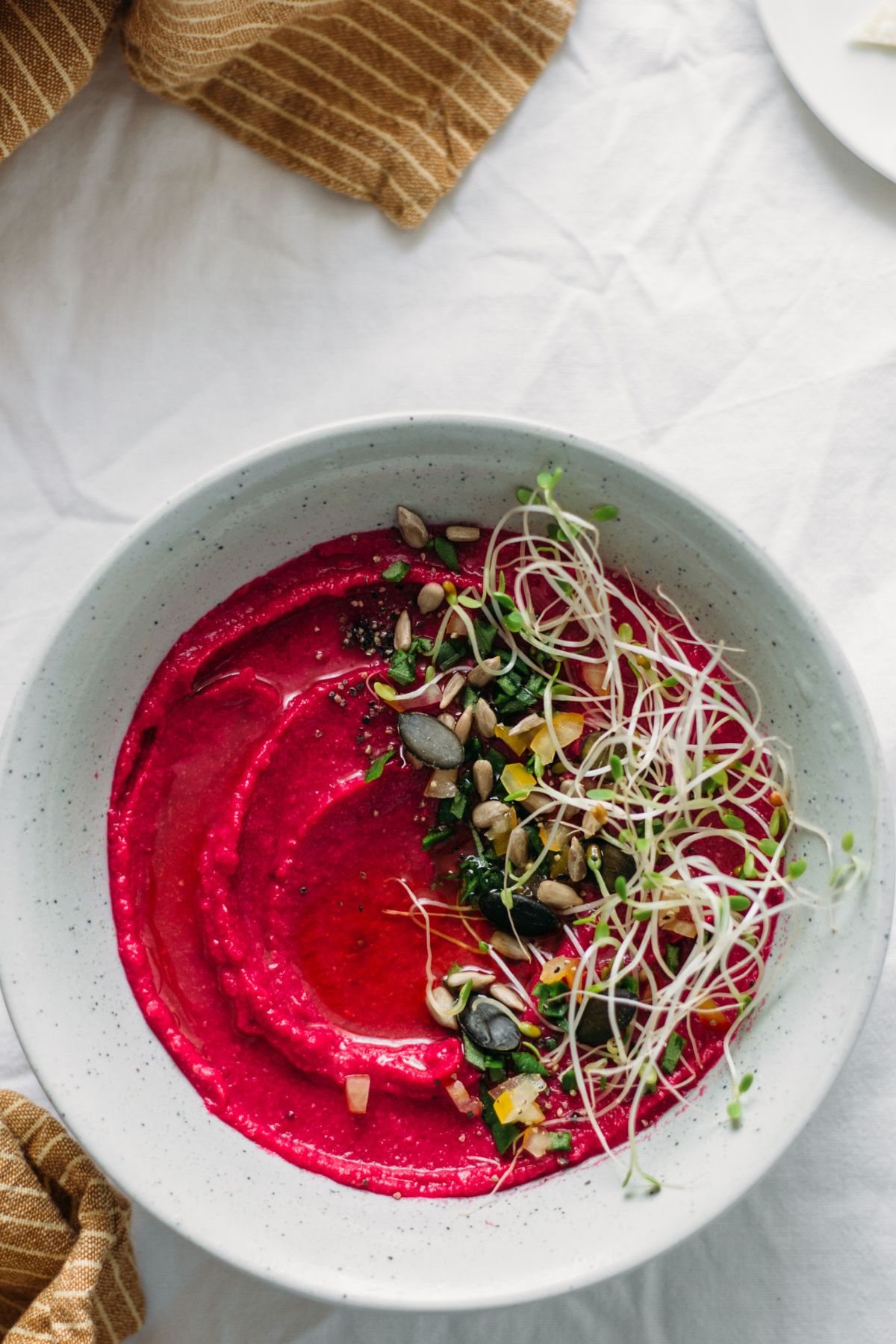 Roasted beetroot hummus – mix up your regular hummus rut with this pretty pink roasted beetroot dip! A simple recipe for a chickpea spread that is perfect for entertaining! This recipe is inspired by the famous Ottolenghi beetroot hummus but I added a couple of twists.
My roasted beetroot hummus is super creamy and rounded off with a hint of horseradish and a tiny touch of cumin. A great party dip that looks fantastic and with that pretty pink hue from the vibrant beets it's the ideal appetizer for Valentine's Day or date night.
There are many hummus recipes out there that claim to be the best and I tried many of them. The one from Ottolenghi is great, but the thing about hummus that really gets to me is how extremely overpowering the raw garlic can be.
I find that mixing the garlic in some tablespoons of lemon juice first takes away the raw bite from the garlic!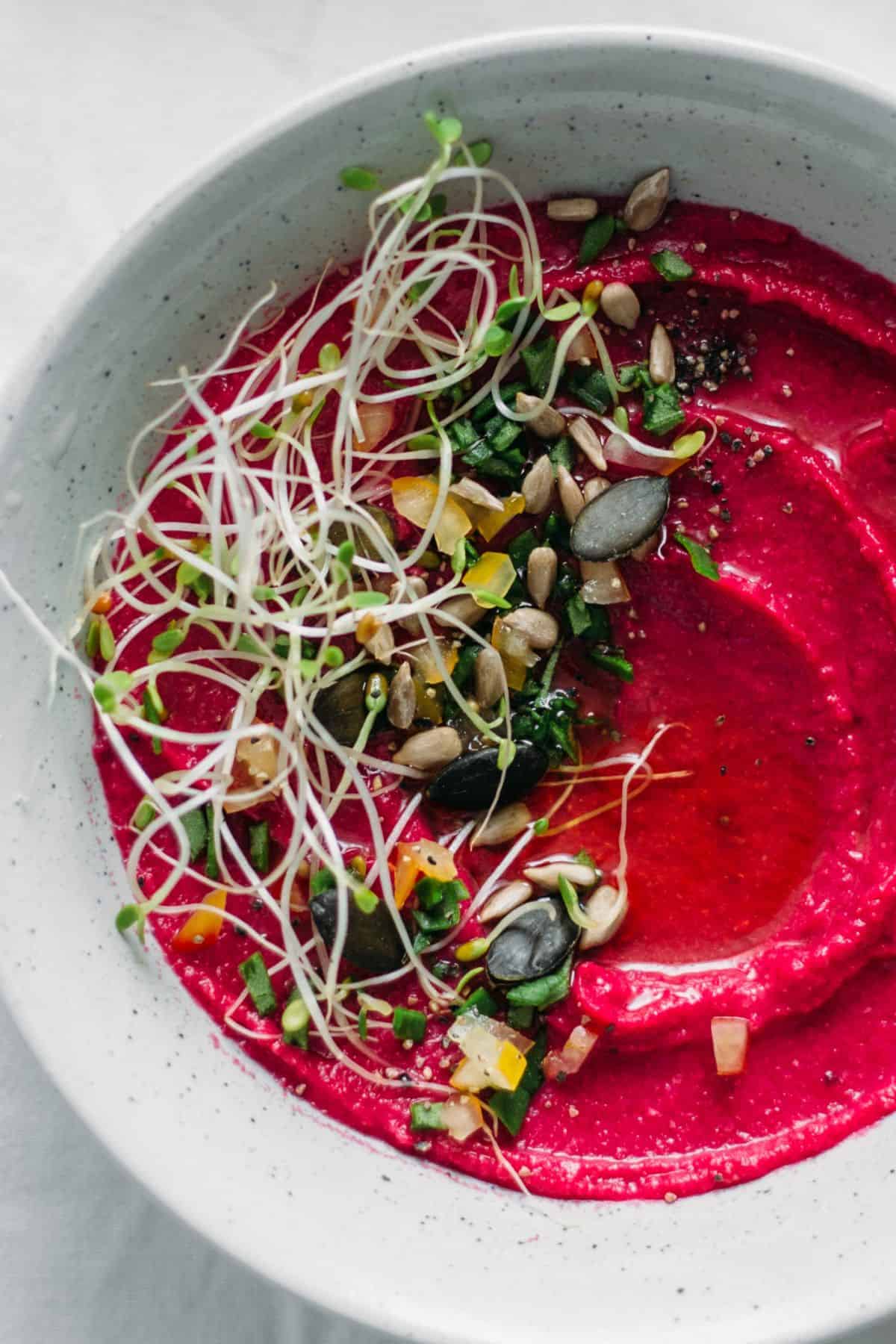 Another thing I learned along the road is that you really should not skimp on the amount of tahini which gives our hummus an amazing silky texture. Literally like whipped cream.
You can cook the beetroot but I prefer roasting my beetroot in the oven for a more flavorful outcome.
Due to their long shelf life, beetroot is one of the most popular winter vegetables and now, in January and February, it's the perfect time to use them as a seasonal, regional vegetable. Also, try my beet salad with apple and my beet oatmeal!
Due to their vitamin B, potassium, iron, folic acid, and, above all, high fiber content, beets are very healthy! In addition to classic dishes such as borscht, more and more beetroot recipes such as beetroot brownies or red velvet oatmeal are trending on Instagram.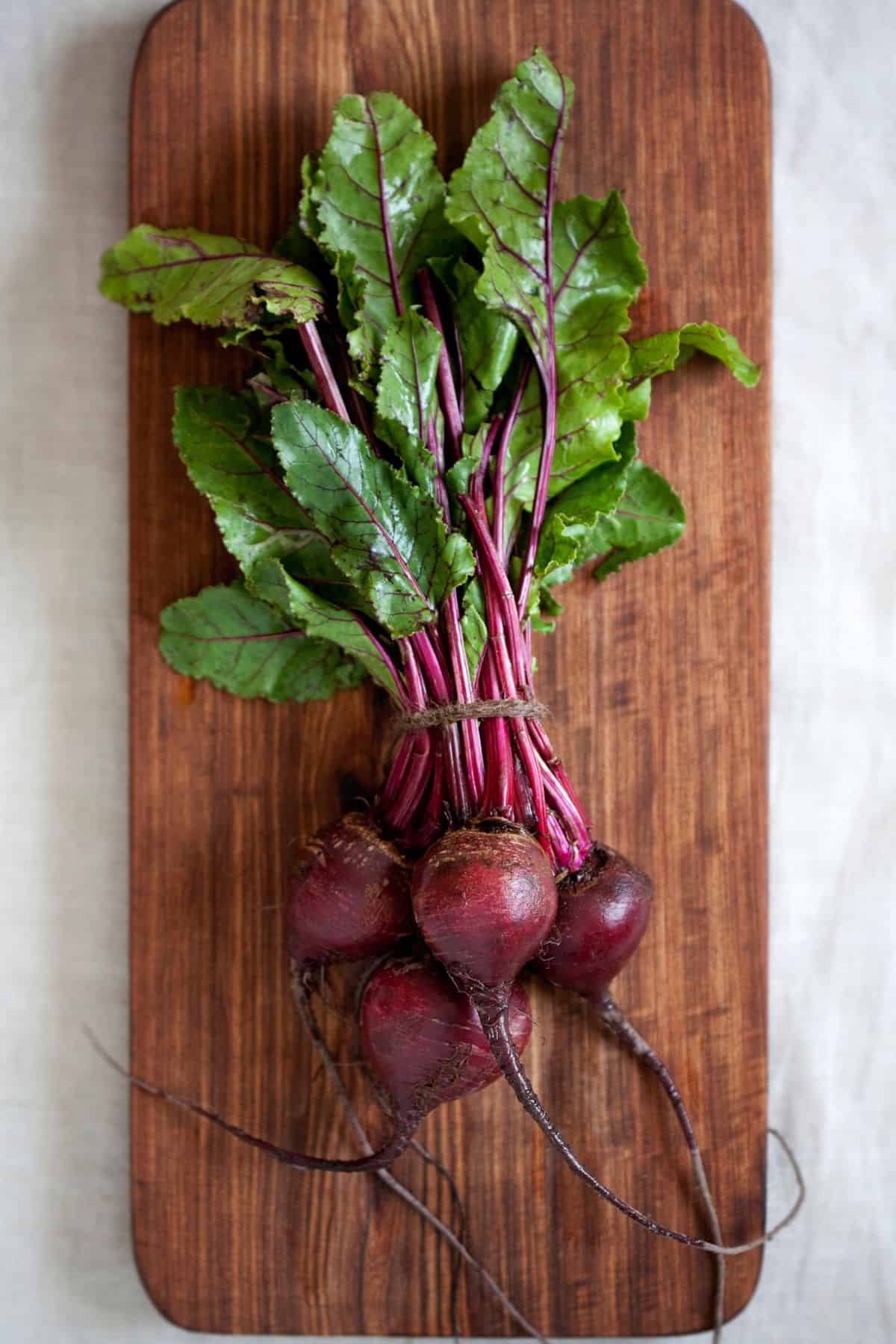 But don't worry if you're not a huge beetroot fan. We tone down the slightly earthy taste of the beet hummus with a few tablespoons of fresh lemon juice
There are different types of hummus and hummus dishes out there: the creamy paste made from chickpeas is often refined with different spices, mixed with roasted vegetables and there are even sweet versions out there (try my vegan cookie dough for snacking).
However, the basic recipe for classic hummus is mostly the same.
Chickpeas form the basis for all hummus recipes. Then we add olive oil, garlic, tahini or sesame paste, fresh lemon juice and a few spices.
With ready-made hummus from the supermarket, preservatives and sugar are sometimes added to guarantee a longer shelf life or a better consistency. I think hummus always tastes best homemade and then you can decide for yourself what you want to add.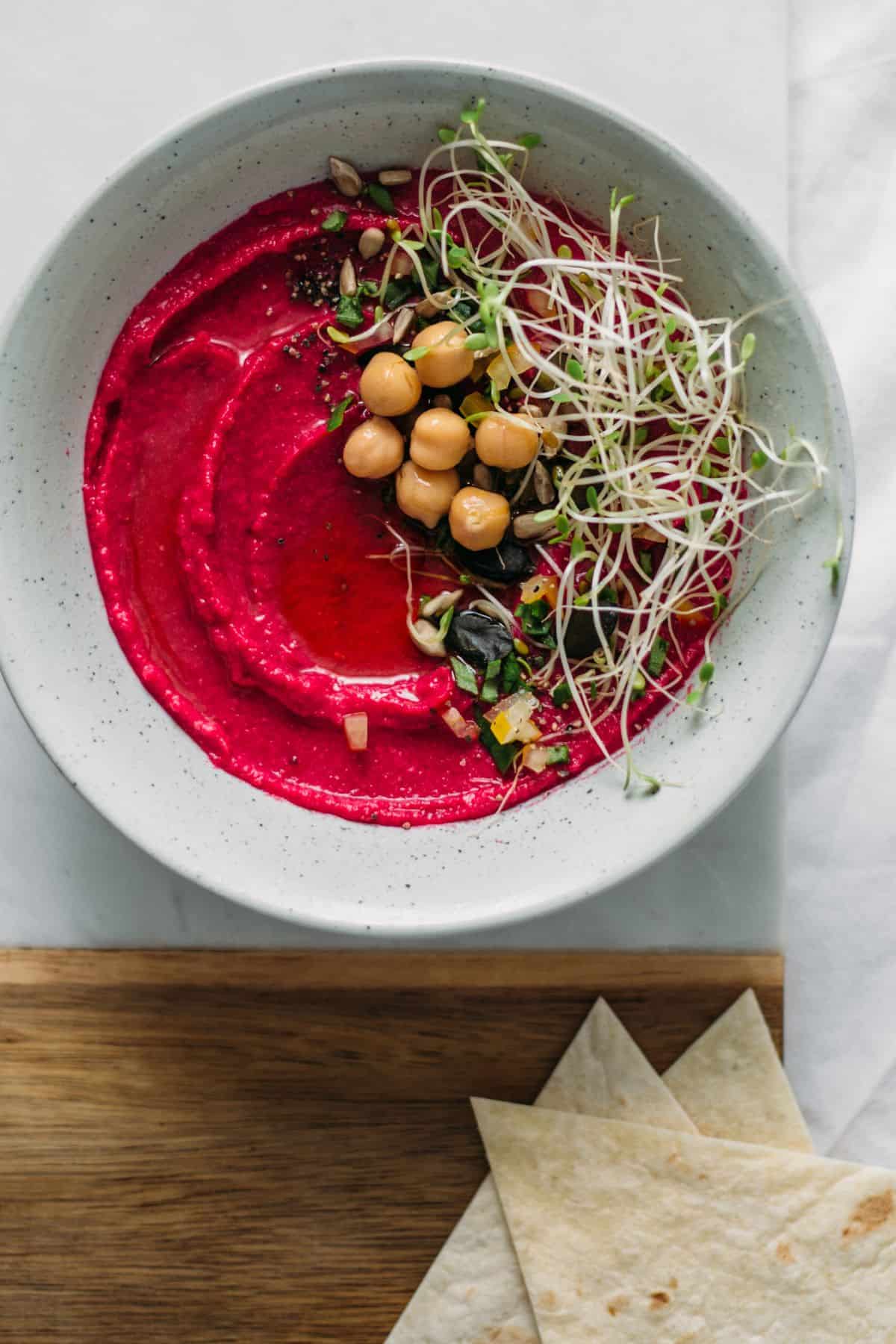 Ingredients for beetroot hummus
You don't need many ingredients for our beetroot hummus:
Fresh beetroot – 1 medium beetroot
one clove garlic
fresh lemon juice
Tahini (sesame paste) – use good quality
Olive Oil – Extra Virgin
Horseradish – hot ( alternatively, add some fresh ginger)
Cumin – use sparingly here as the spice quickly overpowers other tastes
How to Roast or Boil beets
I tried this recipe with raw beetroot and roast beetroot and I found the latter to be superior.
Cooking beets in water
To cook your beets, first, remove the leaves from the beetroot without cutting into the tuber.
Now remove dirt from the beet under cold running water. Put the beet in a saucepan, fill with water and cook the vegetable for 30-40 minutes until soft. The exact cooking time depends on the size of the bulb.
Do not salt the water, otherwise, the salt will take away the bright color of the beetroot.
If the beets can be easily pierced with a fork, they are done. Let them cool down and then switch them with the economy switch.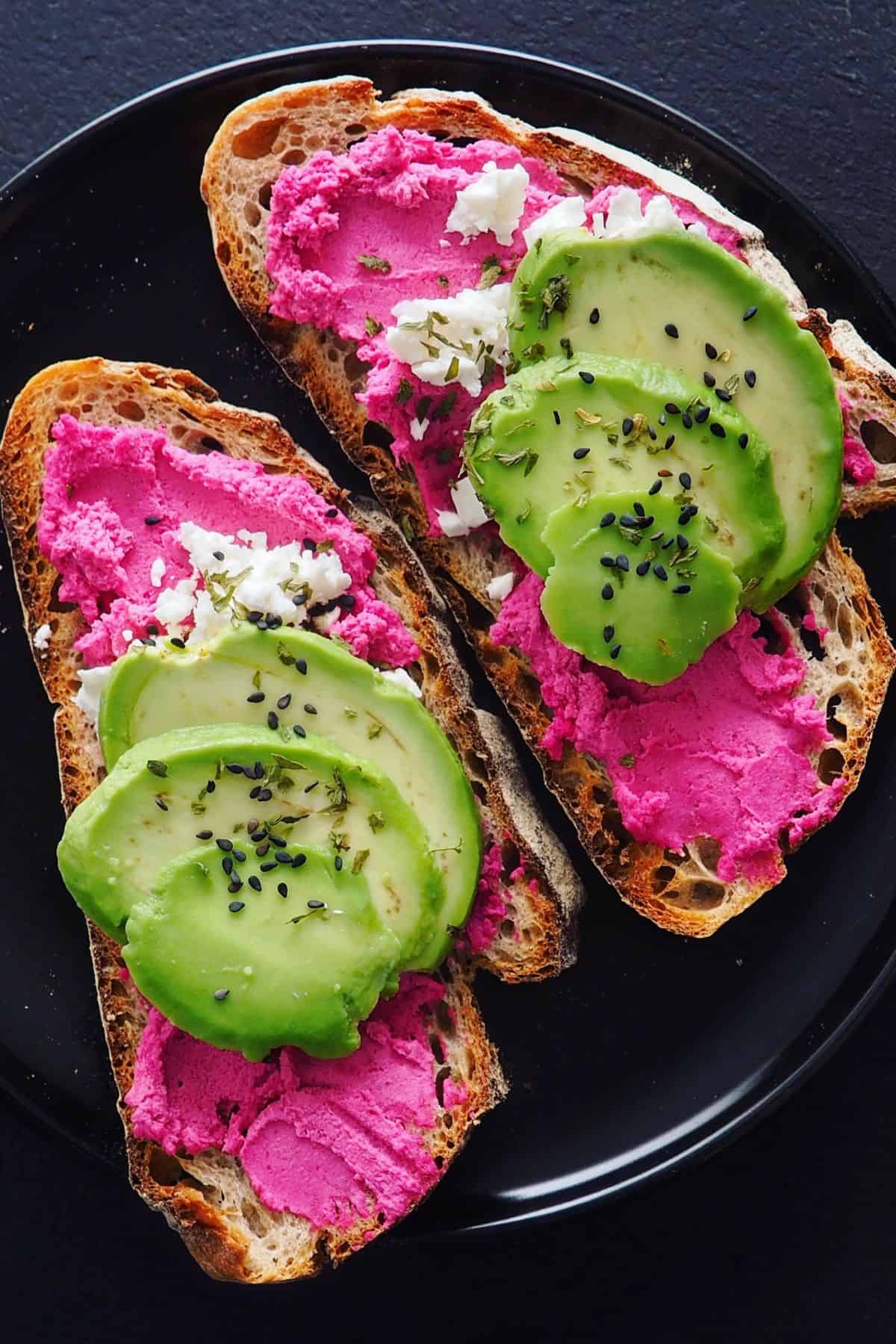 Bake beetroot whole
Alternatively, bake the beets in a hot oven. Wrap the beets in aluminum foil, place on a baking sheet and bake for 1 – 1.5 hours at 200 C / 400F until cooked.
Beetroot hummus – what to serve with it
You can use beetroot hummus to dip pita chips or vegetable sticks, spread it on your breakfast bread, use it as a base for avocado toast or simply enjoy it on its own.
Also great as an accompaniment to vegetables or meat or with falafel, often in pita bread or as a topping for a colorful bowl! Yummy. I even used it as a topping for pizza.
Toppings for beetroot hummus:
You can top this with
pomegranate seeds,
my homemade lemon parsley salsa,
green onions / spring onions,
chili flakes,
pine nuts,
goat's cheese,
or even some plain Greek yogurt and a grating of lemon zest (or coconut yogurt to keep things vegan).
I think my favorite toppings ever are goat cheese and a drizzle of date syrup or maple syrup. But you can keep things really simple too and just sprinkle some black sesame seeds on top of the hummus.
The perfect way to serve this is to spread the beetroot dip on a flat serving plate and create nice swirls before adding the toppings.
Storing hummus:
You can make this ahead of time.
Homemade hummus will generally keep for about 4 to 7 days in the fridge, assuming it has been continuously refrigerated.
To further extend the shelf life of your roasted beetroot hummus, freeze it: place inside covered airtight containers or heavy-duty freezer bags.
Tips for the best hummus
You should know these 5 secrets when preparing hummus
Boil the canned drained chickpeas with a little baking soda for 20 minutes – the baking soda raises the pH of the water and helps the little guys break down into a soft, mushy mass My #1 tip for extra creamy hummus
Don't skimp on tahini—use 1/2 cup of tahini per can of chickpeas for truly irresistible hummus
I recommend pureeing the tahini with 4 -5 tablespoons of cold water (ice water) before adding the remaining ingredients
Not a fan of raw garlic? I have a great tip on how to mitigate the garlic flavor without having to toast the garlic. First, puree the garlic and lemon juice in your blender or food processor, then let this mixture sit for 10 minutes
Finally, mix 2 tablespoons of olive oil into your hummus
More hummus recipes:
Beetroot Hummus Ottolenghi
The best recipe for roasted beetroot hummus inspired by Ottolenghi - healthy & vegan. The combination of chickpeas, beetroot, tahini, and a touch of horseradish makes this the best roasted beetroot dip ever
Ingredients
1 ½

cups

canned drained chickpeas ( 1 15 oz can)

1/2

tsp

baking soda

1

garlic clove

¼

cup

lemon juice

¾

tsp

salt

1/4

tsp

cumin

1

tsp

horseradish

½

cup

tahini

4

tbsp

ice cold water

2

tbsps

olive oil

1

beet - roasted and peeled or cooked and peeled

use canned for making this easier

Sesame seeds for topping

Gluten-free crackers for serving
Instructions
Optional: Place the drained canned chickpeas in a medium saucepan and add the baking soda. Cover the chickpeas by several inches of water, then bring the mixture to a boil over high heat.

Continue boiling the chickpeas, reducing the heat if necessary to prevent overflow, for 20 minutes, or until the chickpeas are very soft and the skins are falling off. In a strainer, drain the chickpeas and run cool water over them for about 30 seconds. Set aside.

Meanwhile, in a food processor or high-speed blender, combine the lemon juice, garlic, and salt. Process until the garlic is very chopped finely, then let the mixture rest  for 10 minutes or longer

. If you are in a rush, skip this step and proceed witout letting the mixture rest.

Add tahini, cumin and horseradish to the food processor and blend until the mixture is thick and creamy, stopping to scrape down any tahini that gets stuck to the sides and bottom.

While running the food processor, drizzle in your ice water. Scrape down the food processor, and blend until the mixture is pale and creamy.

Add the drained, over-cooked chickpeas and the beet. While blending drizzle in the olive oil. Blend until the mixture is super smooth, scraping down the sides of the processor as necessary, about 2 minutes. If its still too thick, add more ice water by the tablespoon until you achieve a super creamy texture.

Taste, and adjust salt and some more lemon juice for extra zing. Top with your favorite toppings (see recommendations)

Ladle the hummus into a serving bowl and use a spoon to create nice swooshes on top.
Recipe Notes
Cook canned chickpeas with baking soda for 20 minutes  -  baking soda "raises the pH of the water and helps the little guys break down to a soft, pulpy mass… the nr 1 tip for  ultra-smooth hummus 
Puree the tahini with 4 tbsp ice water before adding the chickpeas
Blend garlic and lemon juice in you blender first, then let this mixture sit for 10 minutes- this makes the hummus llose its harsh, raw bite