Dieser Beitrag ist auch verfügbar auf:

Deutsch (German)
A healthy summery twist on risotto! This Blueberry Nectarine Risotto with Thyme is easy to make and just perfect for a casual summer dinner!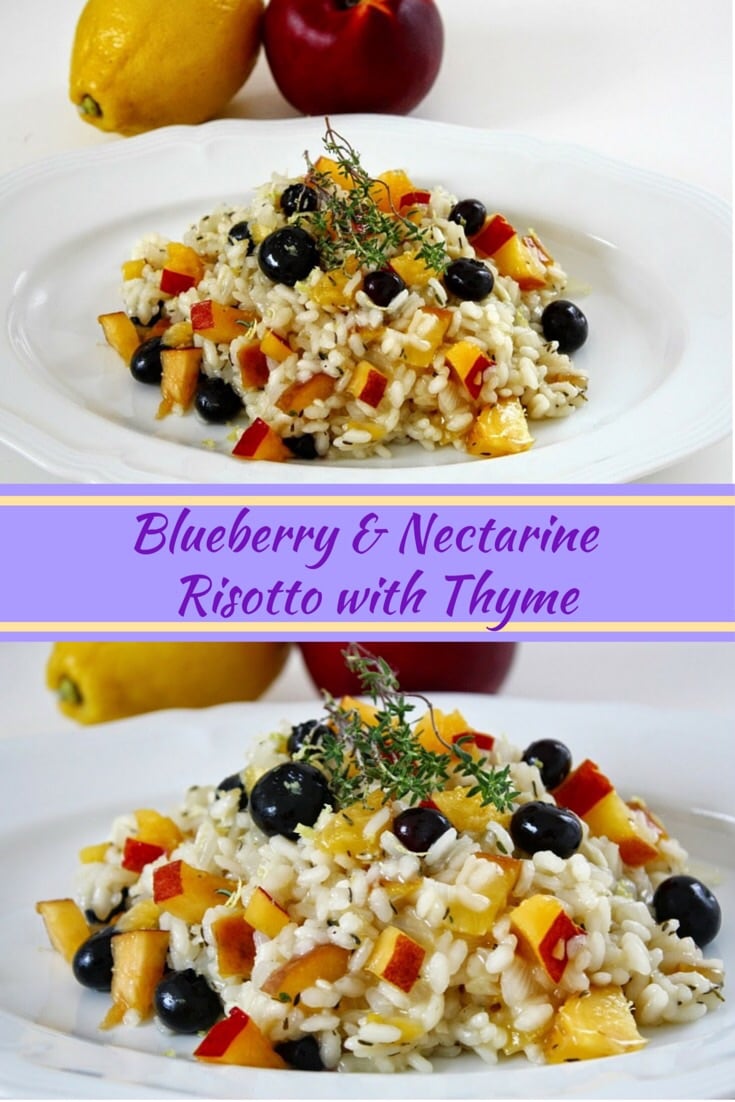 Ever since I made this
nectarine and grape panzanella
I am obsessed with nectarines in hearty dishes! They add so much summer flair to everything and I can't get enough of them! Given that we simply love risotto it was just a matter of time before I sneaked some nectarines into this classic dish as well! The idea was to create a risotto using both fresh fruit and herbs! Something colourful that looks and tastes like summer! I find thyme to be the perfect herb as it goes with both fruits and adds a certain heartiness to the risotto.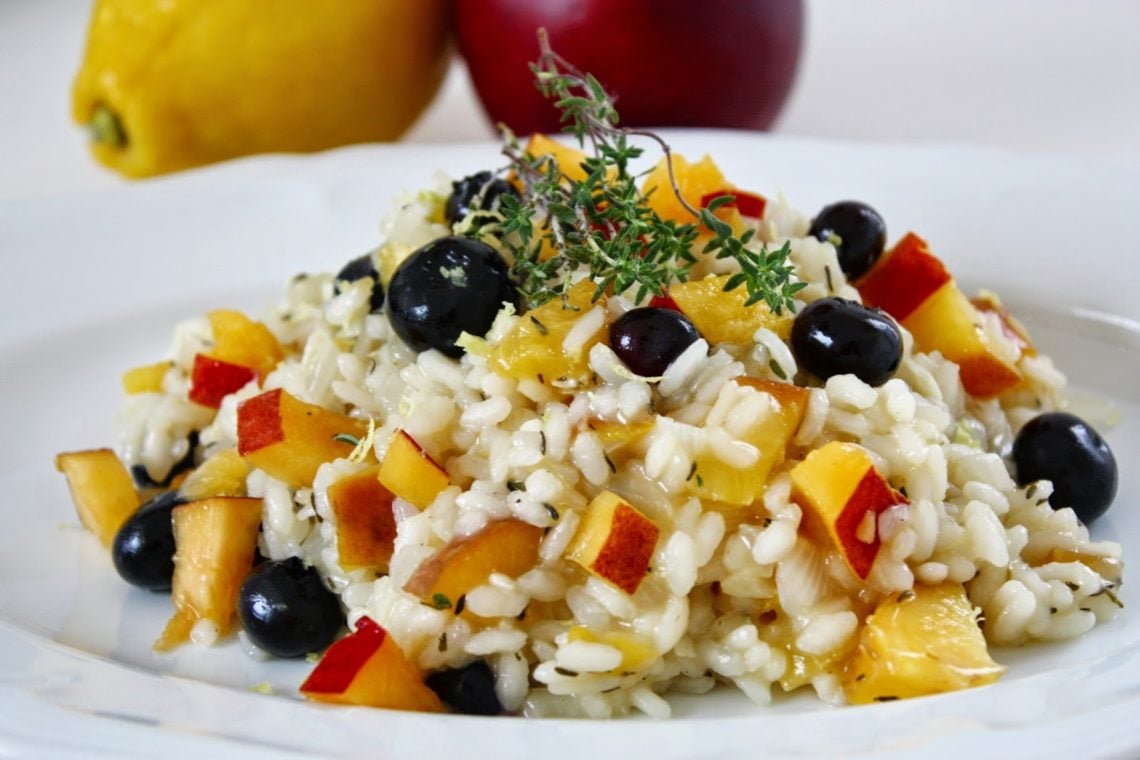 This summery risotto turned out incredibly creamy and slightly sweet with the fresh flavors of thyme, fresh chunks of nectarines and whole blueberries! This recipe a real all time favorite in our family .It is so good you can enjoy this as meal by itself but it also makes a nice side dish for roast chicken. No matter how you serve it, you will want to make this risotto again and again.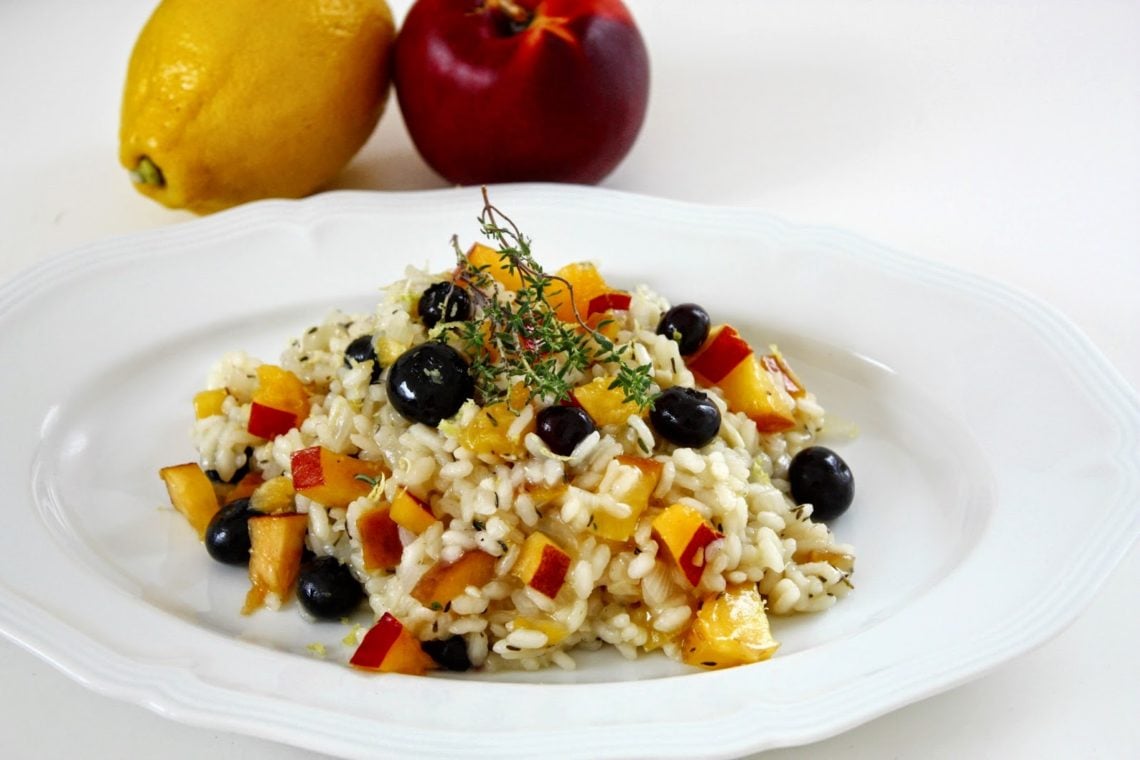 Recipe for Blueberry Nectarine Risotto with Thyme
for 2
1 minced onion
1 clove of garlic
120 g arborio rice
200 g blueberries
1 big or 2 medium nectarines
4 Tbsp butter
3 tbsp grated parmesan cheese
zest of 1 lemon
6 Tbsp white wine
250 ml hot broth (vegetable or chicken)
2 Tbsp olive oil
2 tsp fresh thyme leaves
Heat up the broth and keep warm on the stove. Chop your nectarine and wash the berries. Mince garlic and onion and fry onion in oil and 1 tbsp of butter until translucent. Add the garlic and fry for another minute. Add the rice and let it toast or about 2 minutes, then add the wine. Let it reduce and add the broth in small additions, stirring all the time. Stir in the thyme leaves. When your risotto turns creamy and the rice is al dente stir in the fresh fruit, the lemon zest, the cheese and the leftover butter.
Serve immediately