Dieser Beitrag ist auch verfügbar auf:

Deutsch (German)
My Easy, Vegetarian Mushroom Tikka Masala is a family favorite! This meat-free version of Chicken Tikka Masala makes for a light lunch or dinner, along with (cauliflower) rice, chapatis, or naan bread. Vegan version included Jump to Recipe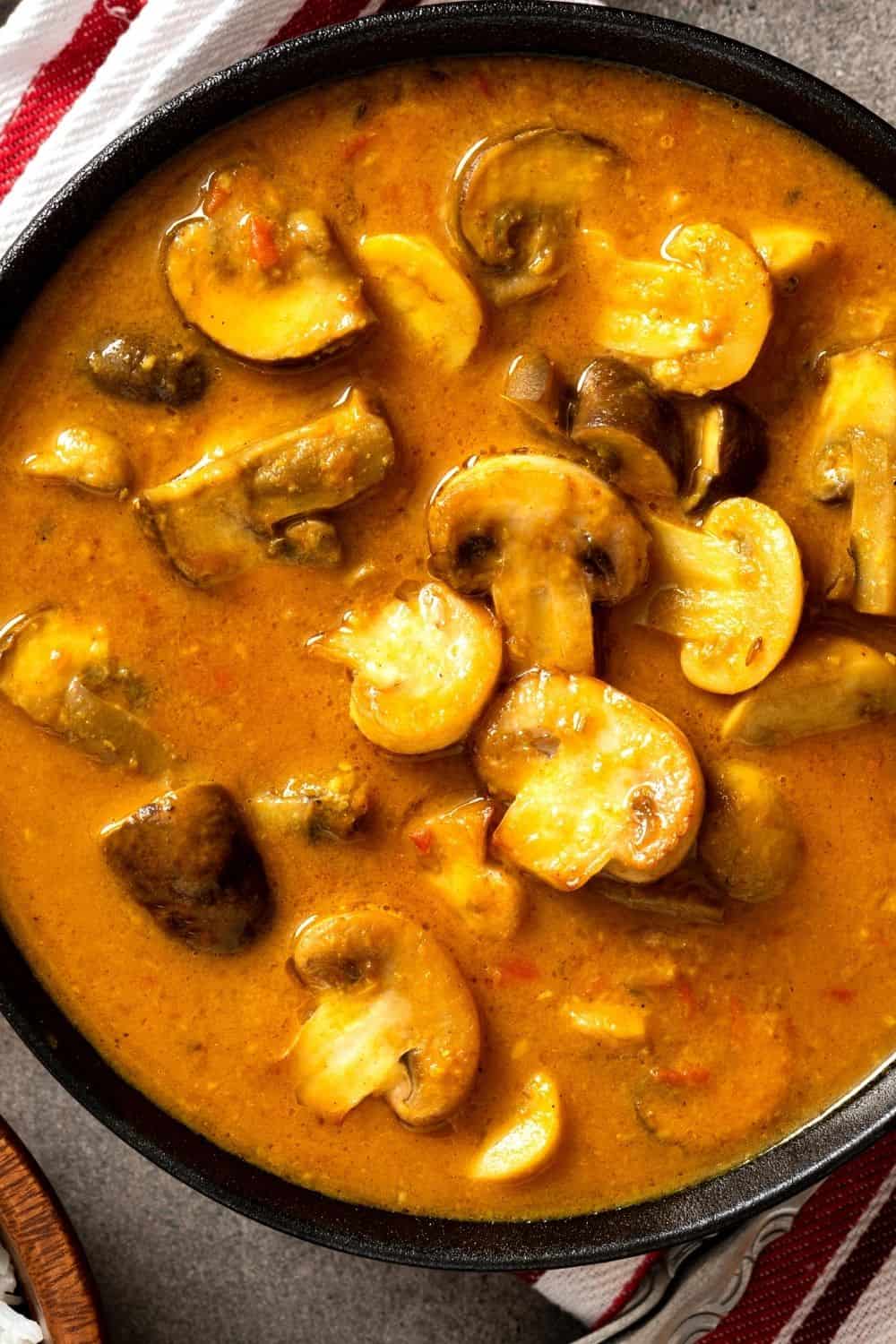 Mushroom Tikka Masala – an easy meatless curry with mushrooms
When it comes to vegetarian dishes, I love to turn to Indian recipes. What's not to love about all the intoxicating spices and complex flavors of Indian Cuisine!
Now, creating vegetarian or vegan versions of popular take-out classics has become a thing, right?
Most times, the meat substitute of choice seems to be cauliflower. And this works incredibly well. I mean, have you tried General Tso's Cauliflower ? DELICIOUS!
But if you are looking at vegetarian and vegan curry recipes there are other options out there. Umami-richer options, like mushrooms!
When I discovered this insanely delicious-looking Mushroom Tikka Masala, I knew I had to create my own vegetarian version of this Indian restaurant classic.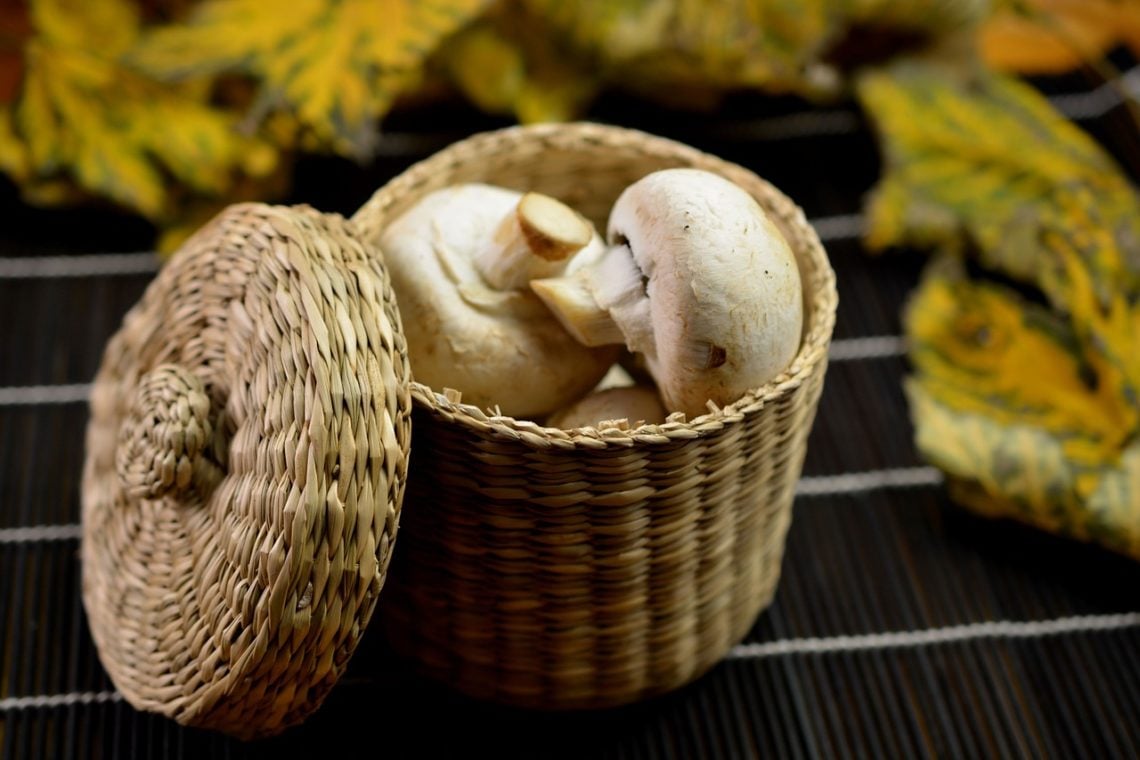 How to make Vegetarian Mushroom Tikka Masala:
Mushroom Tikka Masala is basically a meat-free version of Chicken Tikka Masala. We treat the mushrooms in exactly the same way as we would normally prepare the chicken.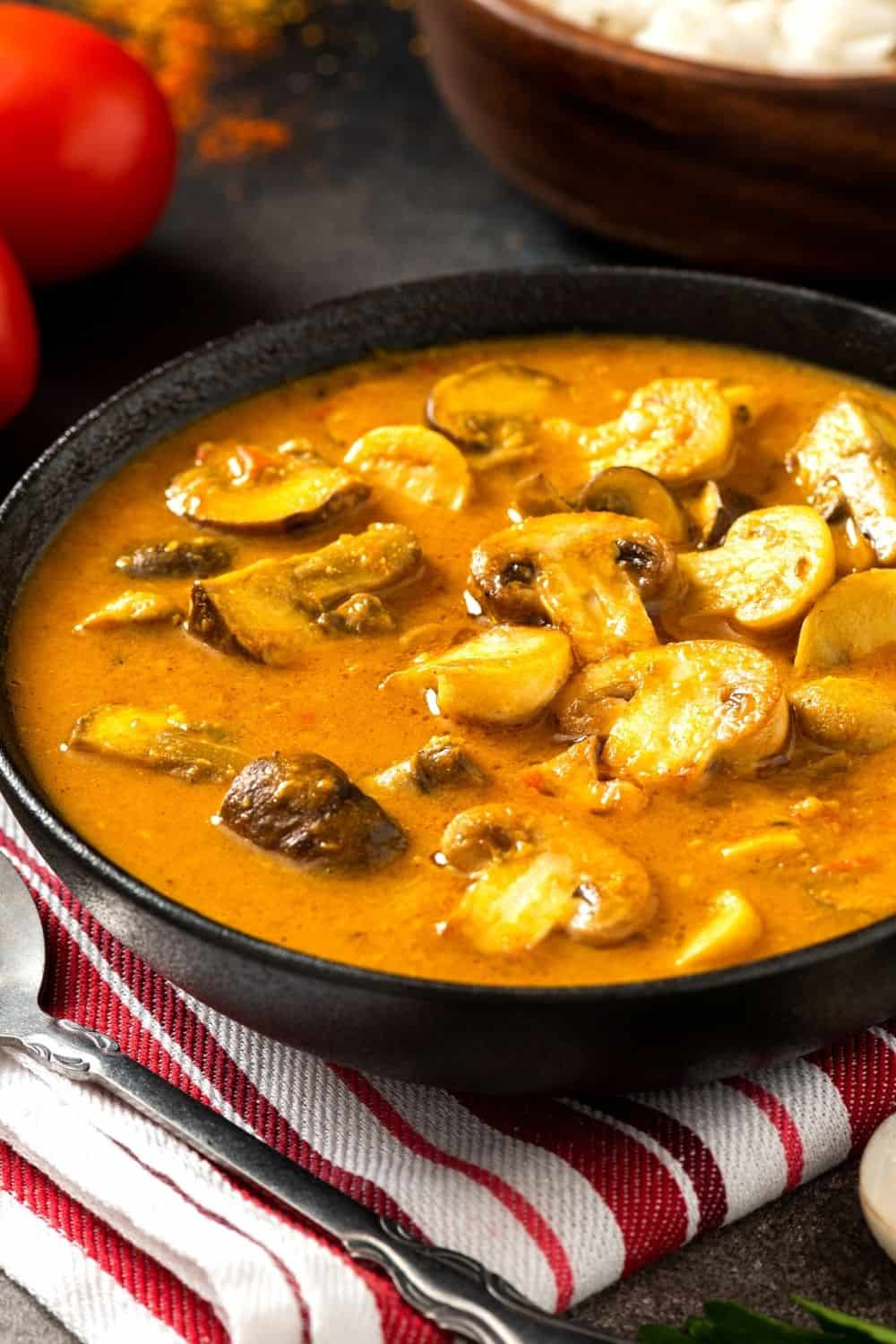 Let's start by cooking a rich, creamy tomato sauce with hints of chili, cumin, and coriander. While the tikka masala sauce simmers, we toss the mushrooms in a spiced yogurt marinade. You can use coconut yogurt for a vegan version. Then, we fry them in hot ghee or coconut oil until they are nicely browned on all sides.
Finally, all we need to do is combine them with the sauce and finish the Mushroom Tikka Masala with some lemon juice, cream, and fenugreek leaves. So simple, so delicious!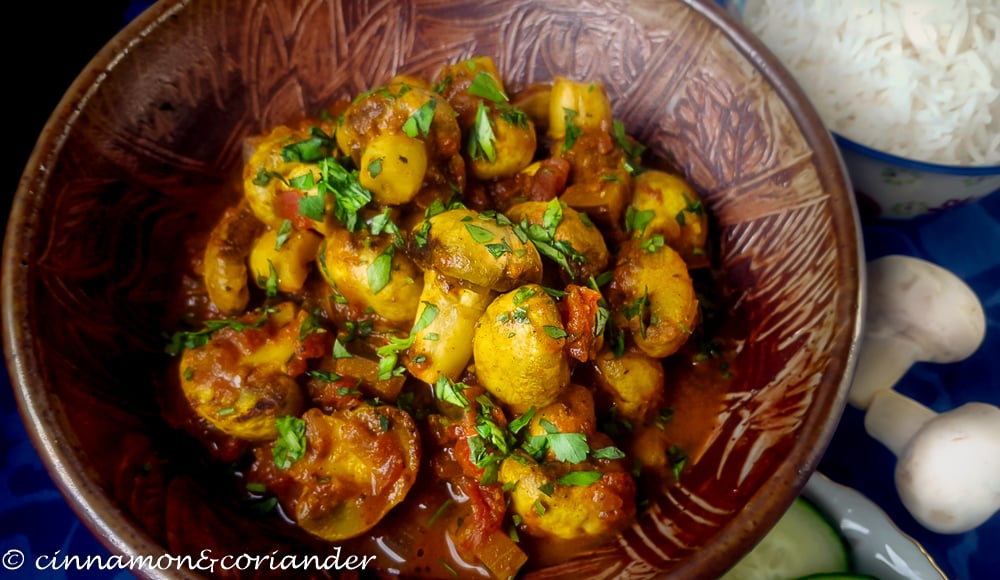 What to serve with Mushroom Tikka Masala:
I love to serve my Mushroom Tikka Masala sprinkled with cilantro leaves. You can enjoy it with basmati rice, or, if you want to go extra-healthy, with Cauliflower Rice on the side.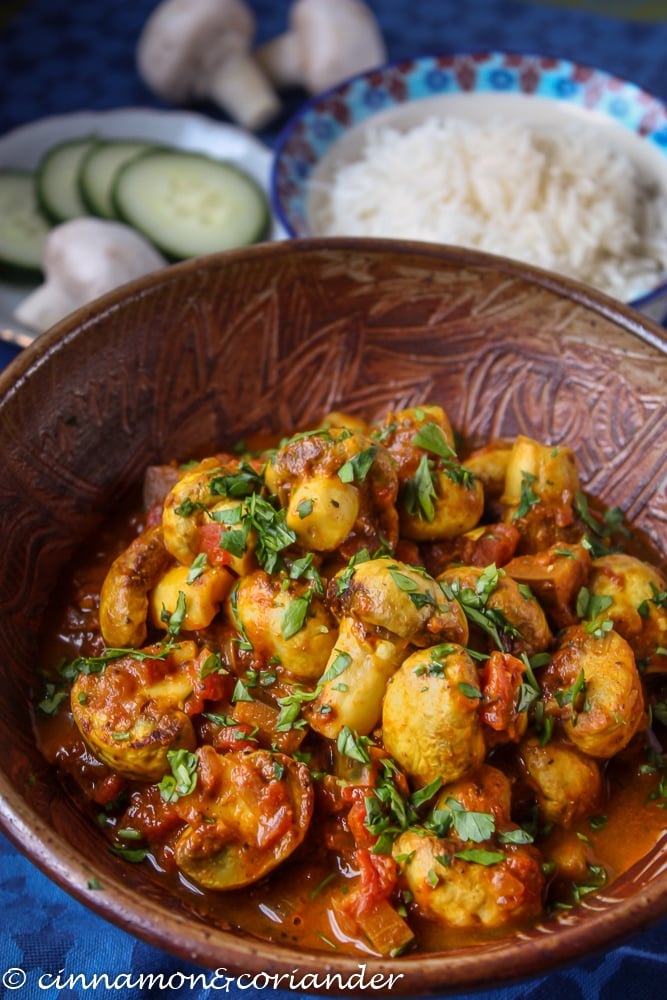 Tips:
For the mushrooms, I like button mushrooms.
I have made this both in the vegetarian and vegan version. If you make this vegan, use soy cream and coconut or soy yogurt. You could also add cashew cream instead of cream to the gravy.
Kasoori methi is an earthy-tasting, dried herb – is the only item you might not find at your local grocery shop. It's easily available at Indian stores but if you cannot find it, you can substitute it with cilantro.
More Indian recipes:
For more Indian vegetarian recipes, try my Kadhi Pakora and my Achari Paneer recipe.
As a dessert, I recommend my Indian rice pudding!
* A note about affiliate links in this post: some of these links will take you to Amazon where I may receive a small percentage of sales, at no extra cost to you.
Mushroom Tikka Masala Curry
My easy, vegetarian Mushroom Tikka Masala Curry is one of my favorite Indian dishes! This meat-free version of Chicken Tikka Masala makes for a light lunch or dinner, along with (cauliflower) rice, chapatis, or naan bread.
Ingredients
For the masala
2

tbsp

Ghee or coconut oil for vegan

1 

big onion

1 

tbsp

minced ginger

3 

garlic cloves

3 

tsp

cumin

1 

tsp

coriander

2 

tsp

curry

½ 

tsp

chili powder

½ 

tsp

turmeric

100

ml 

red wine

alternative: broth

1 

can

diced tomatoes

16oz

2

tbsp

Kasoori Methi Leaves

1,5

tsp

salt

100

ml

coconut cream

or cream or soy cream

juice of 1/2 lemon
For the mushrooms
400

g 

mushrooms

120

g 

full-fat yogurt or coconut yogurt

vegan alternative soy yogurt

½ 

tsp

cumin

½ 

tsp

turmeric

¼ 

tsp

chili powder

½

tsp

black pepper

2 

tbsp

ghee
Instructions
Mince onions and garlic. Grate the ginger. Heat the ghee on medium heat and add the onions. Fry for about 3 minutes, then add ginger and garlic and fry for another 45 seconds. Add the spices, as well as 1 tsp of sugar and let fry for another minute, stirring once in a while.

Add the wine, let everything come to a boil and let reduce. Add the entire can of tomatoes, let the sauce come to a boil and reduce the heat to a low simmer. Let cook on low heat for about 10 minutes until it thickens slightly.

In the meantime brush the mushrooms and halve big ones. Measure out yogurt in a bowl and add the spices. Mix everything well and add the mushrooms. Toss them in the marinade so that they are evenly coated from all sides.

Heat the remaining 2 tbsp of ghee on medium-high heat and fry the mushrooms in small batches until they are evenly browned on all sides. Make sure not to crowd the pan as this might lead to too much water in the pan.

Add the mushrooms to the thickened masala. Stir in the Fenugreek Leaves, the cream, and the lemon juice. Add about 1tsp of salt and taste. Add more sugar or salt to your liking.

Serve the mushroom tikka masala with basmati rice or cauliflower rice!