Dieser Beitrag ist auch verfügbar auf:

Deutsch (German)
This 4-ingredient Peanut Butter Nice Cream with peanut butter and frozen banana is a quick, healthy vegan ice cream recipe made in a blender or food processor – no ice cream maker needed! Jump to Recipe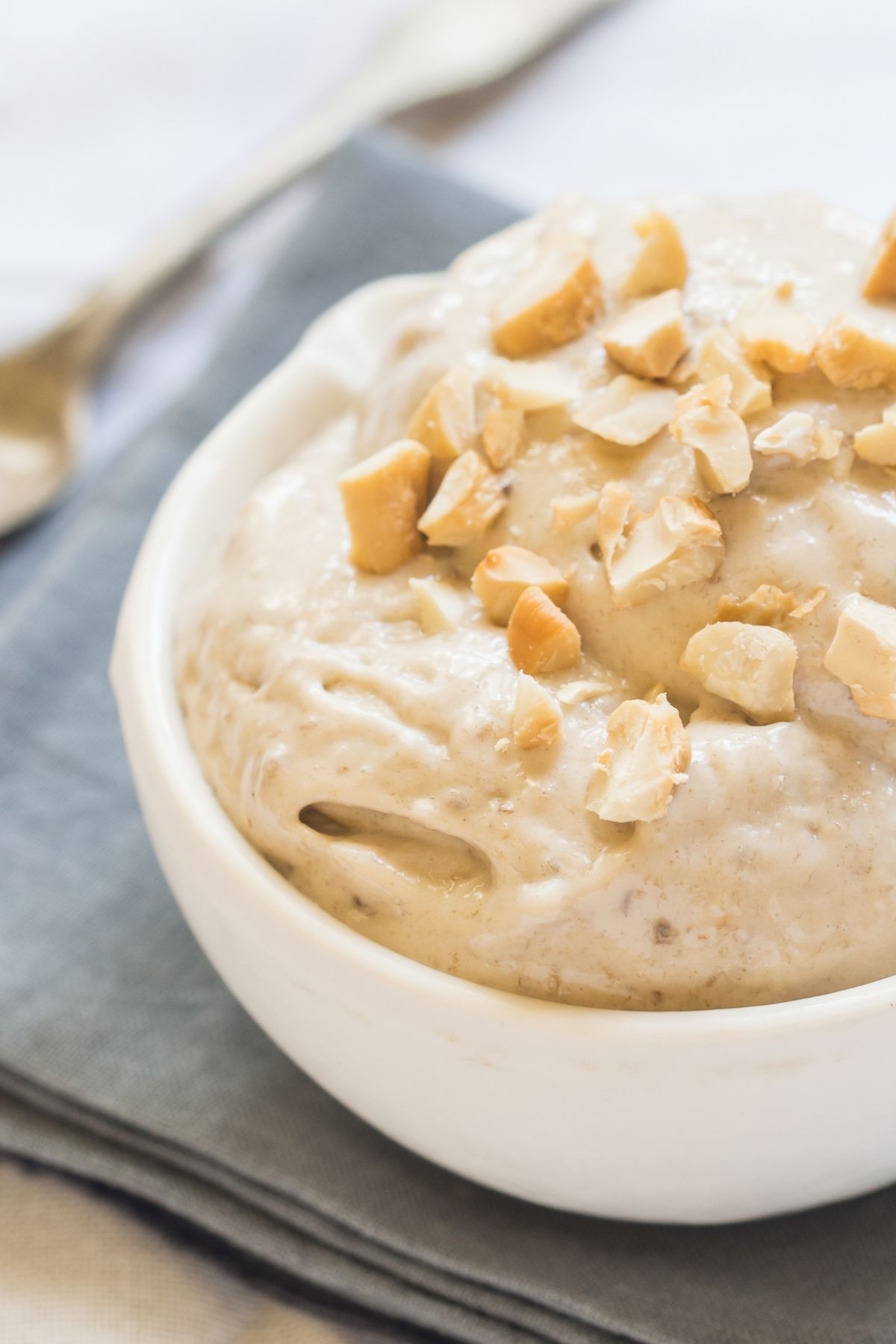 With only 4 simple ingredients, this vegan peanut butter nice cream is dairy-free, gluten-free, refined sugar-free and ready in 5 minutes flat. Top with chopped peanuts and serve immediately or freeze for later!
What is nice cream?
Nice cream is a vegan ice cream made from frozen sliced bananas that are blended in a food processor or high-speed blender to create a light and fluffy, soft-serve-like ice cream that is refined sugar-free and dairy-free!
You can eat it straight from the blender or food processor. However, if you want a firmer ice cream you can simply freeze the nice cream in a bread pan for another hour or two!
Why you'll love nice cream
super quick and easy to make
vegan
healthy
naturally sweetened
dairy-free
without eggs
kids-approved
lower in calories, sugar, and fat than regular ice cream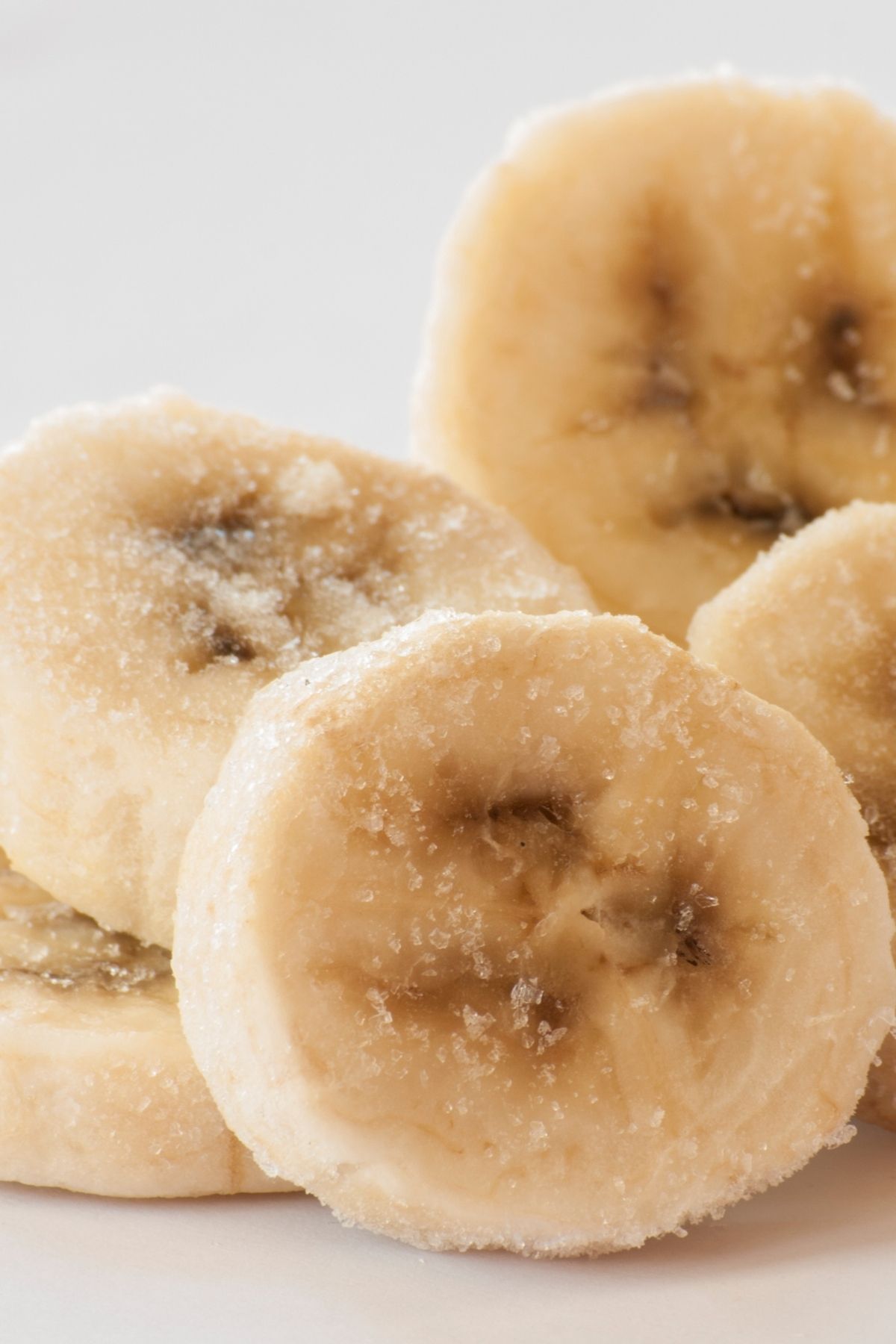 Ingredients for vegan peanut butter nice cream
bananas, peeled, sliced, and frozen
smooth all-natural peanut butter – any kind of peanut butter works. If you are allergic to peanuts, feel free to swap for any other nut butter.
vanilla
salt – it helps bring out the sweetness
spices (optional) – I like a pinch of both cinnamon and nutmeg
chopped peanuts
Do I need an ice cream maker to make peanut butter nice cream?
No, you do not! You can use your food processor or a highspeed blender (a high-performance one like Vitamix is best) for making your ice cream. Of course, if you happen to have an ice cream maker standing around and want to make this extra delish, then, by all means, follow the recipe and add your blended cream mix to the machine for a round of churning. The ice cream maker can whip a bit of extra air into your ice cream base and will make it even creamier and lighter!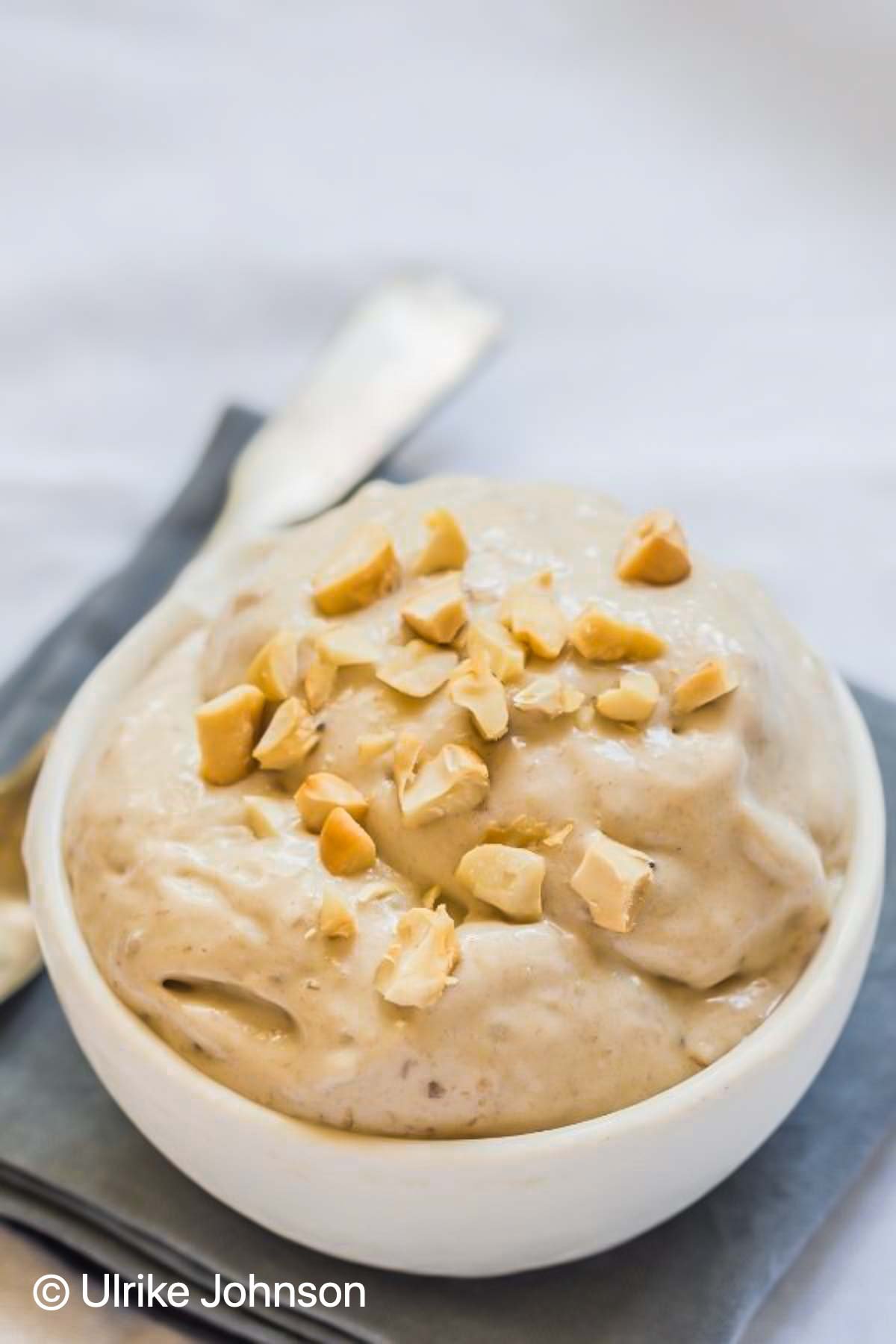 How to freeze bananas for nice cream?
You want to slice your bananas evenly and place them on a baking sheet covered in parchment paper. Now just pop the entire sheet in the freezer to freeze them for at least 3-4 hours until solid.
After they are frozen solid, you'll just need to scrape them off the parchment paper and place them right into the blender. Of course, you can also freeze them in freezer bags but they sometimes clump together and those big banana chunks give the blender a harder time.
Tips:
To save more calories, use a sugar-free peanut butter powder like this one for this recipe instead of peanut butter to keep this ice cream low fat.
Don't skip the salt in the ice cream base. Not only does it enhance the flavor, but it also affects how water freezes and effectively lowers the freezing point.
Don't be tempted to add milk to the base if it takes some time to come together in the beginning.
More healthy vegan ice cream recipes:
Vegan Peanut Butter Cookie Dough Ice Cream
★ Did you make and love this vegan peanut butter nice cream recipe? Give it your review below! And make sure to share your creations by tagging me on Instagram!
Peanut Butter Nice Cream - Healthy & Vegan
Looking for a guilt-free frozen treat or summer dessert? This easy homemade 4-ingredient Peanut Butter Nice Cream with peanut butter and frozen banana is a quick, healthy vegan ice cream recipe made in a blender or food processor - no ice cream maker needed! Healthier and lower in calories than regular vegan ice cream and so good! Kid-friendly too. This one is naturally sweetened and vegan made with just bananas, peanut butter, vanilla, and a pinch of cozy⁠
Ingredients
3

large bananas

3

tablespoons

natural peanut butter⁠

1/2

teaspoon

vanilla extract⁠

1

pinch

sea salt
optional
a dash of cinnamon⁠

a dash of nutmeg⁠

roasted peanuts for topping⁠

2

tbsps

coconut milk

or other plant based milk
Instructions
Cut the bananas into small chunks and freeze until solid, at least 1-2 hours. Transfer the bananas to a very strong blender and blend until smooth and creamy. This will take a few minutes and may require periodic pauses and adjustments. It's very loud and intense since the bananas are frozen, similar to adding ice cubes to a blender. Within a few minutes, you should be seeing a thick, creamy ice-creamy mixture in the blender.⁠

Add the peanut butter, vanilla extract, spices, sea salt, and anything else you might like in there.

⁠Pulse the blender quickly to stir the ingredients all together and when everything is mixed, serve immediately. Top with additional peanut butter and crushed roasted peanuts.⁠