Dieser Beitrag ist auch verfügbar auf:

Deutsch (German)
Try this baked version of the famous Chinese BBQ Pork Buns (Char Siu Bao)! Making them yourself is easier than you think and they make for a great hearty snack or picnic food.

These Chinese BBQ Pork Buns are the perfect food to bring to a party!
Or even better: After a party as they happen to be the best Hangover Food E-V-E-R!
Not only are they easy to make, they are also dangerously good and highly addictive! A bit like a soft empanada with a smoky-sweet pork filling!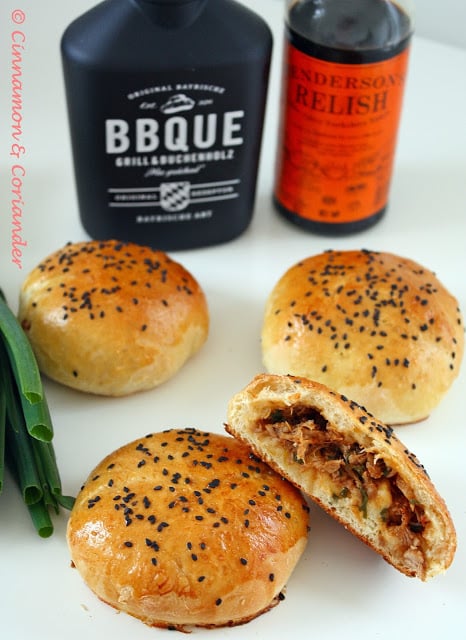 These Chinese Baked BBQ Pork Buns remind me so much of the steamed Pork Buns we used to get for breakfast in Panama at the Chinese Supermarket. In my opinion, there is nothing better after a night of dancing and cheap vodka & cranberry juice !
Seriously, you should make these in advance and bring them to the club on Friday night. Imagine how many friends you would make if you pulled these savory buns out of your purse on the way home!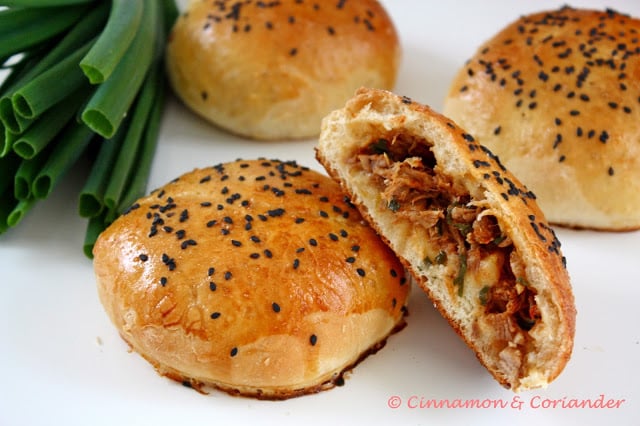 You might have seen the steamed version of Char Siu Bao before. They are a Chinese Streetfood Classic and here in Canada you can get them at any Asian Supermarket and every second Food Court.
These Pork Buns are different as they are baked. Admittedly, I just don´t have the right equipment for steaming them and I just wanted to be able to bake the whole batch in the oven instead of steaming them individually in my little veggie steamer.
The baked version of Char Siu Bao keeps better, which is an important aspect in my 2 person household . Also, I really like the crust on these, which also makes them easier to transport than the steamed version. But let´s be honest: It´s all about the savory and slightly sweet filling anyways!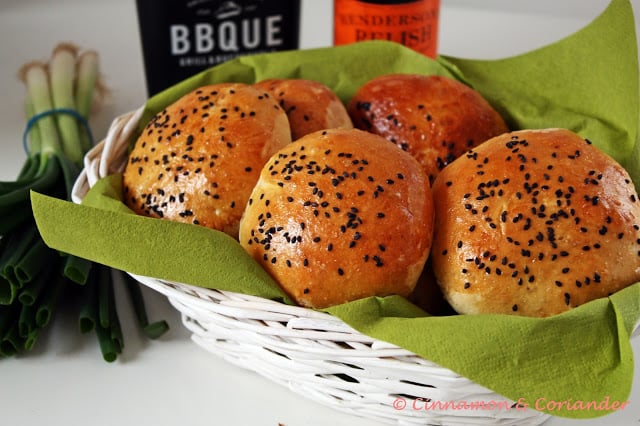 For the bbq pork filling, you can use either raw pork belly, ready made Chinese Char Siu or leftover Pork Roast or Pork Belly. Whatever you feel like, really. If the meat is already cooked, you don't have to fry and cook it as long as described in the recipe. When the meat is tender, it's done. If you make the filling from scratch with raw diced pork shoulder or butt, you should try and prepare it in advance and let it sit overnight.
Here´s the recipe for my BBQ Pork Buns :
Note: You can prepare the filling a day in advance. It even gets better if you let it sit a bit.
1/2 cup diced shallots
2 cloves of garlic, minced
1-2 Tbsp oil
600 g diced raw pork belly , or leftover roast
6 Tbsp BBQ Sauce
2 Tbsp Worcester-Sauce
2 Tbsp Soy Sauce
1,5 cup of broth
1,5 tsp chinese five spice
Salt, white pepper and liquid smoke to taste
Heat the 2 tbsp oil in a pan or skillet and fry the diced meat over high heat, adding the minced garlic and shallots after 5 minutes.
Add the broth, reduce heat and let simmer on low heat until the liquid has reduced noticeably.
Add the rest of the ingredients and let simmer on low heat until the meat is tender. Season with salt and pepper and add a bit of liquid smoke, if you want a smokier flavour.
For the dough you need:
adapted from the woks of life
5 cups bread flour or all purpose flour, plus 1/3 cup
2/3 cup water
1 1/3 cup milk, divided
1/3 cup sugar
1 teaspoon salt
4 teaspoons instant yeast
2 eggs
4 tablespoons melted butter
eggwash (1 egg, beaten with a tablespoon of milk)
1 tablespoon sesame seeds (optional)
In a medium saucepan, mix 1/3 cup flour with 2/3 cup water and 1/3 cup milk until the flour is dissolved. Put the pan over medium heat and stir constantly until the mixture resembles a thick paste, about 3-5 minutes. It should look kind of like really thick toothpaste. You can also measure the temperature with a thermometer. It's about right when it's reached 149 degrees F/65 degrees C. Set aside.
In a large mixing bowl, combine 5 cups of flour, sugar, salt, and yeast. Mix it all together with your hands.
Add the flour paste (aka the tangzhong), 1 cup milk, 2 eggs, and the melted butter. Stir together to form a soft dough, and knead (by hand or with the dough hook attachment of your mixer) for 15-20 minutes.
Form the dough into a ball and place into a lightly greased bowl. Cover with a damp cloth, and let rise for 1 hour.
After it's risen, separate the dough into 16 equal pieces.
Shape each piece into a small circle, where the center is slightly thicker than the edges. This prevents the top of the pork bun from being too thin and bursting open mid-bake.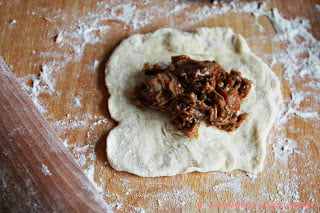 Crimp them closed, making sure they're tightly sealed.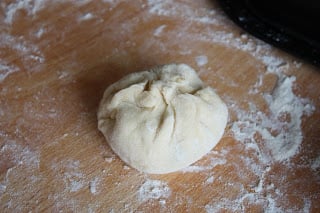 Lay the buns out seam side down on baking sheets lined with parchment paper, and let them rise for another hour. Preheat the oven to 400 degrees in the meantime.
Brush the Chinese BBQ Pork Buns with egg wash and sprinkle them with some sesame seeds.Put them in the oven and immediately turn the oven down from 400 degrees (about 200 degrees C) to 350 degrees (about 175 degrees). Bake your BBQ Pork Buns for about 25 minutes, or until golden brown.
Let your Char Siu Bao cool slightly before you try them!
Enjoy!!!