Dieser Beitrag ist auch verfügbar auf:

Deutsch (German)
This soft and buttery Twisted Poppy Seed Loaf with Sour Cherry Jam and Rum Glaze is the perfect recipe for an indulgent Christmas or Easter Brunch! Serve this Twist Bread fresh out of the oven!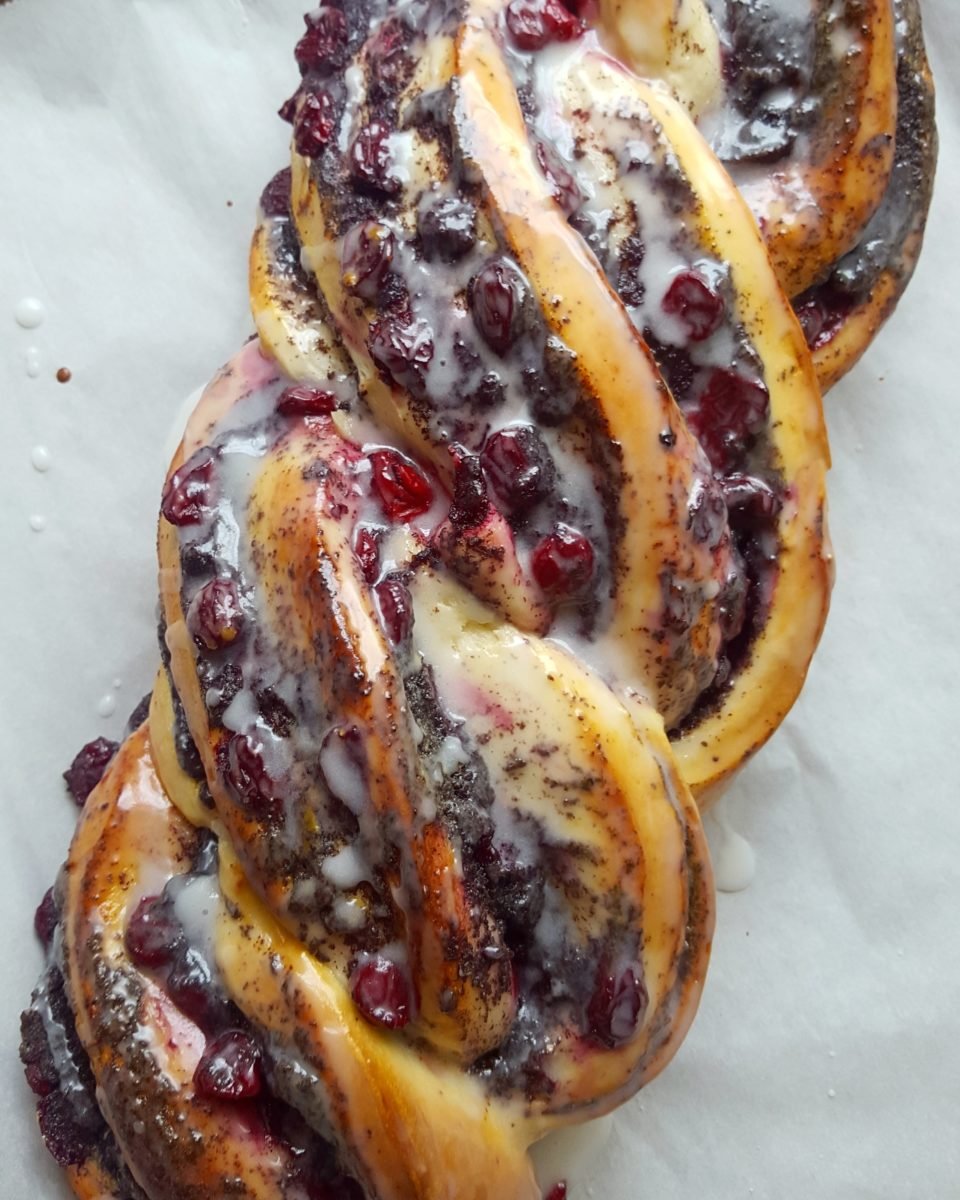 This Sour Cherry & Poppy Seed Twist Bread is the perfect addition to your holiday brunch table!
Walk into any well-assorted bakery in Germany and you will likely find at least two or three poppy seed filled cakes or pastries. Usually, we combine poppy seeds with a sweet yeasted dough, either as little buns or scrolls "schnecken" or family style, as a big braided or twisted loaf.
For festive occasions like Christmas Morning breakfast or Easter Brunch, I like to take my staple Poppy Loaf Recipe and turn it into a showstopper with just a couple of additions!
A couple of years ago, I came up with this combination: A Twisted Poppy Seed Loaf with Sour Cherry Jam and Rum Glaze! This Poppy Seed Twist Bread has become a favorite with friends and family in no time!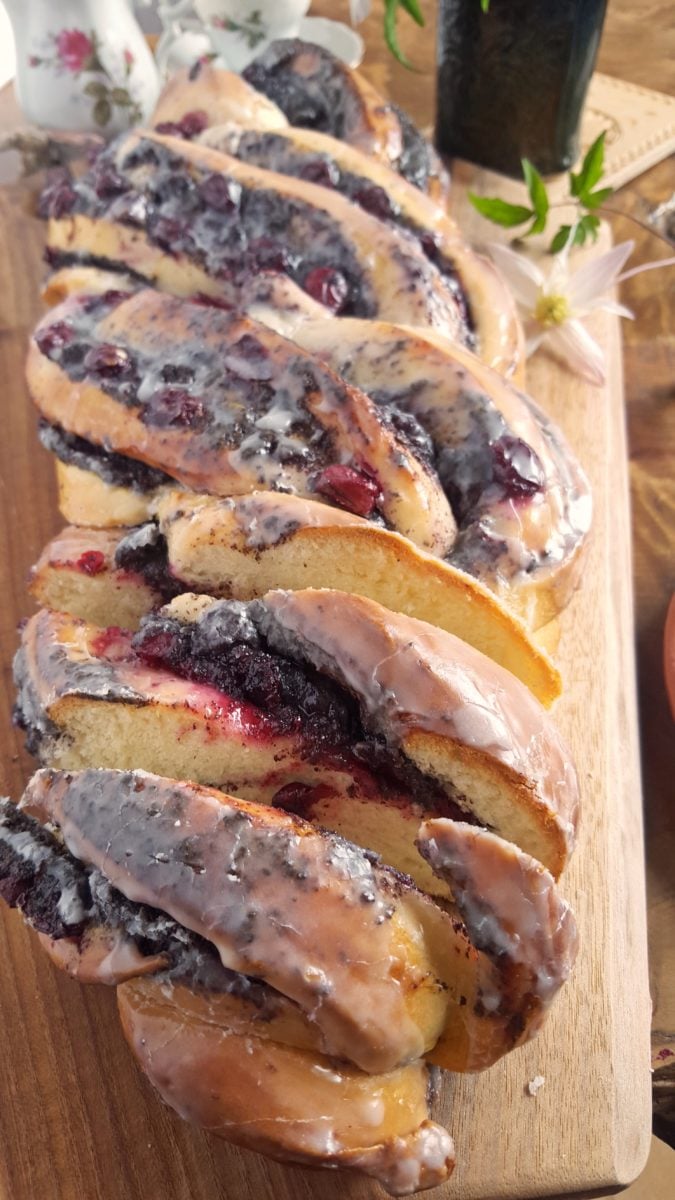 The winning combination of rich Poppy Seeds and tart Sour Cherries is very common in both German and Eastern European bakes. It is also one of my favorite flavor combinations when it comes to cakes or strudel.
The boozy Rum Glaze on top of this Poppy Seed Twist Bread is a must if you ask me! If you want to skip the booze in the glaze you can use lemon juice instead! The same goes for the filling!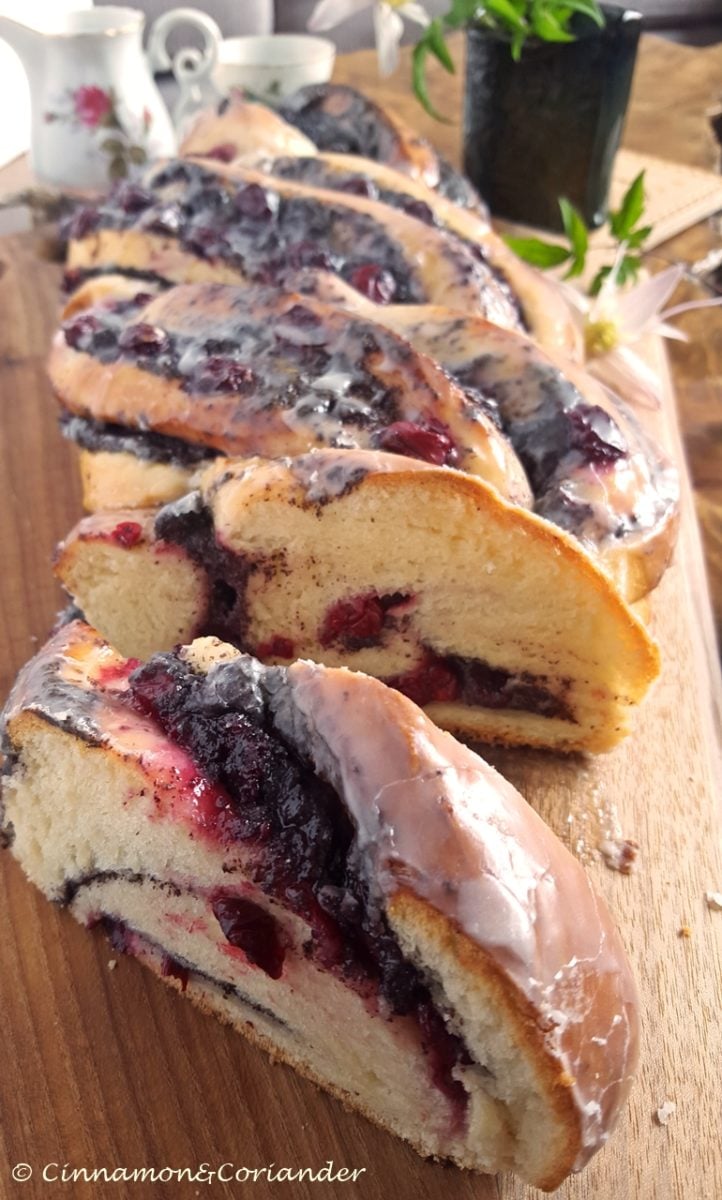 I usually prepare the poppy seed filling and the yeasted dough the night before and let it rest in the fridge overnight!
It really improves the flavour and allows you to sleep in while still being able to serve a freshly baked Twisted Poppy Seed Loaf for breakfast!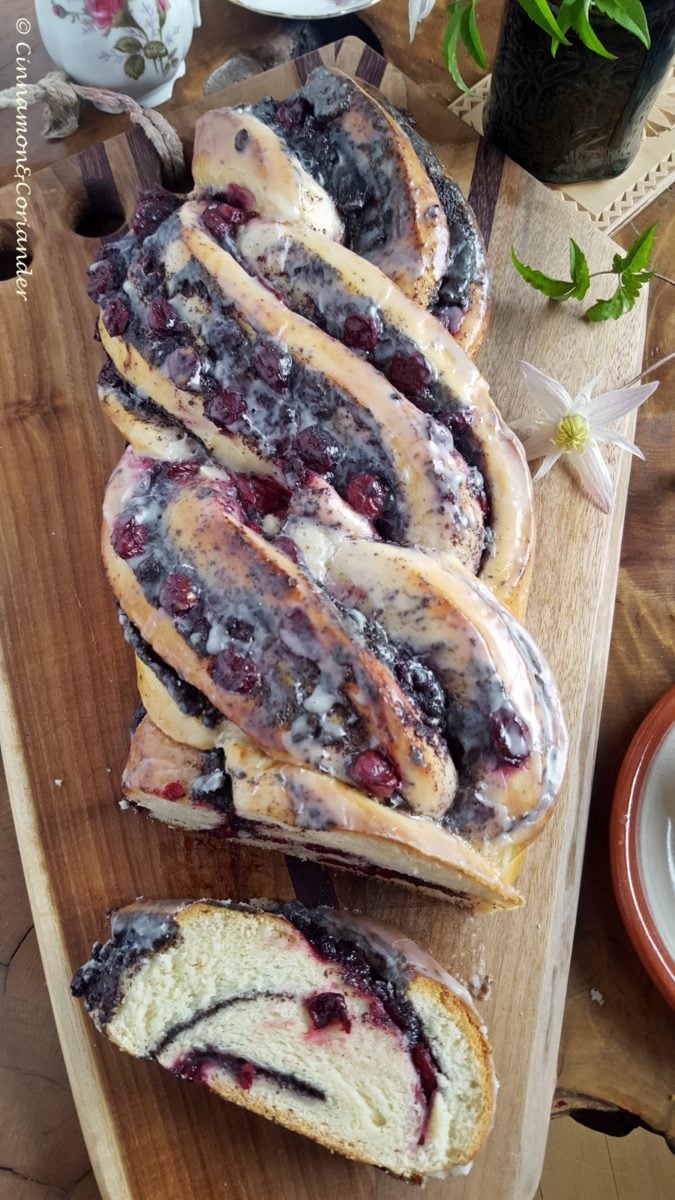 How to make German Poppy Seed Filling for Poppy Seed Rolls and Twist Breads:
Back in Germany, I would often use "Mohnback" for my twisted poppy seed loaf. It's a ready-made poppy seed mix you can buy everywhere.
Luckily I found a way to make it myself with ingredients I can get at any supermarket! That said, I have seen ready-made Poppy Seed Pastry Filling in cans in a couple of Delis and food markets but if you want to save a couple of dollars I recommend making your own!
Unless you can find freshly ground poppy seeds, it is best to buy the whole seeds in the bulk department of your local grocery store. I usually store them in the freezer and grind them right before using. Because of their high oil content, the seeds easily turn rancid.
I grind my poppy seeds in my spice/coffee grinder, which works very well. Alternatively, you can also process poppy seeds in a food processor. The result is not quite as fine but definitely ok to use.
The Poppy Seed filling can be prepared up to 2 days in advance and stored in the fridge! It even gets better if it has time to rest a bit.
Poppy Seeds and Sour Cherries – a match made in heaven!
The Sour Cherry Part is easy. Store bought or homemade Sour Cherry Jam, which we bring back to life by stirring in a spritz of fresh lemon juice!
You can skip the jam part and use fresh or frozen sour cherries. Just make sure you thaw them overnight and drain them before adding them!
If you have never baked with Poppy Seeds before my Twisted Poppy Seed Loaf with Sour Cherry Jam might be the perfect recipe to introduce you to it!
The bake itself is not nearly as heavy as most German poppy seed bakes and the distinct Poppy flavor comes through but is not overpowering thanks to the tart cherries and the fluffy yeasted dough. I am sure you will love it!
★ Did you make and love this recipe for German Sour Cherry & Poppy Seed Twist Bread? Give it your review below! And make sure to share your creations by tagging me on Instagram!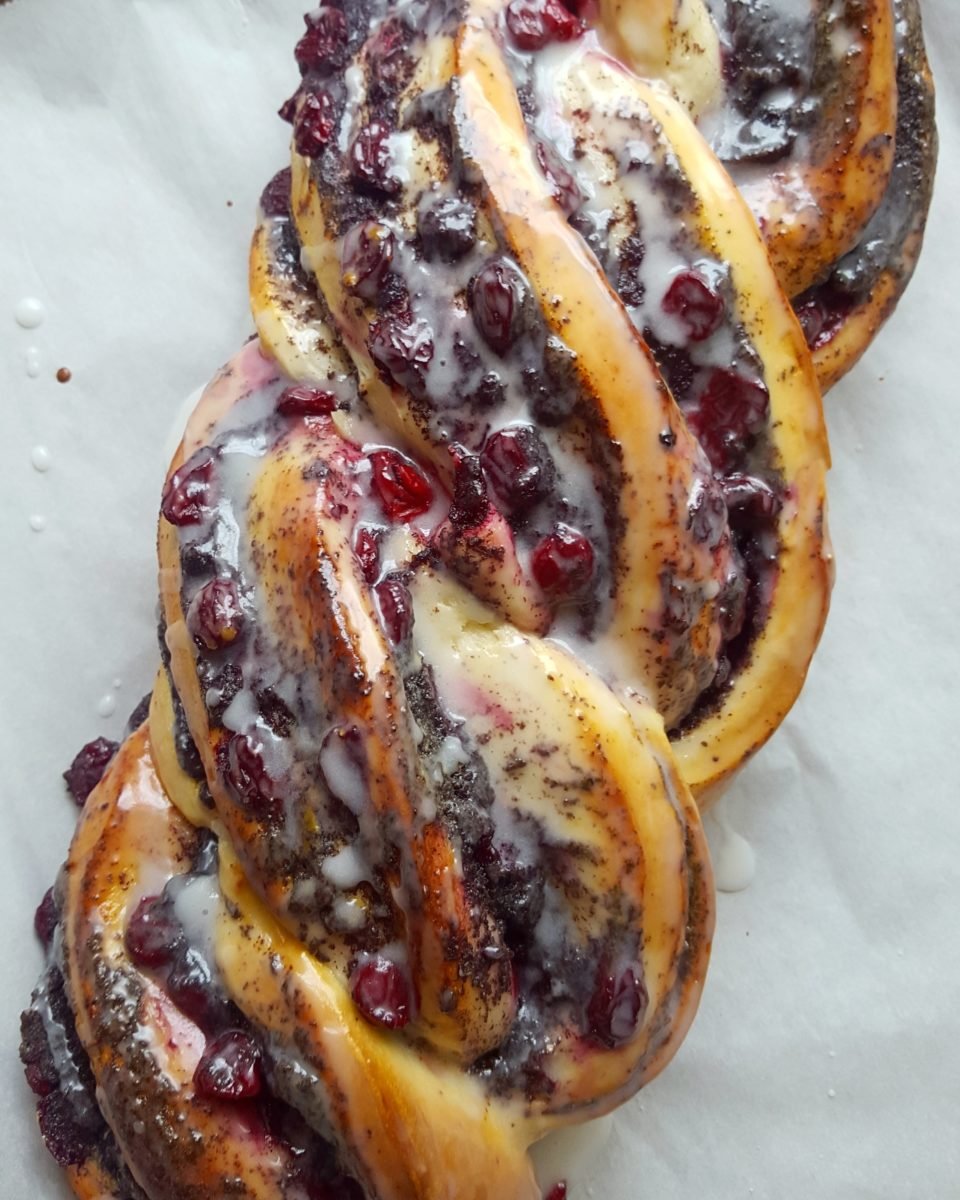 Poppy Seed Twisted Loaf with Sour Cherry Jam and Rum Glaze
This soft and buttery Twisted Poppy Seed Loaf with Sour Cherry Jam and Rum Glaze is the perfect recipe for an indulgent Christmas or Easter Brunch! Serve it fresh out of the oven !
Resting time
1
hour
30
minutes
Total Time
1
hour
10
minutes
Ingredients
For the dough
500

g

flour

1

tsp

salt

250

ml

milk

lukewarm

4 - 7

g

Instant Yeast

70 - 80

g

sugar

1

egg

80

g

butter

softened

3

drops

almond extract
For the filling
200

ml

milk

50

g

sugar

50

g

honey

200

g

poppy seeds

finely ground

2

tbsp

rum

1

tbsp

butter

1 -2

tsp

lemon zest

1

jar

sour cherry jam or 2 cups frozen sour cherries

1

tbsp

lemon juice

1-2

tbsp

rum

1

egg for brushing
For the glaze
150

g

powdered sugar

1

tbsp

milk

3

tbsp

rum
Instructions
In the bowl of your stand mixer mix the flour and salt together.

Heat up the milk until lukewarm, add sugar, yeast, egg and almond extract and stir to combine everything. Pour this mixture into your flour and knead with the hook attachment for a couple of seconds until it starts to come together a bit. Then add the butter bit by bit. Knead the dough about 5 to 7 minutes in the stand mixer ( or with your hands for about 10 minutes) until your dough is very soft, smooth and elastic.

Shape the dough into a ball, brush with a bit of oil and let it proof in a lightly oiled, covered bowl for about 2 h or until doubled in size.

You can also put the covered bowl in the fridge to proof overnight. If you go for the overnight proof, your ingredients can be mixed cold apart from the butter which needs to be softened. Also, if proofing overnight, I recommend only using 4 g of yeast !

For the filling: heat milk in a medium pot and add sugar and honey. Bring to a boil and add the ground poppy seeds. Let everything bubble up once, then take off the heat and transfer to a different bowl to cool down. Once slightly cooled, stir in rum, butter and lemon zest.

Stir lemon juice and rum into the sour cherry jam. If using frozen cherries, make sure they are thawed completely and have been drained in a sieve. You might even consider blotting them dry with a paper towel.

Once the dough has doubled in size, knead quickly for a minute (overnight proves don't should NOT be kneaded again )

Roll out the dough into a large rectangle about ¼-inch thick.

Spread your poppy seed felling onto the dough, leaving a 1,5 cm seam on the edges. Sprinkle cherries on top of the poppy seed filling or, if using jam, top filling with dollops of sour cherry jam using a tsp.

Roll the dough up like you would for cinnamon rolls, from one long end to the other long end.

Using a knife, dough cutter, or bench scraper, cut down the center of the roll leaving 1½ to 2-inches intact on one end.

Twist the two cut pieces one over the other until the ends meet.

Pinch the ends together and tuck them underneath. Place the poppy seed loaf on a greased baking sheet. Cover the loaf with plastic wrap and let rise for 30 minutes. In the meantime, preheat oven to 350 F or 180 C.

Brush loaf with the egg wash and bake for 35 to 40 minutes. During the last 15 minutes, cover the braid with foil to keep it from browning too much. Take loaf out of the oven after baking and let cool.

Whisk together the ingredients for the glaze. Once the loaf has cooled down a little you can glaze it. Enjoy while still slightly warm!