Dieser Beitrag ist auch verfügbar auf:

Deutsch (German)
These Strawberry Rhubarb Streusel Muffins with sour cream are the perfect easy recipe for summer packed with fresh strawberries, rhubarb, and a sweet, crunchy streusel topping!Jump to Recipe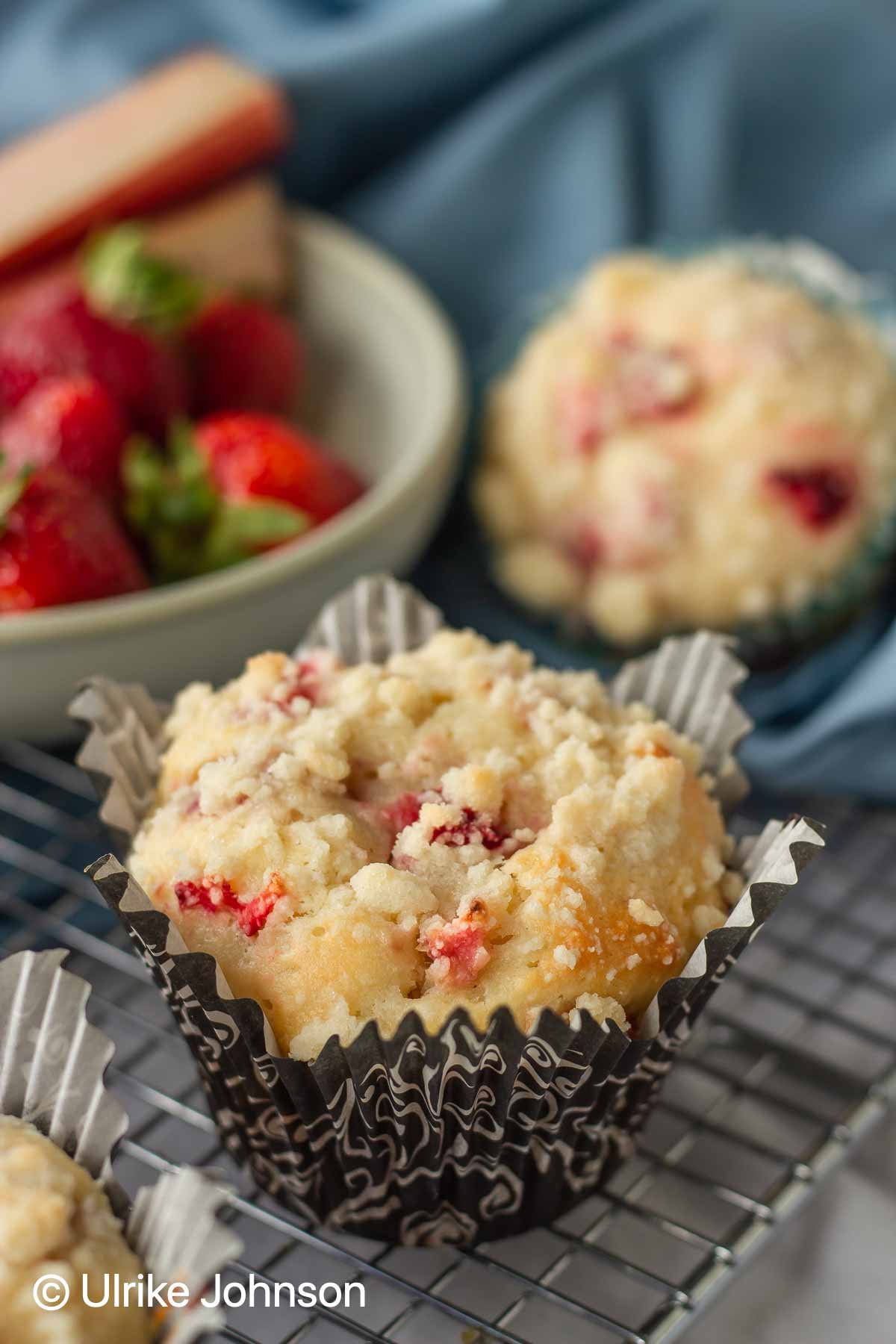 Strawberry Rhubarb Muffins with Sour Cream & Streusel Topping – the best Crumble Muffin
These Strawberry Rhubarb Muffins with Sour Cream are one of my favourite easy sweet recipes for rhubarb season and since you all loved my Rhubarb Streusel Cake recipe so much, I thought I'd make another quick bake featuring the glorious combination of tart rhubarb and a sweet buttery streusel topping!
And this one is especially good because there are fresh strawberries in these muffins too!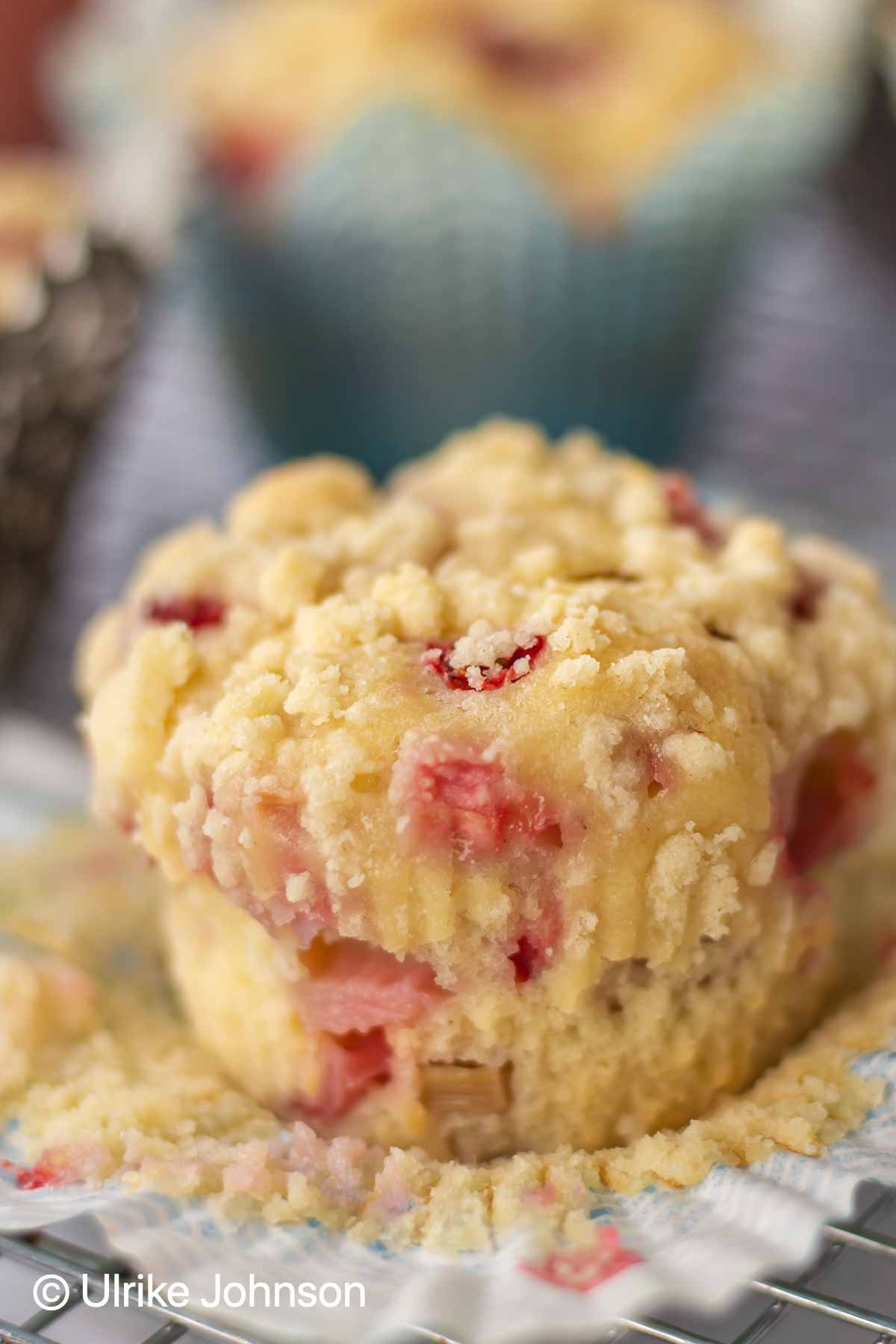 I love to eat these strawberry rhubarb crumble muffins warm – maybe with a pat of butter. It's pretty impossible to stop at 1! They are just so good! Now, these are not "diet" muffins but I do think they are worth every calorie.
For a healthier treat, make my vegan gluten-free rhubarb cake.
You could also skip the streusel and turn these into stawberry rhubarb cupcakes and add the quark frosting from my carrot banana muffins recipe.
How to store these muffins
You can store these crumble muffins for a few days on the counter at room temperature for about 3 days, but they can also be frozen without any problems. If you want to eat them just let them thaw and bake them in the oven for a few minutes at 180 C / 356 F.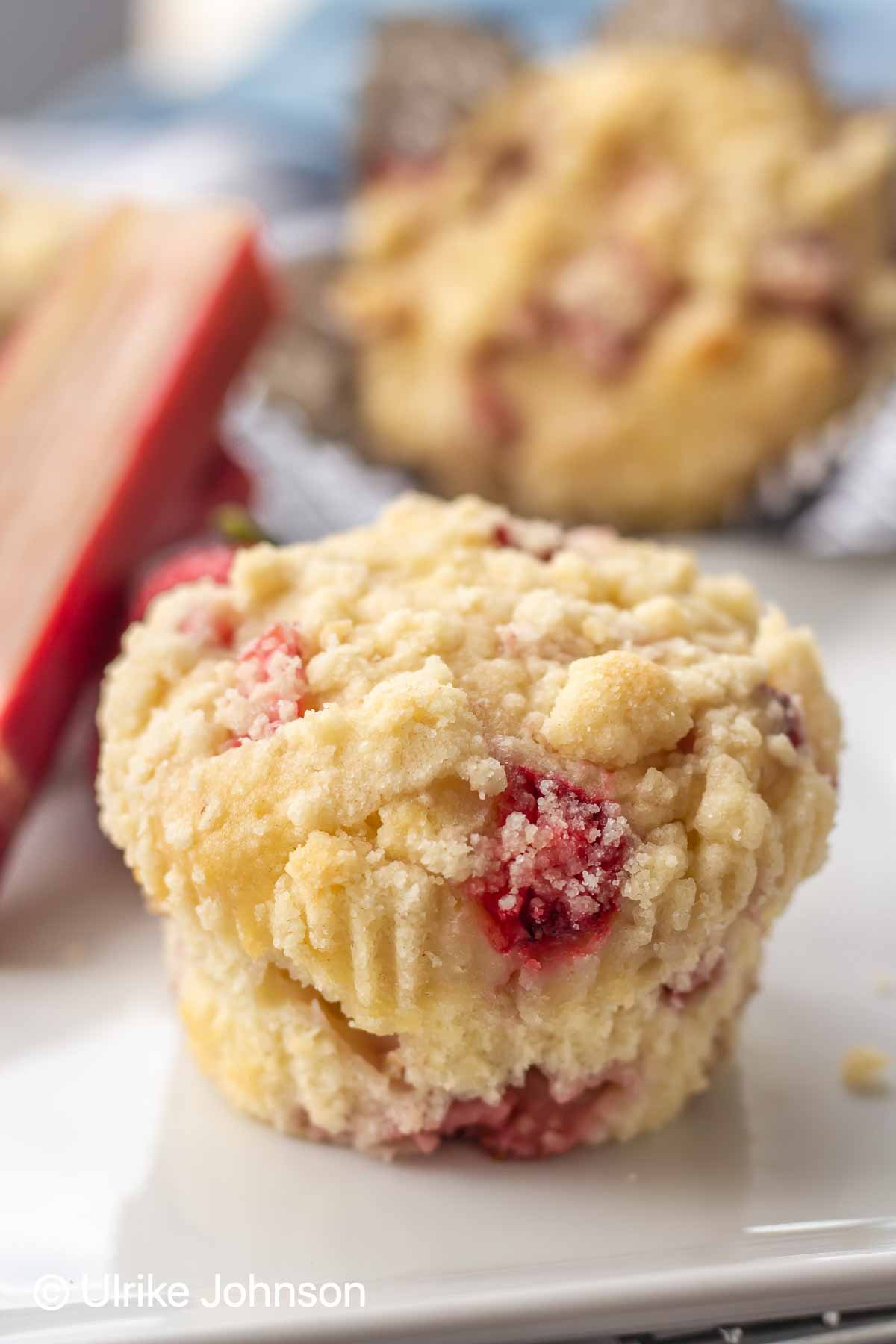 Can I bake these rhubarb muffins without the muffin liners?
Forgot to buy muffin liners? No problem. Simply grease the muffin tin and line the molds generously with ground nuts or finely ground almonds. This should help with getting the baked muffins out of the mold. No muffin pan? The batter can also be baked in a small loaf pan.
Do I have to peel the rhubarb?
Yes! Although thin young rhubarb stalks do not necessarily have to be peeled because the peel has no threads, I always peel rhubarb to reduce the oxalic acid content.
Clean and peel the rhubarb properly
The first thing to do is to clean the rhubarb stalks. If you picked them in the garden, the first thing you should do is remove the green leaves as they are poisonous. Then you cut off about 3 cm at the top and bottom of the stalks: You do this to remove the dry woody part. You should now rinse the stalks under running water.
Now you place the knife on the inside edge of the bottom of the stalk and gently peel off the skin along with any threads.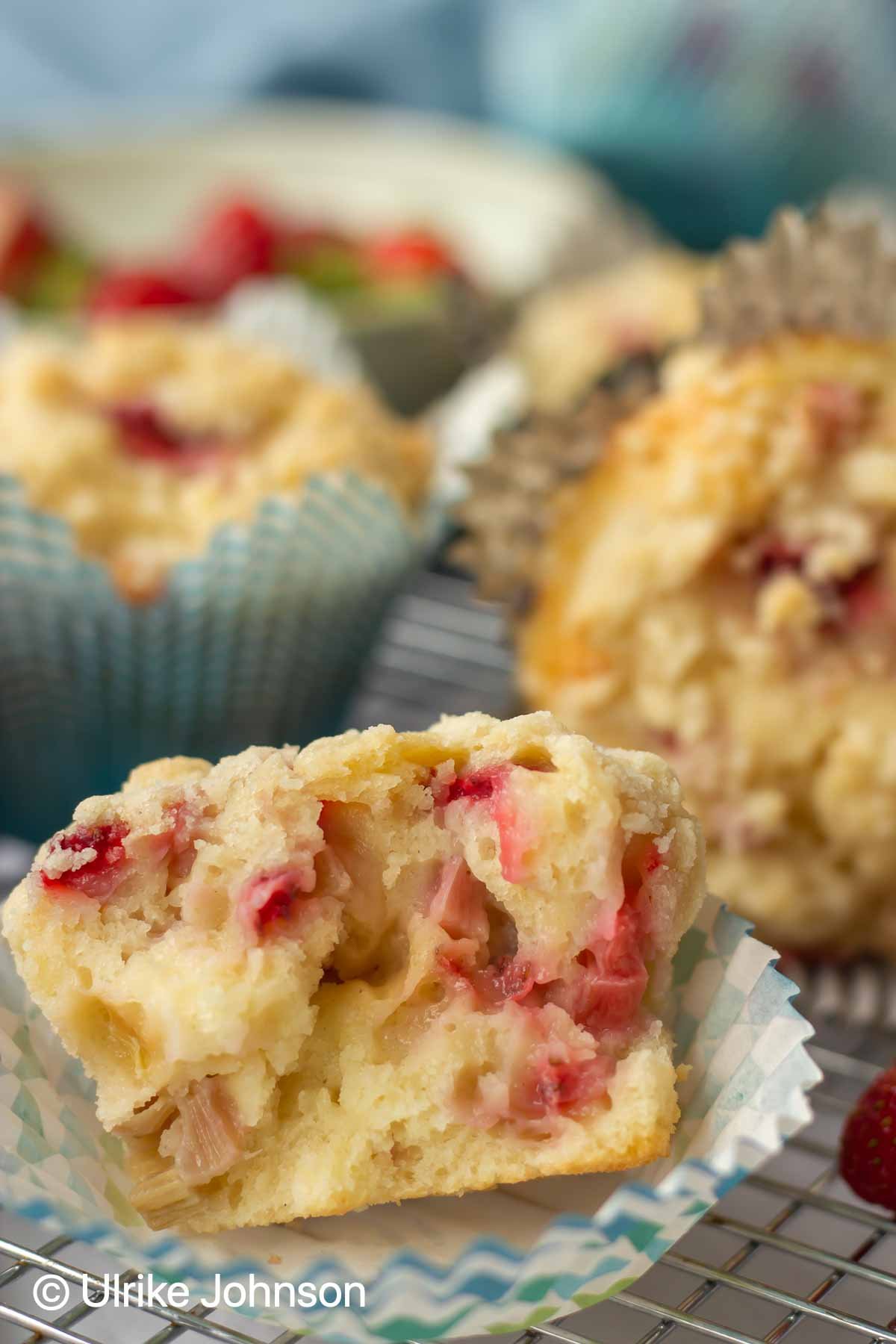 Tips:
Preheat the oven to 200 C degrees – the muffins will rise nicely with that high initial heat. After 5 minutes dial down to 180 C degrees.
Instead of sour cream, you can make these rhubarb muffins with plain yogurt, or Greek yogurt. With Greek yogurt, the batter will be a little firmer.
Make sure to cut the rhubarb and strawberries into small cubes, no larger than 0.5 cm in length.
I baked the muffins on convection and after exactly 28 minutes they were slightly golden brown and crispy on top and incredibly fluffy and juicy on the inside. Check them for doneness after 25 minutes.
The batter can also be baked in a loaf pan.
More delicious desserts and baking recipes with rhubarb
More Strawberry Rhubarb Desserts:
★ Did you make and love this Strawberry Rhubarb Crumble Muffins recipe? Give it your review below! And make sure to share your creations by tagging me on Instagram!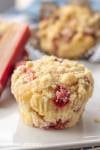 Strawberry Rhubarb Streusel Muffins with Sour Cream
These Strawberry Rhubarb Streusel Muffins with sour cream are the perfect easy recipe for summer packed with fresh strawberries, rhubarb, and a sweet, crunchy streusel topping!
Ingredients
250

g

AP flour - 2 cups / 8 oz

2

teaspoons

of baking soda

120

g

granulated sugar - 1/2 cup + 2 tbsp

1

pinch

of salt

1

tsp

vanilla extract or essence

2

eggs

150

g

sour cream

plain yogurt, vanilla yogurt or Greek yogurt - 150 ml - 1/2 cup + 2 tbsp

1

tbsp

milk

80

g

melted butter or neutral oil

- 1/3 cups

Streusel

40

g

butter cold

- 3 tbsp

20

g

granulated sugar

2 tbsp

40

g

plain wheat flour

- 1/3 cup

1

pinch

of salt

10

fresh strawberries

3

smaller rhubarb sticks + 2 tbsp sugar
Instructions
Wash, clean and chop the strawberries and rhubarb, then toss the rhubarb with a 2 tbsps sugar and set aside so that it draws some water and the muffins don't get too juicy.

For the crumble topping, grate the cold butter into a bowl with the box grater, add flour, salt and sugar and work into streusels using your fingers.

Line a muffins tine with 12 liners preheat the oven to 200 ° C - 400F.

Sift flour and baking powder into a bowl. Mix sugar, salt, vanilla sugar, eggs, sour cream or yoghurt, milk and butter or oil in a bowl separately. Add the dry ingredients to the liquid ingredients and stir everything until smooth with a hand held whisk. Don't overmix.

Transfer the rhubarb into a colander and drain. (Save the rhubarb sugar water - just add sparkling wine or Prosecco - a delicious drink!) Carefully mix half of the strawberries and rhubarb into the batter.

Use an ice cream scoop to evenly fill 12 muffin cases with the batter. Sprinkle with the remaining strawberries and chunks of rhubarb and press them into the batte lightly. Sprinkle the muffins with the streusel and bake in the preheated oven at 200 C/F hot air for 25 -30 minutes until golden brown. After 5 minutes, reduce the temperature to 180 degrees - Test them for doneness with a toothpick.
Recipe Video